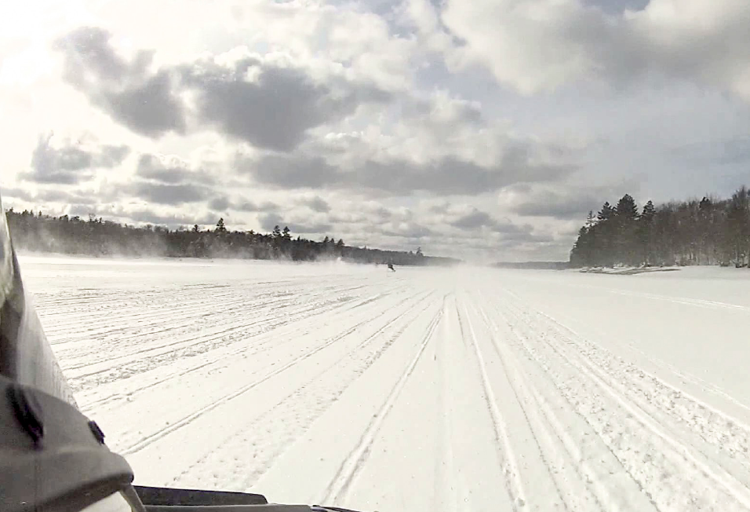 Far outside the city limits through the woodlands and dormant farm fields of the New York State, it's a common sight even on the darkest, coldest days of winter to happen upon scores of individuals young and old rip across the snowy terrain with a whining roar, openly defiant against the frozen, inhospitable conditions.
Where some shy away from the punishing cold often experienced at the height of winter, the members of the region's dozens of snowmobile clubs embrace the season with an enthusiasm borne only of one's passion for the best their sport has to offer: a pioneer's affirmation of conquering harsh terrains none but the creatures of the forest tread upon, the feeling of the sheer power of a 600cc engine pulling you across the terrain at hair-raising speed. There's miles of trail spanning Tompkins County making up a part of New York State's approximately 20,000 mile trail system, presenting limitless opportunity for thrill seekers to embrace the most that winter's coldest days can offer.
Of the six snowmobile clubs in Tompkins County, the Dryden-Caroline Drifters are responsible for maintaining approximately 100 miles of trail right here in Tompkins County, something in which its membership and the club's president, John Carson, take great pride.
Though each club does charge dues in the ballpark of $30 per season, the extensive seasonal work required to maintain these trails is typically completed by volunteers, all who dedicate their time and energy to a number of pursuits necessary to a successful season, from working to secure permission from landowners so that trails can cross their property to installing bridges, installing gates, putting up and taking down signs as well addressing concerns from local snowmobilers and the public.
"There's a lot of work that goes into our trail system," explains Carson. "Our dues are way too low to support the type of work that is actually done on the trails. If we didn't have so many volunteers, if we actually paid people to do all the work that actually has to be done in each club, it would cost hundreds of dollars to join."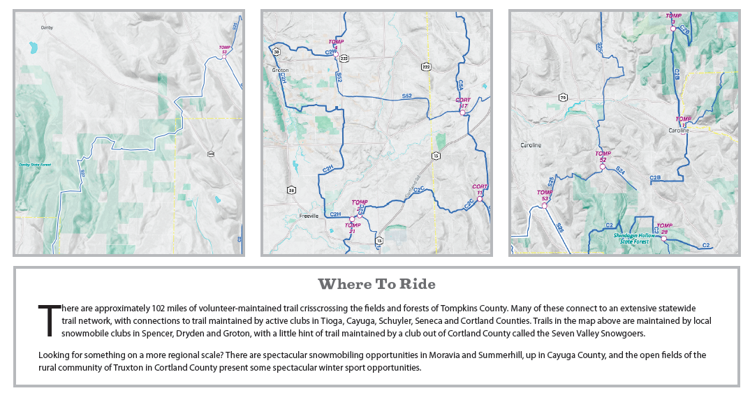 The passion of the local snowmobile crews is immediately evident in their dues: Permits for some clubs in Canada can reach well into the $400 range and in Maine and Vermont, a permit can run $100 a week in some instances, largely to pay the people responsible for "grooming" the trail, or smoothing out the terrain in order to improve the riding experience.
"That's a big effort," said Carson. "When people are out snowmobiling, they will hopefully have relatively smooth trails. Without that groomer (which Carson said, new, can cost nearly $200,000), trails inherently get rough from all the traffic going over it. One of the biggest jobs of a club, once the signs are all up, is to actually groom the trail so you can zip along and ultimately, make for a more enjoyable ride."
Those efforts pay off. When snowmobile season hits in late January (usually the time snowpack gets thick enough to support snowmobile traffic), one can ride marked trails from anywhere in Tompkins County to destinations like Greek Peak Mountain Resort for a bite to eat to a number of secluded, seasonally run spots for those in the know, many of which are only accessible by snowmobile. (Louie's Cabin, in Berkshire, is a particular favorite for Sunday breakfasts and lunch during riding season.)
"It's an extremely popular sport when there's snow," said Carson. "It's a lot of fun and, if you're safe, it's a great sport you can take part in from the time you're a teenager to the time you're very old."
Where to ride
There are approximately 102 miles of volunteer-maintained trail crisscrossing the fields and forests of Tompkins County. Many of these connect to an extensive statewide trail network, with connections to trail maintained by active clubs in Tioga, Cayuga, Seneca, Schuyler and Cortland Counties. Trails in the map above are maintained by local snowmobile clubs in Spencer, Dryden and Groton, with a little hint of trail maintained by a club out of Cortland County called the Seven Valley Snowgoers. 
Looking for something on a more regional scale? There are spectacular snowmobiling opportunities in Moravia and Summerhill, up in Cayuga County, and the open fields of the rural community of Truxton in Cortland County present some spectacular winter sport opportunities.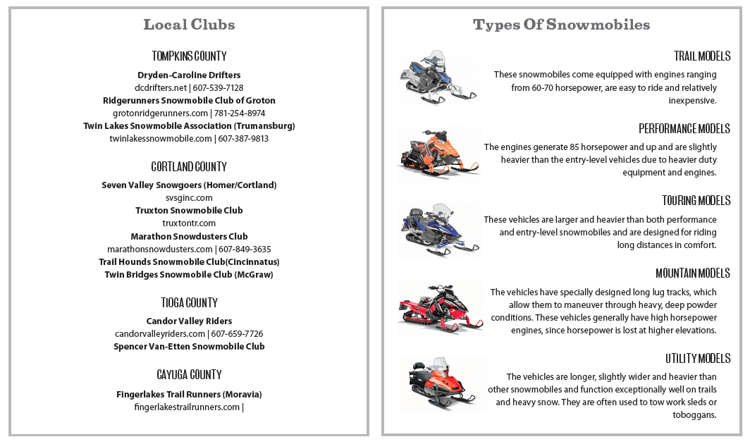 Local Clubs
TOMPKINS COUNTY
Dryden-Caroline Drifters - dcdrifters.net / (607) 539-7128
Ridgerunners Snowmobile Club of Groton - grotonridgerunners.com / (781) 254-8974
Twin Lakes Snowmobile Association (Trumansburg) - twinlakessnowmobile.com / (607) 387-9813
CORTLAND COUNTY
Seven Valley Snowgoers (Homer/Cortland) - svsginc.com
Truxton Snowmobile Club - truxtontr.com
Marathon Snowdusters Club - marathonsnowdusters.com / (607) 849-3635
Trail Hounds Snowmobile Club (Cincinnatus)
Twin Bridges Snowmobile Club (McGraw)
TIOGA COUNTY
Candor Valley Riders - candorvalleyriders.com / (607) 659-7726
Spencer Van-Etten Snowmobile Club
CAYUGA COUNTY
Fingerlakes Trail Runners (Moravia) - fingerlakestrailrunners.com
Follow Nick Reynolds on Twitter @Nickthaca