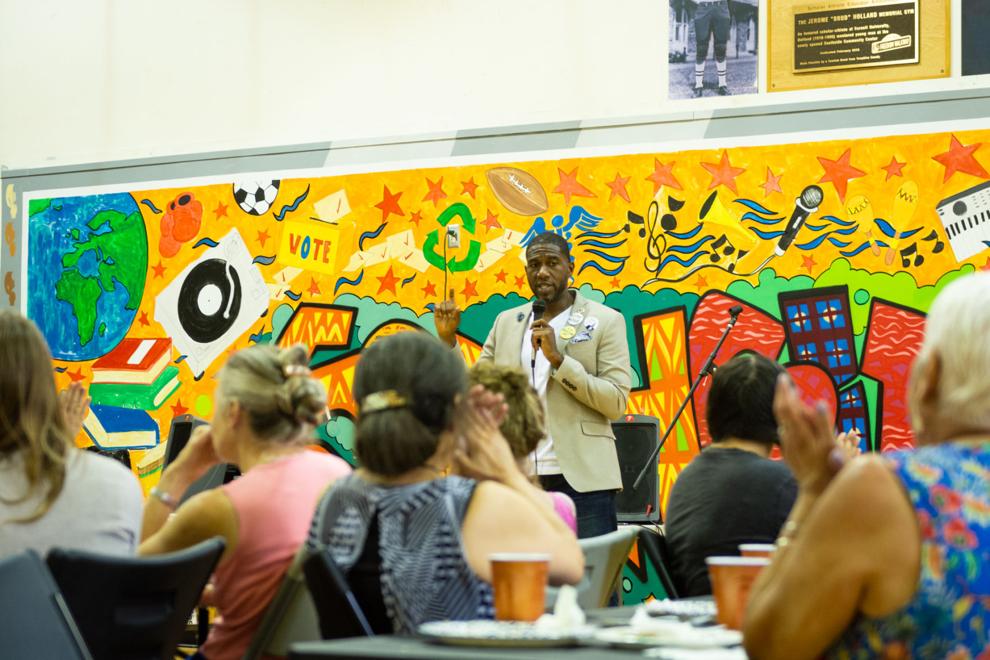 People have called him an agitator, people haven't called him a politician, as he prefers the term activist-elected official, but people may want to be prepared to call New York City Councilman Jumaane Williams the next Lieutenant Governor of New York State.
Since announcing his run for office, Williams has tackled a whole host of issues as he strives to turn the office of Lieutenant Governor to a progressive office for change instead of just another politician whose primary function is to defend the governor.  
Currently, Williams is serving as a New York City Councilman to the 45th District of Brooklyn. Prior to that Williams served as an activist for New York City. Through his activism, Williams has protected undocumented immigrants from being deported through unjust methods, which led to him being arrested and convicted for blocking an ambulance, while he was trying to block a friend and fellow activist from going to the hospital after fainting; a trip to the hospital would have meant deportation as well. During his time on the New York City Council's Public Education Committee, he fought for proper funding of schools and has been striving to find ways to work with his colleagues on the other side of the political spectrum.
The issues he plans to tackle in office come from what he considers are the shortcomings of the current administration, one in particular being the Excelsior Scholarship program. Williams discussed how this program wasn't released properly and hasn't been able to operate the way it was designed.
"If I was Lieutenant Governor we would have never put out something that's as fraudulent of a shame as Excelsior," Williams said. "Excelsior is touted as a free tuition program universally, yet only three percent of students across the state have this and less than two percent in the City University where I graduated from have this. I would have either said that we have to find funding for this so it can be universal or announced it as a pilot program that we're going to expand and let grow."
Finding funding is something that can often be difficult but Williams has come up with a proposal on what he calls "fairness fees" to help put money back into the New York State budget. One fairness fee in particular that would bring $10 Billion back to New York State comes from stock transfers; Williams called for it to be reinstated and used to fund public schools, as well as provide some property tax relief.
"From 1905 to 1980, New York State collected a small fairness fee on Wall Street stock trades," Williams said. "In the Reagan era, we began giving the money back to Wall Street, literally collecting this money and then cutting a check, now up to $14 billion every year. The majority of this money would be collected from high-frequency 'flash traders,' not Grandma or casual traders in the stock markets."
Most of the fairness fees that Williams highlighted have the potential to bring in amounts ranging from $500 million to $14 billion.  However, Williams would like to see some this money go towards correcting some of the administration's wrongs, as he feels there are so many that are of dire concern.
"There are a series of areas where that funding can go, whether it is for Cuomo's housing crisis, which is probably the most palpable failure of the administration," Williams said. "Whether it's Cuomo's transportation crisis, which is another failure, whether it's actually living up to what the judge said had to happen in the fiscal equity, funding schools, or dealing with climate issues. We can put infrastructure in for renewable energy and at the same time have a new deal where the people who are building that infrastructure have jobs they didn't have. That's one of the primary things that I want to spotlight and highlight and have a conversation around."
In addition to trying to make housing affordable, Williams wants to bring some of the same protections that people downstate have when it comes to rent regulations to Upstate New York. One thing in particular that he is fighting for is called "just cause," which would keep people from being evicted over small issues. Williams is also advocating for bringing affordable healthcare to all New Yorkers but is finding that certain budgetary changes have placed more expenses on cities and municipalities than the state itself.
"What they've done in this state, particularly under the leadership of this governor and lieutenant governor is let people believe that they are the masters of the budget," Williams said. "But what they've really done is take away from the state budget, things that the state should be paying for, and then pass that along to cities and municipalities and then they don't have the money because of the spending cap, and rightfully so the property tax cap. Now, what they have to do is cut service and not pave roads. We have to take the mirror and veil away from that sham [...] You're balancing off the backs of the people who need services."
According to the latest poll from Siena College, it seems that Williams may end up winning the election but not with his running mate, Cynthia Nixon, instead he may end up working with Governor Andrew Cuomo.  However, Williams' primary concern about his running mate is that whoever it may be is concerned with productivity, not just furthering their own political career. As Williams has adamantly stated about his political career, "I didn't get elected to get re-elected, I got elected to do the job."