After a prolonged era of falling labor union interest and participation, it appears workers' organizing efforts are gaining momentum, both nationally and locally. A wave of unionization efforts has appeared in Tompkins County, most notably over the last year or two, which has seen a wide range of workers from adjunct faculty at Ithaca College to baristas at Gimme! Coffee successfully unionize, with several more efforts either in progress or failed for any number of reasons. 
Union-centric headlines have been frequent even just over the last few months, with around 50,000 workers at General Motors staging one of the largest worker strikes in recent history, organized by the United Auto Workers. That work stoppage ended in late October after over a month of negotiations. Locally there's been nothing that has reached that extent, but unions have certainly been more visible and vocal recently, whether it be the trade unions alleging that Cornell neglects local organized labor, or Ithaca Coffee Company workers calling for a boycott of the company for anti-union tactics, or GreenStar workers holding demonstrations outside of downtown locations. 
"Something is happening in the United States, and globally," said Ian Collin Greer, a senior research association in Cornell's Industrial Labor Relations school. "This is a time when there's a lot of labor activism taking place all over the world. [...] It's young workers taking the lead, and it seems like there's a lot going on at once."
Greer said most economists would consider the country's low unemployment rate as a motivating factor, since people are less fearful of losing their jobs under those conditions. A stronger contributor, though, is that younger people generally just seem less tolerant and more apt to confront perceived mistreatment at work by management. In Ithaca and Tompkins County, Greer said, it also helps that the public is mostly inclined to support the efforts of workers to unionize; the term "union-busting" still carries some punitive weight here, he said, which isn't necessarily true elsewhere.
"I don't know if I've ever been anywhere that's as favorable to organized labor as Tompkins County," Greer said. "Ithaca is about as union-friendly as towns in the United States get."
Greer noted the existence of the Tompkins County Workers Center and Legal Assistance of Western New York as examples of places that work quite a bit with people who are unionizing to help them navigate the logistical and legal aspects of it. That's not especially common elsewhere, he said, especially not in a place of this population size.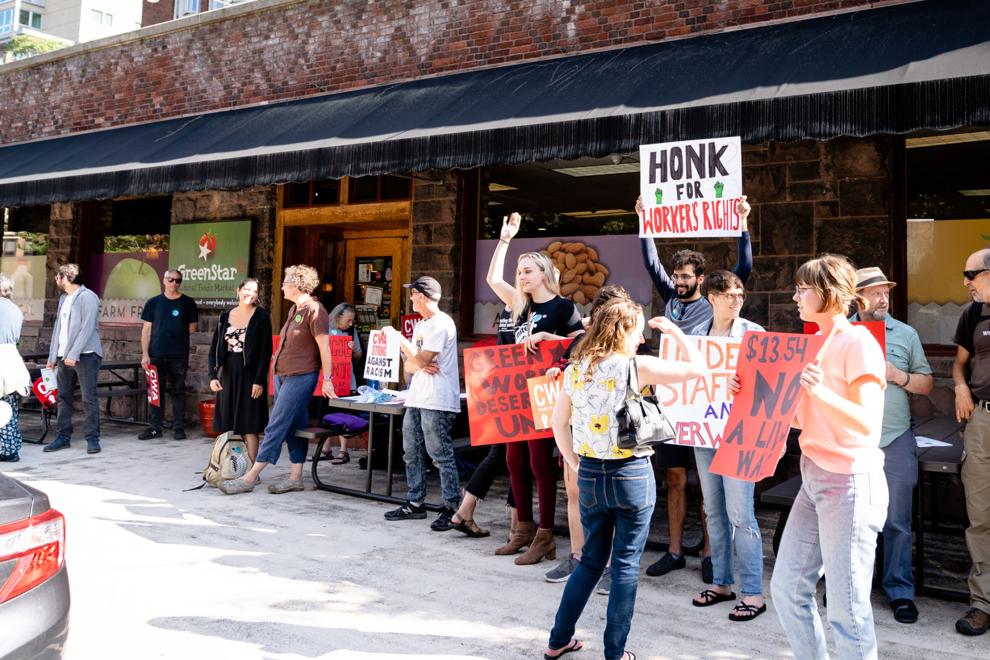 Yet even in a place that is perhaps more amenable to unionizing, it can still be quite difficult. 2017 was a successful year for unionizers in the area, as the aforementioned Gimme! Coffee baristas and adjunct faculty members at Ithaca College both unionized and were able to ratify contracts. Yet other efforts stalled, and some turned ugly, like the National Labor Relations Board hearings that year between Cayuga Medical Center and two nurses who felt they'd been unfairly fired for unionization activities. Others have struggled to gain ground recently as well: Coltivare workers were in the early stages of unionizing but the effort dissipated after turnover disbursed the organizing leaders, and workers at vegan eatery Nikki Green were having similar conversations, but the restaurant shut down too soon. 
Gimme! Coffee 
Gimme's baristas union came together fairly quickly, over a span of about two months in 2017, and has made some progress with management about improving work conditions, pay, sick leave, etc., though complaints still exist. Sam Mason, a Gimme barista who has been one of the leading voices in the unionization since the beginning, has had an up-close view of all the ups and downs that come with the efforts. 
"We've been in contact with over two dozen baristas across the country who have been inspired by us," Mason said. "It's super cool to watch. You're waking up people to their own power at work. I don't want to go to work every day of my life, for the rest of my life, just to be able to survive."
Another union member, Bart Feberwee, said that he's heard criticisms from people who say that if he's upset about not being paid more or not having better working conditions, he should simply leave the company. But that sheds light on a larger problem, in his mind. 
"When you make a comment like that, 'Oh, it's the service industry, try to get a different job and make more money,' you implicitly accept that there should be a whole class of people who make so little money they can barely survive," Feberwee said. "That's just the problem, why would anybody who works full-time not be able to make a living?"
Something the representatives reiterated was that despite their objections, they do actually enjoy their jobs, and they do want to continue working for the company. But they don't want that to come at the cost of living a good life. One of their central mottos, which could likely apply to almost all workplaces, is "We will probably run into these same problems anywhere we work, so why not try to cure them here?"
Since unionizing, the Gimme baristas have continued in negotiations with the company's management, but have also come to the aid of other union efforts in the area. When GreenStar's upstart union efforts became public in 2019, the Gimme baristas intervened on their behalf, penning a letter to GreenStar management when the local grocery co-op stated that a union would work better at Gimme but wouldn't work at GreenStar. They said that's part of the benefit of unions—that they will stick up for one another in times of need, like when the trades unions offer to show up at rallies for the baristas or lend their buildings for classes on how to unionize, according to the baristas.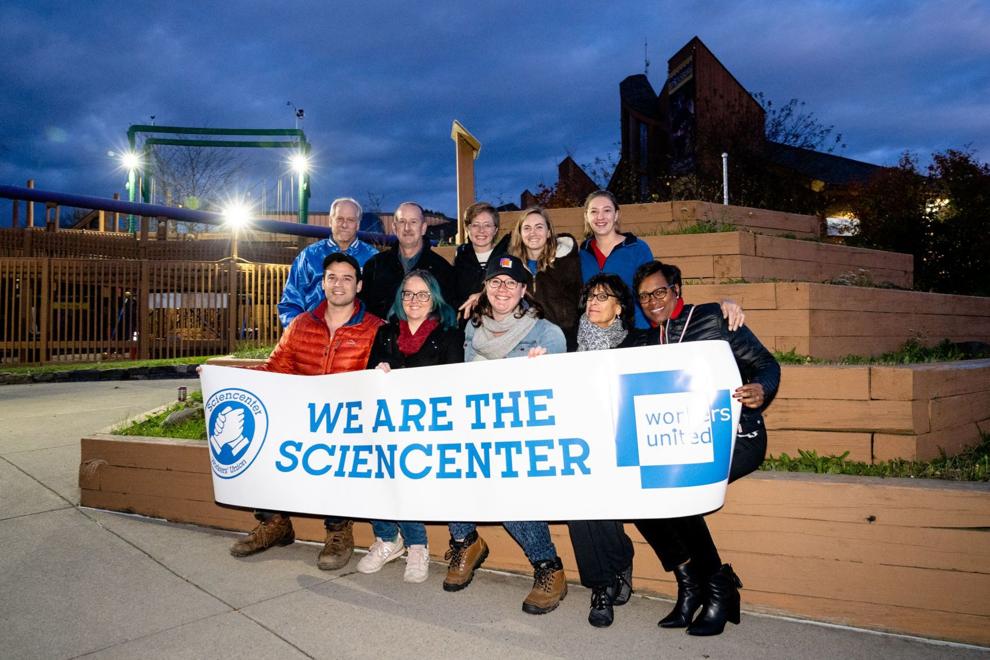 Sciencenter
Though some unions failed, there are others moving along, despite perceived friction with management, such as the Sciencenter. Emily Belle and Lucas Fredericks have been the chief minds behind the unionization effort. This has been in the works for two to three months but has been a point of discussion for workers for years now. Belle described just what led to the 28 workers at the Sciencenter deciding to form a union. 
"I think universally, we are really excited about the work our organization does and a bunch of us were thinking about the best way to organize our time and energy in a really positive way to create an institution where staff could grow and have a really strong voice in all of the policies that are made at the Sciencenter," Belle said. "In exploring a bunch of different options, we settled on unionization as a really strong way to do that; to bring staff voice to the table so we can better fulfill the Sciencenter's mission."
Currently, the workers are in the process of determining what would go into their first union contract. One of the unifying concepts, according to Belle is the staff wanting to voice their interests and concerns when policies are made at the Sciencenter. This would allow the workers to combine their day to day work with the work they do in the community to enhance the mission of the Sciencenter. However, they want to make sure they have a platform before determining what they definitively are asking for.  
Fredericks is aware of how difficult power-sharing can be and how it is one of the challenges they are facing. Other challenges the committee of union organizers are facing is the scattered public perception of unions and unionism is all over the place. They are working with Workers United to get through this process. A secret ballot election was held at the Sciencenter on Oct. 24 by the National Labor Relations Board (NLRB). Due to one out of state mail-in ballot, the ballots are impounded. They will be counted on Nov. 8, though they are confident an overwhelming majority voted in favor of forming their union. 
"We asked management to voluntarily recognize the union, given the number of staff who had initially signed on and expressed interest in unionizing," Belle said, stating they felt like management was resistant. "They were hesitant to do that because I think with any institutional change like this, they wanted to be sure that everyone was fully informed on the matter."
Yet in a statement provided to the Ithaca Times, Dean Briere, executive director of the Sciencenter, said that he thinks the effort as a positive one that will be beneficial for both the Sciencenter and the workers. 
"The Sciencenter respects the right of employees to vote to be unionized in an NLRB election, " Briere said. "We are looking forward to finding out the results of the election that was held on October 24. And if the vote is to unionize, the Sciencenter will recognize the union, bargain in good faith, and continue to work toward our mission of cultivating a broad community of curious, confident, critical thinkers."
Belle and Fredericks said the Sciencenter has been following due process in this but they feel lucky to have the support of the staff and community members. As the election comes to a head, Belle and Fredericks are hoping the contract negotiation process can be as collaborative as possible. This could create room for principled disagreements between staff, management, and the board as each group has a different set of interests in the Sciencenter.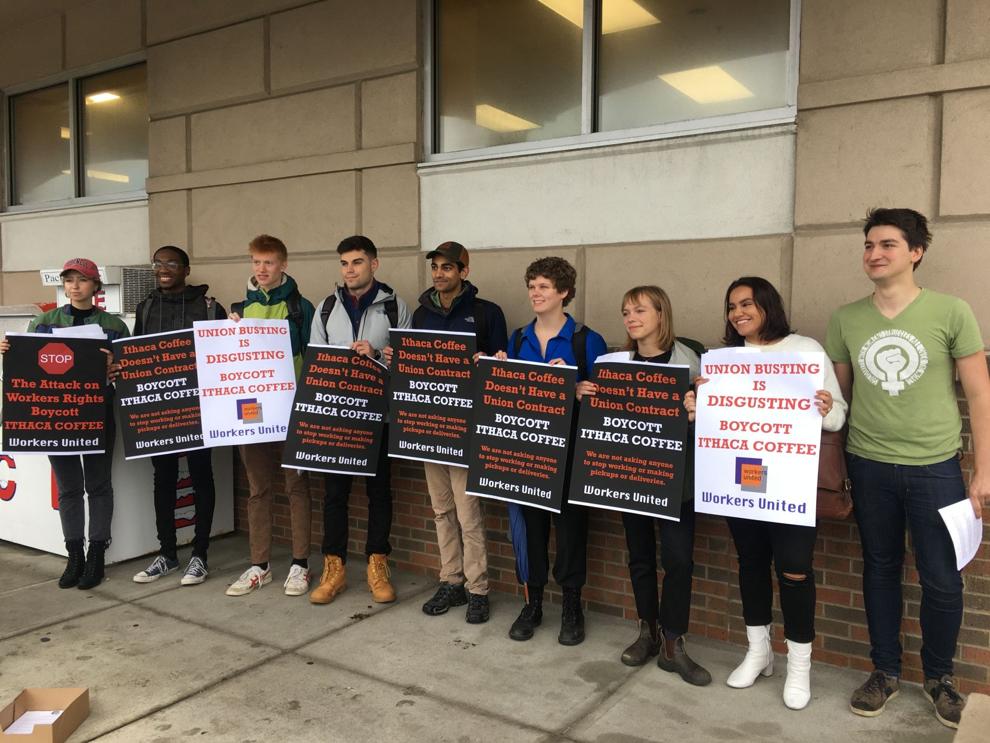 Ithaca Coffee Company
Ithaca Coffee Company employees have been one of the most recent groups to attempt the unionization process, acting on what they felt was a culture of fear at the company. 
Brenden Lukosavich, a former worker at Ithaca Coffee Company was first approached by William Westlake, another former worker who organized the recent boycott of Ithaca Coffee Company, who was talking about some workplace issues. They felt underpaid for their time and the company was notable for promising reviews and raises and not following through. After that, Lukosavich said the list of problems snowballed. Once they announced the campaign to unionize earlier this year, they said management immediately pushed back. Despite repeated attempts, management could not be reached for comment. Update: once this story was printed, Ithaca Coffee Company owner Julie Crowley told the Ithaca Times to stop delivering to either Ithaca Coffee Company location, as any papers delivered would be thrown away. 
Richard Bensinger, a union rep from Worker's United, who worked with Ithaca Coffee Company organizers and several other union efforts in Ithaca, was contacted during the fall of 2018 and he began talking with a few workers from the company. Seven workers pressed on with creating an organizing committee, Bensinger said. A committee was established and weekly meetings were held at the Tompkins County Worker's Center to discuss workplace issues and trying to learn as much as possible from outside resources. The workers sent a letter to management requesting they sign an agreement not to interfere in this effort and with the election for the union. The management of Ithaca Coffee Company responded in a way that led to a series of battles that benefited workers in the end. 
Following a ruling from the National Labor Relations Board (NLRB), the workers at Ithaca Coffee Company won their right to form a union. According to files from the Buffalo office of the NLRB, three employees won back pay and one had disciplinary actions removed from their files. 
Westlake's boycott of Ithaca Coffee Company has continued, alongside students picketing outside the Triphammer Road location. The boycotters have also leafleted and picketed the Gateway location downtown and the Commons, informing consumers of what transpired earlier this spring at Ithaca Coffee Company. 
"We are talking to workers on the inside of both locations to talk about the boycott and to get a sense of what the company environment is like," Westlake said. "Worker's United is not filing for an election or calling a union campaign until the owners at ICC sign on to the fair election principles. The whole point of the boycott has been to make clear that workers have a right to form a union, that those rights have been denied at ICC, and that the community isn't going to support businesses who don't respect the rights of their workers."
Lukosavich is confident a union will come to fruition especially if the workers want it to happen. Even though it didn't go as planned, there was a positive learning experience from all of this. The sentiment called back to something shared by Gimme barista union member Ava Mailloux said in an interview. 
"Your failures will seed your garden, even when you try and fail you learn something for next time and you get used to doing it," Mailloux said. "Even when union efforts fail, it still gets people talking about it."