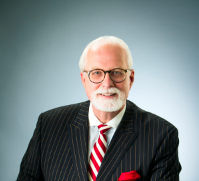 A longtime figure in the Ithaca law community has announced another run for the Tompkins County District Attorney's seat, setting up a potential primary battle with current DA Matthew Van Houten. 
Ed Kopko, who also ran for the office in 2016, announced on Wednesday his intention to seek the office again. He will be running for the Democratic nomination, setting up a primary battle between him and Van Houten if the latter decides to run for the office again.
"Ed Kopko and his team will diligently improve the District Attorney's office to progressive standards approved by our community, with the goals of keeping Tompkins County safe, providing justice and fairness for all, and redefining what is the 'criminal justice' system," Kopko's announcement stated. "The culture of the Tompkins County District Attorney's Office is ready for dynamic change and a paradigm shift which includes swift action to join the progressive criminal justice reform movement."
Kopko goes on to say that if elected, he would establish an Advisory Board of "trusted community members," which would be established to advise who should be appointed as assistant district attorneys. 
"Dishonest law enforcement officers and dishonorable police behavior will not be tolerated," Kopko wrote. "All incidents relating to police misconduct will be thoroughly investigated by our Misconduct Investigative Unit. To ensure public confidence in the process, all investigations will be reported to the public, never forgetting who we have pledged to serve with principles of accountability and transparency."
He also claims he would start an Independent Investigative Unit, which he defines as a unit of investigators who "thoroughly review all evidenece and present the facts before charging an individual."
"High on the agenda is supporting decriminalization, lowering recidivism rates, supporting progressive bail reform laws and reducing mass-incarceration," he concluded his statement. "There is a renewed focus on pre-trial diversion programs of which our community is fortunate to have many."
Kopko has been involved with a number of high-profile local cases recently. He defended Rose deGroat over the summer, one of the people arrested on the Commons in April who eventually had her charges dropped after her case became a flashpoint for race relations among the local black community and the Ithaca Police Department. Currently, he's defending Ithaca Police Officer Christine Barksdale, who was accused by the city of inadequately investigating over 150 cases during the last decade. 
Kopko's last run ended in some controversy, as he accused the Tompkins County Democratic Committee of improper conduct regarding the selection of Matt Van Houten to run under the Democratic ticket for District Attorney. A judge dismissed Kopko's claim. Kopko ended up running and losing as the Independent candidate.