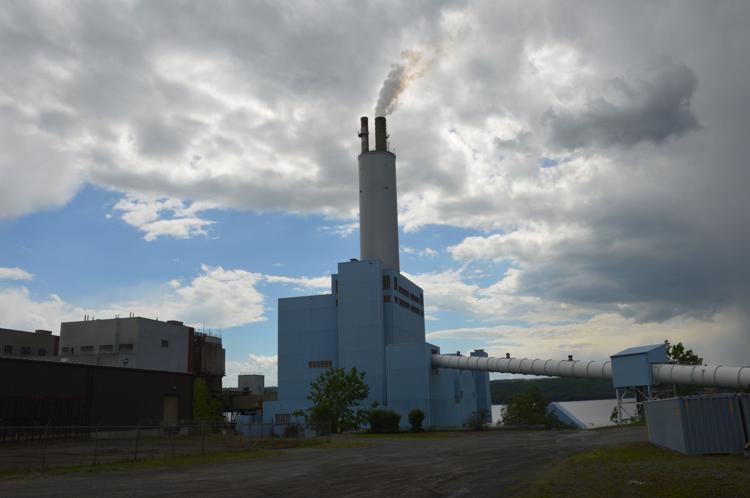 As New York State begins its move away from coal power, Lansing's Cayuga Power Plant has announced plans to repower one of its two on-site power turbines with natural gas after years of bargaining with the state's Public Service Commission, cutting coal usage from that plant. The remaining turbine, or power plant, will continue using coal for the time being.
The single coal burning unit poised to switch to natural gas is scheduled to close in less than a week, and will have to wait until the change is approved by the New York State Department of Environmental Conservation to convert to natural gas and restart operations, a process that will take 10-12 months and include a public hearing, according to the company. Cayuga Power officials, in a release, said the move was in step with larger energy priority changes across the state, getting cleaner and retaining jobs while adding over 200 construction jobs to convert the coal unit to natural gas.
Regardless of the natural gas approval, one of the two power plants on the site will have to stop operation on July 1, 2018, according to a letter sent to New York Public Service Commission Secretary Kathleen Burgess by Heorot Power Vice President Nazar Khan. As Governor Andrew Cuomo continues to crack down on coal, aiming to make New York State's power plants entirely free of coal by 2020, the costly upgrades that would need to be made to the second power plant unit to continue using coal and reduce nitrogen emissions is a less enticing option for the company than switching over to natural gas. The note says NYSEG has been informed of the closing, and does not mention any impact on household electricity delivery despite the closing.
The compressed natural gas (CNG) used to power the plant would be transported via truck from wherever the chosen vendor is located, which is not yet known, instead of by pipeline. The move comes even as the power plant seeks approval for its plan to construct a solar farm near the site, which would be built and operational by July 2020 if all goes according to plan with the NYSERDA renewable energy credit selection process, to be announced later this summer. The 75 acre, 18 megawatt solar farm would be one of the biggest of its kind in New York State.
Local politicians met the announcement with praise. Tompkins County Legislator Mike Sigler, who represents Lansing, has come out staunchly in favor of the repowering. A long-time advocate of the power plant, Sigler said he thinks keeping the plant alive and the 40 or so jobs it provides secure should be a paramount concern, along with the environmental benefits the move brings.
"I think it's great news, it preserves jobs up at the plant, we can make our energy locally as opposed to buying it from Pennsylvania or Canada, and it's a much cleaner source of fuel than coal," he said. "It allows for the plant to stay in business and keep those power lines alive, and not leave all those stranded assets up there."
Sigler said ideally, the power could be delivered by a pipeline instead of putting more trucks on the roads, particularly because of the potential for more property taxes that could then be charged. Regardless, though, he said the move was an easy net positive for the area.
Heorot Power, a subsidiary of energy giant Beowulf Energy, which owns Cayuga Power Plant, touted the move as a step forward in terms of cutting emissions from greenhouse gases, claiming in a press release that the natural gas repowering would reduce carbon dioxide emissions by 60 percent and nitrogen oxide by 80 percent. For whatever gains were made, the announcement evoked a strong response from the community's vocal environmental advocacy population who'd like to see the natural gas step skipped and the plant work directly toward its solar farm implementation.
While the step away from coal was praised, replacing it with natural gas primarily composed of methane, is still utilizing a fossil fuel and still encourages fracking (albeit out of state), another bugaboo for the environmental crowd. So while at face value it would seem like a win for all involved, activist groups were not satisfied with the repowering plan.
Local chapters of organizations like Mothers Out Front, an environmental activism group, have spoken up, challenging the plan by arguing the damage of continuing with natural gas is too severe and the risks too high. Their primary concerns are the danger of transporting CNG by truck, the inherent emissions and lake pollution that will remain even after the repowering due to natural gas usage, and damage to the roads from the truckload rise.
Additionally, the groups have infrastructure concerns as well. The influx of truck traffic would be significant, though Heorot downplayed it in their press release. It would cause an estimated increase of 25-60 CPG trucks per day on area roads, according to the company's announcement, equaling out to between 15,000 and 16,000 truck trips per year. This is another sticking point for environmentalists, who fear the sheer volume of trucks and the toll it could take on roads as well as the possible fallout of a crash. Sigler dismisses these worries as "fearmongering and scare tactics" citing a sign held at a recent Tompkins County Legislature meeting calling the CNG vehicles "bomb trucks." Statistics aren't readily available on the frequency of CNG tanker truck crashes, but they are more strictly regulated than trucks carrying other substances due to CNG's volatility.
Mothers Out Front team coordinator Katie Quinn-Jacobs spoke of the state's goals to attain 50 percent renewable energy usage for electricity production by 2030, which she said would be damaged by continuing to tap-dance away from coal if only to stop at natural gas. She worried that repowering the plant with natural gas would mean gas usage on the site would continue far into the future, despite the solar farm's planned establishment, and continue to damage the environment with harmful emissions and the like that would mitigate the positive of having a new solar power generator there.
"They got the solar part of it right, why aren't they doing it completely right?" Quinn-Jacobs said. "We don't need to make energy like this anymore, it's an outdated thing that should be left in the past [...] It's just that simple, if we don't start doing that now, then when?"