With the census data released, redistricting is officially upon us. And with the release of the first draft of maps, we're not much closer to knowing what the outcome will be.
So what is redistricting? The American Civil Liberties Union defined redistricting as the process of drawing the lines of districts from which public officials are elected. 
"When it's conducted fairly, it accurately reflects population changes and racial diversity, and is used by legislators to equitably allocate representation in Congress and state legislatures," the ACLU website says.
State redistricting
The Constitution requires redistricting to reflect shifts and growth in their populations. New York state is losing one house seat after coming up 89 people short to retain its 27 seats.
"Even if the total population doesn't go up or down, people shift and move around," Tompkins County Legislator Martha Robertson said. "You have to make sure your lines are fair and equitable."
Robertson added that her understanding is the population grew more downstate than upstate, moving the state's center of gravity, so to speak, downstate. This year, for the first time, New York is using an interdependent redistricting commission that comprises five Democrat-appointed members and five Republican-appointed members in an effort to prevent gerrymandering. Gerrymandering is when redistricting is used as a tool (often by a specific political party) to manipulate electoral outcomes or discriminate against certain groups.
Robertson said that the legislature has no control over what the state's redistricting commission decides, but she said there are preferential outcomes for Tompkins County. She said they like Assembly District 125 because it leaves the whole county intact.
"That feels great, along with the western part of Cortland County which is also a good fit," she said.
Tompkins County is part of Congressional District 23, which extends along the border with Pennsylvania and includes Alleghany, Cattaraugus, Chautauqua, Chemung, Schuyler, Seneca, Steuben and Yates counties, along with parts of Ontario and Tioga counties. The district is primarily rural with the exceptions of Ithaca and Elmira. The county remains intact in this district as well.
As for state senate, Tompkins County is part of New York's 58th State Senate district and includes some of all of Chemung, Schuyler, Steuben and Yates counties. It splits Tompkins County near Lansing, and includes Ithaca, Newfield, Enfield, Trumansburg and continues west to Hornell and south as far as the Pennsylvania border. Another rural county with the exceptions of Ithaca and Elmira.
Both the Senate and Congressional districts are represented by Republians, Tom O'Mara and Tom Reed respectively, despite Ithaca and much of Tompkins County reliably voting Democratic.
Robertson said that she believes Tompkins County should be attached to Cortland County in the Senate and Congressional districts as well as the Assembly district because "we have a lot more in common with Cortland County than with the counties to our west."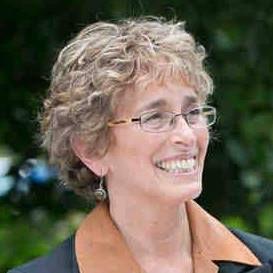 "We share [Tompkins Cortland Community College] with them, we know their legislature, we jointly serve our community college constituents. That's a big deal," she said.
She added that in addition to sharing TC3 and an Assembly district, both counties have higher-ed based economies because of SUNY Cortland, Ithaca College and Cornell University.
"That's one of the things the commission is supposed to look at," she said.
In addition to shared interests, there is also a high number of commuters between the two counties; Cortland County is Tompkin County's highest commuter-in and commuter-out counties by a lot.
"More people go to Cortland County for work than any other outlying county," she said. "That's another part of our shared community. It makes a whole lot of sense for us that we'd like to be included with Cortland rather than with the west."
Robertson also said she'd like the county to remain intact in the congressional district, but that it's not ideal being split into three different senate districts.
"We hate that," she said. "We want one senator who knows us. These are the points [the legislature] has agreed on and are trying to communicate."
She added that the views of the Tompkins County Legislature were backed up by officials in the western counties who made the case that they're agricultural counties and shouldn't be put in with bigger cities along the thruway.
"They were pointing out that those countries are mostly agricultural and it's not our main driver at all," she said.
Losing one seat tends to have a bigger effect on upstate districts than downstate districts because the population is much more spread out.
"All of the districts are going to have to have more people, and in upstate New York that means bigger geographically," she said. "Downstate congressional districts are like single blocks. It's such a different thing when you're looking downstate."
Before former Gov. Andrew Cuomo left office, he had talked about filing a lawsuit to try and retain the state's 27 congressional seats since it was only an 89-person difference. However, Robertson said this is not going to happen. 
"They must have looked at it and realized they didn't have a leg to stand on," she said. "How could we say anything was done wrong so we didn't have 89 more people? There's no evidence that someone was left out."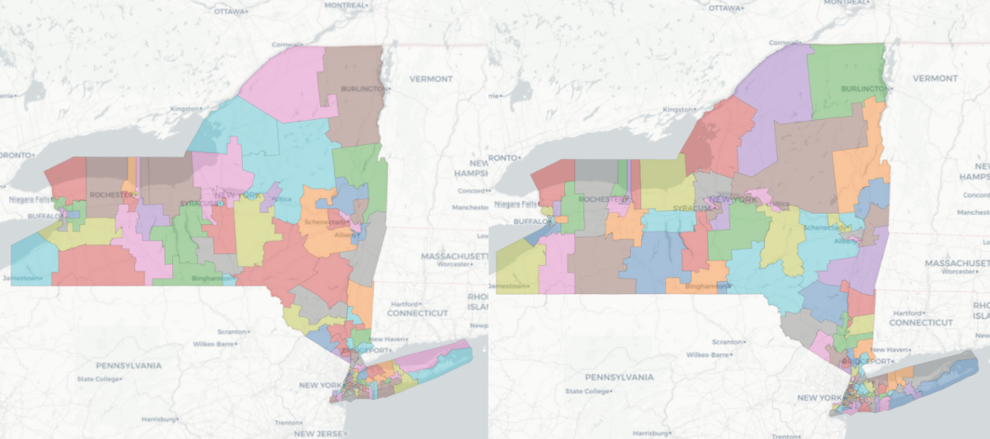 She said many people anticipated New York losing two seats, so "the fact we almost kept all of them was way better than expected."
The first drafts of the newly drawn maps were released Sept. 15, and to the surprise of many, there were two versions as the group couldn't come to an agreement.
The drafts: Names vs. Letters
In the "Names" draft of congressional districts, Ithaca, and it appears all of Tompkins County, is included in a district south and mainly west. The district includes Binghamton, Elmira, Corning, and everything west of that along the Pennsylvania border to Lake Erie. This, it's believed, would benefit Republicans. It's different from the current district, but not a hugely impactful change.
However, the "Letters" draft of the congressional district goes in a completely different direction. Ithaca, and again all of Tompkins County it appears, would be part of "District T." This includes the city of Cortland (though not the whole county), Auburn, Marcellus, Syracuse, Utica and Rome. This is thought to benefit Democrats.
The "Names" draft of the Assembly district cuts Tompkins County just west of Ithaca. Ithaca, Lansing, and the remainder of the county to the east, is included with much rural land. No part of Cortland County is included, and the district stops shy of Johnson City and Binghamton. Ithaca would be the largest city included. The western portion of the county that isn't included in is part of a large county that encompasses much of the areas surrounding Owasco Lake and Seneca Lake, plus the eastern southern shore of Canandaigua Lake.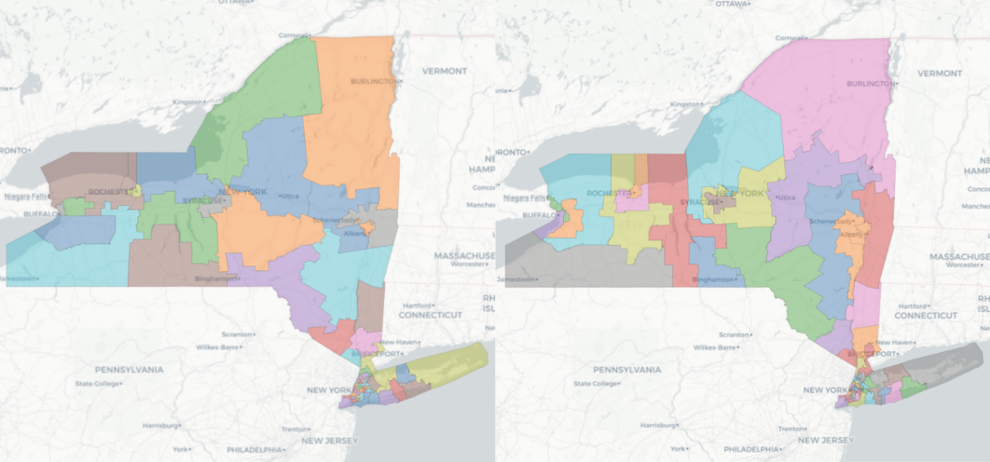 The "Letters" draft of the Assembly district includes all of Tompkins County and north and south of it. It does not include Cortland or any part of Cortland County, but does include Marcellus and about two-thirds of the eastern shoreline of Cayuga Lake, plus the southern end of Owasco Lake, as well as half of its eastern shore.
The "Names" draft of the Senate district keeps the county intact and includes it with all of Cayuga Lake's shoreline, as well as Geneva and parts of the eastern shoreline of Seneca Lake. It extends west to include Canandaigua and almost all of Canandaigua Lake, and beyond (stopping short of Rochester).
Again, the "Letters" draft is significantly different. Tompkins County is intact, though again does not include Cortland in any way. It encompasses all of Tompkins County and then south and east, including Binghamton and the area along the Pennsylvania border. 
These maps are now out for public comments and there will be a series of public hearings around the state. Robertson said presumably from there they will revise the maps based on public opinion and then present them to the state legislature in early January. Maps ideally need to be approved by February when petitioning starts. According to Robertson there is a law up for referendum in November this year that would speed the calendar up by shortening the time period from when the commission presents the maps to when the legislature can vote.
"It shortens the timeline, we're really concerned with how late it is when people find out what the lines are," Robertson said. "Every week really matters — the more time the better."
County redistricting
Much like the state, the county will be drawing new maps using an independent redistricting commission. Legislator Amanda Champion is heading the charge and said this process was put into place 10 years ago. The commission will comprise nine independent volunteers, meaning they cannot be a current elected official or officer in a political party. They can be registered to a particular party, of course, but have to be independent from any organizations.
"These folks will work with the county staff and start sifting through census data […] to see where populations have shifted in the county and decide if our district lines need to change," Champion said.
She added that Tompkins County can have anywhere from 13-17 legislators (there are currently 14), so theoretically the commissioners could decide that there's been enough population growth to add a legislator seat.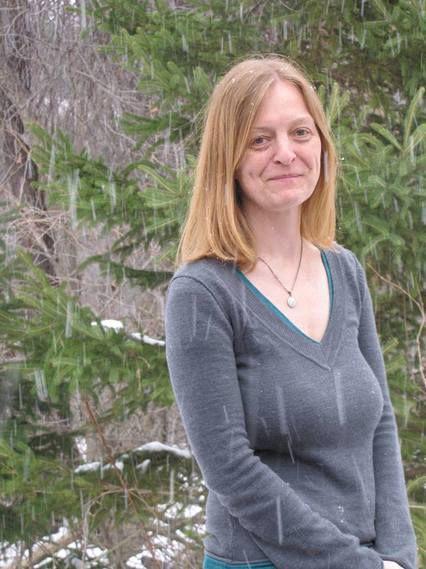 "Rumor has it that the city of Ithaca has increased its population," Champion said, confirming that it's possible a fifth legislator could be added for the city.
"I know the town of Lansing has been growing quite a bit too," she said.
As far as how lines are drawn within the county, Champion said it's nice to keep towns intact if possible, but currently the towns of Ithaca and Enfield are split up.
"It's really based on population," she said. 
The process in the county will follow a similar path as the state, redrawing lines, getting public input and coming up with a final plan to present to the legislature through the Government Operations Committee. The legislature does have the ability to send it back and offer feedback, but Champion said the legislature will likely respect the role of the commissioners.
"The commission isn't just off in a closed room," she said. "They'll have the support of the county administration, probably a legislation clerk. They can bring in other experts if they want more opinions. The commission is a guiding force, looking at the bigger picture alongside staff who are experts in this field."
One difference from the state, though, is the county commission isn't on quite the same time crunch. However, Champion said she hopes they move along at a good pace and have it done in 6-8 months.