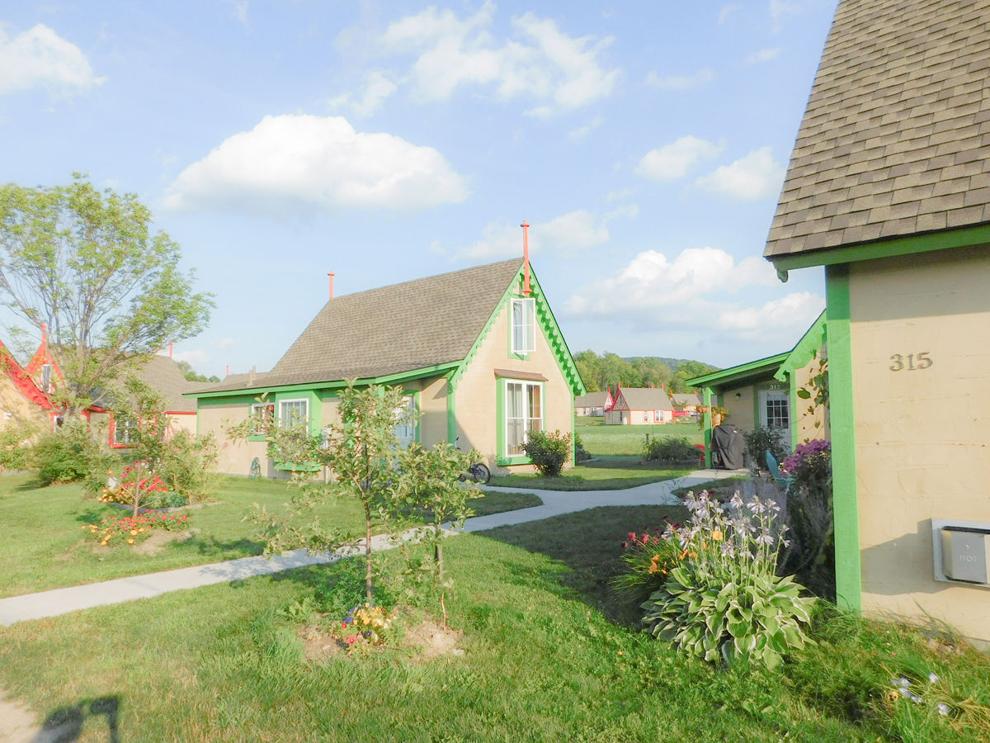 Ithaca's been thinking big about its housing problems, eyeing skyline-makers that can house hundreds to make the city denser and increase the tax base. But the Planning Division's 2018 agenda indicates the city could be looking smaller to boost the effort.
The backbone of Ithaca's housing fight has been projects building upwards, like Harold's Square on the Commons or City Centre at the Trebloc site on State Street. The Planning Division's report, though, distributed at a January 10 meeting shows the city may be looking to use what little developable land it has left to deploy smaller, more creative options ranging from tiny houses (usually less than 1,000 square feet) to repurposed school buses, though the idea is still in its infancy and would need approval to get around New York State's building codes.
"Address the affordable housing shortage, in part, by revising zoning and building codes to allow alternate housing types in the City such as Tiny Houses, Shipping Container Homes, converted buses, etc.," the report states.
The agenda also includes a potential renewed push for inclusionary or incentivized zoning, which has been floated before to induce more affordable housing construction, though its effectiveness has sometimes been shaky when employed elsewhere, having a chilling effect on all housing construction which is about the last thing some Ithacans would want.  
Some area developers, like Buzz Dolph of Tiny Timbers and Bruno Schickel of Schickel Construction, both of whom build small homes, doubt this aspiration of the Planning Department will ever come to fruition. Dolph argued that the road to approval for things like building permits is too burdensome now, in both time and money, to truly attract more outside developers in any meaningful quantity, combined with an uneasy public. Those factors are far more restrictive and culpable for the housing issues than whether or not the city embraces things like shipping container housing, they said, and the impact those have negatively impacts
Dolph and Schickel both used the words "joke" and "unrealistic" to describe the proposal. Looking at the fight over projects like 210 Hancock Street is informative in this case, Dolph said, as an indicator of the NIMBYism that is likely to arise if anything tangible is proposed. Ithacans were either fearful that a large, well-designed affordable housing project would negatively impact their property values, or that the neighborhood fit wouldn't work. What would the reaction be if someone tried to plop a shipping container down the street then?
Sean Gannon, a former Common Council candidate with decades of small housing experience, just returned from several weeks around the country touring how other communities handle tiny house building. This, plus his experience, led him to the conclusion that they are not a "reasonable solution to increasing housing availability in a sustainable manner." While they may work for individuals, they don't pass muster as a more general fix.
"I am much more interested in municipally integrated small homes as a solution for current housing wants," Gannon said noting the difference between tiny houses and small homes, the latter of which is connected to the grid via water meters and the like, and which can be assessed for taxation. "We have a terrific opportunity to establish a national model for progressive housing solutions, increase tourism opportunities and grow our tax base."
The city's Planning Director JoAnn Cornish said she understands the skepticism and agreed that certain changes to the building process would be beneficial, as Schickel also said he wouldn't build in the city because he didn't think the hassle was worth it. His Boiceville Cottages development in Caroline is one of the more notable small-house developments in Tompkins County, holding over 100 free-standing cottage units, with some others attached, all that fall between 650 and 1,050 square feet per unit.
"There's no question about it," Schickel said. "They have a very complex regulatory environment that has a negative impact, it drives up housing costs and it drives down supply [...] I wouldn't, I just don't think it's a good fit for me."
She said while opinions vary on the efficacy of outside-the-box solutions like shipping-container houses, it could help address a less discussed housing gap: workforce housing, which wouldn't necessarily qualify as "affordable housing" per se, but is meant for people with income but not enough to afford otherwise acceptable housing near their workplace. In particular, Cornish said attracting the commuter population that travels to work in Ithaca but lives elsewhere due to prices could be one of the effects.
She said perhaps building multiple small homes, actual house structures and not repurposing anything, on a single parcel could be an interesting alternative to large apartment buildings. That way, they could still advance the city's density goals while simultaneously fitting in more appropriately with a neighborhood, avoiding some of the public fights that kind of development has caused. Still, she was non-committal about the plan, and emphasized that it's only an interest now, not a committed plan.
"Maybe the time is right to introduce some of this," she said. "If demand increases, I think there would be support for exploring some of these options. [...] It's worth exploring, I don't know how practical it is but I think it's worth trying to see if we can make some of these work."
Follow Matt Butler on Twitter @AllegedButler