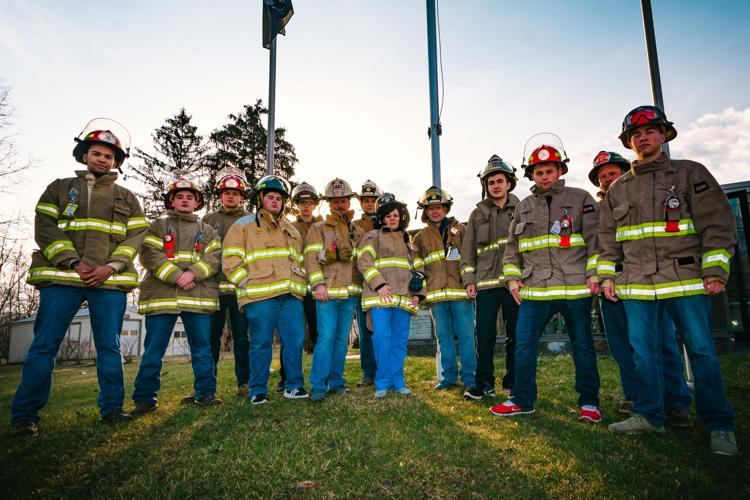 In West Danby, Shawn Wendt, a 17-year-old junior at Newfield High School, has been following in his father Scott's footprints in the West Danby Fire Department (WDFD) since he was a little boy.  
Scott, who has served the WDFD for 23 years, is the current Fire Chief, and when his son, a junior member of the department, became eligible at age 16 to take state firefighting courses through the Firefighter's Association of the State of New York, he was on his way to follow right along in his father's path. Because of his youth, Shawn is not able to participate in interior firefighting until he becomes a member at age 18, but he can and does attend calls as long as he is supervised. His favorite parts of being a firefighter are to help people and giving back to the community, and when he's not in school or at his job at the Newfield Covered Bridge Market, he regularly helps out with WDFD barbecues, craft shows and breakfasts, as does his 14-year-old sister, Mackenzie. He enjoys watching firefighting shows on television, and plans on going on to college to study computer science and hopes to continue as a volunteer firefighter as well.  
"It makes me proud to see my son coming to calls and helping at department functions," Scott said.
When you take a close look, you'll find the volunteer fire departments across Tompkins County are all, similarly, family affairs.
Hugh Trimm is a life member of the Trumansburg Volunteer Fire Department, serving for the past 26 years. He got his start in fire service in Danby in 1988, transferring to Trumansburg in 1992, where his son, Geoffrey, grew up around the fire station and always wanted to be a volunteer when he grew up.  Hugh says, "The youth volunteers bring a burst of energy to the senior members with their drive, enthusiasm and desire to serve their community."
Geoffrey, 17, who attends Trumansburg High School, is a criminal justice sergeant at TST Boces in their Criminal Justice Program and works at the Trumansburg Shur-Save.  As a youth fire service volunteer, he responds to calls and helps as needed on site, saying, "What I like best about this program is helping people out during critical times." Geoffrey plans on becoming a police officer and continuing his service as a volunteer firefighter. Another volunteer, Matthew Taylor, is the current Deputy Chief of the Trumansburg Volunteer Fire Department, serving the department for the past 15 years.  His mom, Marcia Taylor, was an EMT in Interlaken when he was growing up, and he had uncles and cousins who were all volunteers. He was a late bloomer as a volunteer, not starting out until age 28, but the ethic has certainly seemed to spread early on to his 16-year-old son, Jared, a Trumansburg High School student. Jared, like many of the other youth firefighters in Tompkins County, joined to follow in his Dad's footsteps, and stays busy at the station cleaning trucks and making sure equipment is in tip-top shape and ready to go whenever needed, something he plans on continuing when he goes on to attend Onondaga Community College and taking part in the bunk program at the Onondaga Hill Fire Department. Here in Trumansburg, we also meet the DiMarco family – Dad Frank, a 20-year member of the department – and sons Devon, 20, and Nic, 17.  Nic likes making a difference in his community, and making friends within the firefighting family. He likes to travel, play tennis and work on computers. After taking a 79-hour course, Nic can help at a fire scene as long as he stays outside the building. He plans on attending SUNY Fredonia to earn a degree in computer science.
Visiting the various fire departments of the area, I found many similar stories. My meeting in Newfield came to an abrupt halt, appropriately enough, due to a fire call involving downed power lines. But there was enough time for me to find out that firefighting is in the Havlik family.  Scott Havlik is the department's EMS Chief, Mom Tracy is a Captain and department secretary and their children – daughter Hannah, 19, and son Thomas, 16 – are fourth generation members. Hannah, a FASNY scholarship recipient, attends Tompkins Cortland Community College, enjoys hiking, fishing, and hunting, and considers the fire station her "second home." Thomas attends Newfield High School and is active in soccer, track and field, and will also continue as a volunteer firefighter. Assistant Newfield Fire Chief, Bill Baker, went on calls with his Dad, Lyman Baker, then he joined the Ithaca Explorers, became a bunker and made a career of firefighting for 26 years.  It's a similar family affair for Newfield High School Students Connor Adams, 17, and Christopher Baker, 18.
"My father and grandfather have been firefighters for a long time," said Christopher. "I've wanted to follow in their footsteps."  
These young men and women stand in as the future of a field which, nationwide, has been tagged as being in crisis. A majority of all firefighters in the United States – about 70 percent – are volunteers, according to statistics from the National Fire Prevention Association, with more than 95 percent of the state's 1,800 or so volunteer fire departments protecting communities of fewer than 25,000 people. Half of that number serve communities of less than 2,500, according to the NFPA. In New York State, fostering young people to serve their communities has become a significant focus. Some communities won't see people join the fire department until the age of 30 or 40, Robert Leonard, a spokesman for FASNY, told the Ithaca Times, largely as many people either work two jobs or are trying to establish careers and families, however the involvement of youth has become a crucial element for fire departments as a whole, especially when, nationwide, the average age of volunteer firefighters has actually increased, indicating fewer young firefighters are joining up.
This is why recruitment has become particularly important for departments across the state, especially as firefighter's missions have been growing and increasingly complex in scope.  To address this vital need for volunteers, FASNY has secured a United States Department of Homeland Security Staffing for Fire and Emergency Response (SAFER) grant. This award supports a statewide effort to retain current volunteer firefighters and recruit new ones.  This initiative includes a statewide mass media campaign, providing tools, training and resources tailored to the circumstances and needs of volunteer fire departments, an innovative recruitment website (fireinyou.org) that automatically directs you to the recruitment coordinator of the appropriate volunteer fire department in your community, and offers tuition reimbursement to volunteer firefighters, allowing them to earn up to 80 credit hours from a New York State chartered community college, and with up to 100 percent of a tuition reimbursed in exchange for maintaining high grades and membership in a volunteer fire department.
One of its biggest initiatives is happening at the end of the month.
Established in 2011, RecruitNY is a joint undertaking by FASNY, the New York State Association of Fire Chiefs (NYSAFC), Association of the Fire Districts of New York State, Volunteer Fire Police Association of the State of New York, and County Fire Coordinators Association of the State of New York. The recruitment push, scheduled this year for April 28-29, will see firehouses across New York State open their doors to the public in an effort to increase membership in the volunteer fire service.  This will be the eighth straight year of this recruitment, which is a cornerstone of FASNY's ongoing recruitment campaign.
During the April 28-29 weekend, the public will be able to get a taste of what it means to be a volunteer firefighter.  Volunteer firefighters will be conducting firehouse tours, demonstrating firefighting techniques, and more, all to generate interest and appreciation for what members do on a regular basis.  Anyone interested in joining the fire service will have the opportunity to speak with active volunteers.
"It is a privilege and an honor to serve as a volunteer firefighter," says FASNY President, Ken Pienkowski.  "Joining the fire service is an incredibly rewarding thing to do, and all across New York State volunteers are eager to discuss this possibility with their neighbors, friends, and family.  Serving as a volunteer firefighter means serving one's community, but it also means joining a very close and special family. We are always heartened to see New Yorkers turn out to support their volunteer firefighters."
Locally, volunteer fire departments have worked to get creative with their recruitment efforts. In Enfield, First Assistant Chief of the Enfield Volunteer Department, Mark Stilwell, who has served for five years, notes that before his time Boy Scouts would join the fire department through an Explorer program, but as the number of scouts declined in the Enfield area, the fire department became involved in the junior firefighter program.  
"Our youth volunteers help immensely around the station and at fire scenes," he said. "They are full of motivation and willing to learn all there is to know.  We train them in hopes that when turning 18 they will become full-fledged members. My grandpa and father are both life members in Enfield and I feel it is a tradition to encourage."
The youth involved in Enfield, all Ithaca High School students, are Bailey Stevens, 15, who, along with his Dad, Jamie Stevens (who became a member due to his son's encouragement) work together at Koskinen's Towing in Trumansburg.  Bailey says, "I enjoy the brotherhood and the satisfaction of accomplishing tasks as a fire department team, whether it be mopping the station house, washing the trucks, or assisting at a fire scene." Bailey intends to further his education in the firefighting field.  Donovin Clements, 15, says he got involved in the youth firefighting program to give back to the community and learn first aid. Keven Morse, 14, is a crew chief on his family's race car, and loves to hunt, fish and play hockey. Keven's Dad, also named Keven, has been a member of the department for 28 years, so young Keven grew up around the fire station team and always loved it.  He says, "Being in this program has been the best experience I've ever had" and he hopes to both play college hockey and become a paid firefighter.
But beyond offering opportunities for young people to grow as leaders in their communities, volunteer fire departments do so much more than answer emergency calls. They often serve as the backbones of local communities, hosting popular events such as parades, chicken barbecues and pancake breakfasts, and providing common space for people to gather. In addition, volunteer firefighters save New Yorkers money.  In 2016, FASNY released an economic impact report, which concluded that fire departments staffed by volunteers save taxpayers over $3.87 billion dollars, and that figure does not factor in the cost of acquiring the necessary facilities and equipment needed to accommodate a paid fire service.
And the best part is, almost anyone can take part. Specific requirements vary between departments, but generally speaking, a volunteer must be at least 16 years of age. There is no maximum age, with less physically demanding duties, such as administration or scene support, available to older volunteers.  A volunteer should be in good physical health, but this is, of course, relative to the duties called upon to perform, and of sound moral character, and prepared to fill a position of responsibility and trust. Experience shows that successful volunteers are usually caring people who are concerned about their community and enjoy being challenged and learning new skills.
In Brooktondale, Fire Chief Bill Lampila tells me there are no junior volunteer members currently, but they have had many in the past who are now full-fledged members.  He invites anyone interested in joining to stop by the station at 786 Valley Road any Monday night after 7:00 p.m. or call 607-539-7173.
Before I left the Enfield Fire Station, the crew I met with there asked me to remind the community about the burn ban, which is in effect across New York State right now through May 14. Being firefighters, these department members are always on the alert for ways in which to safeguard their communities, and we are all the better for our local volunteer fire department personnel of all ages.  Fire service is a noble career to follow, and it was my honor to speak with past, present and future first responders.
For area residents looking to find out if your fire department is participating in RecruitNY, visit http://www.recruitny.org/participation-area for more information, contact your local fire department via a non-emergency phone number or go to its website, or visit www.recruitny.org.
FASNY offers a High School Recruitment Tool Kit to fire departments wishing to tap into the next generation of volunteers, teens who might be interested in joining the fire service.  More information about that can be found at www.recuitny.org.