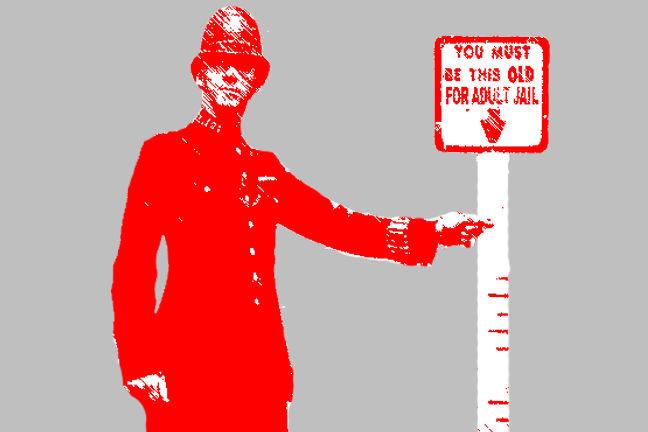 When Governor Andrew Cuomo announced the enactment of legislation that would raise the age teenage felons could be incarcerated in adult jails last year, it was hailed by many as a marker of overdue progress.
Beginning in October, New York State's juvenile justice protocols will be regulated by reams of new regulations outlined in a 176-page policy document from the Governor's office, reversing a decades-long practice in New York State to try adolescents under the age of 18 as adults in its court system.  At the time of signing, New York was one of just two states to prosecute all 16 and 17-year-olds in adult correctional facilities and, under scrutiny in the years following the controversial incarceration of Kalief Browder – a black teenager arrested and held in Riker's Island for three years for stealing a backpack – numerous criminal justice groups had been calling on the state for reform. Moving forward, youthful offenders previously tried as adults for serious offenses – rather than tried in adult courts and sentenced to adult facilities – will have their cases heard in family court and, if convicted, will be sentenced to stay in specialized detention facilities catering to youthful offenders, completely separate from adult facilities.
However, facilities catering to this demographic are few and, despite praise from many criminal justice reform groups across the state, counties such as Tompkins find themselves facing numerous questions with few answers just months from the date the law goes into effect.
According to a report from the New York Office of Children and Family Services released last October, the Southern Tier Region (which includes Tompkins County) will be facing a shortfall of approximately 25 beds when the law goes into effect in October, just a small proportion of the approximate 194-bed shortfall facing all of New York State. Though Tompkins County has traditionally contributed a minimal number of youthful offenders into the criminal justice system (Tompkins County judges, on nearly 300 arrests between 2012 and 2016, levied just 16 jail sentences and seven prison sentences on offenders under the age of 18, according to statistics from New York State) it shares a limited number of beds available statewide for youths who would no longer be sentenced to jail or prison under the new law.
According to Tompkins County Commissioner of Social Services Kit Kephart, youthful offenders who have committed crimes of a serious nature would either be remanded to Skeele Valley – a non-secure juvenile detention facility in the Town of Fabius – or, for more serious offenses, Hillbrook, a secure juvenile detention center in Syracuse. Facing an anticipated uptick in demand for beds from its regional partners in other counties, both Hillbrook and Skeele Valley has been looking for an answer as to whether or not the facility will be able to accommodate those needs. Serving multiple counties who, like Tompkins County, are similarly ill-equipped, each has found itself needing to evaluate future needs coming from each of the counties it serves and, from there, figure out plans to meet those needs.
This, county officials say, is tricky.
"Hillbrook will be using most of their specialized secure beds with the youth from Onondaga youth," said Patricia Buechel, the Director of Probation Services for Tompkins County. "They made that very clear from the start. That doesn't leave a lot of room for the rest of the counties to have space available for them."
According to New York State criminal justice statistics, Onondaga County – due to a number of factors – has a significantly higher rate of juvenile crime than that of other rural counties. More than 2,800 juvenile arrests were made between 2012 and 2016, leading to 138 jail sentences and just as many prison sentences. Meanwhile, numerous other counties, whether through independent reforms to their justice system or sheer demographic differences, have managed to keep their sentencing statistics low. As a matter of policy in Tompkins County – more minor crimes would typically result in an appearance ticket, likely with no arraignment or bail set following their arrest.
Tompkins County District Attorney Matthew Van Houten – whose role includes covering Lansing Town Court – named the example of a 16-year-old who shoplifts from the Shoppes At Ithaca Mall, something which might happen once a month or so. Likely classified as a misdemeanor, the teenager would typically be sentenced to community service and, in exchange for that, the case is given something called adjournment in contemplation of dismissal, or ACD, which allows the potential for the defendant's charge will be dismissed if the defendant does not engage in additional criminal conduct over a six-month probationary period after their hearing.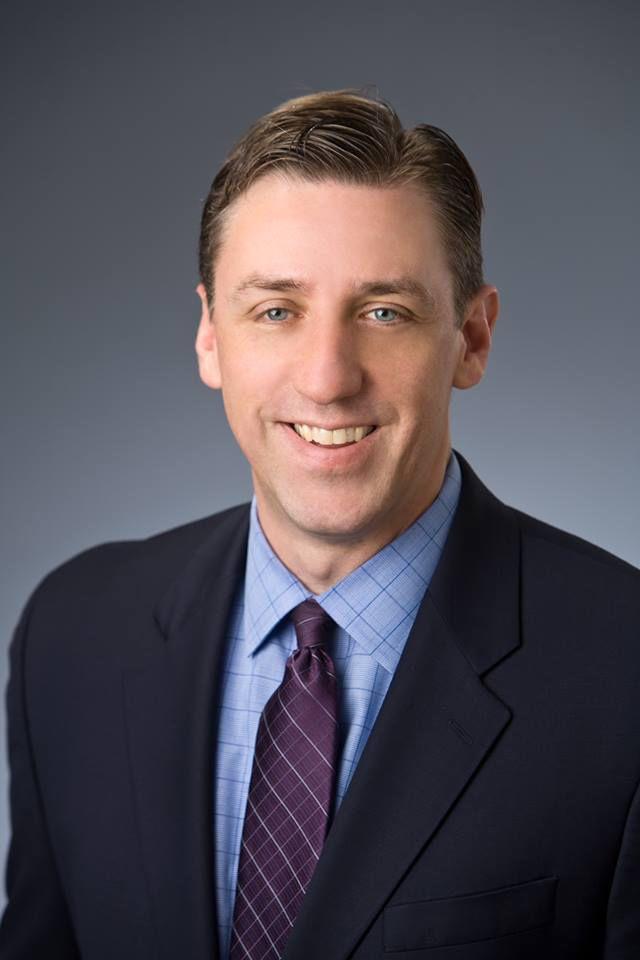 Under the old law, Van Houten said, if an individual had a previous criminal record under the age of 19, they would have mandatory youthful offender treatment in the eyes of the court and, if convicted, their case would be sealed and would not show up on one's criminal record and they would not be sentenced as an adult would for felony cases.
"In my scenario, those kids would never have been in jeopardy of going to jail pre-Raise The Age, and they're definitely not in jeopardy of that now," said Van Houten. "The main consequence that will come up because of Raise The Age that will probably happen 6-8 times a year, where there is a 16 or 17-year-old who commits a felony offense – or what will be a felony offense."
Van Houten said that without the possibility of some offenders under the age of 18 going to jail – which Tompkins County tries to avoid whenever possible – new logistical issues might arise due to the county's inability to accommodate them; say, for example, an instance where a 16 or 17-year-old commits a serious violent crime and cannot make bail.
"This law will require significant resources," said Van Houten. "You need to pay overtime for corrections officers to transport them to the facility – wherever that is – and to bring them back for court. For attorneys representing them to contact them, they either have to go to that facility an hour away or meet with them before or after court, which is difficult if the corrections officers are waiting to take them back to wherever they're being housed. It creates logistical nightmares and additional expense which we're told are being covered by the governor. But we don't know how long it will last or how easy it will be to be reimbursed for those expenses."
"The philosophy of the legislation was sound," he added. "But they didn't think through a lot of the details."
Since the law was first announced, many counties have joined together to figure out how to address the new legislation from the local side. Tompkins County recently signed a memorandum of understanding with ten counties – Yates, Tioga, Steuben, Seneca, Schuyler, Ontario, Livingston, Cortland, Chemung and Allegany Counties – to begin evaluating each county's criminal justice systems and explore whether or not the creation of a new juvenile detention facility will be necessary. Some counties are looking at expanding programming, Kephart said, but with fewer resources to work with, many are looking down timelines more in line with completion by 2020, rather than this autumn when the law takes effect.
The resource issue also speaks volumes to the counties that will be faced with the most trouble come October: while Tompkins County, for instance, has a number of early intervention programs in place to limit the number of youths entering the system, young people in other counties may not receive intervention until they are sentenced to a jail term, an indication that preventative services are in short supply there.
"If you've got a kid who committed a felony and is deemed to be a danger to society, they're in an adult facility under those auspices," said Kephart. "You don't want to release them to a group home where they're not monitored and potentially able to hurt somebody else. Family court judges really need to look now at where they're sending these kids – be it a secure facility, a non-secure facility, or some sort of residential treatment facility. This depends totally on their level of need and risk."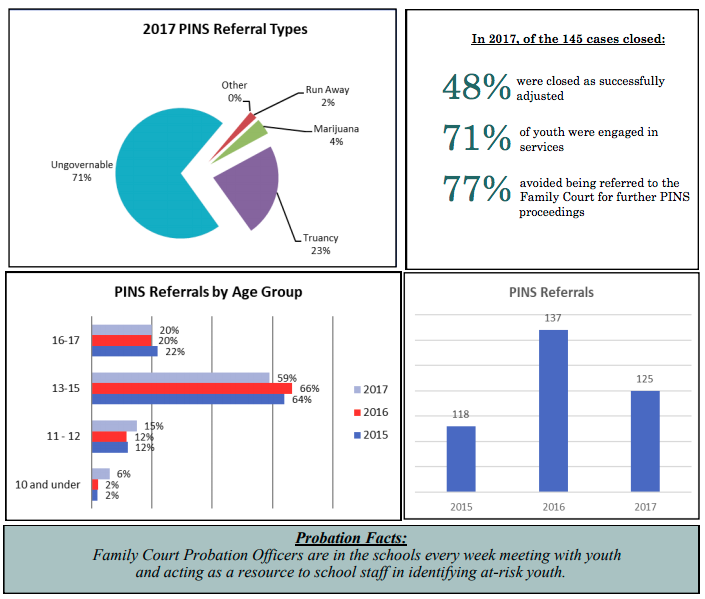 Tompkins County has made an effort to divert as many youths from detention as possible. In 2017 alone, the Tompkins County Probation Office saw 125 Person In Need Of Supervision referrals (PINs), 53 juvenile delinquency referrals and served 26 youths in schools before PIN referrals were deemed necessary, looking to offset some issues such as truancy in school, running away or other early risk factors that could eventually lead to other crimes. Offering other solutions, such as an expansion of the department's electronic monitoring program (a daily cost of just under $7 per person, as compared to $600 a day to house a youth at Hillbrook) could offer judges a sentencing solution that could further keep local kids out of special youth facilities, all at a lesser cost. Solutions like this, Kephart said, are more than fiscally sound solutions: they could potentially be the most effective answer for rehabilitation.
"While we are teaming up with other counties to look at what we need to do regionally, our goal is always to keep kids as local as we can, to do those prevention activities to keep kids local," said Kephart. "If we have to put kids into programs that will take them out of the area, we need to do so in ways that will put as little distance between them and home as possible and give them room to re-engage with their community."