The Tioga County Democratic Committee voted Monday to effectively remove former chair, Diane Lechner, from her current position as the committee's liaison to the Democratic Rural Conference (DRC) of New York State.
Current chair of the committee, Max Della Pia, confirmed Wednesday that a motion of the floor passed to abolish Lechner's role as Co-Chair for DRC Representation. The motion cites concerns that Lechner misrepresented herself as co-chair for the Tioga County Democratic Committee and hasn't transferred access to the committee's website domain. 
"My hope was that we could get through this and reintegrate her into doing something, being actively involved, but with that approach, with her responses and lack of responses insistence that she's a co-chair period," Della Pia said. "That is not good for the party. It's not honest. It's not ethical. And it's not true."
Lechner had not been informed about the committee's actions when she was reached Tuesday afternoon.
"I have no comment until I can consult with my attorney," Lechner initially said over the phone.
She later followed up with a written statement, writing in part, "I received no notice that this action was being considered by the Committee and I received no notice of the meeting itself. The entire process was tainted, and quite possibly, illegal. I will be consulting with my attorney to determine whether my right to due process has been violated under New York State Election Law and New York State Democratic Party Rules."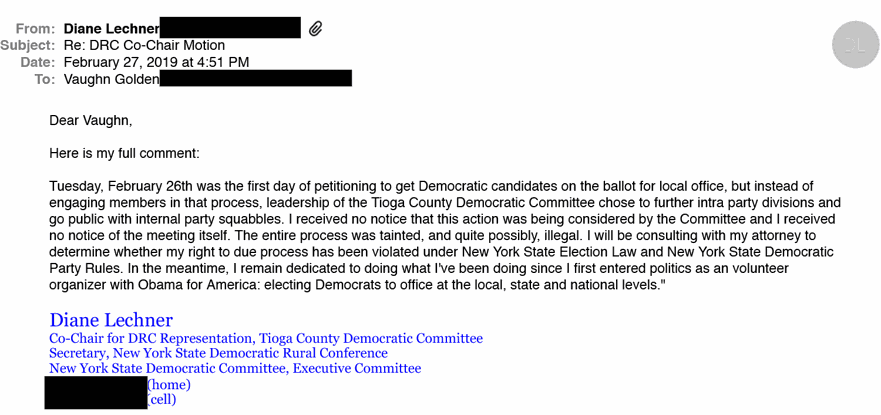 Lechner currently serves as secretary of the Democratic Rural Conference, an organization within the State Democratic Committee and state government focused on representing rural concerns. She lost her bid to sit on the committee after losing a primary election. TCDC then created the role of co-chair for DRC Representation, allowing Lechner to continue serving on the Democratic Rural Conference. 
Thirty-two members of the committee voted in favor of the motion with two, including Della Pia, abstaining from the vote. Della Pia confirms the vote meets TCDC's bylaws. 
"We're going to do everything we can to move forward in a positive way. Anybody that wants to participate in that is welcome," Della Pia said.
Vaughn Golden is a freelance reporter covering politics for the Ithaca Times. Follow him on Twitter with @VaughnEGolden or like him on Facebook.