Jesse Orshan and his business partners have a guitar they want you to play.
Experience on six strings isn't even a requirement. 
Chords? Don't worry about it. 
Scales? Not even a concern. 
And, no, this guitar does not have five colorful buttons or link up to a video game system. 
The only requirements: a guitar of one's own, a laptop and an imagination.
Orshan, a recent Cornell graduate, has spent the last nearly three years fostering his creation: a software and hardware package that essentially transforms the guitar, its 20-some frets and myriad notes of varying octaves into a sampler capable of triggering audio and video snippets.
Now based just outside of New York City, Orshan—along with his business partners and fellow Cornell alumni Brendan Garrity and Jeff Buswell—are at the doorstep of what could be the next big thing in music creation. Having beta-tested the program in-house and circulated the test among a few musicians, "Thinkplay" has quietly entered the music production market and is currently available for purchase. 
Imagine playing on stage, guitar in hand, and plucking a single C-note. But instead of that note blaring through an amplifier, out comes whatever you've assigned to that C-note via the Thinkplay interface: a snare hit, say, or a sample from Nas' Illmatic, the theme song to Full House.  The possibilities are indeed endless.
And that's just audio. Thinkplay also equips users with the means to inject pre-set video clips into a live performance, all controlled and delivered seemingly by magic through the guitar. It works for keyboards too.
In a video from a live demo, guitarist Andrew Cataldo—a semi-hollow-bodied six-string slung over his shoulder—plucks a single note, triggering a pre-set looped beat. Behind him, as he powers through his bank of digital sounds, a projection screen displays assigned video clips. Running up the neck, Cataldo hits a note and Jules Winnfield from Pulp Fiction arrives on-screen for an unusual duet: Cataldo's electronica medley and Samuel L. Jackson's unforgettable lines, delivered behind a loaded pistol—"And you will know my name is the Lord when I lay my vengeance upon thee!" The performer finishes out his set with a few jazz riffs, an indication that Cataldo can actually play the guitar, as it was meant to be played.
This unlikely fusion of audio and video is Thinkplay, a marriage of digital technology and the old, reliable electric guitar. It's a tool that could potentially propel the weapon of choice made famous by Chuck Berry, B.B. King, Page, and Hendrix into entirely new realms, and, in doing so, inspire a whole new generation of electronic-music artists. That's Orshan's hope anyway.
His vision for Thinkplay had bred out of need. Orshan had been disappointed to find that the guitar-playing offerings from the overwhelming market for production gear had failed to equip him with the means to make electronic music with the instrument he did have. 
"As a guitar player, I was taken aback by electronic dance music because it was something I hadn't heard before," Orshan said. "It's an art, a new sound, a sound of our generation. Why couldn't I play this music from my instrument?"
His fruitless search steered him toward an idea that would ultimately become his driving force. 
"The vision is Thinkplay—anything you can think of, you can play," he said. "So let's make an intuitive platform to allow musicians to do something with their instruments that they haven't done before."
The young man, curious about music technology and spurred by an affinity for electronic music, sets out to revolutionize the way musicians interact with their instrument. Sound familiar?
Fifty years ago, a Cornell graduate student and musician introduced his sonic creation to an unsure crowd. Though the Trumansburg Rotary was less than impressed, today we celebrate Robert Moog, his eponymous synthesizer birthed in Tompkins County, and its place in rock n' roll history (See The History Center's current "Switched On" exhibit dedicated to Moog).
"This is how music technology evolves. Someone comes from left field," said Trevor Pinch, a Cornell professor who authored Analog Days: The Invention and Impact of the Moog Synthesizer and advised Orshan during Thinkplay's development. "Jesse's [Thinkplay] is a really bold vision. Here's a whole new way of looking at instruments and music creation."
Electronic music delivered through an electric guitar. Who would have thought? 
•     •     •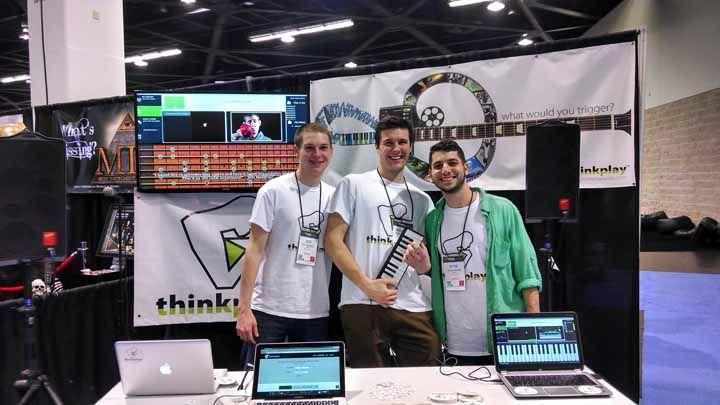 The mustard seed that blossomed into Thinkplay was sowed in late 2011. Orshan—a guitar hobbyist and then-sophomore industrial labor-relations student—had an idea for shareable digital guitar pedals that could emulate sounds heard in electronic music. Guitarists have been employing effects pedals for years, incorporating different sounds and tones into their live performances and recordings with a single foot-tap. But Orshan envisioned a network of user-created digital pedals that could be customized and shared among other guitarists online. 
That wasn't all.
There was also Orshan's larger, more audacious plan for a program that could transform the guitar into an audio triggering system, similar to a multi-instrument controller like Musical Instrument Digital Interface (MIDI). He just didn't know how it could be done.
A friend advised him to go see Professor Pinch, the guy to test the durability of an innovation in music technology. Pinch, a professor of science and technologies since 1990, was intrigued and encouraged Orshan to follow through. 
Together with his newly recruited team member—his business-savvy roommate Brendan Garrity—Orshan attended the NAMM (National Association of Music Merchants) conference, a trade show in Anaheim, Calif. with some of the biggest companies in music.
At NAMM, the Thinkplay duo noticed distinct boundaries among those big companies. Guitar giants like Gibson and Fender occupied one side of the room, and the keyboard companies held up on the opposite end. With Thinkplay, Orshan sought to reconcile both sides. Digital keyboards succeeded in part because of the sonic freedom given to its users. He figured guitarists should have that same leeway, especially in the digital age.
"There is a very large divide between guitarists with foot pedals and amps and the computer musician," Orshan said. "And yet, over the last 10 years particularly, the entire music world has changed and moved toward computers. It's been radical."
Wandering the conference basement, where the more amateur exhibitors set up, Orshan's idea experienced a rapid and pivotal evolution. Conversation turned to guitar pick-ups, and someone advised Orshan and Garrity to go talk with Fishman, one of the leading makers of guitar pick-ups who happened to be at NAMM.  Fishman already had its own wireless guitar controller, the Triple Play. Thinkplay needed something similar, and told Fishman what they were up to.
"On that last day—we didn't know why we were going there but knew whatever it was would be there—we saw the Fishman Triple Play," he said. "We ended up partnering with Fishman. At that moment, all we knew is that this might be possible."
Whereas mounted, magnetic pick-ups on an electric guitar are what carry the strings' vibration out through an amplifier and give the instrument sound, Thinkplay's auxiliary, wireless pick-up would attach near the guitar's bridge and act as a kind of twisted translator with the computer software, sensing the played notes and then triggering whatever audio or video prescribed to it.
The software was still a long way off, though. After all, he had no computer engineer or computer science expert to help. All Orshan had were drawings of the software interface
Once back from NAMM, Orshan spent the rest of the winter and spring 2012 doing research and filing patents on his idea. He broke off long enough to send in an application to Cornell's own start-up incubator program, designed for the university's best budding entrepreneurs. Thinkplay got in.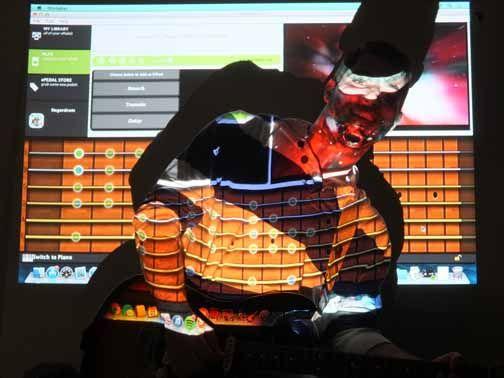 •     •     •
Founded in 2008 by Dan Cohen, eLab targets Cornell's most advanced student entrepreneurs. If admitted—37 teams applied last year and only 10 got in—eLab students earn class credits while refining their individual start-ups and entrepreneurial skills. Along with taking courses specifically tailored for start-ups, students receive guidance from eLab's executive team and a stable of business mentors.
The end-goal, Cohen explained, is to help students entrepreneurs take their concepts and turn them into companies.
Since its inception, eLab has helped create more than 10 companies. Wiggio.com is an online, group-organization application for students and part of eLab's initial class in 2008. It was purchased last year by Canadian company Desire2Learn for an undisclosed sum. Additional success stories include Ancillare, which offers a host of services to pharmaceutical companies. It houses a clean-room and drug storage facility in Pennsylvania and recently added another facility in the United Kingdom, Cohen said. Rosie, part of last year's class of eLab teams alongside Thinkplay, is an app for purchasing groceries for delivery or in-store pick-up. (Trumansburg ShurSave has recently integrated the app into its operations.)
Cohen, who himself started his own water-proofing company at 24 and owned it for 15 years, stressed that students picked for the program don't just have an idea, but a concept.
"To be competitive, they have to be beyond ideation to the conceptual stage," Cohen said. "The difference is important. You think you have a cool idea. In the concept stage, you have to talk to paying customers who have validated it. They give an indication they would buy what you're selling. eLabs works with teams closer to concept stage."
During the fall, eLab students dive deep to discover their start-up's target customers and their needs. That feedback helps shape a prototype or schema, which is then offered up to target customers to elicit further feedback. By spring, having identified both their potential customers and a demand for a product or services, students are further schooled in start-up skills, like sales, pitching skills and accounting.
Then comes the culmination for eLabbers—Demo Day. Held in April, the event showcases the products and services crafted, honed and refined during the course of the academic year. Angel and venture capital investors from previous years often attend the event. 
By the time of Demo Day 2013, the Thinkplay team was borderline giddy. In the previous eight months, Orshan and Garrity had nearly stalked a professor who promised a list of coders and engineers to assist with Thinkplay's software package. Orshan had once studied outside of the professor's door for four hours in hopes of retrieving the list of computer experts. They got it. One name led to another: Jeff Buswell. Over coffee, Orshan made the pitch.
"I told [Jeff] about the dream, about really creating a new way to be creative," he said. 
It worked.
Jeff—the "all-star" as Orshan called him—along with five other Cornell students became the core engineering team for the Thinkplay software, bringing life to preliminary sketches during the fall semester and into spring. They met once a week over pizza, talked strategies and coding, a "very college start-up thing", Orshan said.
Just days before Demo Day, Thinkplay received its prototype pick-up from Fishman. Orshan and Garrity were out of town, preparing to make a pitch to their families in hopes of securing some backing funds, when Jesse got a phone call.
"About three minutes before talking to my family, I get a call from Jeff, who was still in Ithaca," Orshan said. "He said, 'I think I got it to work.'"
During a marathon 14-hour stretch of coding, Buswell had successfully synced the guitar pick-up to Thinkplay's fledgling interface. 
"Jeff was triggering samples from guitar," Orshan said. "That was a huge milestone for us. We achieved something. The technology worked."
Demo Day 2013 was a success, though Orshan admits the technology was very preliminary. Still, people were impressed.
"That was one of the most successful demos," recalled Pinch, who attended the demo. "It was exciting. He had showed a real commitment, and he was doing something new."
Family and friends within the Cornell community seemed to think so, too. By the start of summer 2013, the Thinkplay team had raised $100,000, enough to spend the three months before the fall semester with a team of some of the best young music technology minds in the country.
•     •     •
It was, in hindsight, a grueling few months of long days and nights, Orshan said. With their seed money, the young start-up moved into a New York City office and hired a crop of fresh-faced software developers 
"It's still in my mind the hardest part," Orshan said. "I don't want to say that it was bad, it was just a lot of work."
Making matters all the more challenging, Orshan got another idea halfway through development that summer.
"I decided one day to walk over to Guitar Center [a major retailer] and talk to guitar players. I was mentioning the possibility of triggering video from their guitars," he said. "In nearly every instance, people had a 'Whoa, that's cool' reaction. 'Whoa' is a good word to hear as an entrepreneur."
Working on the fly, developers integrated a new video-editing screen into the software. With the added feature, users could now drop in pieces of video, edit them, and simply drag and drop the splices onto a guitar note. Hit the note, trigger the video. Simple.
By summer's end, engineering was finished, but Orshan wasn't prepared to shelve Thinkplay. He opted to take the fall semester off and focus solely on his creation.
"Our foundational background was sound, but it still wasn't ready," he said.
Orshan and company would spend the fall advising a third team of developers, this time about a dozen Cornell computer science students to handle the software's front-end. The Thinkplay team went back to NAMM in January this year and got their own booth. Fishman, the guitar pick-up company, had seen some of the videos Thinkplay had released that showed off the program. They were impressed, and the two companies would enter into negotiations for Fishman to manufacture Thinkplay's guitar pick-up. 
Orshan re-enrolled at Cornell for the 2014 spring semester, doing an independent study alongside his work with eLab. He credits Diane Burton, one of his professors in Cornell's Industrial and Labor Relations School, with challenging him.
"She really was the first person to have me look at things differently. She was asking: 'Why are you doing it this way? You could do A, B or C,'" he recalled. "Everything was objective, practical questioning of why we were doing things. That pushed us forward."
At their second eLab Demo Day, this past April, Thinkplay presented a more refined product—"The big reveal"—and it was clear just how far the idea had come.  
"The response was very positive," he said. 
Still, the Thinkplay team spent another summer holed up downstate with four New York University computer science experts who continued with tweaks. Earlier this month, after closed beta-testing sessions and a final round of testing, the Thinkplay product was ready.
"For the first time, we had a product," Orshan said.
Just last month, Thinkplay made available its software and hardware package to the general public for $399. Last week, Thinkplay was chosen to receive more funding and mentorship through Launch Pad Long Island. Orshan, Garrity and Buswell will now spend the foreseeable future doing more demos, talking with musicians and trying to get the program into as many hands as possible, particularly influencers like music school students, teachers and professional musicians. 
"We have something that is very underground and something we want to grow organically," Orshan said. "The underlying message: the technology is of the quality that someone would use it at Madison Square Garden, but an amateur could use it."
Pinch, the Moog enthusiast, said the challenge will come now, when the program is in the hands of users. 
"Moog was skilled at learning how musicians used the technology," Pinch said. "That's the key thing. How do they use it? Then, he would develop features, refine and tweak them. Robert was friends with musicians, and he learned how to make a better instrument."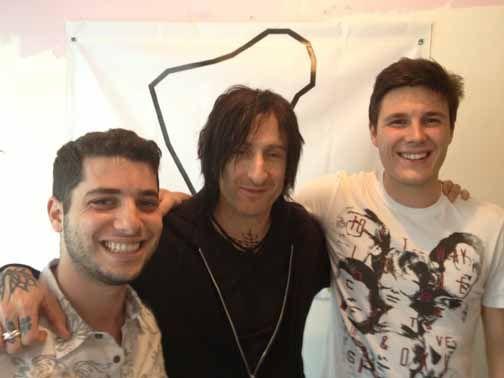 During his independent study he undertook last spring, Orshan studied Moog, analyzed the strategies that made him and his synthesizer successful. He wrote up a thesis on Moog for Pinch, and what Orshan found in studying the Cornell engineer and his synthesizer was a marketing plan for Orshan's own company.
He said Thinkplay and Moog are similar in some ways, primarily in that Moog challenged perceptions and introduced a new avenue for music creativity. But Orshan is convinced Thinkplay will be something bigger, a catalyst for a new generation of artists, maybe even give birth to an entire festival where performers utilize Thinkplay's technology.
"People call that ambitious," he said. "But it's the only thing that has gotten us to this point." •