We now have a complete picture of the ballot for the Congressional Primary on June 26.
Candidate Tracy Mitrano's announcement came first this week, her announcement followed Tuesday by one from fellow Democratic hopeful Eddie Sundquist. The other Democratic candidates for the New York 23rd Congressional District still in the race, Ian Golden, Max Della Pia and Linda Andrei, each filed their petitions Wednesday and Thursday.
According to figures provided by each campaign, Mitrano led all candidates in signatories, filing more than 5,300 signatures with the New York State Board of Elections this week – four times more than the number needed to get her on the primary ballot. The number, the campaign notes, is also approximately 50 percent of the number of voters who voted in the last Democratic NY-23 Congressional primary in 2012.
Sundquist, in his campaign's release, announced he gathered 2,021 signatures, easily surpassing the required number of signatures to reserve a spot in the June primary as several Democratic candidates vie for a chance to face Congressman Tom Reed in the November mid-term elections. Della Pia collected just over 2,100 signatures and Golden, per his campaign, filed more than 2,800 signatures. Andrei turned in more than 2,100 signatures, as per her campaign.
As of Monday afternoon, Mitrano was only the second candidate in New York State to file a report with the New York State Board of Elections, which administers the primaries. The other candidate, Democrat Anthony Delgado, is looking to unseat freshman Republican Congressman John Faso in NY-19.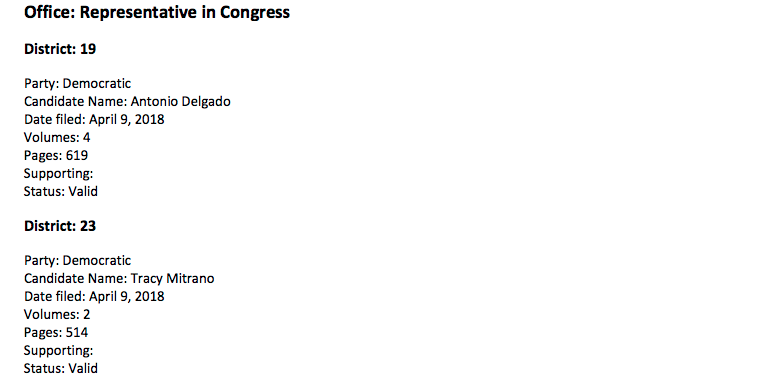 According to New York State election law, candidates require a minimum of 1,250 signatures to be included on the ballot in a primary election. The deadline to file with New York State, as a candidate, is April 12, after which this post will be updated with the results of other campaigns.
According to a news release from the campaign, Mitrano attributed the success of their campaign's petitioning effort to those voters who "have rallied to help her bring economic opportunity back to the 97.5 percent rural-2.5 percent urban NY 23rd." 
The primary election is June 26.
This story has been updated with numbers from each campaign.