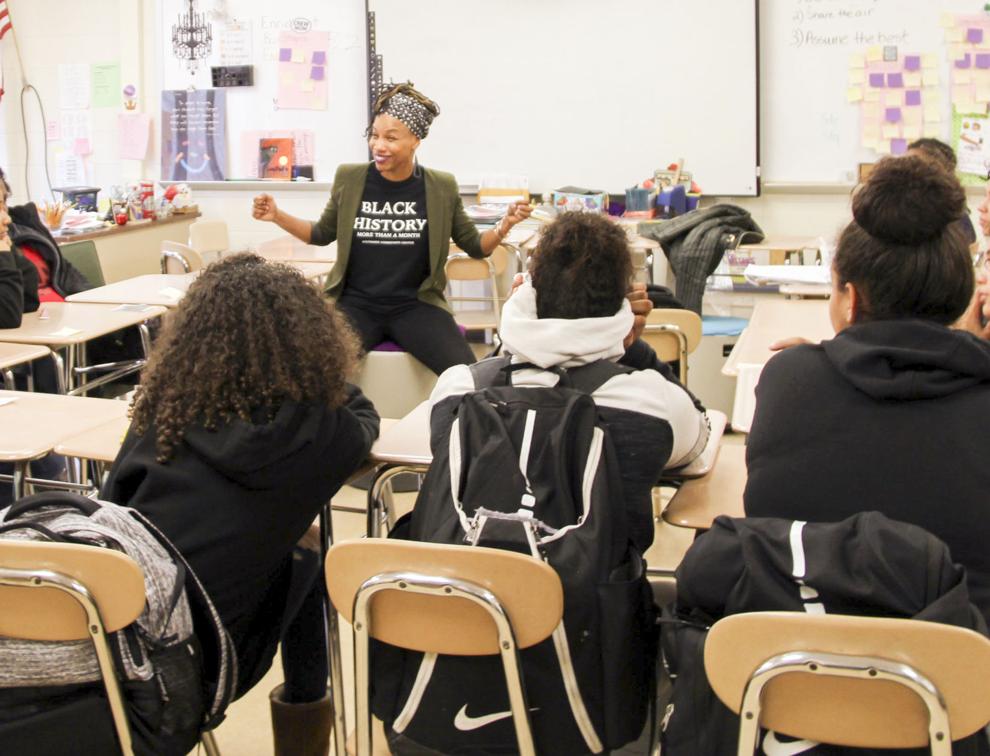 In the plain, white hallways of Boynton Middle School, the 10:37 bell rang and the building settled down, the flurried rush of students quieting down as doors shut and teachers set to work.
The school day last Thursday at Boynton was a unique one for students. Smack in the center of Black History Month, the student body and its faculty began their days in the school gymnasium, packing the bleachers for the start of the district's 14th annual Black History Day, a day of events intended to draw students into an immersive dialogue with black culture, from written reflection to participation in the Afro Brazilian martial art, Capoeira (a style of dance designed by Brazilian slaves to hide the martial art from the slave owners) to sitting back and tuning in to raw examinations of America's origins and the racism inherent throughout its history.
With 14 separate presenters spread throughout the school, each 40 minute period presented its own opportunities to learn and grow one's understanding of race and of our legacies. But in the rear English classroom of Ms. Valerie Evans, a different type of opportunity was presenting itself.
Circled by a dozen young women of color, Dr. Nia Nunn and Nydia Blas, the leaders of Southside Community Center, had a room in their hands, every face stone serious and unblinking. For the past few weeks, these girls had been participants in a writing project at Southside for all in the community ages 11 to 21, an opportunity for each to define, in their own words, what it means to be black. This exercise, a key component in the center's evolving Black Consciousness Curriculum, sought to inspire contemplation among its participants on a number of key questions, considering questions such as "what is the black diaspora?" or "what does it mean to have black love?," even questions on what each student knows about black history or whether or not they'd ever been accused of being too black, or not black enough.
While not intended to answer the question of black identity, these questions sought to inspire the students to define it, to establish a baseline for a greater discussion on their personal relationships with their race and the realities of how white society, through its history, now perceives and interprets blackness. And on this day, those students planned to share those experiences in a big way, by not just reading their writing in front of a gymnasium of their peers, but by engaging the students as flies on the wall in the difficult and raw discussions on race black men and women have behind closed doors and rarely get to share with the world.
"Here's an idea of what you and I can create together," Nunn said to the group. "Ms. Nydia and I have this vision of a group of us engaged in dialogue. We're listening to one another, engaging in a back-and-forth, the way we do in this room."
To lay the groundwork for the day's discussions, Nunn began large, beginning her morning addressing each group of students individually – the white students, the black students, the students of color – on their respective places in the context of black empowerment. She told the white students of the reality of each group being in different places, and that the discomfort in addressing those realities helps them to mobilize for change. For the students of color, she stressed that on Black History Day they were "not invisible," that their voices and perspectives mattered in modern America's traditional dichotomy of black and white. And for the black students, Nunn challenged the curriculum of the school system itself, how graduated white supremacy had built up a a common and accepted perception of history over time that catered explicitly to that sense of white supremacy.
"This is learning about the structure in which you are in, acknowledging a system that actually helps you feed your hate for yourself," said Nunn. "In fact, it encourages you to hate yourself. And in this one Black History Day, we're going to offer something brand new. So people have a choice on whether they want to learn more or not, and then you will have a space to take this level to a whole new level with your reading, your writing, your book clubs."
She challenged the curriculum of race education in the school system itself, saying there is currently no existing structure in the education system to teach the students about their own greatness. It's about going beyond the cherry-picked names of Dr. King (the "harmless black man" who preached nonviolence in the face of violence), the white censored history of Rosa Parks and the slavery defying Harriet Tubman – the main three black figures kids learn about – and reaching to learn about people like Sojourner Truth, Belle Hooks, Frederick Douglass and even local women like Dorothy Cotton, who worked alongside MLK as education director of the Southern Christian Leadership Conference in the 1960s. It's about understanding the history of people like Claudette Colvin, the dark-skinned and pregnant 15-year-old who, when told to get to the back of a bus in 1955, refused, inspiring the leaders of the civil rights movement to put Rosa Parks in her place in order to preserve the dynamics of a movement that needed stalwart symbolism to work on unblinking white America.
Back then and even today, Nunn explained, the fight for equality catered to white-sensibilities, of what white people would find acceptable and what symbols would be most effective to motivate them to change. That symbol was not going to come from a dark-skinned, pregnant teenager: that would come from the staunch and well-spoken Rosa Parks, whose more than one decade's experience as an activist with the NAACP made her the most suited to succeed where numerous black women had not. The reality of why Parks made history is because Parks could appeal to white America and did – something few schools, Nunn said, include in their curriculums.
"We need to recognize the dynamics of some of the colorisms within," Nunn said. "This idea of how we are pitted against each other based on our different shades of brown."
"You're taught not to question it," said Blas. "There's a strategy to our thinking… we know we learn about certain people like Rosa Parks or MLK, but then we have to ask ourselves 'why.' Why would Dr. Martin Luther King be someone white people would want us to focus on? He had a message of nonviolence, and you can compare that to someone like Malcolm X, who on the other hand believed we should fight back. MLK was not a 'scary' black man, he taught us we should all get along."
"He wasn't outright looking for folks to be violent with," added Nunn. "He wanted to protect his family – that 'if you hit me, I'll hit you back.'"
Even last names common among black people today – like Little, Jackson, Jones, Williams, Thompson, Jenkins – are rooted in white supremacy, those same names originating from the largest plantations of pre-emancipation America.
"Our names are rooted in a history we are not allowed to learn about in school," said Nunn. "Today, right now, we wear them, we sign them, we own them. And you knowing this will empower you. Knowing this will give you a sense of pride. But when you don't know yourself, when you aren't exposed to the dynamics of colorism… you don't know on purpose, because it would give you too much strength."
White people aren't learning what it means to be white by this type of education either, Nunn said. They aren't learning the information needed to interrupt racism as well, whether from a fear of being seen as the bad guys of history to a reflex to place the blame on their ancestors and instead, denying the roots of racism for small adjustments in the present. Nunn said one of her current fights in the district is working to train teachers, particularly white teachers, to be engaged with and conscious of their students' experiences, only to be let go or move on. But Nunn also said that while it was vital for students of color to see people like them as educators or as administrators, that it was still possible for leaders to cater to the inherent whiteness of the system they operate within.
And this has helped to coddle a system where racism is not just codified, Nunn said, it isn't even acknowledged. There was the point where they covered stereotypes – first for white people and then, for black people. It was lighthearted at first, the typical banter around seasoning chicken and a distaste for Kool-Aid. Then the mood turned serious – stories from students of random searches at Wal-Mart, and dehumanizing experiences at school, at the mall and on the street, some subtle and some not.
"These stereotypes can be detrimental to your life," said Blas. "Your being black, the perceptions of you being loud, or being violent… these things can literally get you killed."
By sharing these experiences – first behind closed doors, and then before a packed gym – the two leaders of Southside hoped they could inspire a greater conversation based on a common understanding of the black experience, laid out on a table raw and bare in ways that not just claimed the seven hours or so Black History Day went on for – it claimed a conversation that they had never been given the opportunity to lead.
"I'm not going to teach you like these teachers do," said Nunn, before leading the group into their first speaking session. "I'm going to call you queens. I'm going to help you find your royal selves."