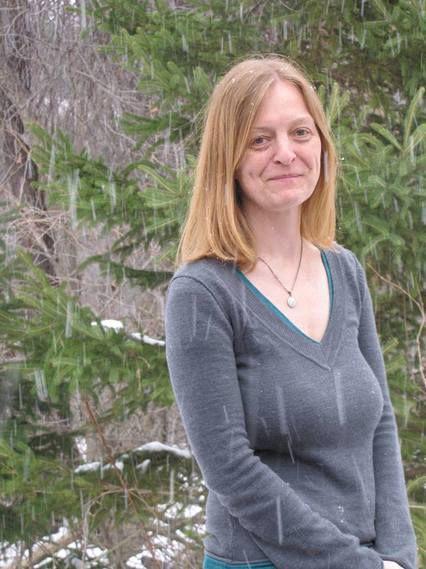 Amanda Champion, one of the key organizers of the Ithaca Women's March and, as of Thursday, publicly running for the Tompkins County Legislature, has actually had her campaign website registered since mid-March, well before the Ithaca Times got wind of her campaign to represent District 12, an area encompassing part of the Town of Ithaca's share of West Hill and parts of Ithaca College and Longview. (In fact, she'd created a CrowdPac page on February 23 -- an FEC-approved crowdfunding site since 2014 -- which has since raised close to $1,000).
The delay, she says, was intentional.
The reason for waiting, Champion -- a Democrat -- said, was in anticipation of the formal announcement that incumbent Will Burbank, the district's representative since 2008, would not be seeking re-election, an announcement which came early Thursday morning.
"Now the word is out," Champion laughed in a Thursday interview. "So I guess it's time to talk."
A one-time park ranger turned freelance writer, according to her biography on her campaign website, Champion is new not just to running for office, it seems, but political action in general. She first rose to prominence in the greater community when, in January, Champion gained notice as organizer of a rally that attracted thousands of people to downtown Ithaca in arguably the largest political event to take place in the city. It was after that, she said, when she and Burbank first spoke to each other about the possibility of her running for the seat he would eventually vacate.
"Honestly, it's not something a year ago I would've said, 'yeah, this is something I want to do,'" said Champion. "But I think, getting involved, much more these days in politics, has slowly snowballed into something that seems to make a lot of sense for me to do."
She, Burbank and Anna Kelles, a representative for portions of downtown Ithaca, spoke to each other about the prospect of Champion's run for office. After consulting with other members of the legislature as well as the leadership of the local Democratic committee, Champion decided a run for office was the right thing to do.
"For me, it just keeps coming back to the march," she said. "With the election last year and feeling very devastated about Trump… I knew I had get involved now. I couldn't sit back and wait anymore."   
So why run for the county legislature, as opposed to some other level of community participation like school board or the Ithaca Town Board, which is also open to challenge this fall? It comes down to the level of influence, Champion said, working for "different and new things" that can forward a more progressive Tompkins County.
Thus far, her platform is more ideological than concrete in its policies, Champion's literature so far advocating for equal rights and choice for women, civil equality aligning with the causes of Black Lives Matter and LGBTQ rights and for environmental protection.
Admittedly a newcomer to politics, she states on her website that while she "certainly doesn't have all the answers," she's dedicated to learning and, consequently, says she will be looking toward engaging as extensively with the constituents of the 12th district as possible in order to figure a way to best represent their voices on the legislator. A prescriber to the "Knock On Every Door" movement founded by former staffers for former presidential candidate Bernie Sanders, Champion has committed herself to a listening campaign, working to stay visible and accessible among those she hopes to represent. By the end of this month, she wants to begin literally knocking on every door and holding small-scale, living room chats over coffee or tea as well as begin to place op-eds in various media outlets around town to raise her profile. But the biggest thing for her in such a diverse district, she said, is just to talk to people. And the earlier on she does it, she said, the more prepared she'll be to represent the interests of those people come election day.
"I hear what's happening, I hear the news and I have my own opinions," Champion said. "But I want to know what concerns people."
In the meantime, she's been engaged with the issues. She said she's attended meetings of the county legislature, to understand its operations. She's followed the issue of faculty unionization on the Ithaca College campus, which falls in her district, and said she plans on making attempts to connect with some of them to see how their interests, in any way, can be advocated for at the county level. But in some broader, county-wide issues such as clean wind and solar which can, at times, turn sour at the local level, she says dialogue should lie at the center of every issue.
"As I get into this more and more, something I know inherently is there is a lot of compromise that needs to happen if we want to get stuff done," Champion said. "I have strong ideals and I'm going to stick by those, but there's also this balance, thinking about 'well, what if the citizens of Tompkins County don't agree with that?' [...] for me, in terms of any issue, I'm going to stand on my beliefs,but if people are coming to me saying they don't want it to happen, it might be time to reconsider. I think that's something I'm good at: listening to people and hearing other sides of the story, and going from there."
 Follow Nick Reynolds on Twitter @Nickthaca