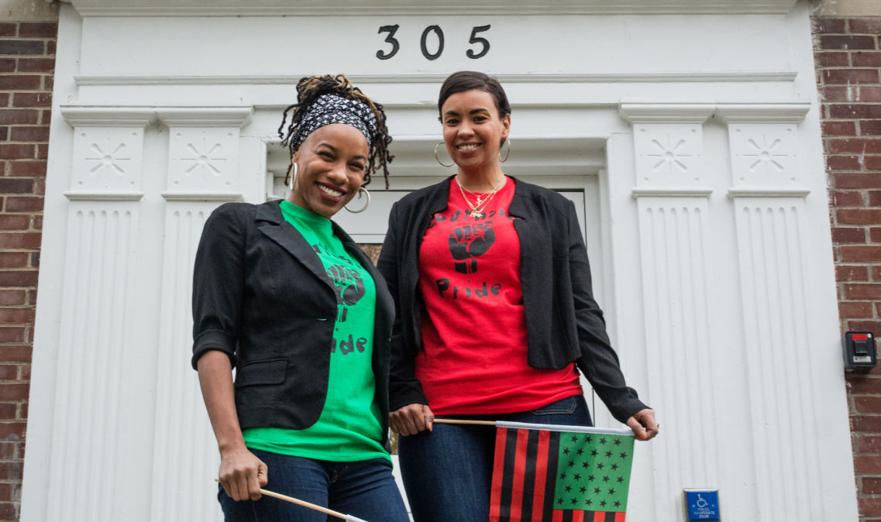 Around this time last year, Southside Community Center was rebounding from a period of great uncertainty about its future.
The more than 80-year old cultural center, in the summer of 2016, had thrown off a push from City Hall to annex it into the bureaucracy, the center's leadership insisting they maintain the center's long-held independence as it worked to "restore the faith" in their mission and prove the funding they receive from the city coffers each year was being spent in good faith.
Just several months after their efforts were documented in a cover story by The Ithaca Times, Southside Community Center's efforts have been rewarded: last week, it was announced the nationally-renowned NoVo Foundation had awarded the community center a three-year, $270,000 grant – half the center's annual budget – to continue and expand on its mission as the rock of black cultural identity here in the sea of white that is the City of Ithaca. The grant funding will go toward general operating expenses, and allow the center to expand on a number of cultural initiatives and aspirations the center's two leaders – Nia Nunn and Nydia Blas – have had in mind for Southside's future.
Their hope is that this funding and the effort it is going to support will be transformative not just for the young men and women who use Southside everyday, but for the greater community as well, taking a step toward deconstructing our ideas of normality through sharing the experience of Ithaca's black population and through the cultivation of black identity within the community.
NoVo, according to its website, avoids "top-down models for the improvement of societies," instead devoting their mission to "an earnest search for fresh ideas that show unusual promise for significant impact." The work done by the more than $650 million foundation covers a number of primary areas, including tackling initiatives such as empowering adolescent girls, ending violence against girls and women, advancing social and emotional learning and promoting local living economies, among others.
The organization's efforts, over the years, have included the perspectives of some giants in the intellectual world such as Kimberlé Williams Crenshaw, Jyoti Nanda and others who Nunn describes as having unapologetic focuses on the advancement of black girls and black women. It was through this paradigm that Nunn was first exposed to the organization's work, after being informed of a call for black female scholars to help define the scope of the foundation's mission.
Two years later, it was brought to their attention by a friend that a larger grant was available and Southside's leaders, confident in the work they had done in the community, joined a group of 670 initial writers of letters of interest. Of that group, just 60 of them were invited for a phone call last November. Slated for 30 minutes, the call lasted nearly 80 and Southside, with its vision for the community, was invited to apply.
In their application, they "wrote their asses off," Nunn laughed, hashing out their relationship with Southside Community Center as children and how their understanding of the space has since evolved as adults.
"We shared stories of our girlhood in Ithaca, linking some of that directly to our individual crafts as artists and scholars," Nunn said. "We were able to acknowledge some of the very black girl-specific type work we've been engaged in for many years, but ultimately to acknowledge the existing programs that highlight the experiences of black girls and black women that benefit from the programs that are currently in place."
"But also talking about the specific issues and needs that girls in our community face," said Blas. "Unlike an inner city, we live in a predominantly white city, and we wanted to define why this work is needed in a place like this."
What they came up with was a concept called "Black Girl Alchemists," a highly-specific initiative Nunn describes as exemplary of the "power and beauty of self-discovery" targeted directly toward the city's young women of color. The focus of the initiative, which is largely centered in the nurturing of self-expression through art and literature, is intended as a mechanism of disruption to the "internalized, gendered racism" that black girls in Ithaca experience in unique ways, doing so in a way that connects it to the historical function of Southside Community Center as an agency created very much in the spirit of the black feminist thought to come about in the early-20th century.
"It's transformative when we allow ourselves as human beings to be unapologetically specific," explained Nunn. "Historically, when there is a focus on the experiences of a particular group, like black girls, there are ways in which everyone benefits. We're not just talking about the intersectionality about checking all of these boxes; it's about being critical of power structures."
While the centerpiece of their grant is highly specific, both Nunn and Blas emphasize that the funding will be put to versatile use, using the money to amplify the center's existing programs to not only have a greater reach, but to expand their perspectives of racial intersectionality into other areas, like food and health issues. They're even looking at starting their own publishing company, to publish zines and host exhibits to better share the stories and perspectives of the youth they serve.
"We also purposefully left space for girls to be able to tell us what they want and to lead for themselves," said Blas. "We have these general ideas of what we wanted, but to let the girls have a say in how these funds are spent, which is so exciting – the grant funds are to cover general operating expenses, to put the money in the hands of people who know their community's needs best and can apply them the right way."
The new funding allows them to expand their leadership as well, possibly offering stipends to people passionate about their mission and possibly offering microgrants to members of the community (and even some from outside of Ithaca) to do even more projects in line with the organization's mission
"It's about expanding leadership dynamics," said Nunn. "As a leader of this place, the projects, the energy and the creativity we will be able to encourage out of other people to execute this…. That's huge."