ITHACA, NY -- There's not an industry that hasn't been touched by the COVID pandemic this year. For local farmers in and around Ithaca, it's hard to say whether that change has been definitively good or bad. The economic shutdown shone a light on small businesses, encouraging many people to support local food sources. However, restrictions on selling venues like farmers markets have forced a decrease in sales for many local growers.
The Ithaca Farmers Market, a cornerstone of the local business scene in Ithaca, had to make changes since March to adapt to the pandemic. Farmers who sell at the market are feeling these effects — both as small business owners and people living through an unprecedented time.
Peter Larson, owner of Just a Few Acres Farm, has been selling at the market throughout the pandemic. In March, the market was operating at its new location, the Triphammer Marketplace, when shutdown orders were instated. The market was then deemed an essential business and shifted its vendors to the outdoor pavilion, where the fall and summer market usually occurs, earlier than usual.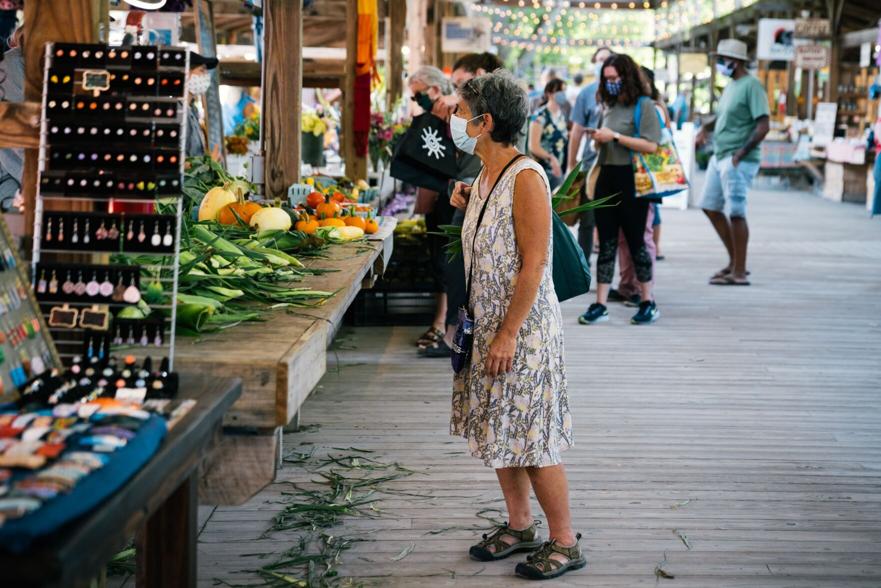 Larson said his strongest sales through the pandemic were from March to July because he thinks many of his customers at that time were locals buying groceries rather than tourists visiting the pavilion. But when the summer arrived — and the market capped the number of people shopping to 150 to decrease density inside the pavilion — the increase in visitors often created a line with extensive wait times to enter the market. Attendants wait at both entrances to the pavilion to ensure the number remains low.
Larson's sales dropped dramatically as a result. He has spoken out about this issue on his YouTube channel, which has approximately 49,100 subscribers.
"When those crowds ramped up, my sales went down," he said. "The locals who just want to buy their groceries look at the line, and … they're going to go to Wegmans and get what they want right away. So it's been frustrating for me and I think some of the other farmers there. … It's always been an issue at the market though, even before COVID. Tourists and students would flood into the market, and the locals just didn't want to deal with the hassle."
This issue is not affecting Larson alone. In a survey of full-time, associate and easy-entry members of the market — called "IFM Covid-19 Mid-Season Member Survey: Full Results" — 37% experienced much less than average sales when compared to 2019, with 24.7% having less than average sales. 18.5% experienced average sales, 17.3% better than average and 2.5% much better than average.
Larson said that now, the majority of his sales occur before the market opens or within the first hour. Rarely anyone else buys from his booth in the subsequent time he spends selling at the market. This, too, is reflected in the survey, with 37% of vendor sales happening 9–10 a.m. Saturdays and 10–11 a.m. Sundays.
"At 8:15, the locals start coming in," he said. "They line up in front of the farm booths … and by 10 o'clock, I'm basically sitting around, and then there's very little sales for the rest of the market."
Bob "Bobcat" Vonagura, co-owner and packshed manager of Main Street Farms, said this issue has also affected his sales. At the market, he sells under Early Morning Farms, which Main Street Farms recently acquired. But because Early Morning Farms has only been at the market since April, Bobcat said that he cannot compare the low sales he experienced in 2020 to the previous year.
"Starting out in the spring, it did feel like local food was hot," he said. "I definitely did see a decrease in customers buying produce. … The lines were necessary but also had a big effect on the fact that a lot of people saw the lines, and they got scared away by [them]." 
Laura Gallup, Marketing & Events Coordinator for the market, said that at first, there was backlash on social media about the market's plan to reopen. She said she thinks that after people saw how crowded indoor shopping at grocery stores was, they were better inclined to shop at the open-air market.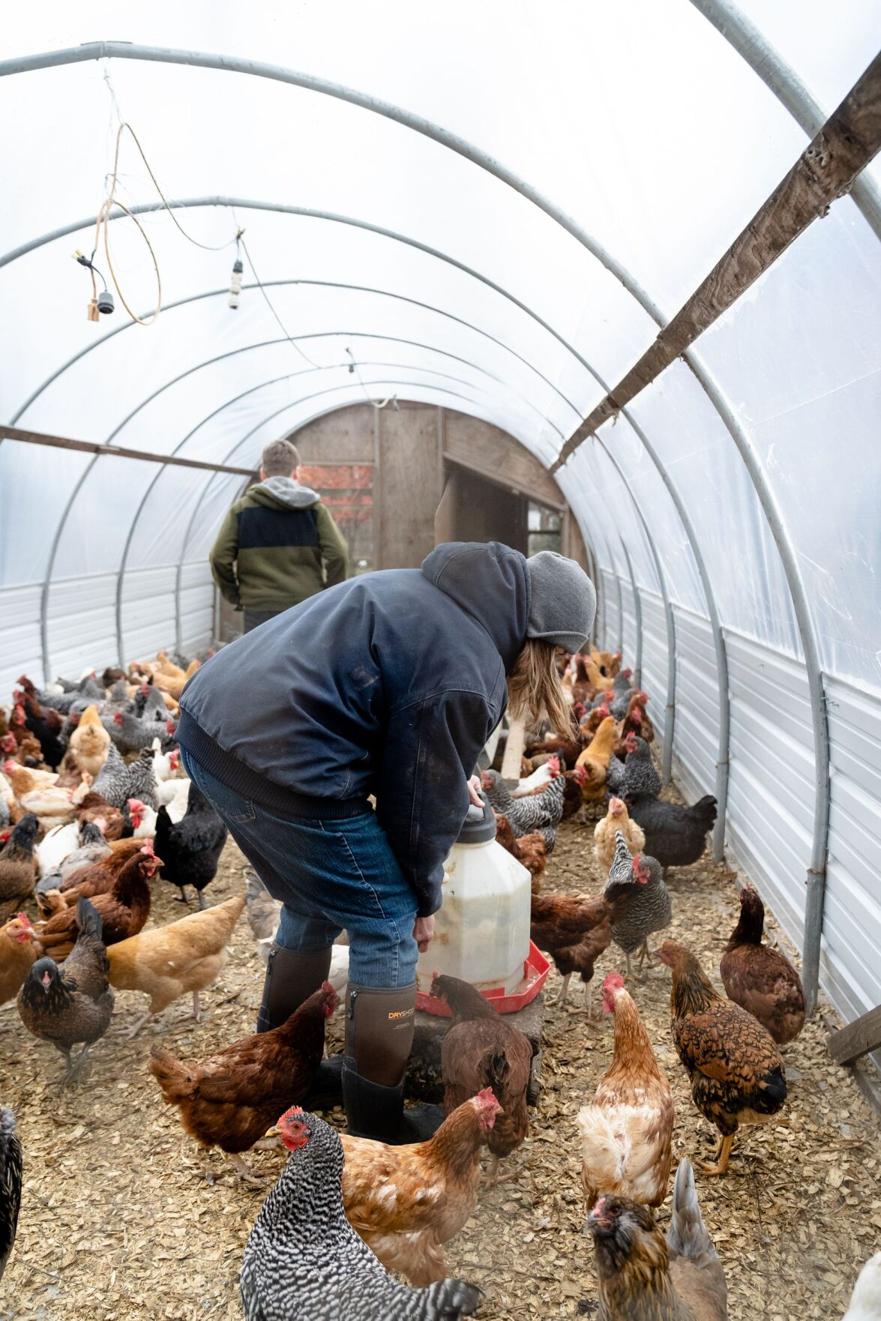 "We had really tight restrictions on food in the beginning," she said. "I know that was a really hard thing to deal with because it was hard to let some vendors come and not others."
David Stern, president of the market and owner of Windsong Farm, has a foot in both worlds. As a farmer, he said that he has seen a growth in sales among food products like meat and jellies. Conversely, sales of fiber products, like yarn and sheepskin, are lower than last year. 
In reference to the "IFM Covid-19 Mid-Season Member Survey: Full Results," he said that it is important to balance the vendor's interests and issues with keeping customers happy as well. He said that although the responses to the survey highlighted a variety of vendors' experiences during the pandemic, it would be difficult to satisfy every group that interacts with the market, vendor and customer alike.
"We know that there's only so much you can do about it," he said. "We are here for everybody as best we can, and we have to balance all those interests, and there's going to be winners and losers anyway. That's the way capitalism works. … Any factors usually become accentuated, so what works really well in one year, this year may not work well at all. "
Bobcat said that many customers have opted to buy the Early Morning Farms' Community Supporting Agriculture (CSA) Shares. The biweekly shares — vegetables freshly harvested and washed — are delivered to a number of locations, including the market and GreenStar Food Co-Op, for customer pick-up. This year, the farm has expanded to approximately 400 shares. Although the shares do not count for direct market sales, they have nonetheless filled the gap in for the farm's lower sales at the market during the pandemic.
Chaw Chang, owner of Stick and Stone Farm, also said he has seen an increase in CSA shares purchases but a decrease in sales at the Ithaca market. In a typical year, the market is a small portion of the farm's sales. But CSA sales skyrocketed, with an approximate increase of 100 new members. In a non-pandemic year, Chang said summer CSA shares total 550, with 300 in the winter. This year, it was 650 and 400, respectively. 
Chang said he thinks customers are choosing to buy CSA shares during the pandemic because they are becoming more conscious of where they get their food. 
"In times of crisis, people tend to really want to go bare bones," he said. "It's not just a fear. I think it's more of a desire to return to a more basic lifestyle. … As people get a little bit more isolated, something like getting your food from the most direct source is more desirable."
It's important to support local businesses during the pandemic, Larson said, because of the educational effect it has on consumers and their community. He said he thinks the majority of buyers who chose local in the early stages of the pandemic have returned to more conventional means of purchasing food, like at a grocery store. But for a fleeting moment, it was remarkable to see a larger group of people engaging with local food sources, he said
"There's a group of consumers, especially in Ithaca, that are educated about the differences between local food and supermarket or industrial food," he said. "We're saying small farming is still a valid way to farm, and it really was shown during COVID because these huge systems for food break down pretty easily. They're pretty touchy. … It was nice at the beginning of COVID because folks rediscovered the food that was growing in their community."