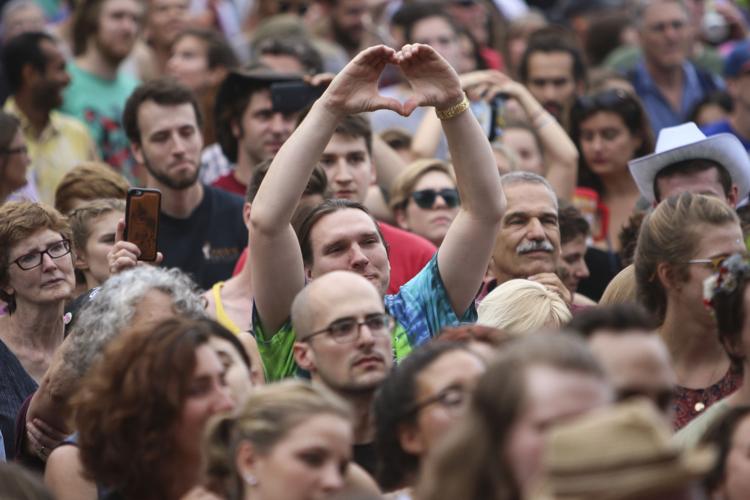 It's early Friday afternoon and, in line ahead of me, a young couple places a case of beer on the counter, drawing a smile from the young cashier at the Jacksonville 
Valero station. "I can guess where you guys are headed," he said, checking their identification. "I'm still recovering from last night myself."
Grassroots, the annual bash that shuts the city down and draws all the freaks, families and revelers alike to the Trumansburg Fairgrounds each summer, has a well-deserved reputation as the region's biggest party: four days of music, food, marathon drinking sessions and a reunion of like-minded folks who, above all, are looking for refuge from the routine. Yet for its superficial value, there are many different ways to interpret it: while the cowboy hat-wearing twenty-something swilling wine straight from the bottle in the crowd might be indicative of the free-for-all that is inherent at any festival, you notice a certain chill vibe about the festival, a facilitated air that belies the crowd's raucous nature: there's something at work here, something built into the festival's structure that has perpetuated itself nearly three decades. 
"For me, what it boils down to is community," said Axel Potts, a volunteer on the stage crew and a lifelong attendee of the festival. "I've seen this happening,
people putting energy into it, and I see the good that comes out of it: it's not just a money thing, it's about the vibe. In the world we live in, it's hard to find a place that's propagating what we have here. I'm trying to build good in the world, just where I'm at."
There's a real sense of ownership of those in attendance, a community feel to this spectacular tent city that found its muse in the essence of the old time fiddle festivals of the '70s. This is the DNA that maintains the good graces of the 10,000 or so fans who come into the village for the event every year, its success resting squarely on the assumption that approximately 15 percent of those coming through the gate will volunteer to alleviate some of the restraints of the nonprofit festival's $1.3 million (on average, according to several 990 forms available through Guidestar) take each year. But in recent years, volunteerism has begun to slip a bit. With one week to go until the festival this year, organizers were 500 volunteers short of the 1,500 or so they typically need to function without the weight of corporate sponsorship to hold them down. 
"We can never have enough," said Nana Monaco, the festival's assistant director and volunteer coordinator in an interview the week before the festival.
To solve the problem of people skipping their 12 hour work obligations for a free weekend pass to the festival, this year organizers charged a $150 deposit – the full cost of admission – for anyone who signed up for work duty at the festival, ensuring if someone skips on their shift the festival gets their money,  a measure to avoid losses from unreliable folk looking to play the goodwill of the Grassroots operating structure. These changes might make one think, on early judgement, that the origins of the festival's community feel might be at threat: at nearly 30 years in, has the newest generation arriving into the festival community lost the virtue that made the festival great?
Tristan Knox, an attendee since the age of ten and coordinator of the festival's trash operations (the least popular volunteer gig at the whole festival, according to Monaco) doesn't really have an answer for why volunteerism is stagnant: for a good decade working the festival, Knox knew what to expect, always working with the same crew of people. But about five years ago, people stopped returning, for whatever reason. "We got our crews filled this year," said Knox. "but we don't see as many of the same faces as we used to." 
But maybe there is no good explanation for the lack of bodies working the shifts. For the shortage of volunteers, it's actually not hard to find new ones: many of them paying attendees for years who, for some reason or another, decided this was the year to step up. Working alongside Knox was fellow trash volunteer Dancin "Bear" Feldman, who after numerous festivals attended, felt it was time to "give back." Mickie Quinn, a camper of more than 20 years and one of the area's most enigmatic promoters, decided after years of partying to lend her expertise to running the back end of the grandstand, her first time as a volunteer stage manager in a role that oftentimes, is paid hourly. On the stage crew you had Chris Everson, a longtime attendee who, after recently moving to the area, decided it would be the optimal way to make friends. "As a new guy in town, I just want to contribute to something," Everson said.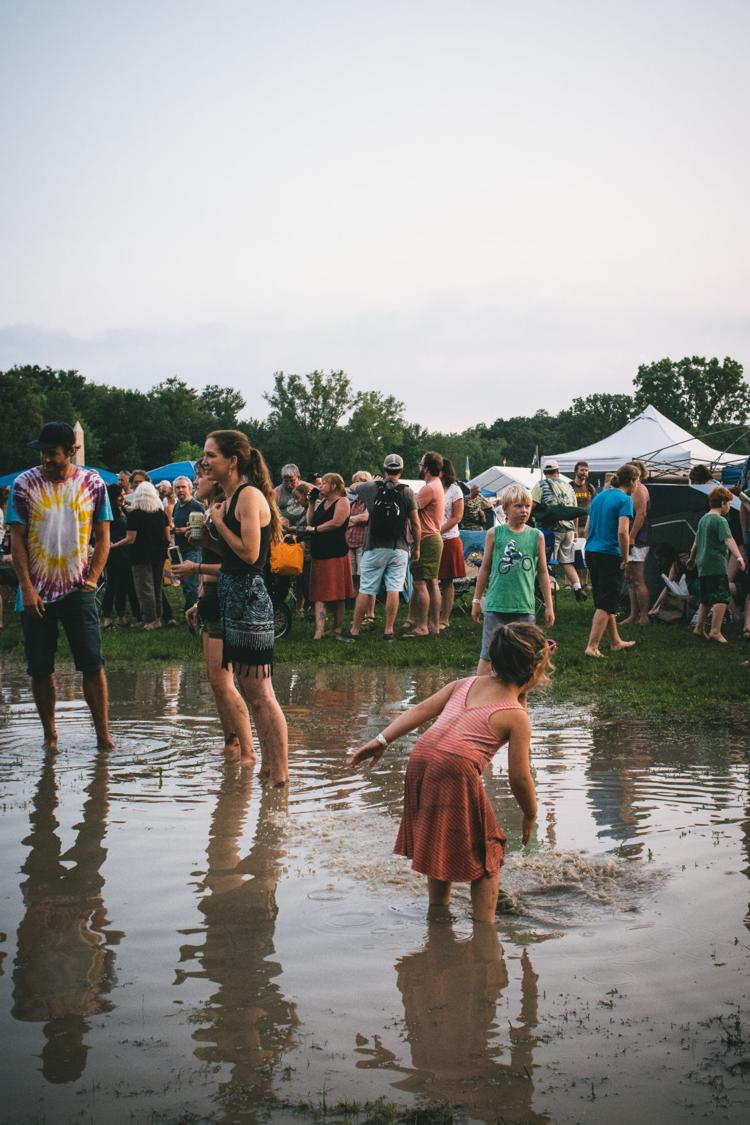 For all the concern about the decline in volunteerism, maybe there is some sort of alarmism involved. Several generations deep now, the festival has undergone numerous cycles of folks coming and going. The ouroboros of the lakes molts its skin every year: as one generation leaves, a new one enters and another, matures. While it is still a party and will likely maintain that label in perpetuity, people who've attended for years recognize that to maintain something special, it requires stewardship and maintained, applied effort.
"It's our city of freaks that's only here for four days out of the year," said Josh Dolan, a longtime member of the stage crew. And to be true, it's a weird scene at times: Donna The Buffalo's Jeb Puryear meandering through a rave about peace, love and hired hypemen at their Saturday night infield show, grown men in facepaint and fairy wings wandering with blank stares through the grounds, people peddling about on standing tricycles, the occasional stranger calling you into their tent offering friendship and, if you're lucky, a lukewarm can of Miller High Life. But sometimes, it takes a couple of rounds to really "get it:" a home for the unique, quirky and worldly that has somehow, managed to stay largely the same as it's grown.
"It's turbulent at times, especially late at night," Dolan said. "But there are so many people here to make this festival happen that are watching out."
"A lot of people have been here a long time," adds Potts. "They care about what's happening… and they party while they're doing it."
"Not on shift," Dolan is quick to add, cracking his first beer at the end of his Friday stint on the infield.
"Okay, some do and some don't," Potts laughs. "I can't speak for everyone." •
Mental Health
By Christie Citranglo
This was my first GrassRoots. I ran around my apartment on GrassRoots eve packing a bag — water, sunscreen, bandages, more water. I've been to conferences and conventions, but with GrassRoots' legacy, I went to bed expecting sensory overload and huge crowds.
And I was mostly correct, except I severely underestimated the amount of children, mud and children covered in mud. I turned my head and I saw guitarists jamming out with fiddlers in the same line of sight as a woman on stilts in a fairy costume. I didn't expect so much in so little space, especially considering I walked the entirety of Trumansburg Fairgrounds in about a half hour. 
I expected to be uncomfortable, and I expected to function with loud music and murmuring voices in the suffocating heat. I accepted this before I left in the morning, and I reminded myself this throughout the day. A strenuous day on my mental health and inevitable anxious feelings came in the package of attending a music festival. 
The Healing Arts section focused its efforts on stress relief, easing my anxieties. They held morning yoga sessions, workshops on self-care, stress ball arts and crafts, massage session and a safe space for women among other tents and activities. 
Forty million adults in the U.S. are affected by anxiety disorders — which rounds to about 18 percent of us — and about 9 percent have depressive disorders, according to the National Institute of Mental Health. These disorders do not go away at a certain age — the age group affected most by anxiety is between ages 45-59 — nor do they exclude children. Since these disorders can affect anyone of any age, the dialogue should be continuous — especially at the most unlikely of places to talk about it.
In the midst of the chaos, I remembered  to care for my mental health specifically in Ithaca Red Tent's red tent. A small, red sanctuary for self-identified women and non-binary individuals sat around the corner of the Healing Arts section. When I sat down and rested my back against one of the pillows, I began to realize how overwhelmed I was. 
I waded through mud all morning. I ran into old friends and acquaintances. I danced to Latinx music and jazz. I rode the trolley through the grounds and gave random children high-fives when they asked. I sweated so much I accepted that I would never to feel cold again. I needed some way to rejuvenate, even if I hadn't realized it.
Myself and the two friends I came to the festival with spent more time than we anticipated in the Red Tent. Strings of pearls draped around the skeleton of the tent, along with holiday lights and red tapestries that breathed with the wind. Squishy yoga mats and pillows were scattered about, making it easy to find a comfortable spot to rest. 
The most healing came from the safety of feeling comfortable. The Red Tent was a space designed for women and nonbinary folk to rehydrate and chat over water poured into mugs. They can read books about rebellious women in history while preparing a clay mask, burn sage, heal joints with natural remedies, refresh with body mist and hair brushes — in the middle of a music festival. In the middle of a space where there are no other designated spots to unwind and be unapologetically female or non-binary outside of Healing Arts. 
After we left the tent, my anxieties calmed and my feet didn't feel as sore. I continued to learn more about depression and anxiety through the tents at Healing Arts, and I was sure not to leave without making a stress ball: a party balloon filled with uncooked rice.
I turned the corner and left the shady nook of Healing Arts. I slogged through the mud and embraced GrassRoots — anxieties and all.•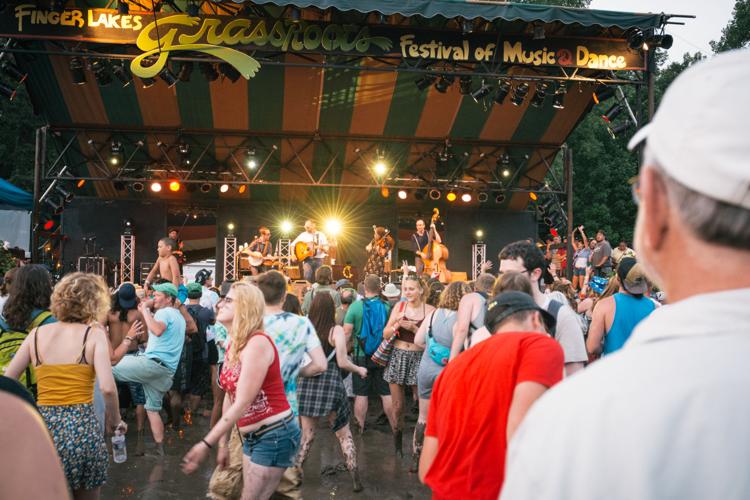 Beyond Music
By Jamie Swinnerton
I can't imagine why anyone would pay for a music festival that only offered music. A music festival, to be worth the hassle, hype and money must offer so much more than music. Thankfully, for the thousands that traveled to Trumansburg to partake in the Grassroots music festival they were pulled into an entire experience that included food and drink, art, science, community, and mud.
First, it wouldn't be a music festival without an abundance of liquid courage. One of the many gifts of living in the Finger Lakes region is the accessibility to local wine, beer, and cider. Hold an event around here and you're almost guaranteed a taste of what the finger lakes have to offer when it comes to 21 plus libations. This year, Grassroots was even gifted their own brew from Ithaca Beer Company which was on tap at the festival. Roped off areas kept the drinking safe and legal and offered festival goers looking for a relatively quiet spot (I mean, it's still a music festival) in which to sit and drink their chosen adult beverage.
Second, there was no shortage of things to do if you weren't feeling the music. A tractor pulling a wooden trolley traveled around the fairgrounds, allowing riders to jump on and off as they pleased. Or, for attendees looking for a quiet place to sit and drink some water the festival was littered with small areas designated as "living rooms" with comfy (and hopefully durable) couches and chairs, to sit with your current friends or possibly meet new ones. For the little ones, an entire tent full of kid-friendly arts and crafts sat in the middle of the action. The Art Barn, situated closer to the Main Entrance, featured dozens of beautiful pieces by local artists. I chose to embrace the musical nature of the event and bang out a drum solo on a hanging log, an interactive piece of art in the barn that I'm certain was a hit (pun intended) with both kids and adults who have yet to forget their childhood. Trumansburg's own female carpentry school, Hammerstone, brought along a tiny home they had build themselves to show off to the community and possibly find a buyer for, complete with a bedroom, bathroom, frontroom, and kitchenette space, all in a neat little package that can be towed behind a truck. All of these entertainments combined (along with the merch barn, Physics Bus, mental health area, food trucks and booths, compost education tent, and more) were enough to keep anyone entertained without even mentioning music. But let's be realistic, these aren't really why people come to Grassroots. 
Finally, although this piece is about the elements of Grassroots beyond the music let me assure you that I did also enjoy the music, and I found something in the performances that can only happen when you see live music. While taking pictures of Ithaca band Stone Cold Miracle Friday morning I remembered why people pay so much money to see live music. It's not for the music alone, it's for the opportunity to find something beyond it.
LaTrece Stevenson, the vocal powerhouse for Stone Cold Miracle, is not a shy performer. Between songs she would compliment the outfits of her audience members, talk about her love of hugs and flowers, share how grateful she was for a beautiful day, then immediately remind her audience to stay hydrated, and spread a message of love that she so clearly exudes from her very soul. While performing their final song, a commentary on police brutality, Stevenson began to cry. I know because I was ankle deep in the mud in front of the stage, trying to capture an experience you can't get even on vinyl. Stevenson pulled her audience into her performance, but she threw herself into too.
When you go to see a live performance there's an element of humanity that goes beyond the music. A dream of being invited backstage by a performer you admire. Maybe just making eye contact with someone as enthusiastic about the sound as you are. Handing a flower to the lead singer and getting a special shout-out. They're all worthy moments the are only distantly related to music. It's that search for such moments, even the barest possibility of connection to something so raw, that make a music festival an experience. •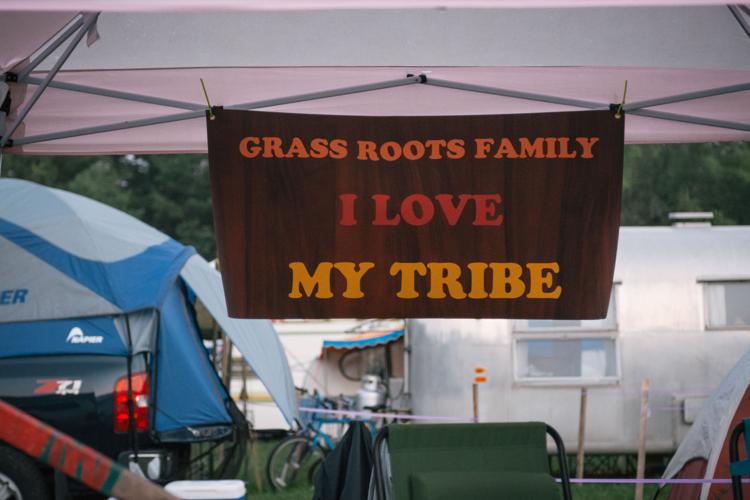 A Taste Of Home
By Isabella Grullon-Paz
Mokoomba, a band from Zimbabwe, had just finished their set and while I was catching my breath in the muggy heat after dancing to their infectious beats, I caught myself thinking that I had just heard a band from Victoria Falls in Upstate New York. Mokoomba had just made a crowd of predominantly white people move to beats they didn't understand. I was confused about how a music festival in Trumansburg, New York, whose primary demographic was white people, had a band from Zimbabwe playing, but I didn't overthink it. If I did, things would get too political, and I wouldn't enjoy myself. 
I had been uncomfortable walking the grounds all day, seeing various forms of cultural appropriation and closing myself off to the possibility that it might actually be appreciation -- it's been a complicated six month for a Latina not to be skeptical of whiteness. I was listening to good music, but nothing that made me feel like I could move the way my feet are used to moving. It felt like navigating my every day, assimilate just enough to smudge, not blend into the crowd. 
Mokoomba's set made me feel more at ease as if I didn't need to tone down my hips or my quick feet. If the was PoC music, there had to be more people like me, or who at least were having similar thoughts.  
Between breaths and sips of water, I see a man come on stage with a shirt that read Yo no creo en Fronteras; I don't believe in borders. I just thought to myself, ¿será qué si es mi gente?
He and a few others began setting up the stage and doing their soundcheck, flamenco like tunes and voices that reminded me of serenatas fill the speakers. I take a look at the lineup, La Cafeteras were up next.
As they tuned their jarras and requintos and checked their microphones my heart palpitated with an excitement I only know when I land in Cali, Colombia to visit my mom or Santo Domingo, Dominican Republic to visit my dad; I feeling I get when about to get home. 
They began their set, introducing themselves as a Chicano group from Los Angeles. You could tell all of them had such distinct musical styles and stories that all harmonized into Afro-Mexican beats, beats that were the foundation for their cumbia, ranchera, and durangansese. 
My anticipation grew when the lead singer — the love child of an unapologetic pin-up girl and Frida Kahlo — started zapateando, and the band began singing about walls, immigration, feminism and the struggle for the barriers of the American dream. 
Their message through the set was that dance the way to bring people together; it was the way to pray and to celebrate and also a way to protest and resist.
"If we can't dance with one another, how do we expect to bring a community together, a city together with a nation together," said Hector Paul Flores in the middle the set. And he was right. 
As I looked around, specks of color appeared throughout the crowd, meshed into the masses of white who kept up with the music, felt it, but didn't seem quite to understand it. We are all comfortable around each other. 
It felt like my space, a safe, welcoming space. I saw hands raised in fists in solidarity with the music, I didn't notice mine was up until my shoulders got tired.  I saw those who got lost in a music that was new to them. You could tell they wanted to get carried away but the same music that helped the entire Latin American continent lift itself for years.
Las Cafeteras sang to the Iroquois, to the Mohawks, to those who were displaced. They sang to all those who to all those who had to migrate because poverty and war and neocolonialism took their countries away from them. They sang to presidents all over the world about the whitewashing of history not only in the United States but everywhere. They sang to people like me, who are still figuring out their space in a country that both welcomes and pushes us away. 
Most latin music is a mix of songs of the slave trade, indigenous traditions, and European influence. Seeing that same scene played out before my eyes as we all learned how to dance together made me feel genuinely at home for the first time in a long time — probably since November 8.