Joined by family and friends Michele C. Leonard was awarded 2018 Dispatcher of the Year honors in May. 
Leonard is a supervisor at the Seneca County 911 Center and has worked there for 15 years. Seneca County Emergency Management Director, Melissa Taylor and 911 Operations Manager, Brandi Godley presented Leonard with the honor at May's regular meeting of the Board of Supervisors. 
"She is well respected and well-liked by her subordinates and her peers. She was recognized for always having a positive attitude, her involvement with the Sunshine Club - our employee morale club, her willingness to work for - and with - her coworkers, and her Supervision during the early morning hours of the August 2018 flood," said Director Taylor at the time. 
Taylor said that Leonard's experience paid dividends - as she hit the 'all call' button - notifying all fire departments in Seneca County that their assistance was needed at the south end of the county. "After just a handful of calls, Supervisor Michele Leonard knew that this was no ordinary event and that some extra action needed to be taken," Taylor added. "She notified several other key staff so immediate action could be taken. She calmly led the overnight 'A' shift during the most stressful part of the response phase. If it were not for Supervisor Michele Leonard's quick and informed decision making, the outcome of this already devastating event could have been much worse." 
A department plaque was also presented to the staff of the Seneca County 911 Center in recognition of their outstanding efforts during the August 2018 flood. Director Taylor thanked her staff for their dedication and added, "Dispatchers play an important role in each and every call that comes into the 911 Center. Their hard work, knowledge, and ability to handle high-stress situations help to keep public safety personnel and the citizens of Seneca County safe. They are the true heroes behind the scenes."
Taylor called it an 'honor' to recognize the staff for their efforts during the 2018 flood. "These men and women are serving their community behind the scenes every day. Because the 911 Center is a 24/7 operation, our dispatchers often work long hours and they never know what will be on the other end of that phone line," she explained.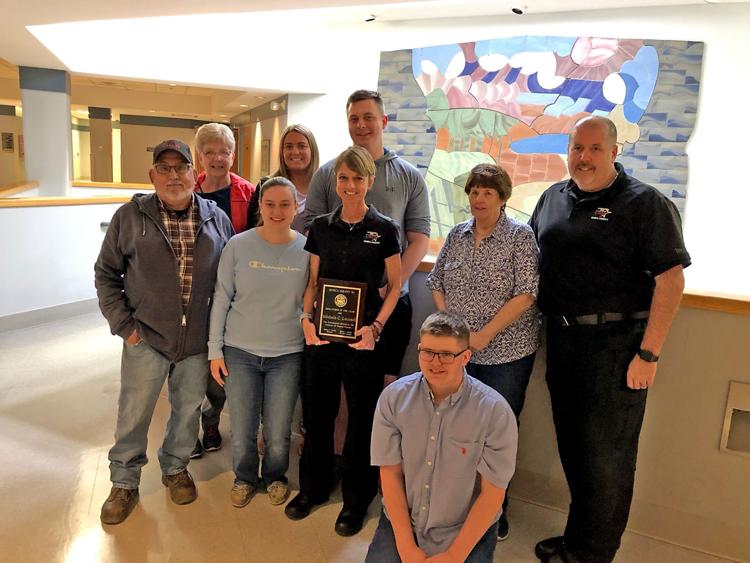 The Seneca County 911 Center currently has a staff of 15 full-time dispatchers with four job openings. There are only four dispatchers who work each shift, according to Taylor. It means every employee has to be on top of their game at all times.
"In 2018 the 911 Center staff answered a total of 52,648 calls - 17,245 of those calls were emergency calls," Taylor recounted. "We're not working in a highly populated city so the calls that they are receiving are from people they know. Trying to not become emotionally affected by the calls they receive is difficult, but doing this when you personally know the caller or their family is nearly impossible. Sometimes the caller is one of our own family members. The staff are trained to handle all calls calmly while providing lifesaving (CPR, EMD) instructions to them."
Dispatching isn't easy work. It's a physically and mentally grueling task - when so many of the calls can hit close to home. "A dispatcher must be able to think quickly and make decisions sometimes with very limited information. He or she must be able to deal with people in a variety of emotional states while remaining calm and professional," Taylor added. "Dispatchers have both challenging and stressful jobs, but there are also a number of rewards that come from being a public safety dispatcher. Helping calm someone who has just been victimized, helping locate a lost child or helping bring a baby into the world are just a few of the rewarding experiences that dispatchers may face in their career."
It's part of the pitch she makes to those who are considering a career in dispatching. 
"It's incredible, rewarding work that gives back in an amazing way," Taylor concluded. "It's also an opportunity to work with an incredibly talented, proven team that works each day to keep Seneca County safe."