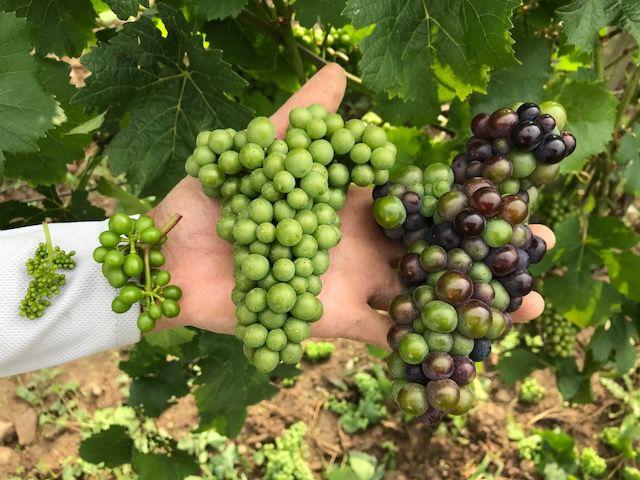 Imagine for a minute that you are the owner of a factory that makes, say, ball bearings. A few weeks before the completion of the manufacturing process, you tell the factory manager to throw out 50 percent of the almost-finished ball bearings. Sounds crazy? But that's exactly what Johannes Reinhardt, the owner and winemaker of Kemmeter Wines in Penn Yann, does in his vineyard every year: 45 percent in 2016 and a whopping 60 percent in 2017.
This vineyard crop-thinning practice is called green harvest, or "vendange verte" in French. Performed usually six to eight weeks before harvest, the grower walks through the vineyard and examines each vine. Clusters which are deemed deficient in ripening or unhealthy are cut off by hand and discarded. In vigorous vintages, healthy clusters are likewise cut off to limit the yield. By doing so, each vine can then focus its nutrients and joie de vivre on the remaining clusters, resulting in higher-quality grapes. The practice's upside is an increase in grape quality, the downside is you wind up with less wine.
Green harvest is not that uncommon, but the severe degree to which Reinhardt executes it is. It's part of his painstaking pursuit of quality.
To understand how Reinhardt wound up in the Finger Lakes, you have to travel back over 600 years in time to Germany. Reinhardt is a descendant on the maternal side of the storied Kemmeter family in the Franconia region. The Kemmeters have been farming and winegrowing for over 600 years, as evidenced by a 1438 royal proclamation from Emperor Albrecht II, which recognized the family's contribution and bestowed it a family crest.
Johannes Reinhardt was the third of four children born to Ottmar and Elfriede Reinhardt. His siblings, two sisters and an older brother, grew up in the small village of Neuses Am Berg. When his older brother died unexpectedly at the early age of 13, Reinhardt was suddenly thrust into the role of having to eventually assume the mantle of the family business.
After high school, Reinhardt began an arduous seven-year education and apprenticeship program in viticulture and oenology in Germany. Upon his graduation with an advanced degree from the Bavarian State Research Center for Viticulture in Veitshöchheim in 1992, he returned home to work at his family winery.
But things went badly.
As Reinhardt assumed more responsibilities, conflicts with his parents on how the winery should be run became a frequent occurrence. His parents, laden with a centuries-long tradition of winegrowing, were resistant to change. But Reinhardt, from a newer generation of winemakers, wanted to make the best wines possible. To do so, he pushed to reduce yield. His parents resisted. Their relationship became increasingly tense and strained but continued for three years.
"I would look at myself in my bathroom mirror at night and cry," Reinhardt said. "I began questioning my life, even God. Can I live my life this way?"
Considered the "softie" among the children, he was also chastened by his incessant arguments with his parents. He shook his head and added, "I thought God would not be happy with the way I treated them."
Feeling trapped with no way out, Reinhardt took the only path he thought available. In October of 1995, he abruptly packed up and left. Reinhardt moved in with a friend in Munich. For a few months he did odd jobs for a living. But in his heart, he knew his place in life was growing and making wine. He found a job in 1996 at Schlossgut Hohenbeilstein, an organic winery in Württemberg. There, he had a wonderful working relationship with the owner, Hartmann Dippon.
"It was an important experience working with Hartmann," Reinhardt reminisced. "Besides new methods of growing and making wine, I benefited from Hartmann's kindness and humility."
After spending a couple of years with Dippon, Reinhardt wanted to expand his skills by working in other parts of the world. He answered an ad from Dr. Konstantin Frank in the Finger Lakes and signed up as the vineyard manager for the 1999 vintage for Chateau Frank, the sparkling wine house of Dr. Frank.
Reinhardt returned to Germany after his stint at Chateau Frank and began working for a winery in Baden. He quickly became disillusioned because of the commercialism there, and it seemed like he would have to move on again. Then came a phone call that would point him in a life-changing direction.
John Martini was a sales executive with the W.R. Grace Corporation in Baltimore in the early '70s when he decided to quit the rat race and bought a vineyard on Anthony Road in Penn Yan. In 2000, he needed a new winemaker. Two friends from the local wine community, Peter Bell from Fox Run Vineyards and Dr. Thomas Henick Kling from Cornell's Geneva Experiment Station, suggested Reinhardt for the job. Martini called Reinhardt in Germany and invited him to come to the Finger Lakes to visit Anthony Road in person.
Martini picked up Reinhardt at the airport. Both men hit it off right away after they discovered their mutual love for classical music when the car radio came on. At Anthony Road, Reinhardt finally had the opportunity to make wines worthy of his standards, as Martini gave him free rein. Before long, Reinhardt quickly earned a reputation as one of the best winemakers in the Finger Lakes.
"Johannes really raised the overall quality of our wines because of his work ethics and attention to details," Martini recalled. One of the major achievements during Reinhardt's time at Anthony Road was the creation of Tierce, a Riesling collaboration between three wineries: Anthony Road, Fox Run and Red Newt.
Peter Bell, the long-time winemaker at Fox Run, said, "Tierce was conceived by Johannes, and when he mentioned the idea to me I was instantly on board. Working with him on this project was always great fun. He is about as congenial a person as you will ever meet."
As Reinhardt's reputation grew, he didn't forget about his dream of owning his own vineyard. In 2007, he bought a small farm across Route 14 from Anthony Road with Martini's help. But before he could plant his vineyard, he needed to do one thing first: obtain a green card so he could become a permanent resident. Typically, foreigners with specialized skills like Reinhardt have received green cards easily.
"Johannes was like a second son to me," Martini said. "I wanted to do whatever I could to help him. We had this big pile of testimonials supporting the application and it inexplicably got turned down."
Not wanting to invest a lot of money before his legal residence status became clear, Reinhardt leased his land to Klaas Martens, a local organic farmer. In the meantime, he and Martini tried reapplying for a green card. But disappointment ruled the day again when the law firm they hired missed the application deadline. Finally, Martini hired a firm in Ithaca to re-submit another application in 2011. During the same year, Reinhardt decided to go ahead and install a fence and drain tiles in the hope that the third time would be a charm.
In January of 2012, five years after he bought his vineyard, Reinhardt's green card application was finally approved. He formally licensed his winery the same year, making wines from purchased grapes at Anthony Road's facilities. The following year, Kemmeter Wines opened the doors of its new tasting room.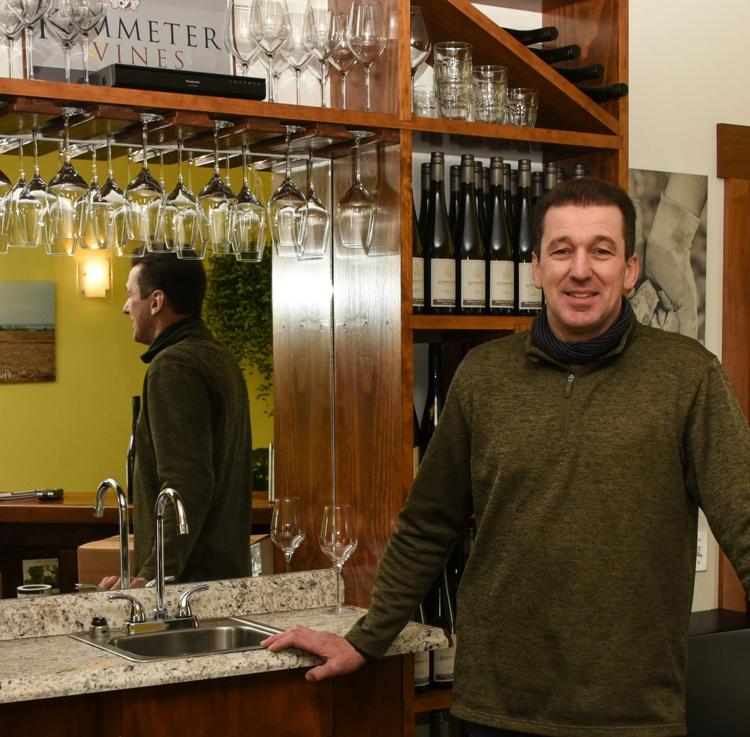 "Of all the people in the world I need to thank, John Martini is on top of the list," Reinhardt said. He would continue as the winemaker of Anthony Road until 2014, when he passed on the reins to his assistant winemaker, Peter Becraft.
Becraft said he owed his winemaking career to Reinhardt. "My wife and I were visiting Anthony Road in 2006 and met Johannes one afternoon at the winery," he said. "We struck up a conversation. On our way out, he mentioned that he could always use help during harvest time, and my wife volunteered me."
In 2014, Reinhardt began devoting full-time to his vineyard. Most vineyards today are being planted by an automated GPS-guided laser system, but Reinhardt planted his vineyard by hand, one vine at a time. Looking at his vineyard, you would think it was machine-planted because of its straight and orderly rows.
As the vines matured, more and more of Kemmeter wines became estate-grown: over 60 percent in 2016 and 80 percent in 2017. Six acres are currently planted, three with Riesling, two with Pinot Noir and half an acre each with Gewurztraminer and Pinot Blanc. For the 2018 vintage, all the wines were estate-grown.
"The fruit determines the wine; the cliché 'great wines are made in the vineyard' is true," Reinhardt said to explain his philosophy. "The vines must be healthy. Each of my 1100 vines are cared for individually, down to the single clusters. I make decisions on each cluster, as they might mature differently, sometimes within even a single vine."
It is this kind of meticulousness that makes Reinhardt such a renowned vigneron. In 2014, he was named by Vineyard & Winery Management Magazine as one of the 20 Most Admired Winemakers in America in a poll taken by stakeholders in the wine business.
In person, Johannes Reinhardt is a tall, self-effacing and earnest man. Humility and focus are two words often used by his friends and colleagues in describing him. He told me one of the things that shaped him was his enlightenment on the true meaning of religion over time. "Not so much in an organized religion way, but to follow Jesus' example by living a more spiritual life instead of pursuing worldly possessions."
He has also long since reconciled with his family in Germany. "My parents were raised during wartime and the post-war period. They couldn't throw anything away, so the concept of reducing yield was unacceptable to them," Reinhardt said. "I am sure they were doing what they thought was the best for me back then." He added, "I learned a lot from my father, especially on the importance of cleanliness in the cellar."
When you walk into Kemmeter Wines' jewel box-like tasting room, you notice right away how tidily-organized it is. Bottles are lined up neatly on the shelves. It accommodates only six guests. Tastings are by appointment only and could last up to an hour. When you taste wines with Reinhardt, you can't help but get drawn in by his passion and deep knowledge.
At this stage of his life, Reinhardt is happy and content. He has found his true love in his wife Imedla. His dream of owning a vineyard and making wines of uncompromising standards has been realized. And he has found his home—it's in the Finger Lakes, where he can make superior wines, one vintage after another.
Kemmeter Wines
Tastings by Appointments Only
1030 Larzelere Road, Penn Yan, NY 14527
(315) 521-3897