As a bit of a rule, the Ithaca City School District Board of Education attempts to meet with the building leaders of each of its dozen schools each year in order to get the pulse of what is happening within them.
Last week's meeting, with the principals of two of its rural elementary schools in Caroline and Enfield, offered quite the update for outsiders on the happenings-on in the district's smallest school building.
Filling the main board room of the district's administrative offices, the Enfield community showed up in force to demand action be taken after years of questions surrounding school safety and discipline came to a head following the recent dismissal of a teacher there. Both parents of students and former staff at Enfield Elementary spoke for close to one hour on what was described as an undisciplined learning environment at the school, describing a setting that offered little to no recourse or support available to teachers to maintain discipline.
Numerous parents spoke to high turnover among the faculty and, for the teachers, many shared stories of students flipping desks, punching and spitting on teachers, bullying other students (some of which, parents said, was noted as "an act of aggression," rather than bullying, which is defined differently under the anti-bullying Dignity For All Students Act of 2010) and being generally disruptive to others. And through all this, teachers and support staff were offered few options for discipline: no suspension, no phone calls home, nothing.
"I would go home crying," one former staff member shared. "And the kids who saw this happening would have issues with it too. If you want to have a blind eye to what is happening over there and pretend everything is all hunky dory, it is not. Something needs to happen."
Several former staff members stated that they had experienced physical attacks from children and, under this environment, a number of teachers had been let go as a result of their perceived incapability of handling the situation.
"Kids don't need to go to school to be scared," one commenter said to the board. "This is way more than about inclusion. What we want is more resources. What we want is more support for teachers. They don't need to be labeled as 'ineffective' because they're asking for help with their kids."
Some alleged that the district was underreporting incidents of bullying. One parent, who alleged his second-grade daughter's experience with bullying were dismissed by the district, turned in a DASA form a while back and has yet to hear back, despite the law mandating an action plan was due to him within ten days.
"Are we the district that's still not following the law?" he questioned. "If any of you can feel good about that, please, resign. Our kids are screaming for help. I want every kid to get the help they want, but I want this stuff documented and I want these kids to get the help early, not late. Not months into the school year."
In an interview, Superintendent Luvelle Brown noted that in many cases, the students parents were referring to were oftentimes very young and their actions, as inconsistent as they were, do not meet the district or the state's criteria for bullying, which entails sustained and consistent acts of aggression.
"We're talking about young people with disabilities here," he said. "We have to be careful to meet their needs to balance the safety of staff but also to respect the law as well. You have to think about what an appropriate consequence is for a student with an identified disability whose behavior is a manifestation of that."
"We are a school district focused on inclusion, and we're a district that's working on getting better and better at it each day," he added. "It's never a good thing when an adult or a young person is hit, but this is something we need to navigate carefully."
Tuesday's meeting marks the culmination of a number of years of tension between some members of faculty and the school district said Adam Piasecki, the president of the Ithaca Teacher's Association, which represents ICSD faculty members. A former Enfield school teacher, Piasecki said the tensions began a decade ago when one principal there "destroyed the community" in a sense during their three-year tenure. When a new principal was brought on seven years ago, there was a "breath of relief," he said, and optimism that the previous administration's wounds would be healed.
"Unfortunately, what we've seen over the last several years didn't hold," Piasecki said. "In some cases it did, but the school has progressively gotten worse."
Throughout the meeting on Tuesday, many parents expressed sentiments of purposeful hiding of bad behavior in the school and a lack of sufficient reporting, which has Piasecki said has resulted in a slow response to mediate change. Statistically, Piasecki reports more than 88 students are currently enrolled out of Enfield Elementary to other schools in the district, and turnover over the past several years has been substantial: by his count, in the past seven years at Enfield Elementary there have been seven retirements, eight transfers out of the building, seven resignations and five dismissals, not to mention extremely high turnover in special education (four different staffers during that time), art (four different staffers) and music (three staff changes) during this time.
Brown said that this turnover is not unlike that experienced throughout the district: based on a parent's place of work, many will enroll their students out to another school and, Brown notes, the district will typically hire between 60 and 100 people each year – a staff turnover of about 10 percent annually.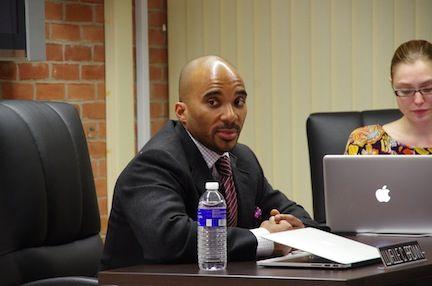 "That number he's quoting, for the size of the school, is not too unique," said Brown. "Some people have retired – they had an older staff to begin with – and I'm happy so far with the people that we have hired."
The nature of this turnover, Piasecki said, has had a sort of vicious circle effect: teachers are afraid of their students and leave, creating a direct impact on teachers' ability to help reform children who might be experiencing problems in the long-term.
"There's this constant fear there of people being let go over student behaviors when it's not really their fault," Piasecki said. "They could put a whole new staff in every year, but if the philosophy of the leadership doesn't change, it's not going to make much of a difference. You'll just have a new staff every year."
While members of the board stressed that while changes could be looked at, any changes need to come from a place of consciousness. School Board President Robert Ainslie, a lifelong resident of Enfield, spoke to a certain stigma around being the "farm kid" from Enfield, saying he's worked to fight against a perception of lower expectations of students in Enfield.  Nicole LaFave, another board member, said that while certain areas, like providing support staff for teachers, could be examined, she emphasized that any decisions made by the board need to be made with the good of all students in mind. She said that "if we allow ourselves to get to a place where people fall through the cracks because they don't look like us, or aren't from the same walks of life," the board would not be operating in the long-term best interests of students who have not yet had the opportunity to change. To drive this home, she shared the experiences of her own child in the district who has been in classrooms where similar incidents have occurred, and some of the lessons she had learned over the years.
"She has been in classrooms in this district where there have been kids who have turned tables, who have totally destroyed rooms," LaFave said. "But some of them have turned out to be her best friends and are now, at her school, playing the cello. If we wanted to ship those kids off to places like George Junior [Now called the William George Agency for Children's Services, a facility in Freeville for at-risk youth] because we don't believe in them, is that really for the best?"
"I guess what I would ask for," she added, "is not to target some kids as 'problem children' or say they need to be isolated."
That's not to say it hasn't been discussed: Noting that we're not doing school "like it was 30 years ago," board member Brad Grainger said the district has been working to cut down on measures like in-school suspensions and working to integrate those who some would consider "problem children" into the classroom. He mentioned the topic had been broached at a recent meeting among the educators and said that, in the coming months, three members of the Board of Education will be attending a mental health summit to get a better grasp on the subject to better inform policy.
"We do take this seriously," Grainger said. "Hopefully they'll come back with some ideas, and I know Dr. Brown (the superintendent) and his staff are working on this as well. We want you to understand we've put plenty of time into this. The solution may be different or the same than you think it should. But we want you to know we care about this."
Lisa Rieger, principal of Enfield Elementary seven years now, first addressed the board by acknowledging all that was said but also, highlighted the progress the school had already made in the past several years. Over the summer, Rieger said she met with her faculty members to discuss their feelings on their own personal success, coming up with a list of what, precisely, success looks like. Using that benchmark, every so often she would take a student they had worked to turn around and – using their principles of success – ask them to identify what they thought contributed to that student's improvement. Over the rest of her presentation, she spoke extensively of the various efforts the school's staff have taken on their own volition to improve student success and build this concept of community, and named numerous innovative courses the school has incorporated into its curriculum.
"There's a lot to be proud of," she said. "And when people ask me 'why Enfield?' I say we're very proud of ourselves and our commitment to all kids. We're committed to building a culture of love, and we're also committed to building a culture of committed improvement. We know there are great things happening, but we can always do better."
Enfield 3rd graders visit the Johnson Museum today and connect with the Chinese Goddess of Compassion - meet Guanyin. @IthacaNYSchools pic.twitter.com/VlpcfPs7DL

— Enfield ES (@lisa_m_rieger) February 14, 2018
However, she acknowledged that things have changed in the recent years, and the root causes of that are still uncertain.
"We know there are kids coming to school with more drama and more toxic stress," Rieger said. "I was asked at the PTA meeting recently, 'what is it that has changed? Is it the leadership? Is it the teachers? And one of my answers was that I think our kids are changing, our population is changing… and that matters. We have a lot to learn about a kid's brain, and there's a lot of science behind why they're not operating at a level that's getting them ready to learn. And I think it's time to think and do some re-strategizing with our learning environments and our approach to students."
Rieger did not respond to an email or voice message requesting comment;, however, in her presentation, she outlined a number of tangible efforts in the works to combat some of the behavioral issues. Currently, the school is looking into incorporating an on-site mental health clinic on the premises for families with limited access to transportation and has been trying to work collaboratively with parents to improve on the resources in the school that already exist. But beyond that, asked Ainslie, what does Enfield need?
"Sometimes people mistakenly think that more support means more bodies," said Rieger. "I'm not sure we always agree with that in classrooms. It's not always more hands – it's more hearts and heads working together. We need to continue to have professional development for all staff and most important, our care and support staff needs to join our teachers in their professional development to talk about things like kids suffering from chronic stress or alternatives to traditional discipline when traditional discipline doesn't work."
There could be a number of contributing factors in society, particularly in Enfield which, statistically, is among the poorest communities in Tompkins County. But, whether a systemic issue or not, Piasecki alleges that among all the schools in the district, it seems Enfield has problems other schools don't have and, if current efforts aren't working, it may be the time for drastic change or perhaps, new leadership.
"It doesn't matter how much money you dump into it," he said. "If the philosophy of the person in charge who has the authority to make change, doesn't change, it doesn't matter how many millions of dollars you pump in. That's what needs to be established: you can't keep blaming the teachers in-and-out. At some point, it makes them look foolish."