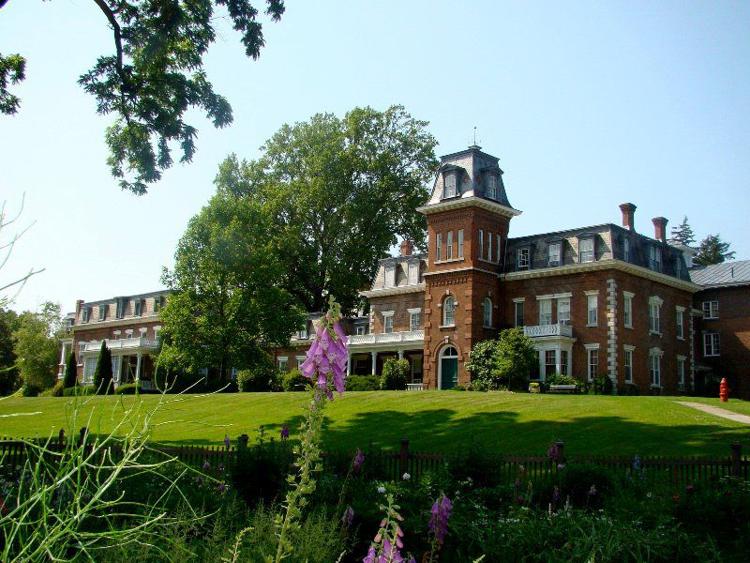 The Oneida Mansion House sits atop a hill surrounded by sweeping lawns and huge trees, looking like a staid and prosperous college campus.
But inside this formal Victorian façade dwelt one of the most radical institutions of its time – a religiously-based Utopian commune that challenged mores and even laws of mid-19th century America.
Originating in the 1840s as the Perfectionists Community, members practiced what was called " Bible communism:" communal property and labor, communal child rearing, equality of the sexes, and "complex marriage"– freely shared non-monogamous sex among members.
The Oneida Community lasted only 32 years, from 1848-1880, but from its radical social beginnings it evolved into one the most impressive and successful corporate manufacturing companies of the 20th century, still known today as Oneida Limited.
The great religious revivals in New York
The Perfectionist Community that would become Oneida was founded in Putney, Vermont by John Humphrey Noyes. The Yale-educated son of a Vermont Congressman and a cousin of President Rutherford B. Hayes, he preached that the spirit of Christ had returned and entered into his group, that the basis of sin was selfishness, and that we could be free of sin (and thus perfect) in this world through faith and by sharing all labor and property. That belief extended to marriage, which encouraged the sin of possessiveness. Instead, members were all married to and could participate in sex with one another.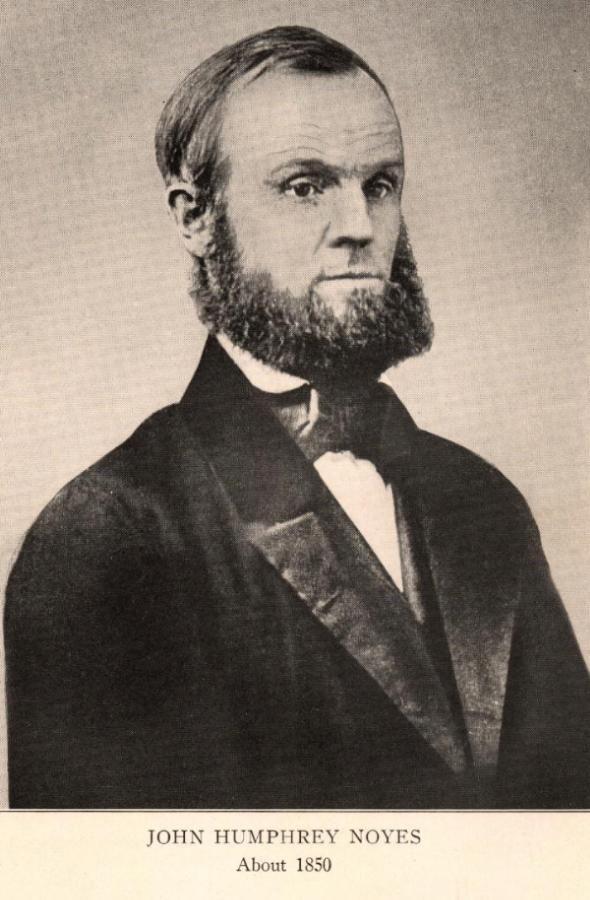 Neighboring Vermonters did not take well to these polyamorous practices: Noyes was charged with adultery, and fled with his followers to Oneida in Upstate New York where adultery laws were not strictly enforced.
There they built the Oneida Community, on the wave of an extraordinary mid-19th century religious and spiritual revival that saw the founding of many Utopian and religious communities in Upstate New York. This included the Church of Jesus Christ of the Latter Day Saints (Mormons), the Shakers, and the Adventists among others. So many religiously-based movements sprang up in Western and Central New York State then that it was referred to as the "burned-over district," meaning the area had been so heavily evangelized that there was no "fuel" (unconverted population) left over to "burn" (convert).
The mid-19th century was also a period of massive political, social and economic upheavals as the industrial revolution transformed manufacturing and banking, women clamored for equal rights, and slavery was abolished with a brutal Civil War.
During these changes, the Oneida community functioned with impressive confidence and comfort, attributed to a strong work ethic, communal work and good management. The equality of women as partners in all things was emphasized –one of the reasons marriage had to be abolished was because it enslaved woman, Noyes believed. Women worked along with men, held positions of power in the group, and wore pants and short hair unusual for the period.  
Oneida soon became a major economic influence in the region, with endeavors that included dying silk threads, manufacturing a range of metal animal traps, and eventually the silver tableware for which their name is still known today. Community members did not work themselves in the factory – they hired locals, and supervised, adding to the economy.
Sex in Utopia was not always Utopian
But while the community was respected for its hard work and contributions to the region, its sexual practices made Noyes and the community notorious, and eventually caused problems inside as well as from without.
Under the tenets of Complex Marriage, all men and women were considered married to each other. Any member could have a sexual encounter – called a "social interview" – with any other member if permission was asked and granted through a third party. The "interviews" took place in privacy in individuals' bedrooms, after which participants departed for their own room. Forming close relationships was prohibited.
Men were responsible for birth control through a practice called "Male Continence" in which the man does not ejaculate during or after intercourse. This helped limit the number of children born until the community was financially secure, and most of the Mansion House well under way in 1869.  In preparation for a baby boom, a special children's wing was designed and built for communal child rearing.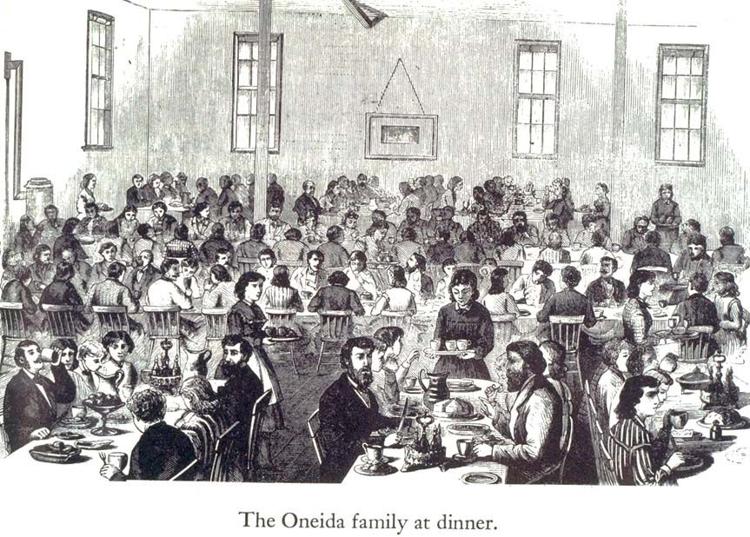 Those who then wished to have children had to be approved as being spiritually advanced by a Central Committee under a selective breeding program of "special law for special sex." The community believed spiritual qualities could be passed from parent to child. This eugenics program was called "spiritual genealogy" (or Stirpiculture, a botanical term), Careful records were kept of parentage, and children took fathers last names.  But the practice led to resentment and even departure by some who were denied children.
To add to the controversies, the group also practiced something called "Ascending Fellowship," in which older members of both sexes introduced virgins (who were typically much younger) into Complex Marriage. Noyes, who was legally married before founding the Community had one legitimate child, and fathered 13 more with other women during his time in the community.
The Breakup
In 1880, the fraying edges unraveled. The Oneida Community had lasted 32 years, longer than most of the many similar movements, and prospered with 300 members at its peak. 
Historians give various reasons for its demise, most citing weakened leadership when Noyes passed the reins to his oldest legitimate son, Theodore, a Yale trained MD and an agnostic who lacked his father's skills.  
In 1879, Noyes, who was warned of rumors he was about to face sex-related charges, fled to Canada. Continuing pressure from outside hostility and controversy about complex marriage (and internal dissatisfaction) led to abandoning that practice, after which many members quickly married. But the community had begun to disintegrate.
It all ended in a tidy manner in 1881, with members voting the organization out of existence and forming a joint stock corporation called Oneida Community LTD that was shared by all. At that time, the community's holdings were estimated to be worth $600,000. Noyes died in 1886, in Canada, and is buried in the cemetery at Oneida. 
His son, Pierrepont, managed the Oneida business off and on for decades, using enlightened management to steer it towards enormous success in stainless steel and silver-plated flatware: today, Oneida Limited is one of the world's largest designers and sellers of cutlery, and the largest supplier of dinnerware to the foodservice industry in North America. It was sold to a conglomerate in 2011.
 Many members continued to live in Mansion House or built very nice homes in the surrounding area and charming village of Sherrill, which are featured in architectural tours. And of course, the name lives on in the flatware. 
After being closed to the public for more than 100 years, Mansion House was taken over by a nonprofit organization in 1987 and opened as a museum and small hotel. But it remains a home, with 28 residential apartments. All are inhabited, one by a descendent of an original member.
Today, the handsome Oneida Mansion House and its gardens are a destination for heritage tours and many events.  In a splendid bit of irony that the original membership might have appreciated, among the most popular private events held there are weddings.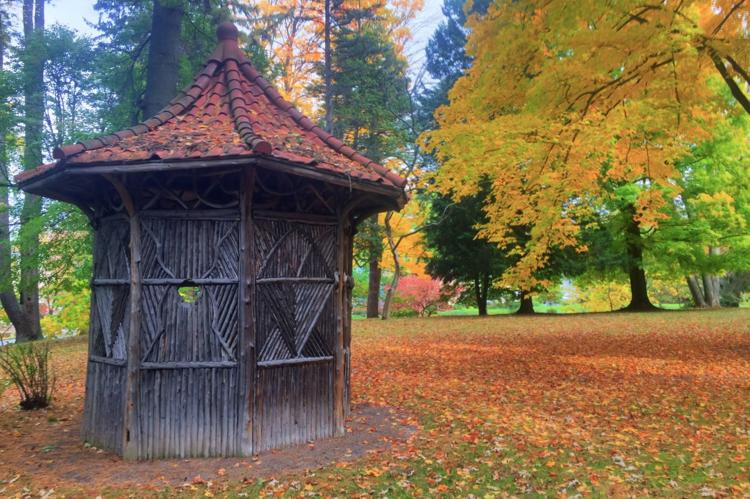 Exploring The Mansion House
The 93,000 square foot Mansion House is a National Historic Landmark, preserved and continuously inhabited since 1862. 
Visitors can wander the halls and rooms in public spaces on the main floors, with their soaring 16-foot ceilings, huge windows, generous woodwork and 19th century ambiance and displays.  Guided tours offered twice a day give more details (see Visiting Oneida Mansion House) as does an excellent explanatory display.
Built in sections over several years (and designed by several architects) Mansion House reflected the needs of its community. The many comfortable sitting rooms placed throughout were intended for meeting and mingling in a life lived in community. The small and spare individual bedrooms, about 7 by 14 feet, were used for sleeping, contemplation and, of course, "social interviews" with the opposite sex. Children were moved to a wing of their own to be raised communally by special caregivers at the age of 18 months. The last sections, completed in 1878, had the latest in hygienic design: flush toilets, low pressure radiant heat and exhaust flues.
The main meeting hall with trompe l'oeil paintings, a theatrical stage and surrounding balcony could accommodate all 300 members and was designed for a variety of entertainments. Oneida often held events open to the larger community, including performances of Gilbert & Sullivan operettas. On a balmy early evening, we found a visitor playing Beethoven sonatas on the grand piano there.
The skylight lit central library invites relaxation for visitors and residents. It has contemporary books and publications as well as many of the more than 3,000 tomes of its original owners. There was no censorship in the community:  In its day, Oneida subscribed to more than 100 newspapers and journals in wide ranging subjects.
Many of the four acres surrounding the Mansion House are groomed with walking trails, gardens and century-old specimen trees such as the oldest Tulip Poplar tree in New York State, planted in 1851. Nearby Sunset lake offers trails and unique birding opportunities.
Visiting Oneida Mansion House 
Oneida Community Mansion House: 170 Kenwood Avenue Oneida, NY
The Mansion House and grounds are open to visitors Monday-Saturday from 9 am - 5 pm and Sundays from 10 am-5 pm, with 90 minute guided tours Wednesday – Saturday at 10 am and 2 pm and Sundays at 2 pm.  The exhibit areas are wheelchair accessible. Admission is $5 for adults, $3 for students with ID, and free for children under 12 and members.
Events
Mansion House can be rented for weddings and other events, and has workshops and talks almost every week. Admission to these varies. Coming up: Oct. 7, talk on Industry and Manufacturing at Oneida with a tour of the historic factory where Oneida silverware was made, Oct. 28 Cemetery Tour For more events: http://www.oneidacommunity.org/visit-events/programs
Staying there
You can go back in time and arrange for a hotel room with en suite bath for $115--$140 a night. Each has a television and a window air-conditioner. Rates include breakfast and a private tour of the Mansion House. But you better book ahead for one of these 11 rooms: Mansion House is only an hour from Cooperstown and its many attractions, and 35 miles from Syracuse. When we were there it was booked by attendees of the Madison-Bouckville Antiques Week.
There is no food on site but you get a chit for breakfast at a local coffee shop just down the road, and you can walk to the nearby Lakeview Restaurant at the Oneida Community Golf Course golf for lunch or dinner http://www.oneidagolf.com/lakeview-restaurant.html.
Getting there
The Oneida Community is about 82 miles and 2 hours from Ithaca, and about 55 miles from Cooperstown. Easiest: Pick up the New York State Thruway (90) east, and take Verona Exit No. 33.  Turn left onto Route 365 (west) to Route 5  east. Turn right onto West Hamilton Avenue (stop light controlled) and follow to Sherrill Road (stop light) and turn right. Crossing Oneida Creek, Sherrill Road becomes Kenwood Avenue. The Mansion House is on the west side of Kenwood Avenue (your right as you drive south), just south of a large Collegiate Gothic style building, formerly Oneida Ltd. headquarters.
For more information, call the main line at 315-363-0745; email ocmh@oneidacommunity.org; or go online to www.oneidacommunity.org for reservations and pictures of lodgings.
Judith Horstman was a reporter at The Ithaca Journal. She is widely published, the author of seven books, and spent some time in a New Hampshire commune in the 1970s which had less sex but did not end with as much class as Oneida. www.judithhorstman.com