Editor's Note: In addition to being a writer at Ithaca Times for many years, Steve Lawrence has been affiliated with Greensprings Natural Cemetery in Newfield since 2010, having served on the Board of Trustees, as a volunteer and as a part-time employee.
Natural burial — any burial for that matter — is not usually high on most people's list of preferred conversation topics. Facing our mortality can take us outside our comfort zone, and many resist talking about — or thinking about — what is often seen as "the end." 
However, many people believe — at least from a spiritual perspective — that our passing represents not "the end," but a continuation, so to speak. What if we also think of our burial as a continuation? A continuation of our values, of our commitment to sustainability, and to leaving a "light footprint" on the earth…? 
In Greensprings' informational brochure, these words present the idea that we can do just that: "Through natural burial, you can give in death as you do in life for the people and things you love…You can create a legacy of enduring stewardship and renewal, a legacy that provides a place of peace and beauty for generations to come." In the words of former Greensprings Cemetery Board Member Linda Holzbaur (who also has loved ones buried there), "Greensprings was so much more than just the right thing, environmentally; it fulfills the real and traditional need of human beings to do everything they possibly can for their loved ones, even in death."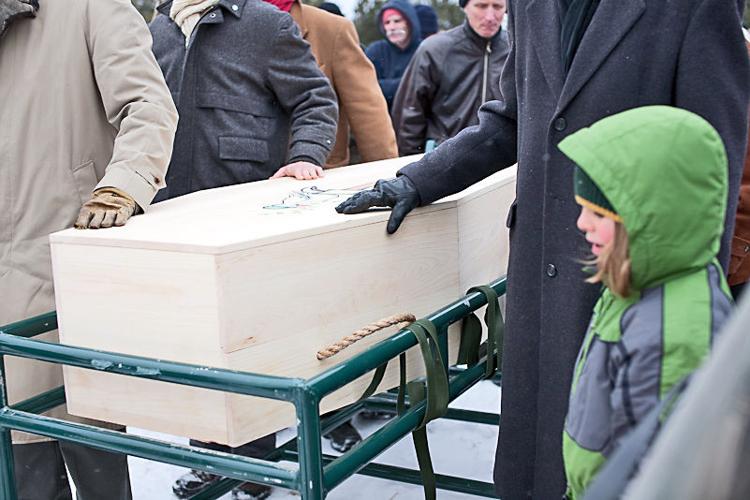 Since welcoming their first "permanent resident" in 2006, the burial coordinators and volunteers at Greensprings have buried nearly 400 more people (and have sold twice that many 15-by-15-feet "low density" burial plots). According to the website, "Greensprings covers 130 acres of rolling meadows, spotted with evergreen groves, fringed by 10 acres of woods and surrounded by 8,000 acres of protected forests. Stewardship is at the heart of everything we do at Greensprings. We have adopted practices that help maintain healthy open meadows where wild turkeys, northern harriers, bobolinks, and other birds can thrive. We have established an Ecological Advisory Committee to draw on the expertise of native plant and bird specialists, naturalists, and others with helpful insight and a desire to restore the native habitat." 
Greensprings holds tight to its commitment to "natural burial," and many funeral directors  — honoring their pledge to help families make a decision that is right for them — are expanding their offerings to meet this growing trend. Permanent residents return to the Earth without embalming chemicals, concrete vaults or steel or varnished caskets. Everything that goes into a grave must be biodegradable. Some permanent residents have been laid to rest in wooden caskets, using pegs instead of nails. Others have been buried in a shroud. One Greensprings staff member jokingly boasts about the deal he got on a vintage cotton sleeping bag at a yard sale. The zipper has been replaced with cotton ties, and that staffer says, "I spent some of the best nights of my life in a sleeping bag in the woods, and it seems a fine way to feed the Earth as she has so generously fed me." 
While there is a section of Greensprings dedicated to burying (or scattering) cremated remains, this option is being increasingly perceived as drifting outside the lines of the organization's commitment to stewardship and sustainability. Board President Ken Zeserson speaks to what he calls "the environmental dangers and undesirable characteristics of cremation," saying, "It is increasingly clear to Greensprings that for many people the environmentally friendly choice is natural burial at Greensprings or cremation. But those are not equivalent. Cremation is a polluting process (the commonly accepted yardstick is that cremating a body is roughly equivalent to driving almost 5000 miles in a carbon-dioxide spewing vehicle.)  What is left after that process is completed is a seemingly harmless urn of ashes, but that is not 'green' either!  Families are currently allowed to bury ashes at Greensprings in gravesites or scatter them on the land proper but increasing evidence suggests that the ashes can contribute to soil acidity and are, in effect, a pollutant. Hence, we strongly encourage those who want to bury their loved ones in a manner friendly to our increasingly distressed planet opt for green burial on our site, not for distribution of so-called 'cremains' in Greensprings."
Zeserson goes on to say that while some other area cemeteries are purporting to offer "green" burial, Greensprings, the first "green" (and currently certified) cemetery in New York State, adheres to the strictest requirements pertaining to what can or can't go into the ground. (Herb Engman, immediate past president of Greensprings, recommends checking the Green Burial Council's website to see which cemeteries have received their certification. While there are almost a dozen cemeteries in New York State (and nearly 100 nationally) that claim to be "green", some do not adhere to strict policies.) In addition, Greensprings has applied to New York State for permission to sell five acres of land to a separate non-profit corporation to bury household pets in a green fashion. This proposed animal-only area will be called the Animal Companion Cemetery and will be located in a portion of Greensprings where people have never been buried.
There is also a Jewish burial section, consecrated by a local rabbi.
This past summer, a 93 year-old woman came to Greensprings in a beautiful woven wicker casket. As a soft and steady rain fell, her 70 year-old son helped lower his mother into her resting place. After placing some flowers and several shovelfuls of earth on her casket, he looked skyward, let the rain mingle with his tears, and he smiled. He embraced the burial coordinators and volunteers (that happens often) and he offered, "My mother was born on an island in the Caribbean. She grew fruit trees her entire life, even after moving to the U.S. as a young girl, and she loved her connection to nature. She would be so pleased to go back to the earth as the rain fell. This is perfect." 
Greensprings welcomes inquiries and visitors. Please call (607) 564-7577 to arrange a visit or make an appointment with one of the burial coordinators to learn more. Please visit Greensprings' website at naturalburial.org.