There's this cool place to eat in Ithaca that you might not have heard about. It's got no reviews on Yelp or TripAdvisor. They don't take reservations. It's all first-come, first-served. Lots of their food is locally sourced, fresh produce and meat, that whole bit. The menu is prix fixe—whatever they make that day is what you get, so you know this place is cool. And the price for eating from this menu is zero dollars, every day. 
There aren't many business school graduates who would pitch such a plan to investors, no matter how subversively hip the model sounds. And there aren't many restaurateurs anywhere who have achieved the longevity of Loaves and Fishes, the community kitchen that has served free meals at St. John's Episcopal Church on Cayuga Street since 1983. 
The first-time diner at Loaves can come in a few minutes before meals are served and catch announcements of upcoming community events, hear the chef describe the dishes on the menu, and have a prayer before eating. Or come in sometime during the hour that meals are served and check the lovingly illustrated board for the menu before getting in line. Or just get in line—the volunteers will ask your preferences, dish by dish, as they fill your plate with hot food. Then back in the dining hall there's a table full of bread, pastries, peanut butter, salad, and sauces. Sometimes there are big chocolate chip cookies, gooey in the middle, sometimes a chocolate mousse pie, or trays full of little tarts and cupcakes and other unnamed sweets. Boutique berry-habañero hot sauces might be available in abundance for a week, and then Sriracha makes its return for those who like more heat in their vegan stir-fry or bacon mac 'n cheese. Take it easy on the coffee, because Gimme! delivers 15 pounds of their strong stuff per week, and it's a cause for hopping by the time it percolates down the urn into your mug. 
Take a seat, any unused seat, and eat. Some days, depending on your tablemates, the conversations are minimal: a nod, a hello, "please pass the salt," a "have a nice day" when someone gets up to leave. Other days, a table might have more conversations going than any one person could follow at once. Someone is singing the praises of the poetess Adrienne Rich. There is talk of an upcoming rally, a concert, progress on the Commons reconstruction. Tales are told of a hitchhiking expedition to L.A. made in the '70s, years spent in South America, happenings in Ithaca from days gone by. Couples make plans for who's picking up which kid today. A phone rings and its owner tells his friend, "Yeah, I'm at Loaves for lunch. Come by." Sometimes you even hear people talking about a story printed in the newspaper. Lots of times, you'll hear diners singing the praises of the meal. 
"I've been to a lot of free meals in different places," one young woman said, unprompted, one day at table. "And this one is definitely the best." 
"Ghetto Cooking 101"
In part, the tastiness quotient of meals at Loaves and Fishes derives from the quality ingredients they often have available from local farmers and food producers. 
"Over 31 years you get a reputation that perpetuates via word of mouth," says the Rev. Christina Culver, executive director at Loaves since 2010. "We're the only community kitchen in Tompkins County that's open five days a week. People are generous and socially minded, so if they have leftovers from a catered party, they figure this would be the place to call. Or Ithaca Hummus, for example, they'll say 'We're tasting a new type of hummus and it's not quite right.' Now we have 50 pounds of really good hummus to serve." 
Sometimes those one-off donations turn into regular pick-ups, Culver said, when a business decides they want to give on a regular basis. The current regular pick-up schedule for Loaves includes buckets of tofu from Ithaca Soy, pastries and bread from Ithaca Bakery, Starbucks, and Panera, and meat from The Piggery.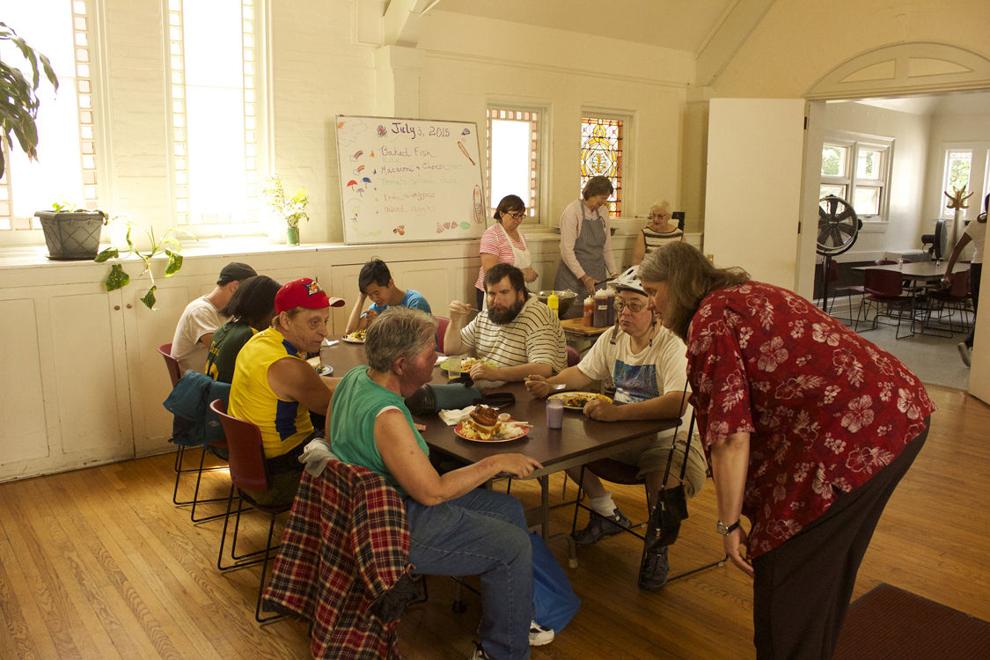 Loaves and Fishes has a long-standing relationship with growers who sell at the Ithaca Farmers' Market; Alice Napierski picked up extra produce at the market for 28 years every Saturday before retiring at age 75. 
"By the time Alice retired she was filling 20 huge banana boxes with produce," Culver said. "We started giving the Friendship Donations Network what we couldn't use … it took two to four volunteers to fill her shoes."
The Friendship Donations Network has now taken over farmers' market collections as part of its mission of diverting food from the trash into mouths that need the nutrition, and makes deliveries to Loaves' cupboards along with the Food Bank of the Southern Tier. In-kind donations of food and other goods must be tracked and assigned a price—ranging from $50,000 to $75,000 in recent years—that isn't included in the non-profit's budget, which is $291,000 this year. 
Typically, "from July to October I don't order any produce from the food bank, except for onions and garlic," said Jonah McKeough, who manages receiving at Loaves and directs the kitchen for dinner on Tuesdays and Thursdays. This wet growing year has dampened produce intake somewhat, but there were still veggies like rutabaga, chard, and kale making appearances on the menu in early July. 
Suffice it to say, then, that the chefs creating Loaves and Fishes' menu every day have to work with the material that is given. There's no running out to buy a $10 gram of saffron to make the perfect paella when one is cooking a meal for 100 guests. 
The new kitchen volunteer who arrives to cook for lunch on Mondays, Wednesdays, and Fridays with manager Jen Reeves takes a class in what she calls "ghetto cooking 101." 
"I come from a big family," Reeves said, "and I can 'ghetto cook' with anything. I won't serve anything that I wouldn't eat, though that doesn't mean that I like it." 
On the first Monday of July, there is a fish chowder already simmering at 9 a.m. when Reeves opens the kitchen door to volunteers. One is tasked to mix more tomatoes into a spaghetti dish from Friday that then gets a fresh heaping of cheese on top and goes into the oven. Under food safety laws, dishes can be served twice. It's rare they don't get some additional jazzing up before making it back to the serving line. Dozens of tuna fish cans are opened for a salad. Reeves wants to make sure there's a sandwich alternative to Sloppy Joes, for which pounds of ground beef simmer on the stove with onions and peppers in a pan large enough to hold a napping Boston terrier. Jen is no beef fan, but dips tasting spoons into the mix several times as barbecue sauce, pepper, paprika, and cumin are added. Peeled garlic in a five-pound tub comes too late off the food bank truck to get into the pan, but there are a few well-garlicked pounds of leftover beef that add their flavor into the mix.
The chowder is one of those big-family recipes that Reeves learned in the outdoors. Camping cooking is an influence on her style to this day. 
"We'd go fishing, roast the fish over an open fire, and make a pot of chowder," Reeves said. Fresh dill is chopped up to go into the soup, along with a pot full of potatoes. The Loaves' kitchen newbie also gets an education from Reeves in edible medicines that she's inherited from her native roots. The long, green onions going into the tuna salad are a "number one antibiotic," she said. 
By 10:30 in the morning, pans are in the oven, the soup is complete and at a low simmer, and the dish sink is empty with spatulas and strainers back in their proper places. A pan of rice, which is on the menu nearly every day, is ready to be served. 
A volunteer recently nicknamed "Egghead" for his scrambling skills whips up a pan of fluffy yolks and whites, served with toasted pretzel buns and bagels for the volunteers' breakfast. In the front of the house, kitchen assistant Tish Brown pours hot water into the coffee urn and vases of flowers from local farms are placed on the long dining tables. 
 There aren't so many volunteers in July with school out; one can often find bright-eyed youths in Cornell or IC shirts serving or cleaning up at Loaves during the fall and spring semesters. Those that are cooking in July, "are the veterans," McKeough says. "They can really bang it out." 
A volunteer counts the plates on a cart next to the serving line; without any sign-in sheet or requirements, Loaves can only keep track of how many meals are served by using a plate count. Over 36,000 meals were served in their last fiscal year, beginning in April 2014. 
Guests, mostly regulars, start coming in around 11:30 to get a mug of coffee, check out the menu, and have a chat. One says, "Oh yes, tuna fish!" … another "Fish again?" Longtime volunteer Helena, the dining room manager, checks the cabinets and fridge for refills for shakers and salad dressings. At noon, after announcements and a prayer, the line starts moving and plates are filled. 
"Would you like rice?" the first server asked. "Barbecue beef, or tuna fish salad? Fish chowder? Vegetarian pasta? Carrots and greens?" Someone starts playing a tune on the piano, or if you're lucky, the accordion or banjo. 
Lunch is served at Loaves and Fishes, once again. 
Feed the Belly, Feed the Soul
When Rev. Kathy Eickwort first served three homeless people from a pot of soup she'd made for a new hospitality and advocacy committee meeting in March 1983, Loaves and Fishes was born. The ministry's mission was written like this 31 years ago: Loaves and Fishes is a "Christian ministry which provides a place for free meals, hospitality, companionship, and advocacy for those in need, regardless of their faith, beliefs, or circumstances." 
"The people who came up with that mission were incredibly wise—it encompassed everything," Culver said. "Thirty-one years later there's nothing missing. We've never had to adjust the mission. We've been aware from Day One that if you're needing and wanting a free meal, you probably have other unmet basic needs, and we want to do our best to help people meet those." 
In early days, Loaves had a cadre of reliable kitchen volunteers who might help someone by accompanying them to an appointment, directing them to different services or shelters, or helping somebody move. The organization has always had emergency funds for things like gas, bus passes, or doing laundry, and can usually round up a tent, or a blanket, or clothing, things a person in a life crisis might need. 
In recent years, the advocacy mission has been formalized under a coordinator, currently J.R. Clairborne, who started out with Loaves as a grant-funded diversity outreach coordinator.  Clairborne says Loaves works to bring in local social service agencies to staff a table on a regular basis "and connect agencies with people." Some regular tablers include Cornell law professors; the Fellowship of Reconciliation, which provides referrals for veterans; Catholic Charities; and nurses from the county health department who provide screenings. When the new health care exchange was rolled out, health care navigators who made themselves available during mealtimes signed up about 20 people. 
According to Culver, the fact that Loaves always needs volunteers allows them to serve people who need a place to work and something to do. Volunteers through the Learning Web and people in recovery often find themselves cooking at Loaves as a way of getting back into the workforce swing. And people from Challenge Industries, the Racker Center, and Unity House all serve as staffers.
Clairborne also oversees a volunteer advocates program that started in 2014. There are now 17 advocates, who above all exist to listen. 
"They provide a compassionate listener and nonjudgmental support," Clairborne said. "Sometimes people just need to process their day. They might have a problem that has them confused, and talking with someone helps them find their own answers."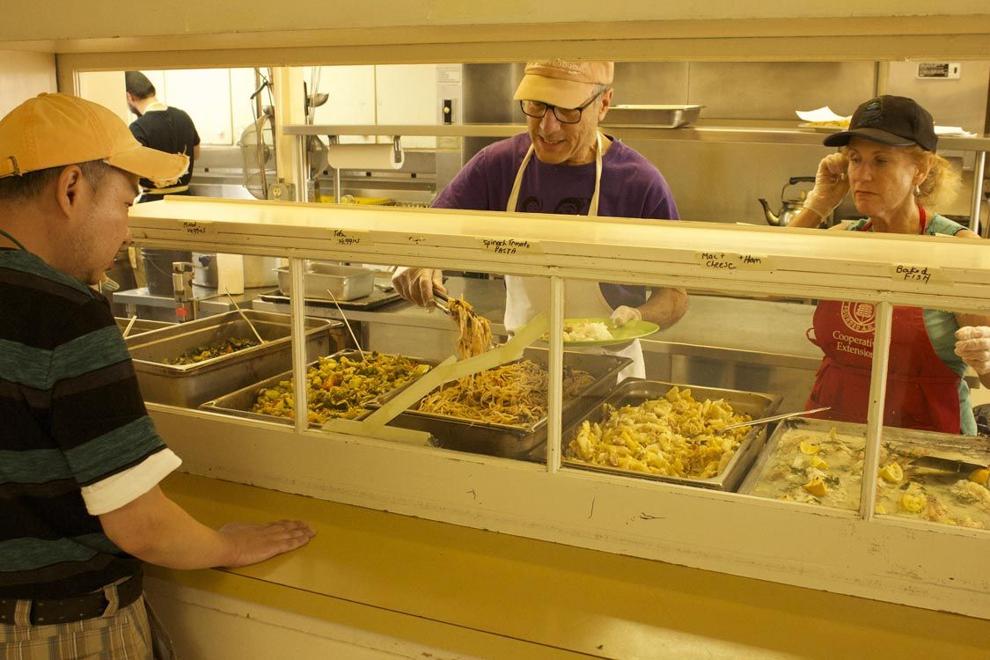 Lyndsey Lyman went through the advocacy training last year with the idea of taking lessons from the program she could share with other clients of her employer, the Food Bank of the Southern Tier. 
"One of the things we talked about a lot [during training] was just being with somebody is just as important," Lyman said. "I thought at first, okay, I'll just listen really well. Within the first month I was talking to two gentlemen, one of whom was talkative and the other quiet … the talkative one left, and I'm sitting there thinking 'Should I say something?' and feeling like I needed to fill the silence. Then this man ends up saying out of the blue his wife is in a nursing home. They've been married like 45 years. He said all he needed to say, and I listened—and I thought, 'Oh yeah, this really works.'" 
"A lot of our guests have few opportunities during the day to make a choice for themselves," Clairborne said. "Here they can say 'I want that for lunch, and not this.' And they can say 'I need help with this,' and we're here to empower them." 
More important than perhaps anything else, Culver says, is that Loaves and Fishes provides a place where people can have a conversation, where they can really be heard by others. 
"So many of us take for granted that we have family, even extended family, or close friends that can help during a time of crisis. Many of our guests don't have that for various reasons," Culver said. "People might come in the door first for the meal, but fairly quickly they start to appreciate they're also part of a sweet community. It ends up filling a huge void and an emptiness in so many." 
Culver marvels at St. John's providing a rent-free space for 31 years—"It's so rare to see a collaboration go on so long." She has stories—that she could tell for days but can't be printed—about people hitting bottom and starting their climb out of the hole when they find a meal at Loaves and Fishes. They find help getting an apartment, a job, a phone, or something as simple as a haircut. And Culver knows that she can't account for the generosity of those who give their food, their money, their time to keep this communal kitchen going. She's the only full-time employee, along with six part-timers who are paid—and then the whole host of volunteers, who help for a day, or a year, or a decade or two. 
"Every time we serve a meal, it's a miracle," Culver said. "Every day." •