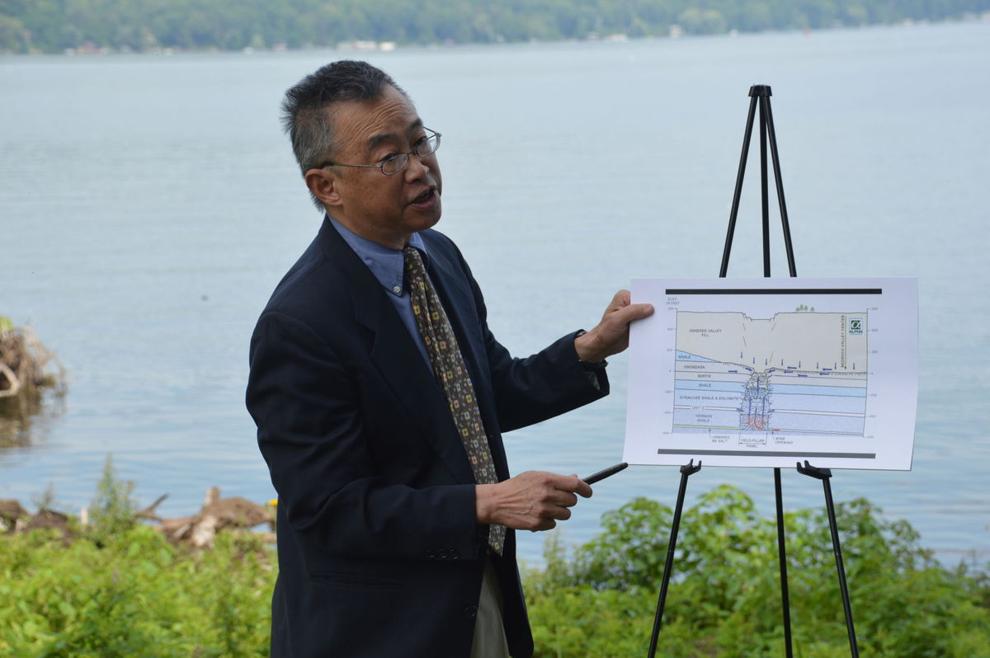 To allow the Cayuga Salt Mine to continue operations beneath Cayuga Lake, the mine is under review for a permit renewal that will allow work to continue for the next five years. Local activists and assembly persons alike have expressed dissatisfaction toward this, citing safety and environmental concerns, which has led to potential lawsuits.
Cargill, the company that operates the salt mine, applied to renew the permit a month before the Nov. 1 expiration date. Cargill has continued to mine under the lake without official renewal, which is legal under state law. So long as the company submitted an application, it is legal to continue working in the mines until the permit is officially approved. There is no known timeline for when the permit will be accepted or denied; this means Cargill's workers are mining under an expired permit, working in potentially hazardous conditions, claim activists.
A full environmental impact statement (EIS) has not been completed on the mine since 2002, and the mine has expanded significantly since then, said activist John Dennis of Cayuga Lake Environmental Action Now (CLEAN). CLEAN is urging the New York State Department of Environmental Conservation (NYSDEC) to hold renewing the permit until a full EIS has been completed, which will determine whether the mine is still safe under the lake. CLEAN is now proposing two lawsuits against NYSDEC over this.
Even though there hasn't been a detailed look at the mine for 15 years, there's a possibility calling for an EIS won't do anything at all, despite the two lawsuits CLEAN plans to file against NYSDEC.
"The current permit is already being violated: The pillar technology underneath the mine is without any prior DEC approval, which is not allowed by the current permit," said Cait Darfler, an activist for CLEAN. "Also, they're mining into anomaly setbacks, which is another violation of the permit. We see there are at least a few calls for an environmental review. Things are changing, the geology is different up here than where you guys have been before, and we need to do a full detailed environmental review."
Since the last EIS was issued, both NYSDEC and Cargill have been conducting environmental reviews of the mine each year —  a part of the annual process of operating the mine, said Mine Manager Shawn Wilczynski. He said Cargill hires third-party experts to do mine reviews and, with NYSDEC requiring three independent reviews annually on mine stability, Wilczynski said the reviewers have still not found cause to believe there would be any potentially negative impacts on the lake should mining continue. But these reviews aren't in-depth assessments: they're to assure operations are still legal.
Cargill has never released the results of these reviews, and when CLEAN has requested these documents, the group was met with denial — even after the reviews were requested under the Freedom of Information Act.
"CLEAN isn't saying we don't trust Cargill, we're just asking Cargill to be less secretive and to show us the data because the lake is so valuable," Dennis said. "Even the existing mine voids under the lake pose a significant risk."
An alternative solution to the permit renewal may be to move operations under dry land instead of under the fragile lake.
Activist Walter Hang of Toxics Targeting said the safest option is to move the mine under land, a stance New York State Assemblywoman Barbara Lifton is also in agreement with. Hang said the annual reviews operate on low standards, fulfilling the minimum legal environmental requirements. He also said these ignore long-term plans and the bigger picture, noting how in the past Cargill was able to expand the mine under the lake without a formal EIS and without any public outcry.
"This permit proceeding has been going on for years and years and years, with this mine getting bigger and bigger and bigger, almost entirely under Cayuga Lake," he said. "So no one ever said, 'Is there environmental concern mining under this lake, given the problem occurred with inadequate [NYSDEC] regulations in other places in New York State?'... So we're advocating for no more mining under the lake."
Hang also noted a document released by NYSDEC in August, just after Cargill was under fire for proposing the building of an air shaft that would improve the safety of its workers. The document refers to activists requesting NYSDEC rescind its previous Negative Declarations that said the mine was safe under review. It says the Negative Declarations list explicitly why the cause for concern is not "significantly adverse," and that public comment periods haven't called attention to any new changes that would warrant redacting the declarations.
Lifton and Chair of the New York State Assembly Environmental Conservation Committee Steve Englebright have written two letters — one in mid-July and one in late-October — to Commissioner Basil Seggos urging the mine be moved to dry land. Lifton said Cargill still has eight to 10 years to continue mining under Cayuga Lake without the need to expand, and in that time, she asks negotiations begin to expand the mine to land and away from the water.
"I'm simply urging with my colleague, with the chair of the assembly of the environmental conservation committee — we're not asking them to not issue the permit, we're simply saying to look at this, we want you to move and permit mining under the land in the future," she said.
Moving to dry land is an option Cargill is aware of and has considered, but Wilczynski said the process of moving to land is much more complex than activists make it out to be. CLEAN has also advocated for a move to dry land as well — still, not without an EIS first.
"It's always a possibility, unfortunately others have made assumptions or just painted it simple to try and relocate an entire mine under the town where we currently don't have any rights," he said. " … To think that it could happen within a 10-year period would be an unfortunate, incorrect assumption on their part. For reference sake, it's taken us five years to try and put in one shaft with a few buildings, so imagine trying to permit in an entire mine."
In a meeting this past June, Lifton said NYSDEC has been communicating further with Cargill about moving to dry land. While there is still insufficient data on the safety and durability of the current mine without an EIS, moving to land may be an option. The new permit is still under review, and until said permit is accepted or rejected, miners will continue to work under the lake. •
Follow Christie Citranglo on Twitter @Citranglo.