Lansing Central School District's Unified Sports Program began its inaugural season on May 2 when the district's unified basketball team faced off against Ithaca's unified team. The Bobcats lost to the Little Red 36–28.
The district announced that it would be implementing a Unified Sports program back in January. Unified Sports is a Special Olympics program that unites individuals with and without intellectual disabilities on a team. According to Special Olympics' website, Unified Sports adheres to the following principle: "training and playing together is a quick path to friendship and understanding."
Keith Ruquet is the head coach of Lansing's unified basketball team. Ruquet has been a middle school teacher for 20 years and a special education teacher for 25 years. He has also coached sports like basketball, football and baseball across all levels—modified, junior varsity and varsity —for about the same time. He said he was approached by Superintendent Chris Pettograsso to coach the team.
"We just started, so we're new at it," Ruquet said. "We recruited and got a lot of kids out [of it], and we're looking to get more. It's a thing that we're trying to build."
Ruquet said the goal of this program for the district is to try to build a sense of community through athletics, and it is doing so by incorporating the theme "Be The One."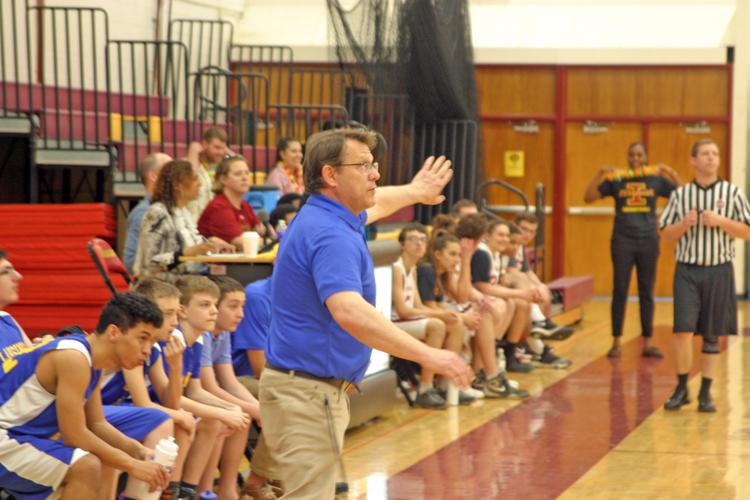 "It means that … you have to step up," he said. "If you see somebody that's outside the bubble, you try to bring them in within the circle."
"Really it's just building that community. That's the goal, is that the kids feel like they left with something; they've been a part of something."
He said he coaches "like a varsity coach" and treats it "like a varsity team" in order to "give the kids that never had the opportunity to feel what it's like to be on a varsity athletic program."
Currently, the basketball team is the district's only unified team. However, according to a press release, it hopes to add more teams in the future.
Ruquet said the program strives to establish a feeling of inclusivity among the students, and one way of doing so is by incorporating the usual fanfare at sporting events so that they truly feel like they are a part of the sporting culture. 
"They have DJ's; they have halftime shows," he said. "It's almost like if you were going to send somebody to have a positive experience about something. That's what we want."
Even though the program just started this year and this was the team's first game, Ruquet said he has already seen how the program has benefited the students. He recalled a story he was told by a mother of one of the students on the team about how her daughter, who according to Ruquet is someone that "can't identify with a lot of things," is a part of another program similar to the school's unified program. When she was asked what sport she identifies with the most, Ruquet said she raised her hand and said, "basketball."
"That's the victory that we want," Ruquet said. "A couple of kids that I have are really excited about playing. People say, 'Hey, I met this kid. I met Will at the supermarket.' People say, 'He stopped me in the supermarket, and he was talking [with] me about basketball.' These kids who never had these experiences and never been part of a team really, really enjoy that."