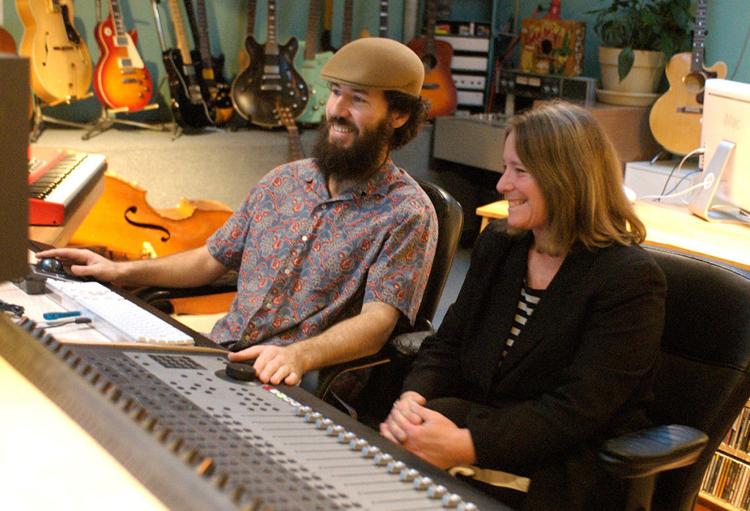 For the last 14 years, Tish Pearlman has enlightened listeners of her radio show "Out of Bounds" with intimate conversations with authors, scientists, lawyers, doctors, and many other people. However, this era of knowledge through the airwaves almost came to an end after the show ran out of funding for the second time in a row.
In early 2017, the Park Foundation pulled its funding from the program after wanting the show to go in a different direction. Pearlman wasn't sure she wanted to continue then, especially after a heart attack that same year which doctors said was a miracle she survived. In the two years since then, the show has remained on the air, but Pearlman has grown tired of asking for money and receiving what she calls "nickel and dime donations."
While she is grateful for all the support people have been able to give, Pearlman has a theory as to why people don't donate as much. Because she is broadcast on WEOS and WSKG, she has the idea that people think she receives money from NPR pledge drives. But In fact, she is an independent producer and has been working to finance this through fundraising and, formerly, The Park Foundation.
However, just when the show was seemingly doomed to cancellation, again, an anonymous donor gave the show enough funding to continue for the next year. Pearlman reflected on the stay of execution given to the show but she was prepared for what would have been her final show.
The honor of being the final guest would have gone to Jeanne Mackin, a historical fiction writer known for the books "A Lady of Good Family," "The Beautiful American," "The Sweet By and By," "Dreams of Empire," and "The Queen's War." Pearlman is proud of the work she has done, but was not ready to end the show just yet.
"I really wanted to go for a little while longer because I still have so many people asking to be on the show," Pearlman said. "I thought this is a shame. People send me books and CDs. I read articles in The New York Times and I contact people. Surprisingly, through the years I've been very shocked by that. A lot of well-known people have agreed to come on the show, especially people who have written books. We got John W. Dean and Meredith Monk and nationally-known people. Some people have told me there aren't that many vehicles to have little 30-minute intimate conversations on the radio."
One of the few other places to have these intimate conversations, according to Pearlman, would be NPR's "Fresh Air with Terry Gross." In the time "Out of Bounds" has been on the air, Pearlman has spoken with 700 people, each more interesting than the last. However, there was one conversation that stood out from the rest.
"The most amusing and strange was that interview we did with Peter Max," Pearlman said. "It was very strange. He kept going in and out and he was very funny and very fun to talk to. But he also kept saying, 'Gotta wait a minute someone is at the door' or 'You know, I've gotta switch phones, can I call you back in like 20 minutes?' It was really quite humorous."
Along with the regular interviews, the show also has two periodic series, with the first being about health challenges. This began about five or six years ago after Pearlman found nurses and doctors wanting to come on the show to share health-related information with her listeners. The other series is called "Framing Our Democracy," which came about after the 2016 election. Pearlman's favorite part of the show is being able to do research
"People send books, so I get all these books in the mail," Pearlman said. "It's been so fun to pick people's brains and talk about the work that they do and talk about the things they are interested in and be able to share that with the community. Most of the people I have had on are true artists, not in the sense that they do art, but true artists, professors, musicians, and scientists. It's been incredible to share at least a little bit of their story and inspire and excite the people who listen."
Now that the show will continue, Pearlman has one more chance to get some of her dream guests on the show, such as musician Joan Baez, her teenage hero, and acclaimed horror novelist Stephen King, because Pearlman found his earlier works to be compelling pieces of literature. Even though she would like to speak with some people who are in politics, she has a policy to not have elected officials on the show due to the arguing that could occur.
With her show saved, Pearlman is grateful to the community and her producer, Nate Richardson at Rep Studios. Pearlman is prepared for the long road of fundraising that lies ahead and is unsure if "Out of Bounds" will live to see 2020.