Ithacans have watched, some with disgust and some with delight, as their city has been indelibly changed over the last several years by development pushed by the city government in an effort to alleviate housing concerns and build the tax base.
One of the least-touched areas of the city has been the West End, where buildings have mostly remained low, and bars, restaurants and small businesses abound. This has also positioned the West End as the next frontier of Ithaca development, something the city is now actively encouraging with new zoning laws enacted that seem to open the door for more flexible land use, away from the industrial use that has dominated the waterfront's history. Interest has already become more obvious, with the sprawling City Harbor project proposed for the Johnson Boatyard site, changes coming to the Carpenter Business Park and GreenStar's sizable expansion, among others.
But the West End presents a unique set of challenges for developers that other parts of the city do not. A very deep or absent layer of bedrock, coupled with unstable soils, makes building much more expensive, sometimes to the point of infeasibility. While the problem has been known for a long time, the city continues to learn more about it as interest in West End development intensifies; City Planning Director JoAnn Cornish said the recently-canceled Emmy's Organics expansion on Cherry Street, a project which boasted plenty of enthusiasm as it moved through the planning approval process and for which the Ithaca Urban Renewal Agency was prepared to dedicate $175,000 for road extension construction, revealed more soil stability issues the city had been unaware of.
Eventually, Emmy's told the IURA in January that despite support from the city, testing had shown "unforeseen soil circumstances" that forced them to withdraw their plans for a one-story industrial factory expansion.
"It's always a risk, and they really need to have a good engineer designing those foundations," Cornish said. "This has been an ongoing problem ever since I've been involved with the city."
Samantha Abrams, co-founder of Emmy's Organics, said in an email that while the company was disappointed that they had to cancel their plans, several geotechnic tests agreed that the type of facility Emmy's wanted to build was either untenable, or would be too financially burdensome to make sense.
"We love Cherry St. It is one of the main industrial areas of the city. It is easy to access for both our staff and the trucks that pick up and drop off to our facility each day," Abrams said. "We hired a geotech engineer who tested the soils on the parcel we were looking at and after receiving the results and getting a few other opinions, we determined that we weren't going to be able to make it work there."
Abrams said she isn't aware of any financial changes or incentives that are currently available in the city which could have saved the project. While Emmy's still plans to expand, she said they do not currently have a firm idea of another location they would like to move to. The news came despite the best efforts of the city, Cornish said, which really wanted to keep the nationally-known cookie producers in the city where the company was founded. In the end, the weight support needed to handle the machinery and storage of the cookie's dense ingredients meant the building's foundation would have to go deeper into the earth, costing more and more money with each plunge downward.
"We worked really hard to try to secure a place on Cherry Street, unfortunately, the soils are so bad," Cornish said. "Bottom line, it was way more expensive and complicated than they were willing to deal with, their pockets aren't that deep."
Emmy's would have fit directly into what appears to be the larger plan for the West End, which was laid out in 2017 when the city enacted the new waterfront zoning. That action split the waterfront into four separate zoning districts, retaining some primarily or exclusively light industrial use areas, like along Cherry Street, while expanding chances for larger residential and mixed-use development in other parts.  
Cornish explained that the issues with the soil aren't new—in fact, they date back centuries to when glaciers first moved through the area to form Ithaca's typography. The issues are, though, most apparent in the West End, and they disappear in the span of merely several blocks. While finding a solid layer of bedrock on which to build is a struggle in the West End, in Collegetown, developers almost always have to blast through a layer of rock in order to successfully create foundations there.
"Basically, the valley that we're in, it's in an alluvial plane," Cornish said. "When the glaciers came through, they dropped all this sediment. Even if you go down to Stewart Park and look in the lake on the southern end, [and see] all that goop, that's what's been building up over the years. And so, in some areas we can't find bedrock, it's all just sediment."
This is not the first project to run into complications due to the West End's soils, and will almost certainly not be the last. Cornish cites at least three other examples since she's been with the city of large-scale projects that had to be modified or completely restarted as a result of improper foundation settling, as seen in a number of the big-box retail developments. Add to that numerous examples of businesses simply scared away by either the difficulty and complexity of building in the area, or the price that comes with it.
Of course, other projects have been able to make it work, one way or another, providing ample hope for the city and which Cornish points to as the ways certain developers, provided they have the money, can adapt their project to overcome the obstacles. The development at 323 Taughannock Boulevard is one of these: a three-story, 20-unit apartment complex, developed by Stephen B. Flash and Anne Chernin of Rampart Real, which was originally planned to be five stories before that proved untenable. The project is currently under construction.  
"When we did soil samples and had a system for a five-story building, the costs of the foundation were too much for the number of units we could create," Flash said. "That might be different in a larger project where you could spread the costs out a little bit [...] None of it was a surprise, we knew it going in [...] We knew what we were getting into. It's a challenge."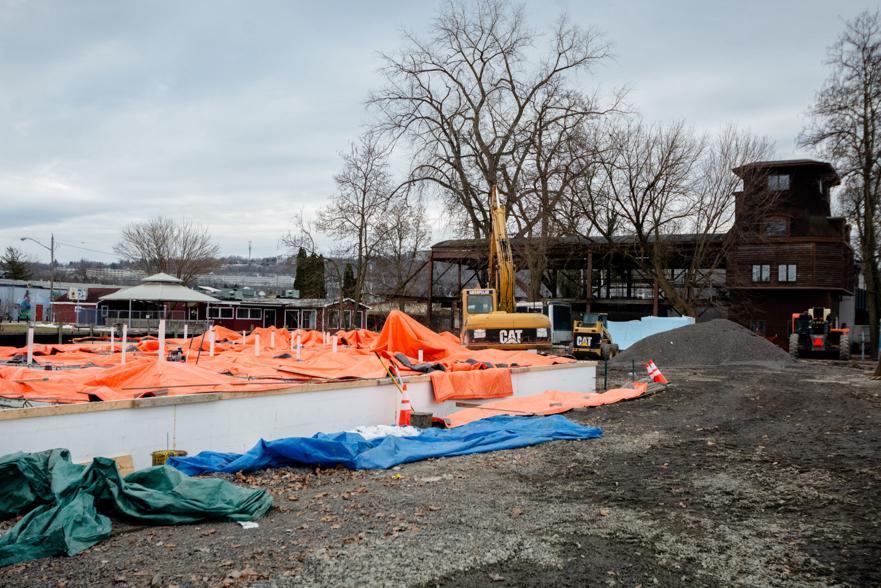 Still, the financial limitations did not discourage Flash enough to deter him from the site, with enough appealing characteristics, like being on the waterfront to outweigh losing two stories of upward construction.
Whenever there's a renewed development focus, the exact direction of change and how it will impact the people and businesses already there is always a matter of intense scrutiny. First Ward Alderperson George McGonigal has remained a steady voice of moderation for the West End during his time on Common Council, calling it the main reason he initially got involved with local politics. The development future of his neighborhood, he said, is essentially inevitable but he'd prefer it fit into the culture of the West End (or as is often mentioned, the character of the neighborhood) by accentuating small business growth instead of looking elsewhere or focusing on density development.
"In the time I've lived here, it's been the place where local people can get together and listen to music or get a drink or go to an affordable place to eat," McGonigal said. "It's always been a great place for all of Ithaca. That's what I would like to see maintained and enhanced. I would like development to be geared towards the local population."
The reality of the West End, Flash said, is that due to the heightened construction costs, workforce or affordable housing projects could be hamstrung by financial concerns. Opinions on this differ, though, and as has been proven, the City of Ithaca is willing to provide significant tax abatements, which now require affordable housing components, in return for development investment. Similarly to Flash, Visum Development's Todd Fox said that while he expected some hesitance to build there, it wouldn't have a significant chilling effect on development.
But the construction deficiencies haven't discouraged at least one workforce development slated for Cherry Street: Arthaus, an affordable housing complex meant to attract an artistic population by featuring gallery space. Despite the ongoing uncertainty, heightened by the faltering of the Emmy's expansion, the plans for Arthaus (five stories and 120 units of housing priced for people making 50 to 80 percent of Area Median income) are continuing forward, proposed by Vecino Development as they continue their move into Ithaca that started with a successful bid for the Green Street Garage redevelopment. As of publication, Vecino was awaiting the results of their own geotechnic analysis to determine the viability of the soils where they plan to build at 130 Cherry St.
Molly Chiang, Vecino's developer/architect for the Northeast region, acknowledged that when Emmy's pulled their plans off the table it did create at least some concern among the Vecino team that they could run into soil issues, but they remain optimistic pending the geotechnic results (adjacent properties, she said, have shown necessary foundations of around 80 to 120 feet). She said they're excited for the West End's path, anticipating it could become a more "funky, hip" part of town, and that Arthaus could "hold down the fort" in terms of affordable housing there.
"We're planning for deep-pile foundation system, that's part of our preliminary budget, so we feel pretty prepared to build on the site where we are," Chiang said. "Emmy's sparked some worry that we might not be okay, but I'm pretty sure we're fine [...] We think that, on our site, we'll find the soils we need."
A natural solution could be to reward those who choose to invest and build in the West End by somehow financially offsetting some of the increased construction costs, potentially through programs like the city's tax abatement program (known as CIITAP, or Community Investment Incentive Tax Abatement Program). But, like in other parts of the city, Cornish said the need for extra incentives just doesn't seem necessary while interest in developing, even in the more expensive West End, is so high. It's a fairly clear indication that the city is comfortable with plans that may not be public yet, but are coming soon.  
"What we're seeing right now is so much interest in developing in the city that we're not really seeing the need for incentives other than the CIITAP," Cornish said. "For right now, there's a lot of interest, but for years and years nobody has developed in the West End. But we're starting to see it again. There are things on the horizon that we've heard people are looking at. If there's a need to look at an incentive, or to help them out financially, the city would be interested in exploring that option, but right now we don't see that. The demand is there."