The winters in Tompkins County can be brutal, unflinchingly cold weeks that turn to months that seem like they may never end, conditions that can be exacerbated to a lethal extent if someone is unable to find housing away from the frosty temperatures. 
In recognition of that danger, New York State created the Code Blue program in 2016. The Code Blue policy, which is activated once temperatures or wind chill reaches below freezing, is designed to help homeless populations find housing when the weather outside becomes cold to the point of possible physical harm, meant to curtail the number of homeless people dying while sleeping outdoors. 
The program has undoubtedly saved lives and made the constantly marginalized homeless population safer and more comfortable, though it has come at some cost. Since it was created, the costs associated with housing the homeless under Code Blue have risen steadily; it might be more accurate to say they have skyrocketed, at least in Tompkins County. 
In the winter of 2015-2016, when the Code Blue program was created in January, $69,300 was spent total on 1409 bed nights, then dipped to just $35,055 in the following year. The next two winters, though, have seen a massive jump in costs. In the winter of 2017-2018, $420,821 was spent on Code Blue related expenses, a hike of about 1100 percent from the year prior. Last year, during the winter of 2018-2019, the total cost jumped again, this time to just under $1.3 million, an increase of another 300 percent, according to numbers obtained from Tompkins County through a Freedom of Information request. The bulk of that money is spent on sending homeless people to hotel rooms, where they can sleep for the night to avoid the cold, because the homeless shelter is too crowded and other options are either full or unavilable. 
The upside, crucially, is that the program doesn't cost Tompkins County anything, County Administrator Jason Molino said. Even as the number of homeless people served keeps climbing, naturally leading to higher costs to house them each sub-freezing night, the state reimburses all money spent on Code Blue lodging. There are no current indications that will change or that the county will be forced to shoulder more of the burden in the near future, he said.
"I don't think it's a cash flow burden for us," Molino said. "The bigger question is, why do the numbers seem to be doubling every year for the last year or two? What's the reason behind it? Did the population not change, but they now have access to a service that's new, so now the numbers are going up? [...] It's hard to identify, comparatively, until you get a few years under your belt."
Overall, since the program was put into action, the amount spent per year on per-night emergency shelter housing for the homeless has risen over $1.2 million. While those figures seem daunting, the money itself might not be an issue, at least as long as the state keeps on covering all of it. But what it indicates is more troubling. The reason for the rising costs are a similarly eyebrow-raising increase in bed nights for people under the Code Blue program. Once the shelter's 27 beds are filled, local officials have to turn to churches and hotels that are willing to house the homeless during these emergency shelter situations. Since Code Blue was implemented, the total bed nights over the last four years have been: 1,409 bed nights during the 2016 winter; 846 in 2016-2017; 6,005 in 2017-2018; and up to 12,147 in 2018-2019, all corresponding with the amount spent on emergency sheltering. 
There's at least a possibility that the heightened numbers are a result of more homeless people being aware of the availability of Code Blue services, Molino said. But the chances that has come without a significant increase in the number of overall homeless people in the county seems remote. The whims of Mother Nature play a role too. Starting from an arbitrary point of Oct. 1, 2018 and ending with the last day that saw a below freezing temperature at night in Ithaca, which was April 12, 2019, the temperature reached 32 degrees or below in 130 of 194 nights, according to Weather Underground, meaning Code Blue was in effect 67 percent of the nights during that period. How that will play out this year remains to be seen, but crude math shows that equals to an average of 93 people needing emergency shelter per freezing night during last winter. 
The Code Blue policy started in 2016 at the behest of Governor Andrew Cuomo; at the time, in early January, he called it the state's New Year's Resolution. Whenever the wind chill drops below 32 degrees, or was otherwise a threat to someone's physical health who was sleeping outside, between 4 p.m. and 8 a.m., Cuomo said local agencies must find those people emergency shelter until the morning. 
The point of the law, Molino said, was to push local governments to help more homeless people avoid physical harm at the hands of cold weather. Much of that responsibility, locally, has fallen on organizations like the Tompkins County Continuum of Care, St. John's Community Services, which runs the homeless shelter, and the county's Department of Social Services, and with the cold weather quickly approaching, those organizations will surely be thrust into Code Blue action once again. 
St. John's Community Services (SJCS) took over the homeless shelter facility in November 2018 after winning the bid to replace the Rescue Mission. It is led locally by program director Roy Murdough and is the first homeless shelter that SJCS has operated (their other locations cater to those with developmental disabilities or issues). Neither Molino or Murdough could say whether they thought the growth in homeless had peaked, though both expressed skepticism that the numbers could keep ascending at the same pace they have, though Murdough said they are not expecting a reduction either. 
"Last year, the numbers rose significantly from the year before, so it was a bit of a surprise," Murdough said. "But this year, we're prepared, having been through it last year. We're anticipating the same numbers as last year."
To better prepare for the Code Blue load this year, Murdough said SJCS is hiring more staff and conducting more training so as to better operate the shelter and drop-in center during the day, plus contracting with more third-party organizations, like churches, to help with emergency sheltering. There's a wide range of people who use the homeless shelter, Murdough said, and who need shelter during Code Blue scenarios. That can also create a challenging balancing act, he said, when ensuring the highest level of safety for all people accessing the Code Blue services. 
This year, Murdough said, two churches have agreed to help house people during emergency shelter situations, as well as the Salvation Army in downtown Ithaca, along with the continuing option of hotels. More changes are coming to SJCS too, like the mental health outreach worker that Murdough said was recently hired through a grant from the Tompkins County Continuum of Care and will work with the shelter's vulnerable populations who have already found permanent housing to help them stay there and adapt to living in that social situation. 
Erick White is a frequent fixture of the Commons. Usually dressed in a tie-dye T-shirt and a bushy white beard, White can often be seen sleeping on various benches along the city's pedestrian thoroughfare during the night or early in the morning, at least when it's warm enough to be comfortable. He prefers sleeping there over going to the shelter, particularly because the few times he has sought refuge at the shelter he said he has been turned away due to overcrowding, and apparently does not want to get involved with the Department of Social Services; if he was approved by DSS, Murdough said the shelter would find a bed for him somewhere even if it wasn't a Code Blue situation, but added that some people don't want to deal with DSS because of some of their program requirements. White's originally from California but came to Ithaca after getting married and wound up homeless after a divorce. 
For the most part, White said while sitting next to his "Homeless & Hungry, Please Help" sign, he will accept the invitation when Code Blue is put into effect and local officials come to take him to whichever motel or church is hosting that night. He added that, at times, he's felt unsafe in the alternative housing options for a variety of reasons, but it's never actually been enough for him to reject the warmth. 
One potential option that is under consideration is maybe the simplest answer, albeit plenty expensive too: building a larger homeless shelter. SJCS has steadfastly said, publicly too, that the current homeless shelter is not a feasible long-term option due to its inadequate size.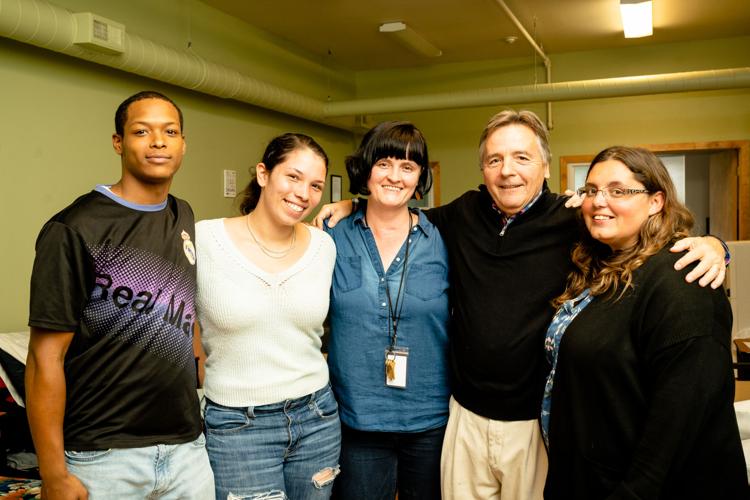 The current location, on West State Street in the West End, has 21 beds of emergency shelter housing (with six beds of permanent supportive housing); even as early as SJCS' submitted proposal to take over the homeless shelter, the organization stated that "We do not believe that the current location of the shelter at 618 W. State Street is a long term solution. However, we do intend to utilize the space for at least the first two years of service delivery, while seeking funding and determining the best location for a larger more permanent shelter."
"We're on the lookout for any potential either development of a place that already exists or whatever needs to be done," Murdough said. "But something, I think, must be done. [...] We are looking for either an addtional space or a newer and bigger space." 
Murdough said there are some potential targets, but wouldn't name them yet. But it sounds like there are no imminent, solidified plans for expansion or a move to a bigger facility in the near future. In the meantime, when a Code Blue response is triggered, they are helped by a pair of local churches and area motels who take in homeless people when they have vacancies. The latter generates the vast majority of Code Blue-related spending, as the companies charge a per-room, per night fee for taking in the tenants (Murdough said St. John's does also pay a small "rent" fee to local churches that house people during Code Blue). 
It's not a unique problem, necessarily, but it's one that area has been struggling with for a while, and while the 2019-2020 winter will hold valuable data for the county, progress so far has been at best difficult, and at worst non-existent. The end goal, Molino said, is indeed to get the homeless population out of the shelter—but into a permanent, safe housing situation, not a hotel room for a single night. 
"We, along with, I think, a lot of other counties across the state, have seen an influx of participants in the program," Molino said, noting that after this winter they would have four full years worth of data to study since the program was enacted. "The numbers have increased every year. I think this year is the one that we're really going to get into the data sets that we have, try to understand what's the cause of it, if there are any trends with it [...] Work with our other departments in the county and the state to see if there need to be some additional actions and additional remedies put into place to help people find permanent housing."