3rd Update: Ithaca Police Department officers are still investigating the shooting that took place on Sept. 4 and developed information that leads them to believe there may have been additional witnesses to the incident. There are two vehicles that are believed to have been in the immediate area when the shooting occurred. They are asking any members of the public for information related to the two vehicles in the two photographs or any first-hand witness information to the shooting.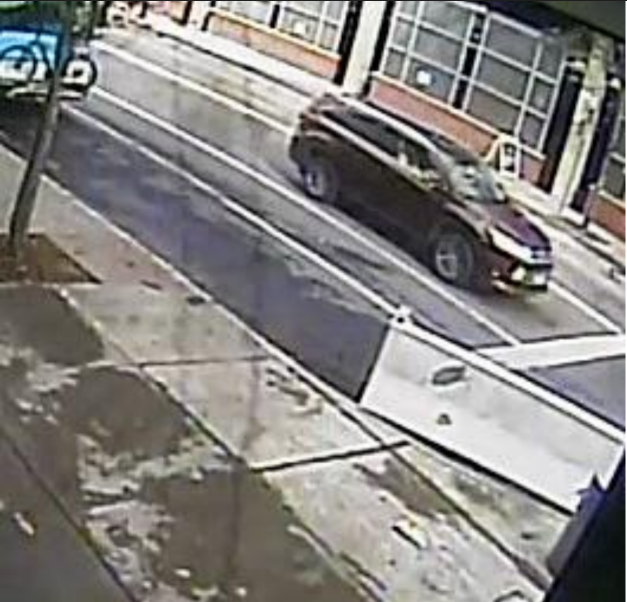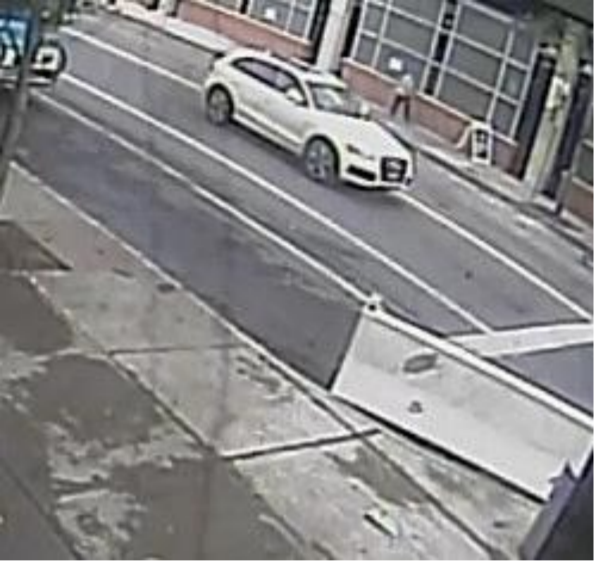 These two vehicles are believed to only have witnessed the shooting and are not involved in any other way. They were within the area of 130 E. Green Street at 9:44 a.m. on the day of the shooting. Anyone that has information related to this incident is asked to contact the Ithaca Police Department at 607-272-3245. IPD has been working steadfastly with the New York State Police, Tompkins County Sheriff's Office, F.B.I., and the United States Marshal Service.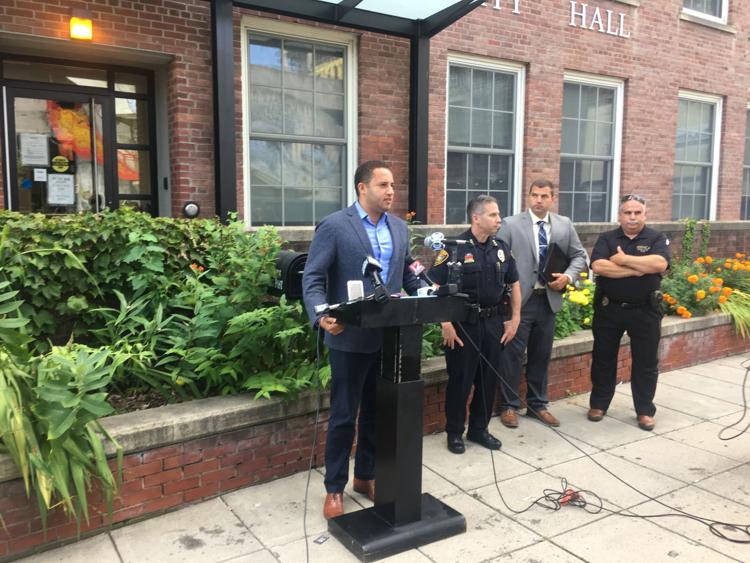 2nd Update: The suspect in custody from Wednesday's shooting has been identified as Woodrow Turner, age 38 of Ithaca, who was the owner of the weapon, a .357 caliber revolver, involved in the incident, according to Acting Ithaca Police Department Chief Dennis Nayor and Lieutenant John Joly. Turner is being charged with Criminal Possession of a Weapon in the Second Degree and tampering with evidence, since Turner attempted to dispose of the weapon after the shooting. 
The victim, Shayne Lott, age 30 of Rochester, has been taken to a regional trauma center after being shot three times. Lott has gone through surgery and is in intensive care, though his condition has been updated to stable. Ithaca Police Department officers are still searching for the suspect who shot Lott, Andrae Martin, age 33 of Ithaca. Police have described Martin as an African American male between 5'10" and 6'0" tall, average build and wearing all black at the time of the shooting. Martin fled the scene on a bicycle but disposed of it later to flee on foot. 
An investigation into the shooting is still ongoing.
Police have released the following pictures of Martin.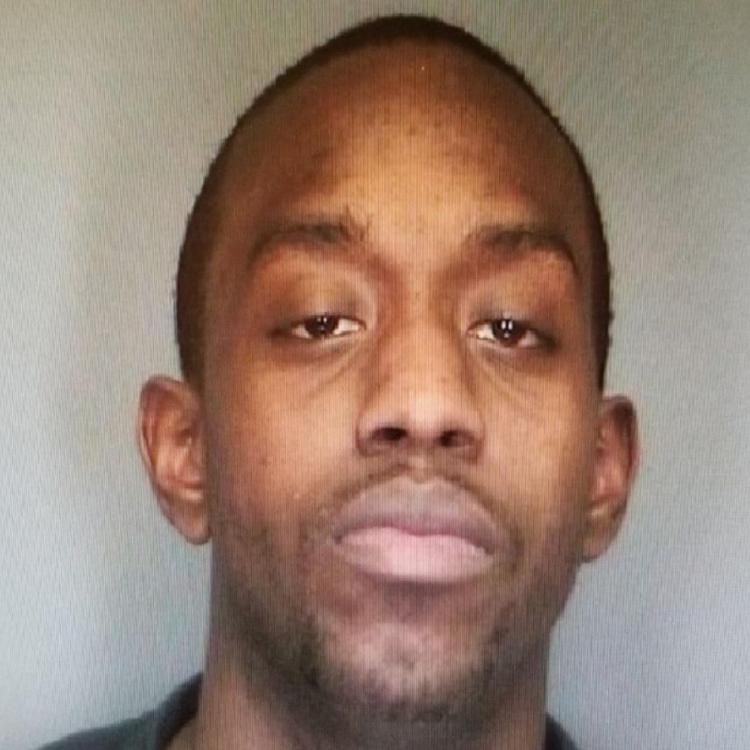 Ithaca Mayor Svante Myrick offered more in-depth comments on his Facebook page around 4 p.m., as the press conference was starting. Read the full statement here. He thanked the police for their quick actions, then went on to announce a "Violence Prevention Task Force," which he said was endorsed by Nayor and Tompkins County District Attorney Matt Van Houten. They will "pledge resources" to the task force, although it is unclear exactly what that means or what form the resources will take. 
"Our thoughts are with the victim – a thirty year old man - who was taken to the hospital and we are hoping will pull through," Myrick wrote. "And it's clear that an act of violence like this has more than just one victim. I've spoken to dozens of witnesses and others who heard the shots and took shelter in their homes, offices and stores."
Myrick also posted a link to ask the public for suggestions or ideas for the Violence Prevention Task Force's mission of making the community safer. The link to that form is here.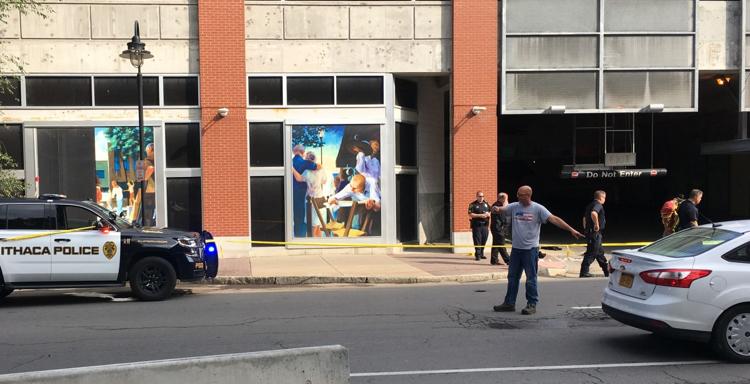 UPDATE: One suspect is in custody in relation to the shooting this morning on Green Street, while another suspect is still being searched for. A single victim has been taken to Cayuga Medical Center, where his condition is unknown. He is a 30 year old male, according to IPD spokesperson Vincent Monticello. No description was available for the suspect at large, but he was wearing a black hoodie when he fled the scene, according to Monticello. 
According to Ithaca Police Chief Dennis Nayor, as of 1:50 p.m.: "We have a person in custody who had a secondary involvement in this incident but we are still working on locating the primary suspect."
One eyewitness who was working at the time of the shooting said she saw and heard gunfire but was unable to determine what had led to the confrontation. She said when the suspect fled, she saw one man in all black running away from the scene, but wasn't close enough to see much more than that. She said she heard about four or five gunshots during the incident. 
Nayor said there would be a press conference on the situation at 4 p.m.
Original story: One person is in custody after a shooting on Green Street this morning, according to Ithaca Mayor Svante Myrick. Myrick tweeted the news this morning.
There's been a shooting on Green Street outside the parking garage. On the scene now. A suspect is in custody. Avoid the area if possible.

— Your favorite Mayor's favorite Mayor (@SvanteMyrick) September 4, 2019
The garage is still taped off and traffic is down to one lane as the situation is sorted out. An emergency response source said the situation is stable, and so far there appears to only be one victim. Myrick declined to comment at the scene, but Ithaca Police Chief Dennis Nayor updated the public with some information. He said there is one male victim who has been possibly transported to Cayuga Medical Center, and that while a suspect is in custody there has not been a positive identification made. 
"We have nothing to lead us to believe there is any threat out there to the public," Nayor said. "I believe this was individuals specific to this location."
According to the police scanner, a helicopter has been requested to transport the victim to a hospital. Tompkins Consolidated Area Transit has sent out an announcement that their Green Street station is will reopen at 11 a.m. due to the police activity.