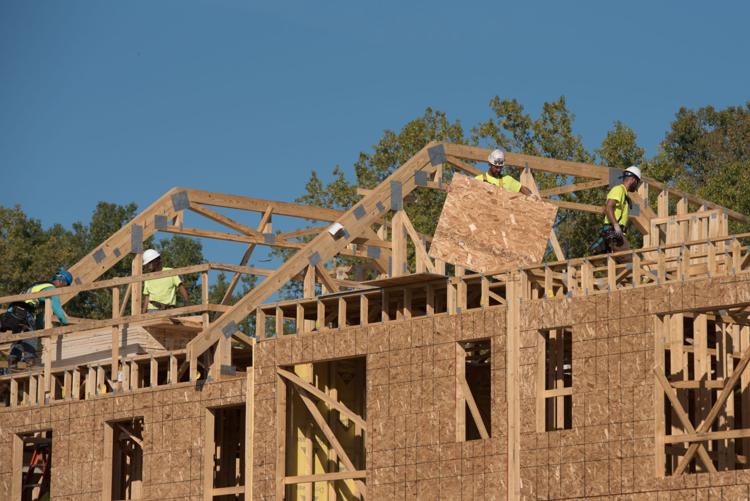 UPDATE: At Tuesday's Town of Ithaca Planning Board, the Maplewood Redevelopment team's third request for extended working hours, allowing them to keep workers on the site to do interior work until 9 p.m., was approved by a cautious 4-3 vote after a long debate. 
Several mitigation factors have been built in to hopefully reduce the impact on the surrounding neighborhood. All work will be interior during the 7-9 p.m. hours, and no work will be allowed during these extended hours in the four buildings that face Mitchell Street, or in the eight buildings that face the East Hill Recreation Way. General contractor supervision is required to be present. 
Initially, the proposal had been to extend working hours until 10:30 p.m. during the week and retaining its current weekend hours. Once it became clear that would fail, negotiations went back and forth before the final formulation became clear. Before the Board approved the proposal Tuesday night, Maplewood construction was allowed from 7 a.m.-7 p.m. during weekdays and 8 a.m.-4 p.m. on Saturdays. 
The development team seemed confident they could accomplish their work without breaking night-time noise ordinances or disturbing neighbors. 
Regardless of how the vote turned out, the development team said they would still be able to meet most of their delivery schedule, though more likely August instead of July. There was no mention of a number of construction days behind this time around; in December the development team stated they were 25 days behind schedule, a mix of labor and weather problems. 
"My general sense is that they're fostering their problems onto us and the neighbors, and that enough is enough," Planning Board Chair Fred Wilcox said as he tried to gauge other board members' reaction to the 10:30 p.m. limitation. They were more amenable, however, to the 90 minute reduction to 9 p.m.
Jeffrey Resetco, of property manager EdR Trust, said the project is currently around 30 percent leased and they expect to hit 100 percent in the next several weeks as students begin to look for next year's housing. There are no buildings that are entirely finished yet. Before the vote, he said they are currently working with the town to assemble a three-phase move in plan on July 1, July 31, and August 20. 
One resident from the adjacent Belle Sherman Cottages neighborhood, spoke in person about his concerns regarding the ongoing construction, and three additional residents of Belle Sherman had submitted email comments. There was also some sentiment on the board that Resetco's claims that there had been no noise complaints stemmed from the fact that the work ended around 7 p.m., and the new extension would erase that while violating home-owners expectation of quiet time in their own house. 
"We certainly plan to be as responsive as necessary for other concerns that come up," Resetco said, noting that any work done past 7 p.m. would be interior, and theoretically quieter, work. "We feel like the mitigation that we've established and has been proposed would address concerns."
Resetco said one of the major reasons for the delays was a tough year for the wood-framing industry, though specific explanations were vague, leading to extensive issues with contractors being unable to complete their work on time. This has created a "lag" between exterior and interior work. 
"We couldn't get the labor, we couldn't get the framers, everybody's too busy," he said. He also cited the hurricane damage around the country that has impacted the availability of framing labor. 
Original Story: Now about three months away from the Maplewood Redevelopment Project's scheduled debut, its development team has requested another extension to their allowable work hours. The proposed change would lengthen the site's work day from 7 a.m.-7 p.m. to 7 a.m.-10:30 p.m. on Monday through Friday, and will be presented to the Town of Ithaca's Planning Board on Tuesday. 
To mitigate sound concerns, the work from 7 p.m. until 10:30 p.m. would be limited to only interior work, such as framing. Two shifts of workers would work the proposed 15.5 hour days. This is the third work limit adjustment Maplewood has requested; in August they were granted two more hours at either end of the day, and in December they were approved to work from 8 a.m.-4 p.m. as long as the noise on those days stayed under 85 decibels. In total, this means the normal total work week on the project is now working on a 85.5 hours of labor per week. 
The group notes in its request that they understand they may have to appeal directly to the Town Board for approval of the extra construction time on the $80 million, 440-unit apartment complex aimed at housing Cornell graduate and professional students. 
This request sounds less dire than their last, and no specific "says behind" number is given; in December, the project announced it was 25 days behind schedule, plagued by a combination of weather and a short workforce. At that time, Jeffrey Resetco of property manager EdR Trust said any more delays and they would have to deliver the project late, but they were granted the Saturday work hours. 
"Various phases of construction mean that there are varying levels of completion throughout the site; however, as of right now, there is a lag between the interior and exterior work," the request states. "This may jeopardize our ability to reach a state of completion that would allow Cornell University graduate and professional students to move in to the new Maplewood Redevelopment Project in July 2018 as they prepare for their fall semester."
The letter of request also mentions that they believe the impacts to adjacent properties of the increased hours will be minimal.