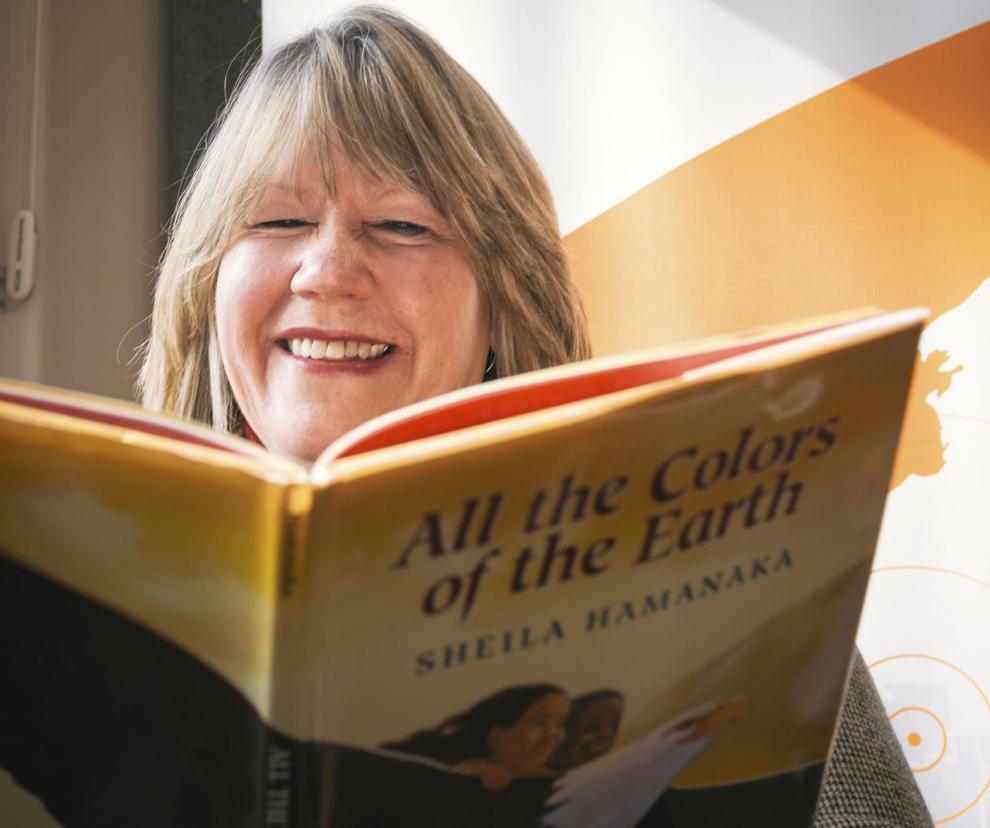 In a corner office in Rev Startup Works with the wind whipping outside, Brigid Hubberman – in a relative calm – flips through a picture book. Warm amber colors and bright blues litter the pages, depicting children from all different corners of the world. Children with dark skin, smooth hair, short bodies.
The picture book All the Colors of the Earth has become an integral part of Hubberman's project, Children's Reading Connection (CRC). After about 20 years of community literacy work, she's beginning a new organization, aiming to connect children and families to books. 
"We know libraries change lives, and when families start reading together, the younger the better – it sticks," Hubberman said. "[One boy] I read with would go to the page with the child that most looks like him and pat that: the hair that looks most like his. And that's such a beautiful thing."
Hubberman, the founder of the Family Reading Partnership (FRP) and former executive director, is developing another organization; this one with an international outreach. Though CRC is currently housed in the business incubator Rev Ithaca Startup Works, the organization aims to make impacts on a global level. CRC will primarily work outside of Tompkins County, focusing on a state and national level. But when CRC goes beyond the United States, Hubberman welcomes a challenge.
After working for nearly two decades at the FRP, Hubberman sought to expand beyond the local area. Her work at FRP focused on the Tompkins County area with similar goals to that of CRC: to get babies and children reading as soon as possible. Creating a culture around talking and reading to children in Tompkins County was the beginning — founding CRC was the next step to enriching early-childhood literacy.
South Africa was to be its first stop.
A longtime member of Ithaca's vibrant intellectual community, Hubberman established the connections she needed to launch CRC on a global scale. In a serendipitous string of events, Hubberman was connected to John Volmink, a former Cornell University professor who is working in South Africa to improve education quality, indirectly through retired Ithaca City School District teachers Rita Rosenberg Barber and Marilyn Ewing.
"It came up in a conversation with Marilyn," Rosenberg Barber said. "She shared with me that John wanted to have someone come to South Africa and support his efforts in early literacy, and he knew of Brigid. And the stars aligned, and we were going to South Africa in January."
Hubberman went to South Africa with the help of the Triad Foundation and its local supporters to take part in the Babies, Books and Loving Words forum in Cape Town, where she and 34 others gathered together with one common goal: to ensure all babies in South Africa begin their lives with literature. Surrounding a baby with loving words and fruitful books helps every child grow into a thoughtful and engaged individual, Hubberman said.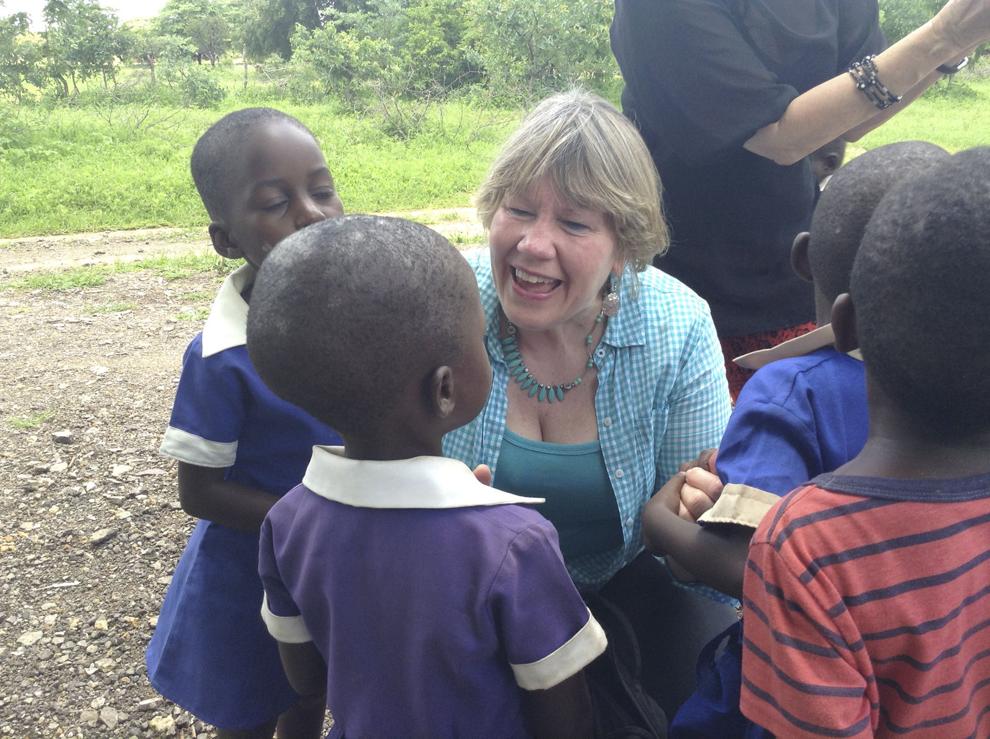 "It's those experiences with vocabulary, background knowledge and understanding the world – and it's also about love and that time spent together," she said. "The learning in social and emotional contexts is really the only thing that works."
And the work for CRC didn't stop at the forum: it continued with a week of meetings, during which Hubberman gave out copies of All the Colors of the Earth to attendees. Access to literature can be difficult for parents in South Africa, due to socio-economic inequality. The country is still combatting the lasting effects from the apartheid, which is the main hindrance in South Africa's education system. White children's education is consistently funded more than black children's, and graduation rates for black students still remain painfully low.
While Hubberman took the opportunity to encourage reading to all children, she also understood her trip was a learning experience. Her effort was organized by DG Murray Trust, an organization founded in 1979 which Volmink sits on the board of. The organization is dedicated to supporting and funding literacy efforts in the country — a springboard for CRC to learn and grow from.
"Everyone who heard 'loving words' are repeating it like a mantra," Volmink wrote in an appreciation letter on the effort. "I am sure [Hubberman's] visit and insights will now begin a new journey into education for us."
As she became more familiar with South Africa's education plights, Hubberman was able to apply what she learned to CRC. Something the forum touched upon was research about brain development from early childhood and its lasting impacts. The research they explored came to one conclusion: when babies grow up in a home with a diverse vocabulary and access to new words, their minds develop in a more positive atmosphere. Some babies hear as many as 32 million more words than infants who are not surrounded by language, Hubberman said.
"It's the number of words and it's also the complexity of the words and the richness of what these words are," she said. "Children that are hearing lots of words are hearing six positive words to one negative word. … Children who aren't hearing as many words hear two negatives to one positive. And we can't underestimate the power of that."
Hubberman determined that if children are unwilling to think they can learn, they won't learn. Positive words encourage education in young children, and these words help develop a sense of confidence around learning. With that knowledge and the experience of working in South Africa, she came back to the U.S. ready to cultivate and implement CRC.
Hubberman has been working on models for different communities across the country. Each community can then adopt and tweak these models to fit its needs. She takes the goal of education and literacy, matches it up with community and library engagement, and creates a template for communities to follow. 
Her models extend beyond programs: they aim to reach a cultural level. What programs sometimes fail to do is implement long-lasting change and modify current systems, Hubberman said.
"Often we can be programs rich and systems poor," she said. "We have a program for this and for that, but if you think about the programs and the systems that are in place, if we can help systems and support them, then that changes a lot at once."
The model Hubberman is perfecting is called Baby and Me at the Library, which she plans to begin as a state-wide effort. Baby and Me at the Library encourages libraries to adopt a "baby's first library card" initiative, which will also connect babies with a book when they are born. The template focuses on bringing families to libraries as early as possible, which will develop a relationship between families and literature.
CRC's initiatives are designed as "how-tos," and they leave room to grow and adapt depending on the type of community using the models. While one version of Baby and Me at the Library may work in Ithaca, it may be completely different for a public library in Buffalo or Albany. The models challenge libraries to take a system that's already in place and enhance it with CRC's initiatives.
"And there are so many great ideas out there, but often there are literacy organizations where people reinvent the wheel," Hubberman said. "There are so many fabulous and wonderful librarians who already care about this, and it's our rule of connecting each other and serving as a catalyst for this. You're helping people make something happen that wants to happen." 
In April, Hubberman will be presenting at the New York State Library Association's Youth Services conference in Ithaca where she will get the pilot program for Baby and Me at the Library started. With the opportunity to present at the conference, CRC is looking toward implementing Baby and Me at the Library initiatives and kicking the models off across the state.
CRC's website, when completed, will act as a clearinghouse and main hub for communities to learn about these templates. Public libraries from anywhere in the world will have access to Baby and Me at the Library, and they will be able to learn from each other to form connections and conversations around books and children. Collaborating and learning from libraries across the state and country helps to build camaraderie among families and communities from diverse backgrounds.
"If I was to say what would be Brigid's top priority for CRC, it is to ensure that all children and all families are included," Rosenberg Barber said. "It's the foundation for relationships between children and their families and their communities. It's the predictor for the years to come: their level of success in education."
With the conference and website as the near future for CRC, Hubberman also plans to follow up with the communities she worked with in South Africa. Her efforts impacted families in Cape Town, and Hubberman will continue her initiatives now that she's inspired the communities.
While in Cape Town, Hubberman was exposed to some of the 11 languages spoken throughout South Africa. One word, she said, has a certain importance to John Volmink, in how it encapsulates the ideas behind CRC: "ubuntu." Ubuntu roughly translates to "because you are," a phrase that describes our interconnectedness.
"Having everyone everywhere see this issue [of children's literacy] is crucial," Hubberman said. "This is a public health issue — this is about the future of our society. There is so much at stake, and how can we not do something together?"
To learn more, visit ChildrensReadingConnection.org or contact Brigid at brigid.hubberman@childrensreadingconnection.org, or by phone at (607) 227-3360