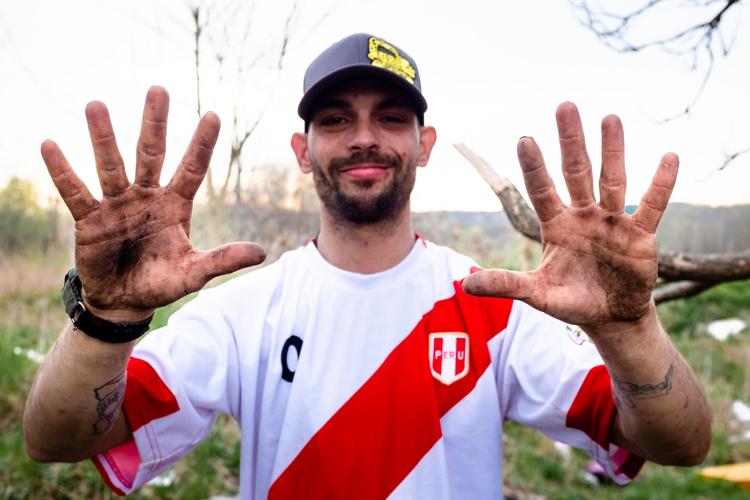 Editor's Note: We understand objections to the use of the word "Jungle" to describe the city's homeless encampment, but considering the universal usage of the term, and the lack of a term with as much name recognition, we decided to use it for this story.
For decades the Jungle has existed in some form as the de facto homeless encampment for Ithacans and others unable to find housing in the city, but who still want to live near downtown. The Jungle's attraction is a place for its residents to remain largely unbothered, with the bonus of being out of the way, off of Elmira Road in a clear field that meets dense woods,  so as to not attract the attention of authorities. But that relies on the Jungle never becoming too big or too unruly that it demands attention from officials and authorities, which has become less and less the case recently, particularly over the last year, according to advocates and reports.
For those involved, it's well known that last year, the Jungle's population swelled. While the number can fluctuate hourly as people move in and out, homeless advocates estimate that it grew to about 50-60 people regularly, far greater than the dozen or so permanent residents, even in the winter. With that growth, crime and violence increased. Several fires damaged or destroyed campsites late last summer and fall, the remnants of which can still be seen months later. But even with warm weather now upon us, and the same situation likely if not certain to play out, it doesn't appear there will be much change in the city's approach to managing the Jungle this year. That's despite the establishment of a dedicated task force that has gathered feedback from many homeless advocacy figures around the community in recent months.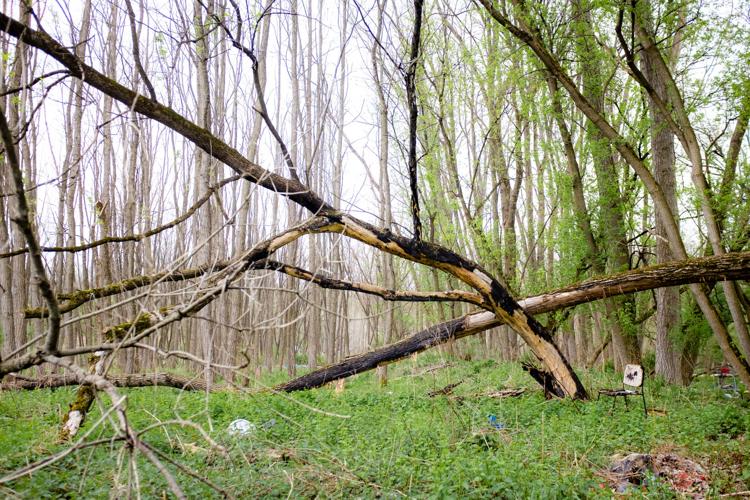 Government Efforts
The task force, headed by Ithaca Fire Department Chief Tom Parsons, has met regularly to generate solutions or initiatives, but progress has been difficult. That's left the city without a more advanced plan to address the potential temporary swell in Jungle population, and the issues resulting from it, even with the benefit of last year's experience.
The initial motivation for the task force, according to Parsons, stemmed from the rise in fires last year, which led to an increased fire department presence at the Jungle. That added to the presence already there from agencies like the Tompkins County Department of Social Services and Family and Children's Services, organizations like Second Wind Cottages, the homeless shelter and so on. The Jungle's location, tucked behind a row of big-box retailers along Elmira Road, also contributed to some of the issues because it resides so far out of the community's eye.
"It's been out of sight and out of mind, and nobody has really paid attention to it," Parsons said. "I didn't really notice it until the fire department started responding in there more often and I got a look-see about what things look like in there [...] It's not safe and it's not healthy for the folks living there."
Months later, though, and Parsons said a variety of factors have contributed to the lack of  tangible progress: primarily, a need for resources that just aren't there in the amounts necessary, at least with the ideas that the city has proposed so far.
"I'm disappointed that more progress has not been made," Parsons wrote in an email. "The challenges include lack of funding and disagreements between agencies and organizations on acceptable actions."
The disagreements between public and private entities are another significant obstacle, and create tension among people who are ultimately working toward the same goal. A prime example of this occurred earlier this year, when city officials discouraged Carmen Guidi, the founder and owner of Second Wind Cottages, from building and installing small structures or sheds (8 feet by 8 feet, without plumbing or electric, in Guidi's words) for Jungle residents. Guidi claims they wouldn't have been asking for any money, just a road to be put in for easier volunteer and emergency responder access, but the aforementioned differences between government agencies and outside organizations interfered.
"We actually did that. There's several of them down there, but they don't want us to do them anymore," Guidi said. "From their perspective, it's that gray line: If you help them in that way, they're not going to want housing, they're going to stay there. I disagree. I'm saying just a shack, just something better than a tent."
There's a difficult balance between helping people in the short-term and making them more comfortable and safe in their current situation, which is Guidi's goal; and keeping people safe but hoping they remain motivated enough to better their situation and get out of the "not healthy" conditions at the Jungle, which seems to be the city's angle, although that can come across in a rather ugly fashion.
"The problem was that some of the stuff that people are doing to help are not helping, they're making the conditions worse by establishing it in a disorderly fashion," Parsons said. "One of the problems we have is that when people get help down there to sustain them down there, they're not motivated to move out. You build a structure, an encampment, and you build it like everybody else's home, and [if] they're happy to live in that condition, it doesn't really get them into a better situation."
Still, the hope promised by a new task force, followed by a slow start, has left some advocates even more frustrated than before.
"[It's] so disappointing," said Mike Foster, a homeless advocate and former program director at the Rescue Mission homeless shelter and St. John's Community Services. "I still think Chief Parsons had the best intentions but was tasked with something impossible. Even at the beginning of the meetings, he said 'I don't want a kick the can down the road type of thing. That's not a solution.' But here we are again, kicking the can down the road."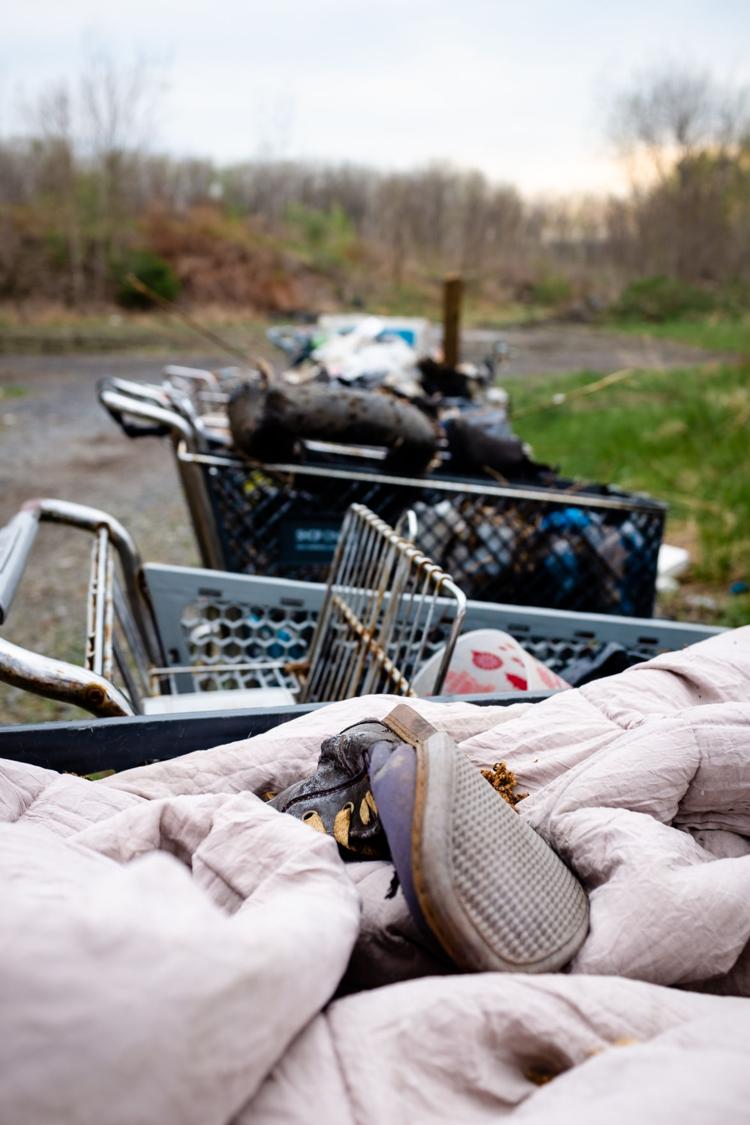 Conditions in the Jungle
A stroll around the Jungle reveals a mostly friendly group of people, if a bit weary of being bothered. Most of their sites are swaths of land covered partially by living structures and partially by clothes or debris. There are quite a few used needles lying around, but most of the living structures range from slightly fragile to solid, including those of two residents, Chris and Wayne, who have constructed their own locales complete with stoves, beds, workshops and, in Wayne's case, an air-hockey table.
Tompkins County Health Department Director Frank Krupa said the department is concerned about the Jungle, but there is no plan currently to change or enforce different codes or anything in the area. Factors like human waste without proper sewage infrastructure and mounting trash, particularly since the removal of the dumpster the city placed there to help residents dispose of trash, add to those concerns. Residents say they were told the dumpster would be taken once a week and emptied, then returned, but it hasn't been back in nearly a month, leaving a row of shopping carts as the only true "disposal bins" available.
According to numbers obtained from Tompkins County Emergency Dispatch, there is a fairly consistent trend of calls rising during the warmer months, as more people gather in the Jungle, either by necessity or choice. The first five months of 2017 saw only seven calls for emergency dispatch, but in June, July and August there were 31 calls covering harassment, theft, fights and assaults. The situation reached new heights in late 2018: Law enforcement and emergency response both began publishing more press releases about troubles there, concerning structure and tent fires to rising violence. That coincided with a spike in Jungle population from the usual 10-20 daily to closer to 50 or 60 people. While the summer months in 2018 yielded 21 calls, compared to 31 the previous year, September until the end of the year saw 59 emergency response calls, dealing with anything from serving warrants to a rash of fires to plenty of "assist" calls, as well as low-level fights and theft.
That's what the numbers show, but there is a caveat: some residents of the Jungle would prefer to avoid interaction with law enforcement and authorities in general, so their rates of reporting crimes, fires, health issues, etc. are potentially far lower than the actual incidence rate. Some residents prefer "Jungle Justice," which mostly involves either kicking someone out of the encampment for a serious enough violation, or settling it another way, perhaps physically.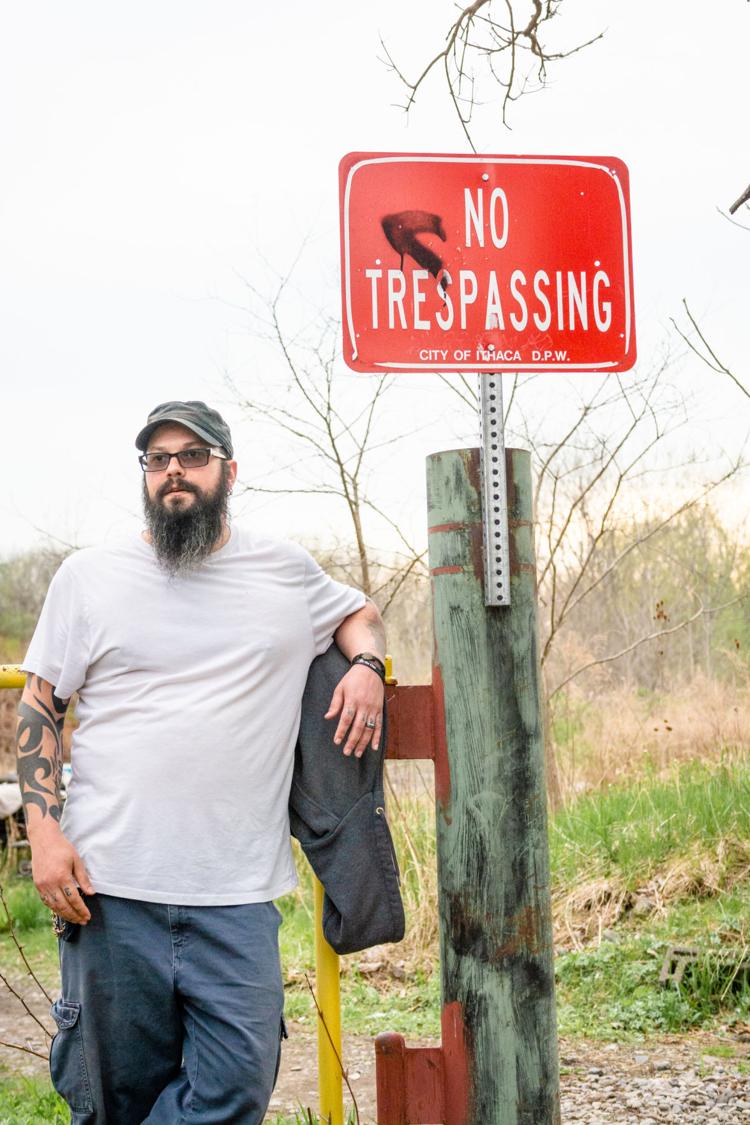 Another theme arises among Jungle residents and people who regularly interact with them: those who cause the most problems in the Jungle are not actually residents. They don't have nearly as much stake in the Jungle's future and what befalls its residents, and often they aren't actually homeless. They go to the Jungle because they believe it's a place the police won't normally patrol, allowing them to carouse freely. But that behavior can bring tangential issues, like increased crime and violence.  
"Not everyone committing those crimes lives in the Jungle," Guidi said. "They flee there because they know they're not going to be pursued. Everybody thinks all these crimes are happening because of the people living in the Jungle. They're pretty harmless, they're not perfect, but still. The original Jungle got the same bad rap: they had fights, they had fires, but most of those people were just people that came in, not living there. The poor people stuck living there got the bad rap  [...] They're good people. They're just stuck. There is drug use, sure. There's a lot of drug use from people in big expensive houses, too."
"The majority of the violence is not people who are living there, or who have to live there," Foster echoed. "It's people who are choosing to use that as a safe haven to do different kinds of criminal activity."
A common sentiment from advocates and residents was that the police don't pay enough attention to the Jungle, although the argument can be made that especially with staffing issues, that statement might apply to several places in the city. Homeless people and advocates both have doubts about the frequency of police patrols through the encampment, but for different reasons: Jungle residents tend to believe the police don't care about them, except if a high-level criminal flees there after a crime, while advocates think that the police do care, but are choosing a hands-off approach to avoid criminalizing the mere act of being homeless. IPD denies both of these, contending that while they are short-staffed, they make an effort to regularly patrol the Jungle.
"Every call for service that comes in we treat the same [...] whether it's in the Jungle or Cayuga Street or a business," Deputy Chief Dennis Nayor said. "As best as staffing allows, the officers assigned to the beats where the Jungle is will go in there on bike patrol or on foot. As much as time and staffing allows, they'll go in and be a presence there, even if it's just to make sure everything is okay. They're people too, and we want to make sure everything is safe."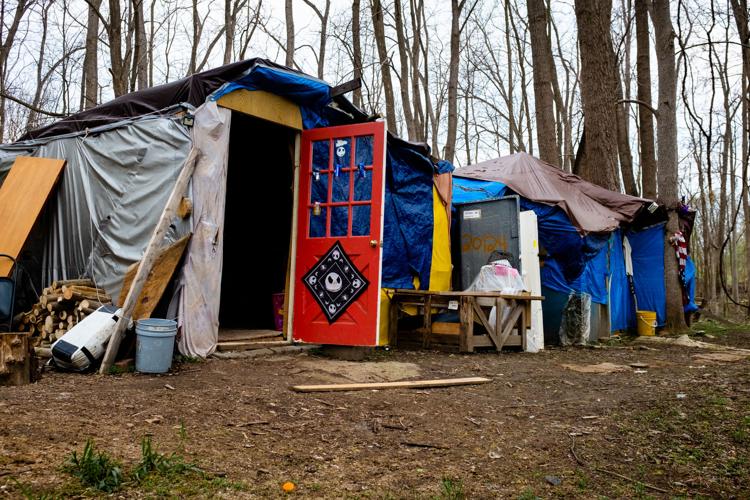 Residents
It seems, at least for now, that the area remains expansive enough that permanent residents can retain some level of separation from the more transient people who come to drink or use drugs; Wayne and Chris, for example, are not worried, despite the concern expressed by advocates and officials last year and in interviews for this story. Another resident, who didn't want to be named, said "keeping to themselves" is the most effective strategy. Soon, though, the Jungle will undergo a significant decrease in size: the City of Ithaca set a May 1 deadline for people to move their houses or campsites out of the way of a 15-acre dredging construction project which will force at least three camps, and maybe more, to be displaced.
While residents seem to be handling that situation fairly well, there's a larger, persistent fear that at some point the city will tire completely of the encampment and force people to move out again as happened several years ago with the original Jungle.
"I can't live out there, man," Chris said, claiming he picked up post-traumatic stress disorder from his 13 years in prison. "If they kick me out of here, I'll probably end up in prison again."
Chris, who's lived here for three years, is the Jungle's self-appointed DJ and wakes the Jungle up every day with a song from his speakers between 5 and 7 a.m. He's working his way back from a recent fire that devastated his former campsite, where he had been planning on establishing a "Jungle Hotel," a set of tents that could be rented by visitors for nights in the Jungle. It was an idea that could have helped him make money off of the transient population that comes in and out, but the idea fell apart last month when his tent and adjoining shed were consumed by fire. A friend was badly injured in the fire as well, though he survived. Chris and his girlfriend Desirae survive on a bounty of food salvaged from nearby dumpsters that's thrown away because it's past its shelf life, and are always ready to offer some when they have a visitor.
They both don't seem to mind living in the Jungle. Desirae admitted she used to hate it, but "doesn't mind it now." Chris feels like he couldn't live among conventional society anyway due to his PTSD, so it suits him well. Whether they actually are content themselves, or simply have abandoned optimism that they'll be able to extricate themselves isn't clear; whichever it is, they aren't going to let it defeat them. That seems to be the attitude of almost all the "Junglers," as Chris deemed them. The most important thing to Chris and Desirae? That people know they're not dangerous or animals, just people trying to survive. 
Regardless of who's answering the question about what to do with the homeless population, or how to most efficiently and effectively help them, the answer comes back to the same, frustration-ridden response: Whatever it is, it's not going to be easy. And there's a chance it only gets more urgent as the warm-weather influx comes to the Jungle with less geographical area this summer. While the task force is a positive initiative, it hasn't yet produced much in the way of new, concrete plans to help people in the Jungle or elsewhere in the city dealing with homelessness; meanwhile, those people remain the most vulnerable among us.
"I wish I could say that we've got all the answers, we don't," Parsons said. "If we did, everyone would be coming to Ithaca asking, 'How did you fix homelessness?'"