ITHACA, NY -- Ithaca, NY, is building a hempire, one plant at a time. With miles of sprawling farmland, a vibrant downtown and an open mindset, Ithaca is uniquely poised to take the potentially multi-billion dollar hemp industry by the reins. 
Cornell University alone boasts a state-of-the-art hemp research team, the United States' only industrial hemp seed bank and the country's first master of professional studies (MPS) program with a specialization in hemp science. The fruits of these labors can be seen across the region as the university works with local growers to establish best growing practicesand teaches a new generation of farmers. 
Still, the path to now has been a rocky one, and with the pandemic adding new pressure, the industry is rapidly changing to keep up with the times. The result is a high risk, high reward field marred with uncertainty and ripe with potential. In Ithaca, there have been successes and there have been failures, but ultimately hemp is here to stay. 
There's a common misconception that hemp and marijuana are two separate species. In actuality, both are just two different names for cannabis, a flowering plant of the Cannabaceaefamily. Hemp refers to a cannabis plant that is high in cannabidiol (CBD) but is low in THC, the psychoactive ingredient most commonly associated with getting someone high. Marijuana refers to a cannabis plant with high amounts of THC and low levels of CBD. To be classified as hemp under NYS law, a cannabis plant must contain 0.3% THC or less. 
Although the history of hemp actually dates back as far as 8,000 BCE, the crop has only reached the limelight in the U.S. in recent years. Previously, hemp was lumped in with marijuana and treated as an illicit substance. That all changed when the 2014 Farm Bill defined industrial hemp as separate from marijuana and began authorizing institutions of higher education and state departments of agriculture to research and regulate hemp cultivation in pilot programs. The 2018 Farm Billfurther legalized the regulated production of hemp, paving the way for the myriad hemp farms and CBD stores now dotting the map.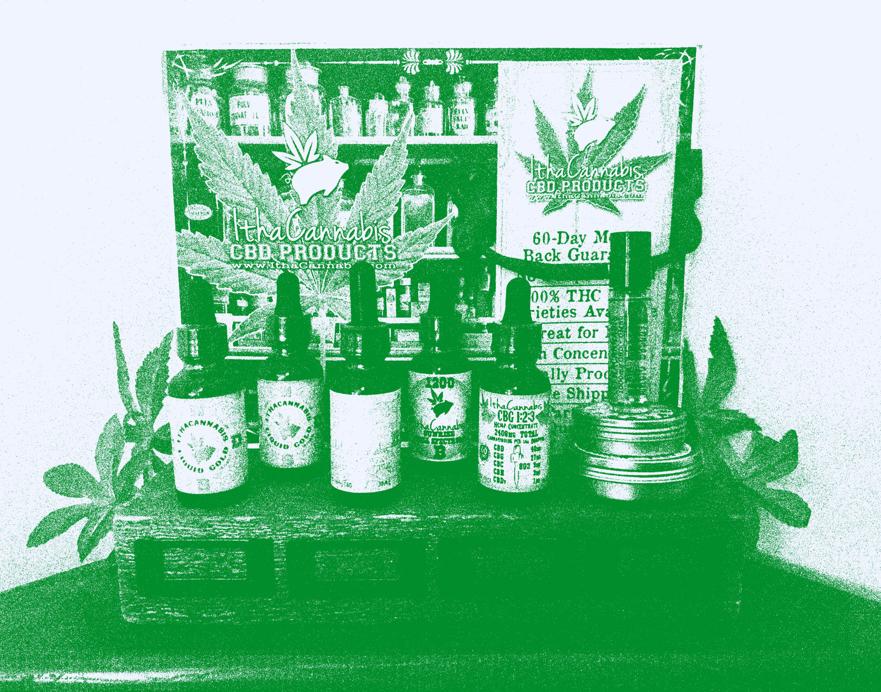 After the farm bills, the industry exploded, but not without growing pains. While the number of farmers planting hemp increased exponentially, there was not yet enough existing infrastructure of processing facilities or buyers. Long story short, farmers had an overwhelming supply of hemp but no one to sell it to. The result was a bottleneck in the industry as the prices of hemp plummeted, dropping as much as 80% to 90% in price per pound.
"You have a lot of farmers here that were looking at hemp as a savior crop to help boost their overall farm profits, because they were getting beat up from their traditional type of agricultural commodities that they were growing, " Jeff Luciano, CEO and founder of High End Multigroup, a hemp processing and investment company, said. ''They were expecting one sort of price point for their product but got something entirely different, so many farmers were unable to sell their crop or recoup what they had put into the cost."
Allan Gandelman, owner of Main Street Farms and president of the New York Cannabis Growers and Processors Association (NYCGPA) said a lot of new farmers were drawn to the hemp industry for the potential payoff but didn't fully grasp the ups and downs of the market.
"The old school farmers that got into hemp as an additional crop understood this going into it," he said. "A lot of new farmers got into growing hemp that didn't really understand the agricultural situation, in general, because they didn't have the experience, so I think they were very blindsided by how quickly farming commodity prices can crash."
Larry Smart, project lead of the Cornell hemp research team, echoed this sentiment.
"We've seen pretty dramatic falloff in acreage," he said. "I would guess it's less than half and probably closer to one-third of what the acreage was last year. It's really only the most resilient farmers who have diversified their operation that are still growing hemp. A lot of those sort of start-up companies that thought they could make a lot of money just growing hemp, I think, are unfortunately out of the business."
To remedy the problem, Smart and the rest of the Cornell research team have been working alongside growers, conducting research and educating farmers to improve growing practices in New York State.
Ithaca Organics was one farm that was able to avoid the early pitfalls of the industry. Although they had grown fruits and vegetables since the '90s, in 2019, Ithaca Organics shifted entirely to growing and selling hemp after securing a contract with another hemp company. Although the certainty of the contract ensured they recouped their investment, this year the farm has significantly decreased its hemp acreage and is once again selling produce.
"There were people who were ready to buy plants right out of the field, so it was a crop we had a market for before we even started to seed," Matt Soucy, sales and marketing manager for the farm, said. "Starting in 2020, we didn't have any contracts in place, but we knew we wanted to grow hemp for ourselves … This year we balanced and did more equal parts food and hemp."
Gandelman was also less affected by the price drop because he vertically integrated, personally controlling the entire growing, processing, manufacturing and selling processes.
But Main Street Farms and Ithaca Organics were some of the lucky ones. As a whole, the industry is still recovering from its setbacks, and many of the problems that caused the price drop still exist today.
In New York State, many growers and CBD store owners feel there is an overwhelming lack of processing plants. Just this year, one business, Great Eastern Hemp Company, planned to build a processing facility in Broome County but ended up selling the property eight months later. This came shortly after Southern Tier Hemp dropped their plans to develop a hemp processing plant inJohnson City.
Gandelman said he believes the problem isn't a lack of processing, but rather a lack of demand.
"The reason none of those companies built their facilities is because there's no market," he said. "That should be a sign to other farmers and processors … Even these huge companies with all this money like Great Eastern Hemp have all abandoned their products, and they did it because they knew if they built the facilities, they would be out of business right now."
Still, even processing plants that are already up and running are not necessarily equipped to handle the high volume of incoming hemp from farmers. Luciano built his first processing plant in Spencer, NY, in 2018 but has already begun building a second, larger facility in Tioga County to combat the drop in the price of hemp.
"It's really about scale and volume," he said. "The more you can process at a lower price point, the more that you're able to produce and the more that you're able to sell at a lower price point and still be a successful, profitable business, because you're able to speed up that process."
Donna Lupardo, assemblywoman of the 123rd district in Binghamton and a fierce proponent of the hemp industry, said the solution to the issue is creating more regulations.
"I think there was uncertainty in the market, and people attempted to make investments when it wasn't clear what the rules were or what the regulations were going to be," she said. "Farmers need to know who will be purchasing their crops, so we're hoping to have a supply chain that is predictable, manageable and profitable for our farmers."
These regulations are already well underway, with a new hemp extract bill providing stricter rules and guidelines on CBD regulation and labeling in food and beverage in NYS. Lupardo herself was a sponsor of the bill, with Gandelman lobbying for the regulations as well.
Sarah Robarge, co-owner of Ithaca Natural Remedies and Ithacannabis, said she hopes the new regulations will lead to more consistency in the industry because in the past there have been lots of cases of people selling false, misleading and even harmful CBD products. 
"One thing I do see is that, with consistent regulations, investors will feel it's a safer bet to invest in manufacturing and in extraction, because that's something that is really missing in Central NY right now," she said. 
Jay Bame, manager of Hemp Geek, a CBD store in Ithaca, said while the store does work with some local growers, they often have to outsource and get product from other states due to the lack of processing plants
"We do source a lot of products from states where it's recreationally legal because they have the resources available to grow and produce high quality products," he said. "Here in New York .... There's a lot of land to grow the stuff but … there are not many processing facilities or testing facilities."
However, Robarge said she does worry some regulations will make it difficult for small manufacturers.
"New York wants to set the highest standard, but they have to be mindful that if they're going to set the highest growing and manufacturing standards, they need to have a way for medium to small growers, extractors and processors to stay competitive," she said. "If you set the bar too high then it really is only going to be open to big money and big business."
Adding to the uncertainty of the industry is the pressure of the pandemic, which has both helped and hindered the industry.
Bame said the pandemic has made it more difficult for CBD stores to make connections and sell products. 
"When it comes to the cannabis industry, it's better for people to come in and talk to somebody," he said. "If you go online it's a little more difficult to figure out what works best for you on a personal level. You can read all this information, but you still may not know how to apply it to your own life and preferences."
Other CBD stores have fared worse.Our Remedies, a CBD store located right on the Commons, closed its doors permanently during the pandemic, although it still has a second location in Destiny Mall.
Still, there have been some benefits for CBD stores. In the midst of the pandemic, protests and an election cycle, more people have turned to CBD as a way to potentially treat their anxiety and stress.
"One of the things that has come out from the pandemic that I've noticed is that it's opening up the conversation of mental health more," Noah Johnson, manager of Your CBD store in downtown Ithaca, said. "I think it used to be, in the CBD world especially, kind of hard to coax out of people what their ailments were ... Now a lot of people are experiencing it and it's a norm … so getting that conversation started, I think, makes it a lot easier."
With towns all over the country looking to reinvigorate the economy in the midst of the pandemic, some states are considering less stringent laws on hemp and even recreational marijuana. In New Jersey,67%of voters voted to legalize recreational marijuana in November.
In New York, Gov. Andrew Cuomo has also restarted a push for the legalization of recreational marijuana for adults in 2021. 
"I think now, given our budget shortfalls and general public sentiment being on the side of legalization, we're going to see it happen," Lupardo said, referring to the legalization of marijuana. "I think most everyone understands it's not a question of if, it's a matter of when."
Carlyn Buckler, an associate professor of Cornell University's School of Integrative Plant Science and creator of the class Cannabis: Biology Society and Industry, said she is not certain the hemp industry will be the be-all end-all savior of the economy, at least while the pandemic is still in effect. 
"We have these people who think the hemp industry will save everything that's happened financially with COVID, but that's just silly," she said. "We need to take care of people first and make sure we get rid of COVID and then maybe we'll have some bandwidth to start thinking more seriously about legalization."
With all of these factors at play, the future of the hemp industry is unclear, but most believe it will continue to thrive.
"I tell people to just strap yourself in and hang on and expect things to change," Buckler said. "I know it's going forward but we're bound to have ups and downs along the way."
"Being at the forefront of a new emerging industry is very exciting, but the industry is still just starting to come out of a start-up phase," Luciano added. "You have to understand that we're talking about an industry that's going to continue to develop over the next years and decades. It's an amazing opportunity to be a part of this industry and be a part of helping shape it."