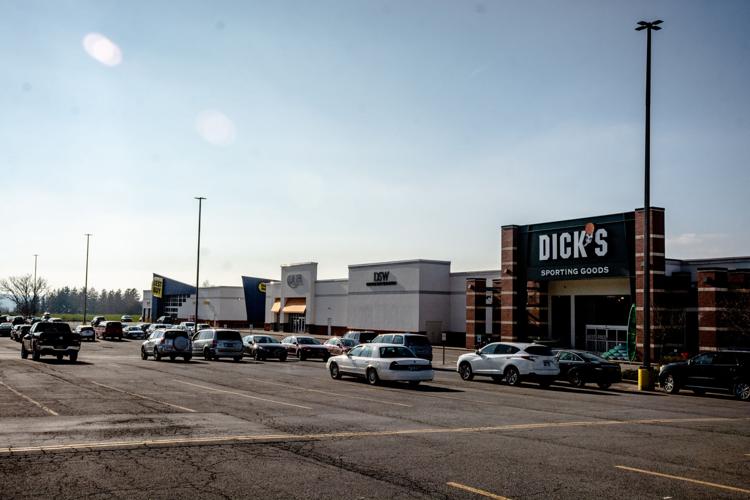 The demise of the American shopping mall in the same form that it has existed for generations seems all but a foregone conclusion. Around the country, as the retail industry shifts quickly and abruptly away from brick-and-mortar stores in favor of the convenience of cyber-shopping, centers of retail face one of two realities: either pivot away from reliance on retail, or likely die while trying to resist the omnipotence of the internet.
A quick stroll around the Shops at Ithaca Mall on a recent Thursday night reveals that it is undergoing many of the same negative impacts from online shopping as other retail centers around the country, with the added pressure of another pedestrian marketplace in the Commons nearby in downtown Ithaca. The hum of commerce and customers that once bounced around its halls is largely gone, as businesses have moved in and out while crowds steadily dwindle.
The former American Eagle location sits empty. Ultimate Athletics recently closed up shop. Bon Ton, a former headliner of the mall, has also left in the last two years, along with Sears Hometown Store last year, which followed the departure of the large Sears department store in 2014. While the majority of the storefronts in the mall still house businesses, the number of empty spaces seems to be growing faster than the mall is able to fill them.  
For their part, the mall's management is not denying nor ignorant of the issues their retail tenants are facing. Gina Speno, the property manager for the Shops at Ithaca Mall, said she isn't sure if the general public is grasping the dire plight of storefront retail versus the internet, or the effort that goes into resisting it. While the onus is on mall management to appeal to enough people that they keep the mall vibrant, part of the burden must fall on customers as well to make a conscious decision to patronize local businesses.
"Sometimes, I do not think people realize what is happening behind the scenes and believe me, we make it our business on a daily basis to look for new tenants and retailers," she wrote in an email. "We really do get it—we live it and we breathe it. Every store manager in our mall comes to work every day and they push forward and work against online shopping. The success of their store relies completely on the customers who shop there. When their sales decline and all they handle are internet returns, how does that work?" 
Speno admitted that this year has been a "bumpy ride" for the mall, losing some stores due to "bankruptcy, downsizing, poor operations of the brand and believe it or not, some for not paying their rent." Further, she hinted that a true pivot away from a solely retail focus is likely coming for the Shops at Ithaca Mall, but to exactly what extent is unknown and could depend on the type of interest the mall is able to attract.
"Will the shopping mall remain strictly retail? Probably not," Speno said. "We are looking to add a [mixture] of retail, food, entertainment and offices. As our shopping world evolves, one thing is for certain: The Shops at Ithaca Mall is located in a wonderful, vibrant community and we still have some of the best retailers and we still need our community to support these retail stores by shopping in their stores." 
Theories abound about what the mall could do to evolve further. Tompkins County Legislator Deborah Dawson suggested remaking itself into a hub of unique local merchandise, a type of retail/experience blend, and adding an outdoors element during the warm weather months. A popular suggestion over the years has been to add a housing component to the mall, something that could occupy a second and maybe third floor of the building while helping address the obvious housing needs and joining the movement toward mixed-use development that's become increasingly popular. Village of Lansing Planning Board Chair Lisa Schleilein said that although housing would be possible at the site, the infrastructure at the site would need to undergo an overhaul in order to properly support it.
"There are some infrastructure things that would need to be worked out, like the sewer-water thing," Schleilein said, going on to describe research that has been done on the topic. "There is no clear direction as to how a mall should go, but it really is based on your market analysis, what the community wants, what the stakeholders want, and bringing all that together."
The future growth of Lansing's population, which appears imminent considering apartment development on the horizon, may bolster interest in the mall. But it all returns to one central question: more people in the immediate area or not, will they want to go to the mall? As Schleilein said, there must be something in the mall that grabs all the new people that are going to be driving by. Village of Lansing Deputy Mayor Ronny Hardaway lamented what he felt like was a lack of communication and commitment on the part of mall ownership, the Long Island-based Namdar Realty. Namdar did not return phone calls asking for comment.
"Currently, the owners haven't shown a tremendous desire to do any of that," Hardaway said. "Not the local management, but the owners don't seem to be present or participating in any type of communication with the Village or the county, as far as making the mall better. So we have to rely on them to approach us and see how we can help them. But their ultimate success relies on their ability and desire to be successful."
Whatever the final product is, early elements of that next evolution can already be seen throughout the mall. Businesses with a focus on service and a secondary retail component, like Regis salon or Mastercuts, are both notable in that they provide something other than a purely retail element. Speno also said that the mall has a tenant interested in coming to the BonTon location, and that a letter of intent has been agreed upon to bring a hotel element to the mall. She said she could not provide further information about either of those two developments, however.
Up and down the mall's hallways, there are examples of the different options of businesses that could be emphasized outside of retail. There will be, of course, some bumps in the road to overcome for this approach to work in the long run:experience-based businesses that will fail to catch on or overestimate the market demand, while others survive and thrive. Ultimate Athletics was a popular gym tucked into a massive space around the back of the mall with a batting cage section run by Jeff Spada of Hitz Ithaca, but they deserted their location earlier this year, much to the chagrin of members who have taken to social media to decry the closing, yet Planet Fitness seems to have carved out a good customer base across from the Regal Cinema. While Barskis Xtreme Lazer Tag faltered and closed, its child-focused entertainment counterpart Jump Around Inflatables, a wonderland of inflatable bouncy structures, was one of the busiest spots in the mall during a recent visit. Running 2 Places, the local youth theater group, is constructing a new venue at the mall for their shows as well.
It's well known that the mall's ownership has been trying to sell off portions of the mall in a piecemeal fashion, by selling the land beneath the occupied stores to the companies that lease that store space, though it does not appear that approach has had much success. One indicator of the mall's hardships over the last several years is its cratering property value assessment. Over the last 10 years, mall management has seen its property value assessment decline precipitously from a high of $51.5 million, which it held for two consecutive years in 2008 and 2009, all the way down to its current valuation, at $19.35 million, according to the Tompkins County Assessment office. Translated to actual tax dollars: the mall's total tax bill contributions have shrunk from over $406,000 in 2011 to around $193,000 in 2019.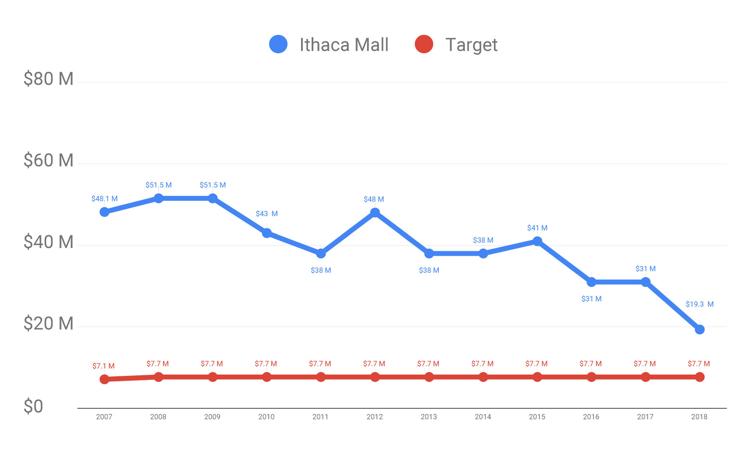 But, to exemplify that some parts of the mall are still holding strong: During that same time frame, the property value assessment for Target, which is connected to the mall but technically owns the land on which the store sits, has remained steady at $7.7 million. Relatedly, all indications are that the endlessly persistent rumors over the last few months that Maguire Family of Dealerships had purchased the mall are false, according to Phil Maguire and Schleilein.
That decrease in value is the most clear connection between the economic success of the mall and how it benefits the surrounding area. As the taxes on the property dissipate, the slack must be handled by local residents.
"Generally, the impact is not just on the Village," Hardaway said. "We're more immediate because of its physical presence here, but generally it impacts the financial health of the whole county."
The opinion of the mall's future from its retail tenants varies. The larger stores that house national brands like Target, Old Navy and Dick's Sporting Goods seem to be relatively healthy. Representatives of each of those stores declined to comment, deferring to their national corporate offices which had not responded in time for publication. Of course, other seemingly secure nationwide brands haven't had as much luck. Bon-Ton's closing was well-publicized in April 2018, while American Eagle quietly absconded some time in the last year. To be certain, both of those companies were experiencing struggles everywhere, not just in Tompkins County: Bon-Ton closed as part of a company-wide liquidation, and American Eagle announced in 2017 that it would be "more aggressive" about closing stores in the near future. But they weren't the only ones to leave, and the troublesome part for Ithaca Mall specifically is that since those massive spaces have closed, the mall has been unable to attract replacements, the possible Bon-Ton replacement notwithstanding, leaving it with the gaping holes that it now houses.
Smaller stores, though, appear to be feeling the true brunt of the downturn. Jocelyn Debique, manager of Bazaar Gifts for the last year-and-a-half, offered a blunt but bleak assessment of the mall.
"It's very, very slow," Debique said. "It's always dead. The mall is dead. We're hoping not to move out, but it's very slow."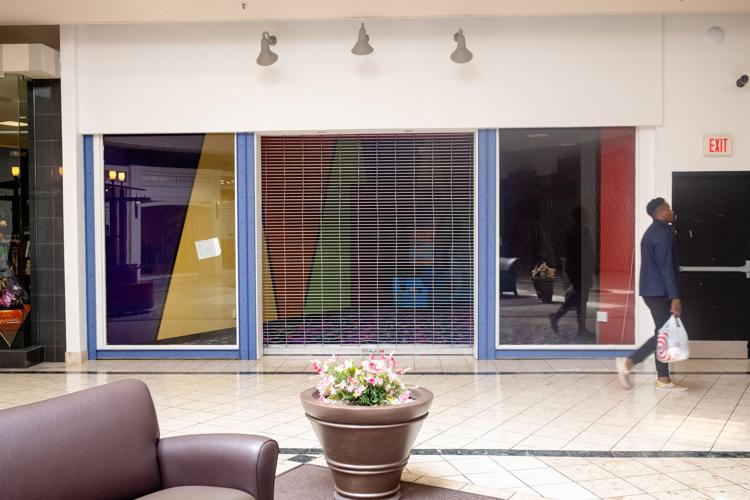 Debique said she isn't sure of the solution, whether it hinges on better marketing or something else, but that it's been the same level of activity for her 18 months at her location, a corner spot across from The Cornell Store's mall locale. She did say, though, that her rent has not increased since she's been operating at the mall.
While retail suffers, U-Code is an example of the type of service-based business that could potentially become a major part of the mall's ecosystem going forward. U-Code's owner, Janet Carmosky, said she was initially attracted to the location because the mall has long been one of the premier gathering places for families with children, which is her target clientele. Carmosky's business runs classes for kids to learn coding and computational thinking, and she said that she has so far been disappointed by the amount of foot traffic at the mall when not bolstered by holiday rushes like Black Friday, Christmas and Valentine's Day, although she said she sees places like Jump Around Inflatables across the hall attracting plenty of customers. Generally, she sounds hopeful, though hesitant, about the mall's ability to pivot, looking at Destiny USA in Syracuse as an example of a successful mall revitalization through a focus shift from retail to "education and entertainment."
"It would take an effort, because in order to bring families back to the mall, you have to organize more stuff," Carmosky said. "The mall's job is to bring traffic into all of its tenants. [...] We talked to Destiny USA and it's very clear how much effort that property makes to schedule activities to bring people in for education and entertainment. It's impressive how focused they are on positioning as a destination rather than just a place of merchandise. I think any mall could go for that positioning, they would just have to make that a very conscious decision and commit to hosting all the activities that are necessary to support that positioning."
Regardless of its obvious issues, the mall's management must keep a rosy outlook, at least publicly. Despite plenty of reasons for negativity, Speno claimed that right now, the mall is maintaining optimism and curiosity above all else, even with a future clouded by uncertainty. There may be hope on the horizon, particularly if the aforementioned plans for a hotel and a new tenant in the Bon-Ton space come to fruition. But if and when that happens, it remains a relatively small step in curing the long-term future of the mall.
"There are many potential opportunities ahead and right now we need to be patient and remain positive and see what unfolds," Speno said.