The Coronavirus has upended many of the tried and true practices of just about everyone on our planet…and, of course, has significantly affected restaurateurs and diners everywhere.  If you spend time with owners and managers of restaurants in the Greater Ithaca Area, you might share my admiration for their overall optimism, adaptability, and resilience. During this incredibly difficult period, they have had to be flexible in order to respond to the preferences and demands, of anxious customers, as well as changing rules and regulations.
In early August, I began talking with people who spend at least some of their dining time eating out in various restaurants, asking what they look for when they choose a restaurant during the pandemic. The most frequently mentioned item was outdoor dining availability, preferably with awnings, canopies, or umbrellas to protect them from the sun. Adequate spacing between tables was next, but that's the law in New York.
Following (in no particular order) are other issues mentioned by restaurant diners: servers to be masked and gloved, with gloves changed frequently, in order to avoid using the same ones accepting credit cards and cash to serve food; individual portions of ketchup, mustard, salt, and pepper; single-use menus on recyclable paper that can be scanned with a smartphone; daily specials, if the menu items themselves aren't changed; and witnessing staff sanitize the tables after each use.
In an effort to learn more about how restaurant owners and managers were adapting to the frequent regulation changes, I reached out to Mark Campagnolo, owner of Ciao in Lansing and The Boatyard Grill at the Cayuga Lake inlet.
Campagnolo has been operating restaurants in this area for many years and is one of the more innovative restaurateurs. He has not reopened Ciao for lunch and relies exclusively on takeout and dinner, during which time every other table has been closed thereby reducing the capacity of the restaurant from 132 seats to 60 seats.
At The Boatyard Grill, he has also closed the restaurant at lunch time, including during the formerly lucrative weekends. To accommodate the current situation, the outside bar at The Boatyard has been closed and a canopy tent was erected on the property. The original capacity of the restaurant deck was about 100 and was reduced to about 60, but the addition of the tent has added another 100 seats, even when safely distanced.
At both establishments, in order to cut costs and operate more efficiently, Mark has reduced the size of menu offerings by about 20 percent, with a focus on the most popular items. If you want salt, pepper, ketchup, mustard, or mayonnaise, they will be delivered in individual packets.  Even the check, at the end of the meal, will come in an individual plastic cup.
When ordering, you'll be offered a QR (quick response) code to scan with your smartphone and a complete menu will appear. If, like me, you're not technologically with-it, a single use paper menu will be provided.
I asked Mark about staffing and he replied that both restaurants are hiring for the kitchens and the dining rooms. Several former employees left when the $600/week federal supplement was offered and some have not returned.
Another issue I wondered about is the return of college students. This is not an issue for him as both restaurants mostly served them on weekends and at special events when other customers were plentiful and very few of them served as employees.
It seems counterintuitive but his business has increased about 50 percent since March as the takeout business has soared.
Mark has invested in a new CDC approved filtration system–– an electrostatic application in the form of a fog disinfectant– in both restaurants. One of the most positive aspects of the HVAC (Heating, Ventilation, Air Conditioning) is that it brings in large quantities of fresh air while expelling stagnant air.
You'll also notice the busboys circulating around both establishments cleaning and sanitizing.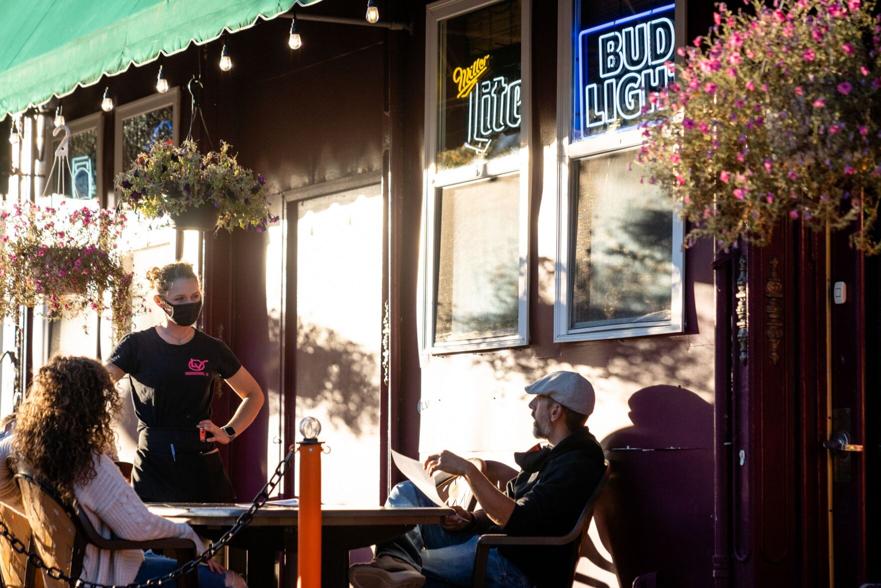 In nearby Trumansburg I found quite a different approach.  Arguably the best restaurant in town, Hazelnut Kitchen doesn't offer any outside dining and for self-protection has adopted the following policy: Reservations are required. Be aware that upon making a reservation you'll be asked for your credit card number and if you cancel or even if you arrive  more than 15 minutes late your card will be charged $15 and your reservation could be cancelled. The restaurant, which is now open from Wednesday through Saturday and only at dinner time, has revamped its extensive menu to offer a three-course prix fixe menu, each course with a choice of two items. Finally, management asks that you limit your dining time to 90 minutes.
Next door to Hazelnut in Trumansburg is a large, family-friendly, Italian restaurant, Little Venice.  Their signature feature was an extensive 50-item salad bar. I've enjoyed complete lunches working only with the salad bar as the ingredients included an assortment of three pizzas, a pasta dish and a hearty soup.  Since it's one of the very best salad bars in our area, it has been a significant source of revenue for the restaurant. Unfortunately, it's no longer available. (Salad bars and buffets have practically disappeared at most restaurants). However, co-owner Jessica Gardner told me she's hoping to bring the salad bar back as soon as possible. 
There is limited outdoor dining available (three tables). The large and varied menu has just been restored after a period of reduction brought about by closures of meat packing plants in the Midwest in the wake of the pandemic.  Gardner ruefully told me that during that extended period she was being charged $8/pound for basic hamburger meat. 
Another restaurant that is trying to resume normal footing is Agava, near the East Hill Plaza. 
It reduced its days and hours of operation after March, but now is back to opening six days/week, serving lunch and dinner. Translucent barriers have been stationed between tables, the patio is now limited to takeout, and more space is being allocated for outdoor dining. 
I chose the outdoor option when it was first offered and the service was a bit uneven as only one server had to cover a very wide area, including all around the parking lot. When I approached a table and four chairs constructed of metal grillwork I was confronted by a large sign on the table: "STOP! This table has yet to be sanitized. Please choose a sanitized table." On the reverse side it read: "Good to go! This table has been sanitized." 
They make their own sanitizer and spray every table after customers leave. The restaurant had several other features which helped to make me feel comfortable: I had no problem getting permission to take the individual paper food and beverage menus with me. Individual cutlery packages with a paper napkin were offered; condiments were served in individual ramekins, and an umbrella shaped opaque dome sheltered me from the sun. I'm not wild about drinking beer and water from a disposable plastic glass, but I also understood the decision. The constant back and forth of the TCAT 82 bus on the side road and other traffic in front on Pine Tree Road was a nuisance, but understandably can't be helped and I did feel safe.
Simeon's, on the Ithaca Commons presents a very different situation. When the block of Aurora Street closest to the Commons was closed to traffic, they instantly gained a large amount of sidewalk space to connect to the space they already had on the Commons. This allowed them to virtually double their outdoor dining capacity from 30 seats to 60 seats. 
At the same time, because a portion of their clientele preferred outside dining to indoor, they halved their indoor capacity from 100 seats to 50. 
Co-owner Dean Zervos told me he was wrestling with the menu situation.  He's printing a two-sided single paper menu which is recycled after each use. However, he's paying $300-$400/week just for printing toner and each color menu costs $.65 and each black and white would be $.40.  At this writing, he is working on a laminated menu that can be sanitized after each use. Another option is a smartphone QR scanning device to show the entire menu.  Because Zervoz wants to limit the menu to one page, he's lost about a half dozen pages of beverage listings.
The business hours at Simeon's have been reduced slightly because Dean observed, "People just don't like coming out later and, since they have to order food with their drinks the bar just isn't as popular." 
They now close at 9:30 instead of 10:30 on weekends. I asked if Simeon's is being affected by colleges limiting on-site attendance. He replied that it detracts from the number of customers but not from staffing as the student population is not a good source of full-time employees because they leave town several times each year for spring and fall breaks, need time off for exam weeks, and there's always Thanksgiving, and Christmas.
Authors Note: On August 22, one of the owners of Simeon's tested positive for Coronavirus.  The owners immediately shut the restaurant.  It has been closed for a few weeks as employees get tested and are quarantined; and the facility is sanitized. As I write this, after talking with the health department and Simeon's owners, I expect the restaurant will have already reopened. 
So what's the future for dining out in Ithaca?  It's hard to tell….so much is changing and it's all happening so fast. The weather, too, is changing. The inevitable colder weather of Ithaca autumns and winters is almost upon us. Soon, dining al fresco won't be an option.
Several restaurant owners are looking at various sanitizing ventilation systems, including stronger air filters, but they're expensive and the accelerated demand has slowed delivery times.
A few restaurants have already closed and others will surely follow, but for the significant majority, I'm sure that the innovative, adaptable, creative, and flexible Ithaca area restaurateurs will come up with a variety of solutions that will help us to continue to enjoy dining out safely.
EDITOR'S NOTE: The Boatyard Grill reported two positive coronavirus cases Sept. 2 and 4 after returning employees attended an off-campus gathering. The restaurant is still open and employees have returned to work after receiving negative COVID-19 test results. This article will be updated as the restaurant decides its next course of action.