Protests aren't an uncommon sight around Ithaca anymore. The last three months have seen plenty of them, from weekly Sunday protests demanding the defunding of the Ithaca Police Department to a spate of protests directed at supporting the local Black community to several actions dedicated to calling for rent cancellation in light of the coronavirus pandemic's injurious impact on the economy and employment. 
The most recent example of that was last Thursday, which was coincidentally also the most creative of the protests. A group of about 40 protesters, demanding an extension of the eviction moratorium, dragged couches, chairs and clothes into the driveway next to the Ithaca Police Department and Ithaca City Court. Their message: you have to evict us if you want to evict them, motivated by Thursday marking the reopening of Ithaca's housing court operations. 
According to a courthouse source, there weren't actually any evictions scheduled to take place Thursday, and it's impossible to know whether or not the action, officially deemed an eviction blockade, scared any landlords off from initiating an eviction process that day. But it did highlight again the impact of recent local protests, particularly those held on behalf of the area renter community and largely organized by the still nascent Ithaca Tenants Union, formed in March. Many of those protests have surrounded a push to cancel rent for tenants who have been unable to pay their monthly housing costs to whatever extent over the last several months, as well as more general sentiments against evictions, landlords and in favor of a more level playing field between tenants and the people they rent from. 
A pamphlet handed out at the protest outlined the group's platform: demanding rent control, banning single family zoning, publicly owning housing for Department of Social Services clients, building a landbank of foreclosed homes, a property ownership cap for each landlord, accountability for unfair treatment from landlords, require landlords to provide home addresses so tenants can send them mail and forcing inspections and upgrades to complexes in need, which the group names as West Village and Chestnut Hill, among others. Listed above all of them, though, is rent cancellation, which ITU equates to part of "true housing justice." 
Rent cancellation has been the reform initiative the ITU has been able to push the farthest so far. A piece of legislation that would allow the City of Ithaca to ask New York State's permission to cancel rent for tenants who have amassed three months of rent debt because of the pandemic and are at "severe risk" of homelessness as a result was passed by Common Council and is now awaiting Department of Health approval or response. It's been the subject of a few rallies, with attendees gathering outside of Mayor Svante Myrick's house, and then City Hall, to call for Common Council to approve the request and then for Myrick to sign it and send it. He did, and a task force has been assembled of landlords and tenants to hammer out a policy that would be implemented if the health department does approve the measure; the force was also responsible for the composition of the executive order that is pending approval.
Further generating the urgency behind the protests is the ever-looming threat of eviction, an event that can upturn one's life in normal times, and whose negative effects are amplified during an ongoing public health crisis. Sensing that a wave of homelessness was on the horizon as a result of the coronavirus pandemic and subsequent economic shutdown, Gov. Andrew Cuomo has instituted a series of eviction moratorium extensions (albeit each accompanied with ample confusion), starting in March, then another in June, then another last week, coincidentally towards the end of the rally outside of Ithaca City Court, as New York State Police officers were blocking off parts of East Clinton Street while protesters began to disperse. The current eviction moratorium buys tenants who have fallen behind on rent another few weeks of legal safety before it would have to be extended. Before it was enacted, local activists had publicly mused about the idea of blocking eviction proceedings by interfering with police or move-outs. 
Having to stay inside all the time, as the pandemic has forced, has impacted Genevieve Rand's understanding of her apartment and the significance of it to her life. Rand, one of the founders and current leaders of the Ithaca Tenants Union, was under threat of eviction late last month before the moratorium was officially extended, though her housing future beyond Sept. 4 remains murky—and her electricity has been off for a week. 
"During the pandemic, my relationship to my home has changed dramatically," Rand said. "It went from a place that I slept and prepared food sometimes to a place where I spend most of my day, every day, where I live and work and do everything. That increased sense of belonging in the space that I live, that's normally discouraged by the rental market."
She acknowledges that her argument is not one backed by the law, though she argues that the law has been structured to ensure that landlords, who are often better off financially than their renting tenants and better versed in rental law, have the upper hand when dealing with a tenant disagreement. 
"I'm not bothering you, I'm just trying to survive the pandemic," Rand said of her own situation. "It's not a legal argument, hell no. [...] The law definitely protects landlords over tenants."
When she became involved in the effort to found the ITU, along with Liel Sterling and Elijah Fox, Rand wasn't at risk of being evicted. With the advent of COVID-19, though, Rand found the issues that the ITU was trying to fight became much more personal, although the structure that the ITU offered her and others proved helpful through the stress. That includes more than just communal sentiment and comfort, too: the ITU collaborated with Cornell to create a hotline for renters in danger of eviction. Additionally, the union and Cornell will soon be rolling out a free legal representation program to help tenants in an even more comprehensive way, according to Sterling.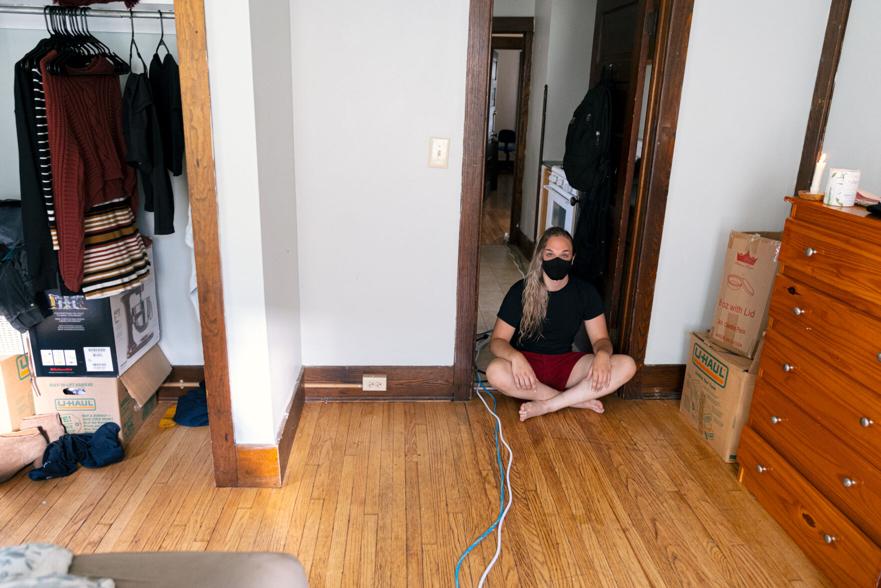 "It's empowered me. I have access to all sorts of information and all sorts of legal help that I didn't before," Rand said. "I've met so many other people who have validated my dignity and sense of respect for my space. I didn't realize that I have so much more power over the space that I live than I thought I did. [...] Also being introduced to people who will support me in a situation like this. I didn't expect the level of community support that there has been, and I've heard that from other people in the tenants union as well."
John Guttridge, a local landlord (mostly commercial) and property owner, has been involved with the ongoing task force discussions, and said it's important to remember that not all landlords are large scale operations; some might be renting out a room or a floor of their house, and thus face slimmer, tighter financial margins than others. 
"It's hard to look at this without seeing all these different sides, there's a lot of suffering to go around," he said. "I feel like the most important thing is [...] You got to make sure people have homes. That's pretty basic. Once somebody becomes homeless, how do you get a job if you've lost your job and your home and you can't take a shower? That's the important baseline for all of us to remember when considering this. It's important that landlords really should be working with their tenants to do whatever is possible to make sure that people don't end up on the streets."
Do landlords have an inherent responsibility to not be evicting tenants during a pandemic? Yes, Guttridge said (though not all landlords interviewed for this story agreed), if the tenant has been impacted. 
"If you have a tenant who has lost their job and is in bad financial straits but has otherwise been a good tenant, you absolutely should be working with that person and doing everything in your power to make sure that they don't become homeless," Guttridge said. "Landlords should be forgiving rent to some extent, within their means, and that's different for different people. [...] I don't think people should be evicting tenants right now because they can't pay because they're unemployed right now because of the pandemic, that seems like not the right thing to do."
Guttridge said the task force's discussions so far, which have slowed since Myrick sent the executive order to the state for review, have been "civil and sometimes tense" so far. There will be more work to do if they are approved to start building a framework for rent cancellation. 
Even as ITU's rent cancellation efforts advanced, grabbing national headlines along the way, there has been plenty of reason to doubt whether the measure would actually be able to tangibly help anyone in the end. City of Ithaca Alderperson Ducson Nguyen, who introduced the rent cancellation legislation before Common Council after tweaking it with Myrick and the ITU, said the delay from the Department of Health, which has been sitting with the legislation for around a month, was discouraging. Yet independent of if the state rejects the request, the conversation that's been propelled both by the legislation and the tenants union itself is an important and positive outcome. Guttridge, speaking before the eviction moratorium was extended, expressed doubt that the rent cancellation, even if approved, would save anyone from eviction "in the short term," though obviously that window is wider now. 
"As time goes on, without any response from the Department of Health, I'm getting less hopeful that we'll see anything," Nguyen said. "But another reason to pursue it, as aspirational as it was, was to raise the profile of the people who are suffering from the economic impact of COVID, and that did happen. We got some attention from around the country, and we hoped that would cause some action at the state or federal level. Doesn't mean there was a ton of impact, but that was definitely part of the calculus, to raise the voices of the people who need assistance."
Also worrisome, Nguyen said, is the possibility that the state simply stalls for so long that the eviction moratorium ends and the city is still waiting on an answer, sending the tenants that the effort is supposed to benefit into the same limbo they were trying to avoid—and the ITU's tenacity, and the resilience of tenants citywide, may simply not matter. At some point, the moratorium will end, the rent will be due, and it's still unknown whether the city will have any answers for the tenants who are counting on it to come through on a ground-breaking, progressive act. 
"At some point, the moratorium will likely end, and these tenants will owe a balloon payment of rent that, if they haven't been working, are unlikely to be able to pay," Nguyen said. "I think most people who are able to pay have been paying. Anyone who is severely financially distressed is not going to have any more ability to pay back rent then they do right now. I'm highly concerned about homelessness and exacerbating inequality for people who are already living on the margins."