A potential harmful algal bloom has been reported at Taughannock Falls State Park and swimming is closed while the Tompkins County Health Department awaits sample results. The Ithaca Yacht Club has also prohibited swimming for a reported bloom, club staff confirmed Thursday. 
Park staff noticed the bloom last night. The park is still open, but nobody is allowed in the water. The algal bloom has been observed and sampled, but it is not yet known if it is harmful. 
"There have been multiple reports of HAB's on the lake and we are waiting on a HAB sample result from the yacht club (visually observed), which is a beach that we regulate," said Environmental Health Sanitarian Chris Laverack. "The State has their own system for Taughannock of opening and closing their beach based on observation and follow up testing."
The
Community Science Institute's Cayuga Lake HAB reporting page
shows five blooms near Ithaca that are currently under testing: at Taughannock Fall State Park; near Stewart Park; off of Bolton Point Road; at McKinneys Point; and another near multiple waterfront properties off of Taughannock Boulevard. Three were reported on Thursday, July 9, and the other two were reported and sampled in the last two weeks. None have been confirmed harmful yet, though all are listed as "suspicious." Cyanobacteria has been found in all five of the local samples, meaning they have the potential to be harmful, but it has not yet been confirmed as officials are still waiting for results.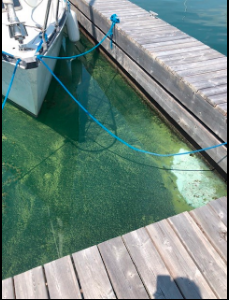 HABs have become a common occurrence in the area over the last few summers, with blooms reported at Myers Park, Taughannock Falls State Park and the Ithaca Yacht Club last summer.