Just a week after Cornell University bustled with activity over graduation weekend, another wave of students and parents arrived, ready to take over the campus.    
From May 31 to June 1, the university welcomed 5,000 students, coaches, educators, parents, and volunteers for the 35th annual Science Olympiad National Tournament, one of the most prestigious STEM (science, technology, engineering, and mathematics) competitions in the country. Separated into middle and high school divisions, 120 teams representing all 50 states and the District of Columbia competed in events pertaining to engineering, physics, epidemiology, astronomy, chemistry, meteorology, and coding. Leading the events were experts from premier universities, industries, government agencies, and Science Olympiad state chapters.
The tournament was hosted by Science Olympiad at Cornell, marking its first appearance in New York State and at an Ivy League School. Preparation for the weekend took "thousands and thousands of hours from many, many people," said Jamie Cucinotta, the co-director of the national tournament with Savvas Papadopoulos. She also gave credit to Cornell's director for residential and event services, Barbara Romano (who is also the club advisor for Science Olympiad at Cornell), and her team for their immense help with the event.
The tournament weekend began on the morning of Friday, May 31 with trial events, presentations, and lectures by Cornell professors. That night, an opening ceremony at Barton Hall featured a parade of states and a keynote address by Grant Imahara, an electrical engineer and roboticist known for his work on the TV shows "MythBusters" and the Netflix series "White Rabbit Project." 
The competition concluded with a closing ceremony at Barton Hall with medal and trophy presentations. Taking first place in their respective divisions were Kennedy Middle School from Cupertino, California and Troy High School from Fullerton, California.
Competition lasted on Saturday, June 1 from 7 a.m. to 3:30 p.m. While many events occurred behind closed doors, some were open to the public, mostly located in Robert Purcell Community Center, Barton Hall, and Bartels Hall.
On the court of Newman arena, in Bartels Hall, there was a palpable air of focus, excitement and suspense as students competed in an event called "Battery Buggy," which tasked participants with designing and building a battery-powered vehicle to travel a certain distance and stop as close as possible on a dot on the floor. The atmosphere was slightly similar to that of a sporting event, albeit much quieter: students, concentrated and hunched over their vehicles, displayed their hard work, either showing signs of satisfaction or disappointment. Judges hovered over them, providing instructions. The occasional cheer erupted from spectators, many of them family and team members.
Among the participants were Sam Higgins and Kassiah Gillespie, representing Raymond Park Middle School in Indianapolis, Indiana. Like the rest of the teams, they put in long hours of preparation and testing all year to get to the national stage.
"We've been working for this all year," said Gillespie.
"It's such a huge accomplishment to be able to come here and compete against some of the best in the nation," said Higgins.  
Despite the results of the tournament, the lessons they will take away from the experience are invaluable.
"The big thing I've learned is you look at yourself and you think, 'I'm never going to go to New York [for the national tournament],'" Higgins said. "But, if you put the time in, you put the work in, you can do anything."
For Cucinotta, watching the culmination of a whole year of hard work by students is emotional.
"It's exciting to watch the kids and what they've done," she said. "Having been a coach for 27 years […] you really feel for the kids. [...] We want to see the kids achieve. It's all about the kids."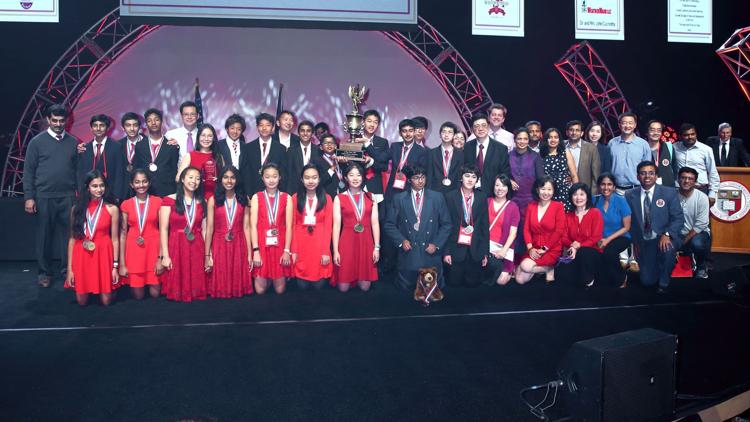 Additional individual and team awards were presented as well. Four students received $10,00 Founders' Scholarships for their achievements and service: Satvik Kumar from Carmel High School in Indiana, Merline Ferro from Waterville High School in Maine, David Avery Parr from Harriton High School in Pennsylvania, and Kylee Rinker from Fossil Ridge High School in Colorado. Teams from Harlan Rowe Middle School in Athens, Pennsylvania and Cathedral High School in Natchez, Mississippi won the 2019 Lockheed Martin Spirit Award (and $2,000 each), as they exhibited the sportsmanship, teamwork, team spirit, and respect characteristic of the the spirit of Science Olympiad competition. Finally, Ladue Middle School in St. Louis, Missouri and West Windsor Plainsboro High School South in West Windsor, New Jersey won the Corteva Agriscience Enterprise Awards for a breakout performance by a team at the national competition.