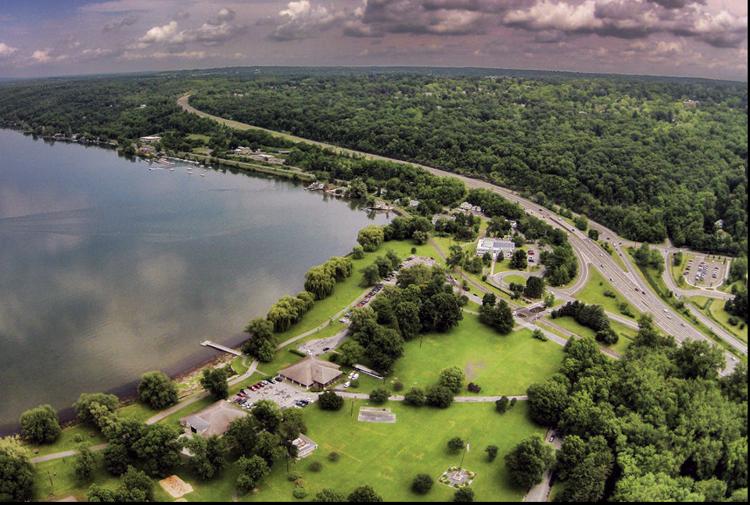 Since 2011 the City of Ithaca, Friends of Stewart Park, Wharton Studio Museum and several community groups have been dedicating time, energy and funds to complete the ongoing revitalization of Stewart Park in preparation for the park's centennial in 2021. Financial support from the public and private sectors is still needed to see these myriad projects come to fruition. 
Overlooking Cayuga Lake, Stewart Park has been owned and managed by the City of Ithaca since 1921. It was originally part of Military Lot No.88 (600 acres) granted to Andrew Moody after the Revolutionary War in 1790. Moody sold the lakefront land to James Renwick whose family left it undeveloped for over 90 years. At this point in time, the park's land use history gets confusing among various contemporary written sources. Fortunately, former county historian Carol Kammen wrote a guest column "Pieces of the Past: Stewart Park evolves to give joy" in the August 29, 2014 issue of Ithaca Journal. Her story is based on research of the 19th-century Ithaca Daily Journal preserved on microfilm at Tompkins County Public Library.  
According to Kammen, "In 1884, seven local men created the Ithaca City Street Railway Company and bought 40 acres of lakeshore property from the estate of James Renwick. The company proposed to develop an amusement park in order to profit from the use of the trolley fleet on weekends and after working hours. The park was designed by the Frederick Olmsted Company, with a small boat landing, zoological garden, a theater for vaudeville performances, and pavilion where bands gave concerts during the summer months. In 1894, the area was sold to the Renwick Park and Traffic Association, a group of local men. Renwick Park opened in June 1894; the trolley fare was five cents....The new company erected a pavilion and grassy plots for picnics....That first summer....the Cascadilla Boat House was under construction. In addition, electric lights were installed and a dancing pavilion was completed..." 
Other written sources say the dance pavilion was renovated as a vaudeville theatre shortly after the park opened as Renwick Park in 1894. There was also a carousel. In 1915 an adjacent parcel of land was set aside as a bird sanctuary maintained by Cayuga Bird Club. At this time, trolley service was discontinued and Renwick Park officially closed. The parkland was then leased to Wharton, Inc. a silent-film studio owned by brothers Ted and Leopold Wharton. Twenty-eight films were made during their tenure in Ithaca (1915-1919) with a few starring famous movie actors such as Irene Castle and Lionel Barrymore. Ithaca Mayor Stewart subsequently donated $150,000 toward the purchase of the property for what became today's Stewart Park in 1921.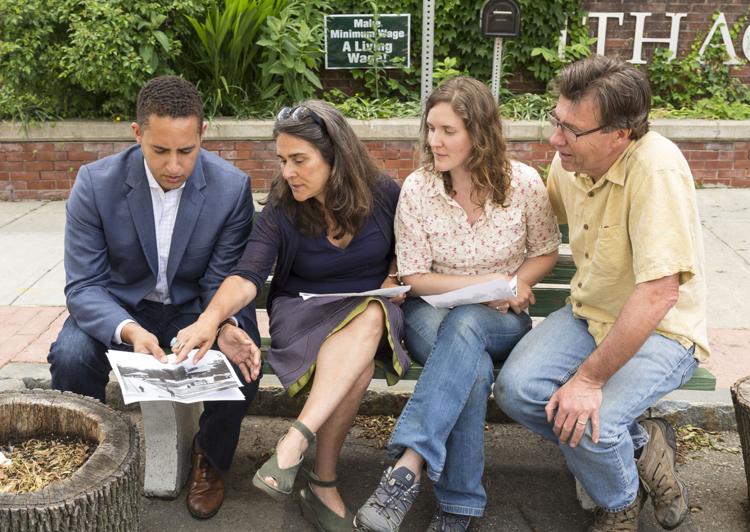 Through the decades, like so many other municipal parks throughout the country, the condition of Stewart Park's buildings and grounds declined due to budget cuts for maintenance. Today Stewart Park has four historic structures: Cascadilla Boathouse, the tea pavilion (rebuilt), the dance pavilion (Wharton Studio/today's DPW building), and the picnic pavilion. The play structures are old, worn-out and need to replaced.
Scott Wiggins, founding chair of Friends of Stewart Park (FSP) said, "Rick Manning was the inspiration for a 2008 study ["Cayuga Waterfront Trail Initiative"] of the entire waterfront area that included looking at other communities around the country with strong public/private partnerships such as New York City's Central Park and the Central Park Conservancy. It was determined that Stewart Park needed to be the primary focus among the waterfront properties." 
The 2009 Stewart Park Rehabilitation Action Plan was subsequently prepared to serve as a project guide for grant writing and fundraising. FSP was formally established in 2011 with a mission "to enhance and revitalize historic Stewart Park, in partnership with the City of Ithaca, for the enjoyment of Ithaca residents and visitors to our community". Wiggins is still actively involved with FSP after having stepped down as chair this past February. Diana Riesman succeeded Wiggins as chair of the not-for-profit organization. Landscape architect Rick Manning, who spearheaded the Cayuga Waterfront Initiative, is FSP's executive director. Manning has been intimately involved with all aspects of the park's ongoing revitalization.
From East Shore Drive, one can access Stewart Park by car on the main entrance road or on foot or bicycle using the Cayuga Waterfront Trail (2010) entrance next to Tompkins County Visitors Bureau. Park visitors are greeted by two beautiful gardens created by Ithaca Garden Club who raised funds, designed and installed plantings with FSP, city staff and volunteers. The first one is the purple and green-hued Park Main Entry Planting (2014). Then farther along the inland park road one comes upon the colorful Mayor Stewart Memorial Flagpole Garden (2012) which is a restoration of the original flagpole garden built in Stewart's honor with funds provided by private citizens in 1927. And of course children love the newly restored carousel that is now protected by a new steel decorative fence. There are plans to construct a wheelchair accessible ramp onto the carousel and adapt a chariot seat to accommodate a wheelchair rider as part of the proposed playground project.
A FSP memorandum to Ithaca Mayor Myrick, dated May 23, 2016, provides an update on the park's revitalization. Detailed descriptions of the following plans and projects with costs are available at www.friendsofstewartpark.org.
In the 'Plans & Studies' section of "Completed Plans & Projects" the Campaign Feasibility Study for Stewart Park Revitalization and Stewart Park Building Study were achieved at a combined cost of $65,000. "Completed Projects—City Initiated" include: Cayuga Waterfront Trail, Tea Pavilion (rebuilt), Picnic Pavilion Bathroom Reconstruction, and Cascadilla Boathouse Roof Replacement carried out at a total cost of $870,000. "Completed Projects—FSP Initiated" are:  Stewart Park Carousel Restoration, Mayor Stewart Memorial Flagpole Garden, Stewart Park Entry Planting, Renwick Wildwood Interpretive Panel, and Building Interpretive Signs at a total cost of $82,000.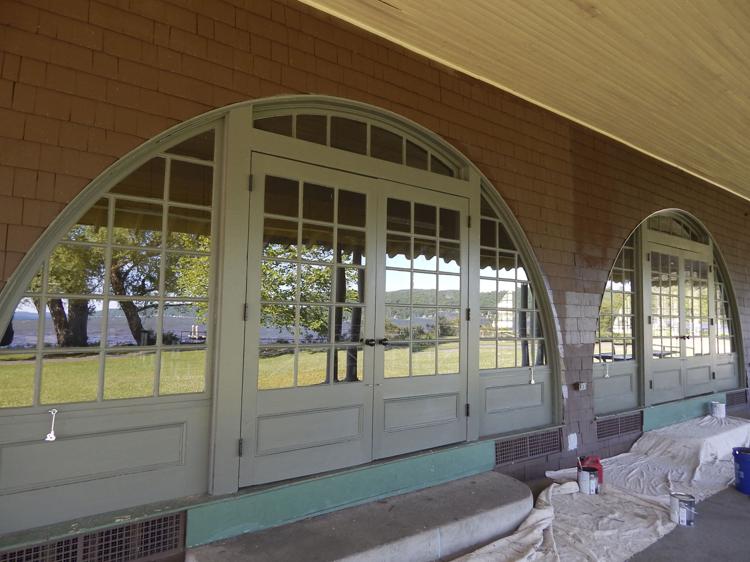 In the 'Plans & Studies'section of "Park Revitalization Plans & Projects Now Underway," the Stewart Park Revitalization Plan costs $37,000 of secured funding. The 'Building Projects' section requires a combined total of $485,000 yet to be raised for: Roof Replacement for Park Pavilions, Cascadilla Boathouse Restoration-Phase 1, and Picnic (Large) Pavilion Restoration. "Landscape/Site Projects Underway" include: New & Inclusive Playground & Spray-Play Area and Fuertes Overlook with respective totals of $1.3 million and $5,000 yet to be raised, and the fully-funded Cayuga Lake Blueway Trail that will develop better landing sites and storage facilities for paddle-crafts (canoes and kayaks). 
"Key Landscape & Building Revitalization Projects for 2021 Completion" are short-term projects now being planned for completion in time for the centennial celebration: Cayuga Waterfront Trail Loop Completion, Bird-friendly Park Initiative & Goose Population Management Program, Wharton Pavilion, Pavilion Performance Plaza and Tennis Court Conversion to Multi-use Year-round Play Surface at a combined anticipated cost of $1.7 million. As part of the goose management program Ithaca's Common Council recently passed a "no feeding" ordinance in Stewart Park and Newman Golf Course at its May meeting. (See "Three-Pronged Offensive on Geese" article by Josh Brokaw at ithaca.com)
When asked about the city's revitalization of Stewart Park, Mayor Myrick replied, "It is necessary because the park is underutilized and is not meeting its greatest potential. Parks can contribute to the physical, emotional and mental well being of its community. Investing in them is as important as filling potholes and patrolling the streets. They are elemental to having a healthy city. The parks are part of Plan Ithaca [the city's comprehensive plan adopted in 2015]. The first three goals in the Natural Resources section of the plan emphasize the importance of the city's green spaces: 
1) The city will provide and adequately fund well-maintained and safe parks, trails, and natural areas.
2) Community partnerships will support the maintenance, enhancement, and promotion of parks, trails, and natural areas.
3) The city will maintain and enhance its existing recreational facilities.
The second goal ties in with the mayor's thoughts about community partnerships, "The public private partnership is important because government is pressed on all sides to be logical. Private organizations provide resources and bring a creative perspective to public projects." 
City forester Jeanne Grace manages the City of Ithaca's street trees, park trees and the maintenance of all city-owned parks and natural areas. She coordinates staffing for all the revitalization projects: what work can the city do and what needs contracting out. She said, "The Tea Pavilion was completely rebuilt by city staff [after the original was condemned and demolished in 2011]. It only needs to be painted on the inside." The 30-acre Fuertes Bird Sanctuary on the south side of Stewart Park is bordered along the north by Pleasant Grove Brook and to the west by Fall Creek. Grace added, "Stewart Park supervisor Rob Lilly with one seasonal employee cleared out nettles and poison ivy to reopen the two trails, widening them enough to allow golf cart access the area to routinely pickup garbage." FSP board member Miguel Barrios with more 55 volunteers removed privet and planted more 500 native trees and shrubs for bird habitat in about 5 acres of the woodland. According to FSP's website, "Project partners included the Ithaca City Forester, Cornell Cooperative Extension, New Leaf Environmental, LBS Ecological Design, Tompkins County Soil and Water Conservation District, Audubon, and The Plantsmen Native Plant Nursery." An interpretive panel, installed (2014) on the boardwalk overlooking the site, explains the role played by the Cayuga Bird Club in saving the Wildwood as a natural preserve and describes the floodplain forest vegetation and birds that inhabit the sanctuary.
The proposed Inclusive Playground and Spray/play Area will comprise play areas for pre-school and school age children, an elder play and fitness area, and a water-efficient accessible spray/play area. These play zones will be unified with natural play elements, traditional playground apparatus and accessible playground surfacing. A centrally located water tower feature designed after the park's historic water tower will be accessed by a gently-mounded walkway that will take all users from the playground entrance to the highest point of the playground with 360-degree views of the park and lake.
Ithaca native JoAnn Cornish, Director of Planning & Economic Development fully endorses the public private partnership between the city and citizen groups, "The proposed new inclusive playground is one aspect that I love. It's also important that the park remain a free and accessible park. Stewart Park is the only exposure some kids get to Cayuga Lake. And it's important for those who enjoy it during lunchtime. Working with Friends of Stewart Park has given the park new life." 
FSP's chair Diana Riesman is also Director/Cofounder of Wharton Studio Museum (WSM). She has been in discussions with the city for many years about the potential reuse of the original Wharton Studio building as a silent-film museum. The building has lived many lives: originally as a dance pavilion, then a vaudeville theatre, then a silent-film studio, it currently houses the DPW's park maintenance equipment. Riesman said, "There's been a lot of good back and forth discussion, and now with Friends of Stewart Park involved, the original idea for the museum has evolved into a year-round park interpretive center with exhibits on park history, ecology and birding; a silent film museum, community event rental space and a lakefront cafe." This spring WSM received a grant from the Tompkins County Tourism Capital Grant program to conduct a planning and design study as a first step toward the Wharton Studio Museum. An important piece will be to connect the building to its history while developing related exhibits both outside and inside the 1,000 square foot lake-facing interior space.  
Riesman added, "As the city and local community becomes more engaged with the park's revitalization, we'd like to convey the spirit of this project. We as a group are committed and excited to be making a positive contribution to enhancing the quality of people's lives."
Friends of Stewart Park and the City of Ithaca invite the local community to help celebrate the Stewart Park Carousel and its new fence on Saturday, June 18 from 2 to 4 p.m. Join them for free rides & treats. 
For detailed project information, to volunteer or to make a donation to any of these fundraising initiatives go to www.friendsofstewartpark.org and whartonstudiomuseum.org. •