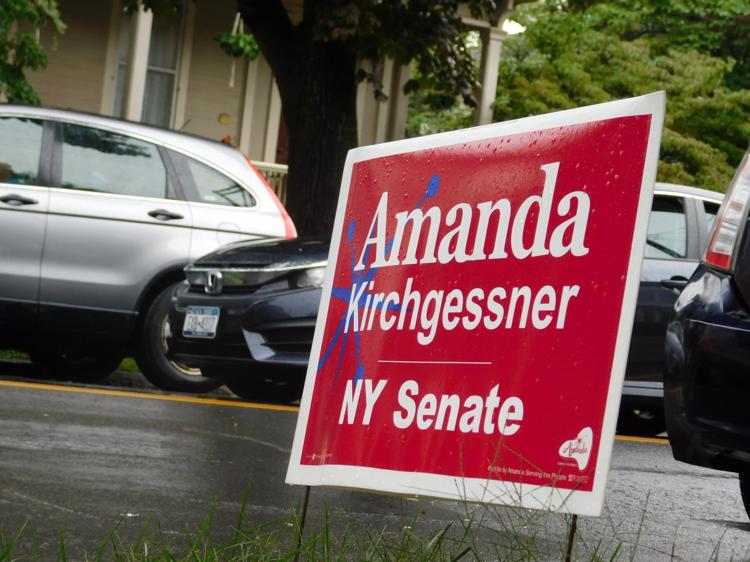 Content Warning: The following story contains passages describing alleged incidents of domestic violence.
Update, October 3: This post has been updated with a press release issued by the Kirchgessner campaign disputing this article. The lengthy release, which is separate from the statement provided for the original version of this story published on October 2, can be seen in full at the bottom of the page.
Original story: Amanda Kirchgessner, a progressive Democratic candidate contending for a seat in the New York State Senate representing the 58th District, has been accused of several instances of domestic violence and abuse during their marriage.
Kirchgessner's ex-wife, Brandi Morgan, has told the Ithaca Times that Kirchgessner participated in a pattern of abusive behavior during the latter years of their marriage, which officially ended in 2016. The allegations include grabbing, pushing, throwing objects, verbal abuse, intimidation and possible threats against Morgan and their pets. Despite these incidents now becoming public, Kirchgessner has issued a statement defending herself and stating that she will remain in the race. Her statement is included in its entirety below.
While acknowledging there will inevitably be questions about the timing of her decision to tell her story and any political motivations, Morgan, herself a liberal like Kirchgessner and self-described "pretty far to the left," decided coming forward was necessary once she saw the primary results and knew Kirchgessner was advancing to the general election in November. Morgan has chosen to come forward and gave the Ithaca Times permission to use her name despite her status as a survivor of domestic violence. She presented evidence of the abuse through tape recordings, pictures, a police report and blog posts from the time period. People familiar with the couple at the time have also independently corroborated to the Ithaca Times what Morgan told them throughout the later course of the marriage about Kirchgessner's conduct.
Kirchgessner and Morgan met and began dating in 2008, and were married in November of that year. By Morgan's recollection, the marriage proceeded fairly normally for the first several years though, eventually, Kirchgessner's alcohol usage began to emerge as an issue that culminated in a DWI arrest in 2011, confirmed by a Tompkins County Sheriff's Office police report. Morgan said the relationship began to change after that incident, saying she felt more like Kirchgessner's mom than a spouse.
The relationship further changed significantly in 2014, according to Morgan. Seemingly without explanation, Kirchgessner's behavior shifted and Morgan said the marriage was plagued by Kirchgessner's erratic behavior. This progressed from arguments and alcohol abuse, Morgan said, to physical outbursts that spanned from throwing things around the house to violence towards Morgan.
Morgan can't describe what the circumstances were, normally, around Kirchgessner's angry episodes. She said any incident, from trivial to significant, could trigger something.
The first time Morgan said she recalled any direct violence was during an argument in late 2014, during which Morgan was on the stairs. Kirchgessner, standing at the top of the stairs, dislodged part of a dog-gate from its bolts and threw it at Morgan in anger. Morgan wasn't seriously injured during the incident, and didn't report it to the police. At the time, she said she did tell friends about that first appearance of physical abuse; the incident was corroborated both by a long-time friend of Morgan's with whom she communicated daily, Emma Oster, and another person who wished to remain anonymous.
Another incident came shortly after that, though Morgan doesn't remember what sparked this one either. The couple was in their home's bedroom, when Kirchgessner cornered Morgan. As Morgan tells it, in a fit of anger Kirchgessner pushed her down and began trying to remove Morgan's pants, meanwhile telling her she "wanted to choke [Morgan] to death." When Morgan reacted fearfully, Kirchgessner stopped.
"I'm scared, we're in the house and if I scream nobody's going to hear me outside," Morgan said of the incident. "I was terrified."  
She said Kirchgessner was "angry," but that she later tried to explain that she thought it would be "sexy," until she saw how scared Morgan was, according to Morgan. After this incident in particular, Morgan said, she wanted to leave the house and called someone to attempt to do so. That person has corroborated the story of events to the Ithaca Times.
"I think Amanda knew I was going to leave, so she threatened to kill my dogs, said she was going to burn the house down with all the animals in it," Morgan, who owned five cats and three dogs at the time, said. "She probably wouldn't have done anything, but I didn't trust her as far as a I could throw her."
Oster confirmed on the record that Morgan had told her about the threats when they occurred. These threats emerged as the primary reason Morgan stayed with Kirchgessner instead of ending the relationship and leaving. It also prevented her from going to the police, along with truly wanting to make the marriage work and not wanting to put Kirchgessner in legal trouble. When Morgan would confront her about the abusive occurrences, Morgan said that Kirchgessner would shift the blame, responding that if Morgan's actions hadn't caused an angry response, Kirchgessner wouldn't have to react physically.
As time went on, the incidents continued. Morgan recounts another event in which she took Kirchgessner's phone and, in an effort to get it back, Kirchgessner "grabbed [Morgan] by the neck and pulled me down." Morgan, who is diagnosed with Complex Regional Pain Syndrome, said a neurostimulator implanted in her spine stopped working directly after this fall, a result that she blames on Kirchgessner's actions. Morgan's insurance has covered the cost of procedures to have the broken device -- which uses electricity to override nerve signals to suppress pain in her foot -- removed and replaced (the latter of which she had last week), with each procedure costing tens of thousands of dollars.
These events have been corroborated by two people Morgan spoke to at the time of the incident, who also spoke to the Ithaca Times. They are also documented afterwards, via a tape recording Morgan secretly made (which is legal in New York State) during a discussion with Kirchgessner a few days after the last event.
The audio recording, just over two minutes in length, shows a conversation between the two in which Morgan accuses Kirchgessner of much of what's been described here. A transcript of about 70 seconds of the tape follows:
Brandi Morgan: My head still hurts from where you got the back of it. That's f*cked up. How do you think physical violence is okay?

Amanda Kirchgessner: How do you think emotional and mental torture is okay?

BM: It's not, and I'm not doing that.

AK: You say you don't want to do this but then talk to me through a door.

BM: You should never react violently towards me.

AK: Well [inaudible] my behavior. I can't change yours.

BM: No, but you need to change yours, because physical violence--

AK [interrupting]: I told you, I can change my behavior, but I can't change yours.

BM: Well then why aren't you changing it?

AK: I'm working on it. But your behavior hasn't exactly changed.

BM: You should never, ever react towards someone physically. You threw me to the ground, you pulled my pants off, you told me you wanted to choke me to death, you took my phone away. And now you grab the back of my head and pulled my hair out to get your phone.

AK: Well, you still wanted to be with me.

BM: I don't want to be with you.

AK: Well you still did at that point.
The final physical incident, which came in June 27, 2015, saw an argument over the couple's ending marriage boil over into an altercation. According to a New York State Domestic Incident Report, filed at the time by a New York State Police Trooper, Kirchgessner became angry at Morgan for having Morgan's new girlfriend (who was not there at the time) over to their house while she was house-sitting for Kirchgessner during a recent vacation.
According to the police report, Kirchgessner demanded Morgan leave the house and began yelling at her; Morgan then screamed out of the house's window for help. When she did, Kirchgessner "grabbed [Morgan], and pushed her away from the window."
The New York State Police confirmed the validity of the report.
It notes verbal abuse, as well as pushing and grabbing actions committed by Kirchgessner, but also states the offense only would have warranted a second-degree harassment charge since there were no injuries reported (Morgan said it wasn't mentioned at the time, but she did provide a time-stamped picture of bruising from the incident to the Ithaca Times). With such a low level charge, which didn't even reach the level of misdemeanor, Morgan decided not to file charges and an arrest was subsequently not made.
As further evidence of her circumstances during the time period, Morgan provided the Ithaca Times with time-stamped blog posts from the period around the latter stages of their divorce. While no direct mention of domestic violence is made in these posts, they do address "abusive and controlling" behavior by Morgan's ex-wife. Morgan now lives outside of Ithaca, with her new fiancee.
When presented with the accusations against her, Kirchgessner offered the following statement, confirming she would remain in the race for New York State Senate.
"In 2015, I left an abusive relationship with my ex-wife. It was my first serious relationship, I was deeply in love, and I did not recognize the signs of abuse, depression and dysfunction," Kirchgessner said. "My relationship became a psychological nightmare, and leaving that relationship was the most difficult thing I've done in my life, even harder than the death of my father when I was 13, even harder than running for office. Having to relive this experience now is extremely traumatic. But I plan to keep running, and I hope that the fact that this is now public, will help others feel less alone."
Since declaring her candidacy, Kirchgessner has become a favorite of the local progressive community, easily defeating fellow liberal Michael Lausell in the Democratic primary for New York State Senate District 58 to advance to November's general election against incumbent Republican Tom O'Mara. She's received numerous endorsements from local Ithaca officials, as well as from the Tompkins County Democratic Committee and Tompkins County Progressives.
If you or someone you know is a victim of domestic violence, know that there are resources available to discreetly and safely help. The Advocacy Center in Ithaca's hotline is (607) 277-5000, and the National Domestic Violence hotline is 1-800-799-7233.
Update: Here is Kirchgessner's full statement, issued the day after the Ithaca Times article was published. 
On Tuesday, October 2nd, the Ithaca TIMES published a story that contained serious allegations concerning my character and past actions.
One is true. In 2011, I was arrested and later pled guilty to a DWI charge. Drinking and driving was a terrible mistake for which I make no excuses. The conviction is a matter of public record, and I have never attempted to hide it or the accident that my excessive drinking caused.  I received counseling about my drinking habits which I took to heart and which changed my life. I know the consequences of reckless and irresponsible drinking. In Albany, I will be a fierce champion of laws that curtail the lethal mix of driving while drunk or drugged.
The second allegation is false. While I was in an abusive marriage, I was not an abuser. I do not understand what compelled my former spouse to contact a reporter with such vicious and false charges.  Our breakup was difficult and hurtful. I called 911 multiple times, and we both called 911 at the same time on one occasion. Police did visit our home. As the TIMES story indicates, no charges were ever made. I bear no ill will to Brandi Morgan, my former wife. I hope that she eventually finds some peace and moves on from a failed relationship that appears to still consume her.
I understand that Matt Butler, the reporter who wrote the story, felt compelled to rush it out to the public. I am, however, disappointed that he never contacted any of the eight individuals I suggested he contact, eight individuals among many in this community who can attest to the true history of my marriage and to my character. I will ask the TIMES to carry a long OPED by me describing in more detail the painful nature of my marriage and the emotional abuse I suffered. My finance, Stephanie, will also be issuing a statement within a day or so.
Past mistakes and events do not define me. I was able to move on from my DWI conviction and a failed abusive relationship. In the years since my conviction and the end of my marriage, I have channeled my passions into political activism and a demand for social change. Too many people in our society remained trapped in alcohol or drug abuse and remain in abusive relationships. My experiences, while personally painful, have made me who I am – someone who will speak for those who cannot.
I will be happy to speak with any other reporters who wish to contact me.