Correction: In the print version of this article, Dr. Nia Nunn was identified as Southside's Executive Director. That position is currently vacant. She is the Board President of Southside Community Center, as well as a tenured associate professor at Ithaca College. 
In the minds of many, Southside Community Center is one of the most important entities in Ithaca. Though small, it serves as the premier supporter of black culture in Ithaca, highlighted by its celebrations of Juneteenth and its general fostering of the city's African-American community through education, promotion and celebration.
But within the walls of the legendary building on Plain Street, workers have been lodging complaints for years about their treatment at the hands of Southside's leadership and management. Among those complaints are allegations of wage theft, discrimination and retaliation that have contributed to frequent turnover in staff and facilitated a culture of mistrust among workers, according to several sources who spoke to the Ithaca Times both on and off the record.
Rob Brown, of the Tompkins County Workers' Center (TCWC), emerged as the primary handler of Southside cases, of which there were several—most notably a cluster over a three month period in 2016. Since that time, Brown estimates that 16 people in total have come to the Workers' Center with separate but very similar complaints about their treatment at Southside, which employs only around 10 employees at a given time (one indication of the center's high turnover) and has a yearly budget of around $300,000. Alarm bells, he said, always go off when there are that many people from a small organization who are upset about working conditions, especially when they begin to report to the workers' center during the same time frame.
"It breaks my heart when we encounter that much misery coming out of people who work for a mission-driven organization that chiefly exists to bring light to the community," Brown said. "A labor violation is a labor violation, anywhere it happens. It feels way different when it's coming out of a mission entity."
In a statement, Southside Community Center Board of Directors President Nia Nunn offered a blanket denial of the allegations in this article. Brown did note that complaints from Southside workers have slowed down since that initial cluster in 2016, though they do still come in with some regularity. Whether that gradual dissipation is a result of a new era at Southside, as has been touted previously, or some other factor isn't clear. The center's beneficial community work has continued, even with tumultuous leadership, but is clouded somewhat by charges from workers there over the years.
Some, but not all, of those workers have pursued action against the community center via a variety of different methods: small claims court, the New York State Department of Labor and the New York State Department of Human Rights among them. Some have been successful, to a certain extent, while others have either chosen to let their issues lie unresolved or haven't been able to suitably prove their cases.
Wytheria Harriett served in several positions with Southside: volunteer, deputy director, executive director and president of the board of directors for the organization. During her time as deputy director, the executive director was Leon Lawrence, a beloved community figure who became ill and tragically passed away briefly into his tenure at the helm. During his illness, Harriett began to oversee the organization's finances, which led her to question where some of the funds were going and to what. That led to tension between Harriett and Nunn, she said, which increasingly worsened. Eventually, she was asked to resign from the executive director position by Nunn in January 2017 after six months at the position, and was promptly replaced by Nydia Boyd, who served until earlier this year. At the time, Harriett sent a lengthy email to the center's board of directors in which she states her resignation was forced, and arguing she should have had an opportunity to make her case before the board. In the end, Harriett said she felt that despite her leadership position at the center, she wasn't in control and was the subject of undermining and disrespect.
"I couldn't supervise my staff," Harriett said. "It just became hostile."
That was followed by criminal charges filed in the City of Ithaca against Harriett by Southside for theft and misappropriation of community center funds. Harriett said she felt the charges, which she argued were over issues that had already been discussed and settled amicably between her, Nunn and other leadership at the community center (namely a company-purchased cell phone Harriett says was agreed upon and other expenses), were a retaliation and a "scare tactic" designed to silence her from stating her argument to board members about her dismissal. Eventually, Harriett was acquitted of all charges lodged against her.
Jennifer Forbes, a former executive assistant at the community center, started at Southside in 2014. Shortly after Nunn returned as president of the board of directors in mid-2016, Forbes was asked to step down after questioning the center's finances as she implemented a QuickBooks accounting system. Nunn's stated reason was previous allegations regarding Forbes' contact with a minor, Forbes said, but that had been investigated internally and determined to be unfounded, according to Forbes and Harriett, who was still in the organization's leadership at the time.
Forbes did end up resigning after deeming the situation untenable, but after an extended back and forth with Southside over thousands of dollars in delayed pay, Forbes did pursue further action for unpaid wages and won her case against Southside through the Department of Labor. She was subsequently awarded $5,000 through small claims court, the maximum amount allowed in that court system. According to Forbes, Southside didn't show up to fight that case, but then asked for the case to be reopened. At that time, they alleged countercharges against Forbes that included "destruction of agency records, false statement of grant entitlement, history of financial misappropriation of agency funds, etc.," but after several adjournments and postponements, the case was again decided in her favor, and again without Southside's attendance. Forbes provided dozens of pages of emails and budget reports to thwart these counterclaims to the Ithaca Times, but since Southside never officially stated their case, the validity is hard to determine. She, like Harriett, felt the charges were meant to scare her into submission. 
Eddie Moran, the former computer lab coordinator and computer literacy teacher at Southside, filed a separate case with the Department of Labor for unpaid wages through accrued vacation and overtime after he was terminated for an alleged misappropriation of funds incident. The Department of Labor ruled in his favor for $3,000. Harriett, who fired Moran over the alleged theft, said she pushed to bring him back after his explanation of the circumstances (a pre-entered credit card number on a GrubHub order), but was overruled. While those cases were decided in 2017, it took until January of this year for Forbes to receive her payment; the lapsed time forced her to give up her car because she couldn't keep up with the monthly payments, she said.
Both Forbes and Harriett said the workplace dynamic shifted when they began to raise questions about what they felt was improper spending practices regarding grant funding and overall center finances. One of these grant-related allegations is shown in Forbes' court case, which listed $1,265 in unpaid wages from her work with the Sista4Sista women's peer advocacy program that was funded via grant. The Ithaca Times could not independently verify these allegations, but other sources confirmed, at least, that Forbes and Harriett both left (or in Harriett's case, was requested to resign) shortly after they began raising questions about grant funding.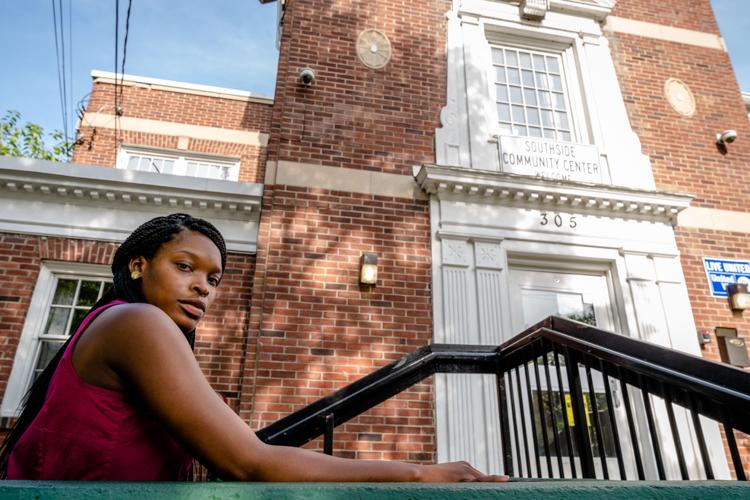 Harriet said she was told she has three years after her January 2017 departure to file a lawsuit against Southside, and is still deciding if she wants to proceed with litigation. She said she was owed 103 hours of overtime wages, but missed the filing deadline for that particular complaint and will be unable to collect those funds. At $30 per hour, that money also would have reached just over $3,000.
Southside Community Center's board president, Nia Nunn, issued a statement to the Ithaca Times denying the allegations listed here, and noting that none of the cases mentioned have been decided on merit, meaning Southside didn't officially challenge them (despite the request to reopen Forbes' case). She said they value all of their workforce, but noted it is difficult to discuss specific employee cases.
"Southside Community Center is confident that any investigation will prove current allegations to the Department of Labor regarding former employees from years ago to be unfounded as well," Nunn wrote in an email statement, deferring comment on the criminal proceedings against Harriett to police and prosecutors. "A dedicated volunteer Board, members of the staff, and committed volunteers continue to remain engaged in the agency's mission and purpose. These allegations will not interfere with the vibrant and impactful work that Southside Community Center has been offering for the past several years. We are incredibly grateful for everyone in the community that is truly invested in the Southside Community Center's mission and purpose."
Nunn went on to say that Southside is in the process of hiring a new executive director, and had just received funding for a part-time human resources employee to "help with managing operations in an effort to support the agency with strengthening its policies and procedures."
Forbes and Moran were both terminated during sweeping changes at the organization, which also included the ousting of several other Southside employees and eventually Harriett, a group that garnered the nickname "the Southside 8" at the workers' center. Along with Forbes' car, Moran and Harriett both reported difficulty finding jobs after their experience at Southside. Harriett said the charges, in particular, affected her daily life and standing in the community.
"I had great community ties there in Ithaca, I had done great work in the community before that, but the way they slandered my name was really distressing," said Harriett, who now lives in Georgia. "That whole first year [afterward], I really just withdrew from everything."
Forbes echoed that sentiment. Several other workers at Southside refused to comment for this story despite their involvement, either formal or informal, with the workers' center. But they did confirm the accounts, in parts, of Forbes, Moran and Harriett, and generally confirmed the volatile working climate there over the last few years. Their reasons for refusing to comment or go on the record ranged from fear of reprisal from the community, a prevailing support for Southside's overall mission, or a desire to avoid reopening old wounds from their time there. A few, including Harriett, said at points, working at Southside was some of the best time of their lives, but the end of their tenures left an overwhelmingly sour taste.
Nunn is once again the board president after stepping away several years ago to become a full-time professor at Ithaca College. While she was gone, the top positions at the community center became a revolving door. Leadership turnover at Southside, among other issues, has been a long-running concern, even leading to an effort in 2016 to bring Southside under the umbrella of the City of Ithaca by combining it with the Greater Ithaca Activities Center. At the time, that move was publicly presented as a way for the City of Ithaca to provide more resources to Southside. But a City of Ithaca official confirmed to the Ithaca Times that the effort was motivated, in part, by a fear that the community center would fall apart entirely without the city's intervention. That effort was eventually rebuffed, and was opposed by Nunn, who did not answer when asked why she resisted the move. Annually, the City of Ithaca contributes between $140,000-$150,000 per year to Southside.
TCWC has had discussions with Southside leadership to address worker concerns, but Brown couldn't speak to the effectiveness of those talks. Nunn didn't respond to a question about changes implemented.
"Understanding that everyone's situation ends up being unique even in comparable circumstances, the overall themes behind these folks' allegations or workplace challenges have been fairly consistent," Brown said. "Substantiating them, other than that employees routinely feel unhappy and unfairly treated which seems well established, still rests in the outcomes of any formal actions the workers may have chosen."
Whatever changes have been made, either by Nunn or otherwise, it's unclear if they have had any impact. Charles Rhody, a prominent community figure who runs Southside's food pantry, filed a complaint with the Division of Human Rights over his workplace situation in October 2018. He claimed gender discrimination, retaliation for an "honest opinion, in favor of an [unspecified] female employee who was ultimately terminated by Respondent," and a hostile work environment over the previous year or so, but the division found insufficient evidence that the Human Rights Law was violated in any of his claims. 
In a special proceedings filing in June, Rhody asked the Tompkins County Courts to examine his case further, restating his claims but softening the gender discrimination allegations and arguing that the DHR's investigation and hearing process had been improper. Rhody declined to comment for this article, so it's difficult to know which unspecified female employee the suit refers to, although Harriett stated that he was prepared to testify on her behalf during her criminal trial.
During several interviews for this story, one thing became very clear: those complaining about their treatment at Southside all support its stated mission of supporting and championing the black community, which is especially necessary in a place where the black community represents under 10 percent of the total population. But in deciding to talk openly about their experiences for the first time, they had reached a breaking point.
"I really didn't want it to come to this, I didn't want it to be public," Forbes said, frustration clear in her voice. "I'm just a little girl from South Carolina and I understand what Southside is supposed to be. They're supposed to be at the helm of the community, uplifting everyone."