Joshua David Pace just needs an ID. Then he thinks things will be different. 
Pace, now 47 years old, was adopted as a small child and has lived in abject poverty for the majority of his life. Complications related to his adoption and his birth certificate have made it difficult for him to secure an identification card, which would help him navigate the social services system more effectively and get a more stable job. Years of drug addiction and constant displacement didn't help either, but Pace has been sober since he moved to Ithaca two years ago, with the exception of two brief relapses. Now, feeling cleaner and clearer than he has in years, Pace has two main goals, one that is unique to himself and one that plenty of Ithacans can relate to: first he wants to get an ID, then he wants to get to a better housing situation. 
His current housing is at 106 North Plain Street, a three-floor apartment building with several units that also holds a tattoo parlor on its West State Street facing side. The location is a hub for low-income tenants, many of whom arrive there after applying for subsidized housing from the Department of Social Services.
Pace claims that he has gotten sick and caught bedbugs from living in the building, a problem which was confirmed by a building department report from September 2019. The complaint, filed by another resident of the building, lists a bedbug and cockroach infestation, lack of a garbage receptacle forcing tenants to keep garbage in their rooms, and concerns about the building's fire exit. Interviews with several tenants of the building, along with Pace, paint a fairly bleak picture of life in the building, though the conditions are not totally uncommon among older, low-income housing buildings in the area. 
Recently, the building has undergone one of its deepest cleanings the tenants can remember, and they confirm that inside it does look better than it has in years. But that still comes with stains down the walls, holes in the hallways, trash and discarded furniture piled on the landings, dangerous outlets, food scraps gathering flies in the kitchen, more trash in the bathroom and bathtubs and plenty of other issues that, despite the words of the tenants, can't quite be proven. But the residents interviewed all agree about who they think is responsible for the building's issues, or at least how the issues persist: the property's owner, Norfe Pirro. 
Pirro, who owns Heritage Homestead Properties, is perhaps the most notorious face of problematic housing in Ithaca, deservedly or not. Pirro owns three multi-unit rental properties in downtown Ithaca, two at the corner of State and Plain Streets and one on West Seneca Street. This is, of course, not the first time Pirro specifically has come under scrutiny for his housing, and in an interview it's clear that this is an accusation he's heard countless times over the years, both from inside his properties and otherwise. The Village of Groton attempted to enact a nuisance law in 2016 that would have assigned a points system to violations by tenants, and once a certain amount were reached the property owner renting to the tenants would face punishment. Pirro challenged the law in court and won, and is now countersuing the municipality. 
Like any other building, who's ultimately to blame for its living conditions depends on who you ask. Tenants often blame their landlords, like Pirro, for neglecting the necessary upkeep of the properties. Pirro, on the other hand, said that the cause of the conditions are a result of the business that he is in, and that the blame belongs on tenants who don't properly care for their living spaces. This creates a dirty, dangerous living situation in the building that Pirro said he is constantly having to clean up; for instance, Pirro said he has exterminators visit his multi-unit buildings monthly now as an attempted preventative measure against infestations. 
The main problem, Pirro argues, is that the tenants that he deals with, almost universally low- or no-income and receiving government assistance, aren't willing to help themselves enough to get out of their situations. 
"I've had people blame me for their own faults, I've had tenants break windows and then blame me for those windows being broken," Pirro said. "People think today that they're entitled. People think they're entitled to the best parking space, something for nothing. A person will go to an all-you-can-eat buffet, and there's 20 dishes of food on the menu, but if there's one particular dish that they wanted and it wasn't there that day, they feel like they got cheated. That's exactly how people think today."
Pirro argues that his tenants should be shouldering more of the responsibility for the upkeep of the building, largely pointing to things like trash build-up and drug activity as problems he sees regularly that he can't constantly control. He's made some efforts to combat that, including installing security cameras in the hallways that he says have helped, though tenants say they still fear the drug usage and dealing that goes on in the building. 
Whether or not Pirro is even in the low-income market anymore in a few months could render the public's focus on him moot. He said he has told the Department of Social Services that he may be restructuring his rental model to cater to a "different clientele" instead of low-income individuals, a result, he said, of a dispute over whether or not he or the agency should have to pay for trash disposal (trash, Pirro says, is the single largest issue in his low-income, multi-unit buildings and leads to many of the residual problems like infestations). Pirro said he would be pulling out of his agreement with Department of Social Services at the end of the academic year if the situation remains unchanged. 
Some would celebrate that change around town, certainly. Using the conditions of his buildings as evidence, Pirro is often the target of accusations that he is exploiting his tenants and the fact that their alternative options are severely limited, since many other landlords are resistant to renting to low-income people (even with source-of-income protection laws coming soon statewide). But he says the housing he provides meets the minimum standards and even exceeds them, citing that he provides a bed, hot water, heat, etc. 
"For people to say I don't care, I find it insulting," he said. "I go above and beyond what I'm required to do. [...] I feel that I do care. I don't think that many of the tenants would agree, but that, unfortunately, is their problem."
UPDATE: Shortly after this story was published in print on Nov. 13, Josh Pace said he was contacted by Norfe Pirro, who called him a derogatory name and told him that he had 30 days to vacate his apartment as a result of his cooperation with the Ithaca Times for this article. Pace filed a police report with the Ithaca Police Department after the incident. Pirro denies Pace's characterization of the conversation, saying that he did not serve Pace with any legal papers to vacate. The rest of the original story continues below.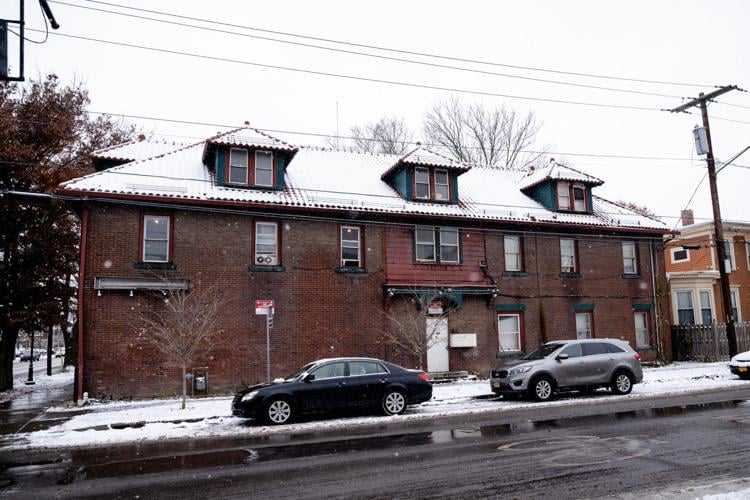 The city, though, has come down firmly on the side of tenants, particularly after Common Council passed a batch of new housing regulations in March that included new penalties for renting rooms in condemned buildings, over-occupying buildings, operating under an expired certificate of compliance or avoiding inspections to renew certificates of compliance. Code Enforcement Officer Mike Niechwiadowcz said the City of Ithaca is moving forward with these regulations, sending out batches of letters to violating landlords over the last few weeks and will begin the prosecution process if necessary in the near future, mainly carried out by City Prosecutor Bob Sarachan. 
"For those who fail to obtain a certificate of compliance after receiving one or more notices, the property owner can be prosecuted, with the primary purpose of obtaining compliance—that is, ensuring the safety and compliance of the rental units, as reflected in a current certificate of compliance," City Attorney Ari Lavine said in an email. "Tenants are not typically displaced during prosecution for an expired certificate of compliance, but if they are displaced, the City Code requires the landlord to provide financial relief to the tenants."
Keeping track of the city's housing stock can be difficult, Niechwiadowicz admits. The housing inspection staff has stayed stagnant at three inspectors with a supervisor for several years despite the growing number of housing units within the city limits. And they're limited by how much action they can take, since state standards for housing are fairly low and take precedence over codes the city might want to implement but can't. 
One example that Niechwiadowicz noted is an odd state law that allows for greater leeway in different types of housing, something that is perhaps more visible in Ithaca than in other areas because of its high student population. The state's most stringent regulations apply to college-owned rental housing, which must be inspected once per year. Meanwhile, apartment or rental buildings (meaning buildings with three or more rental units) are only required to be inspected every three years, and duplexes or family homes must be inspected every five years. 
"Realize the deterioration that can occur in between," Niechwiadowicz said, noting that a demolition order can only be obtained through the state. " I hate to even guess, but you can go around town and there are a number of vacant, deteriorated buildings. [But] they're not deteriorated to the point that I can condemn them and order them to be demolished."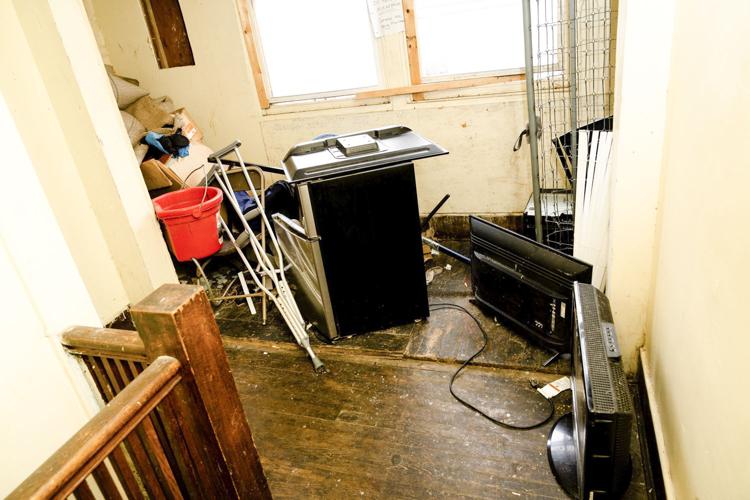 Regulating housing, especially for low-income populations, introduces a challenging balance for the City of Ithaca. The ultimate punishment against a violating landlord would be shutting a building down entirely, vacating it and forbidding it from being rented again until it's either sold or fixed in whatever manner to make it suitable. But, as Niechwiadowicz laments, this necessarily makes the tenants collateral damage. Once the building is closed, tenants are forced out, and with few options for low income tenants already, losing another could logically lead to those tenants having to either sleep on the street or turn to the homeless shelter for help. Niechwiadowz said that reality can sometimes lead to tenants asking the building department for leniency for the landlord while still holding them accountable enough that the conditions change. 
"Ultimately if the landlord does not want to resolve, and the problem is serious enough, we have to order the apartment or even the building vacated," Niechwiadowicz said. "That can be pretty good leverage, because the landlord loses the rent. However, on the other hand, it puts the poor tenant out on the street. So there are times when the tenant will say 'No, don't go that far, let's give the landlord more chance to repair the place,' or bring it up to whatever minimum standards. And frankly the standards are pretty minimal."
Building department records show the difficulty of enforcing punishment for such violations and the agency's toothlessness, at least before the new regulations were enacted earlier this year. The house at 117 Thurston Avenue's certificate of compliance had expired in November 2015. The Building Department sent reminder letters to the property owners on the following occasions without being able to schedule an inspection and renew the certificate: October 2016, December 2016, January 2017, April 2017, March 2018 and July 2018. By the time the house's tenants came to the department, and subsequently the press, with their complaints, it was October 2018. When Building Department officials finally were able to schedule an inspection that same month, they found that the student's complaints were well-founded, including that they had to use their stove to heat their apartment. Subsequently, Niechwiadowicz said, that was the closest the city has come to vacating a property as a result of repeated violations in recent memory; the property was sold in May 2019 by previous owners David and Barbara Lower. 
Mayor Svante Myrick said additional steps beyond the new regulations and potential prosecutions will be announced in his work plan for 2020, due to be presented in the coming months, which will include the previously announced housing task force. Myrick said he knows the city has plenty of good, responsible landlords, but argues that fact provides further motivation to punish those who are not. 
"I suppose it's like any group that has some bad actors, they can give a bad reputation to everybody," Myrick said. "They have a responsibility to provide a place that's safe and that's clean, and there are a handful of landlords in the city who don't do that [...] We certainly want to drive bad landlords out of town."
Even with the increased regulations, Myrick said, it's more likely that the resulting impact on the city will be that landlords who repeatedly break code will be fined or prosecuted into obeying the codes and improving their housing, as opposed to chasing them out of the city for good. 
"There's two classes of tenants who get taken advantage of a lot, they're the students and low-income tenants who are using vouchers and don't have a lot of options in town," Myrick said. "A bad one, who generally keeps their housing substandard and is not responsive to tenants, someone like Norfe Pirro, doesn't get punished in our system because he still gets the rent because people don't know that they should avoid him, if possible."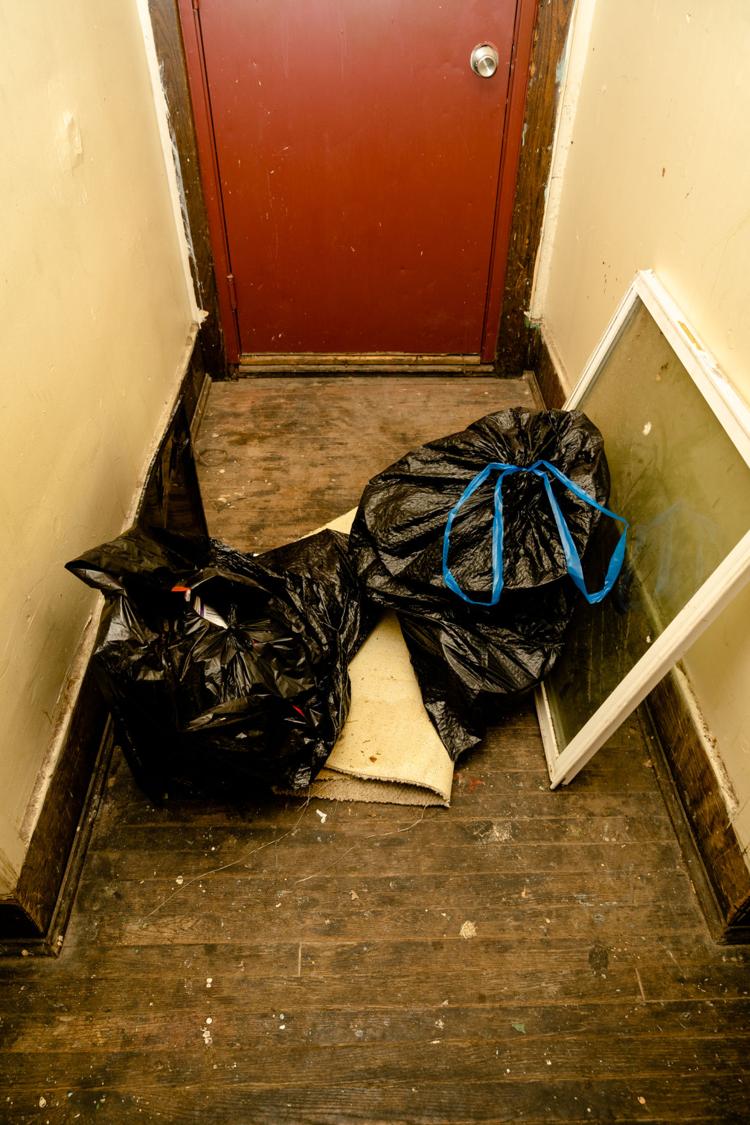 Pirro isn't the only landlord that does it, but is the only one Myrick is willing to name. Government regulation, market feedback, and creating more options for low-income tenants are all the solutions that Myrick wants to pursue in the near future, having just won a third term but also having watched this type of housing exist in the "elephant in the room" role in his city's downtown. 
"In the city, in the last 40 years we really haven't done [those] very well," Myrick said. "We haven't called people out by name and said 'You're doing a bad job, and you need to do better,' and we haven't done enough creating more affordable options.'"
However the city's new tactics play out, Pace is hoping he has already moved out of 106 North Plain before any impacts can be felt. He just needs that ID, which has taken on a holy grail level of importance for him. Pace maintains that he likes Pirro personally, but that he thinks the system has failed to hold landlords like him accountable. He sees what happened on Thurston Avenue as a prime example: the housing was substandard, the tenants, who were college students, complained and went to the press, then it was fixed. But Pace, who has held jobs during his time in Ithaca but not on a consistent basis, is certainly not the first to air grievances with Pirro or how he keeps his properties, so it's hard for him to rectify the difference in outcomes between the two. 
"They shut that place down up at Cornell because they were using their stove for heat," Pace said. "But would they shut this place down if we were using our stove for heat? There are two Ithacas, man."
Much like the City of Ithaca, low-income residents have their own balance they must constantly find when it comes to their housing. They are indeed glad to have shelter, but fear both the conditions of the building and complaining too much about them.
"I'm blessed to have a roof over my head, I know that," another resident said, looking around the hallway of 106 North Plain Street. "But it can be better than this."