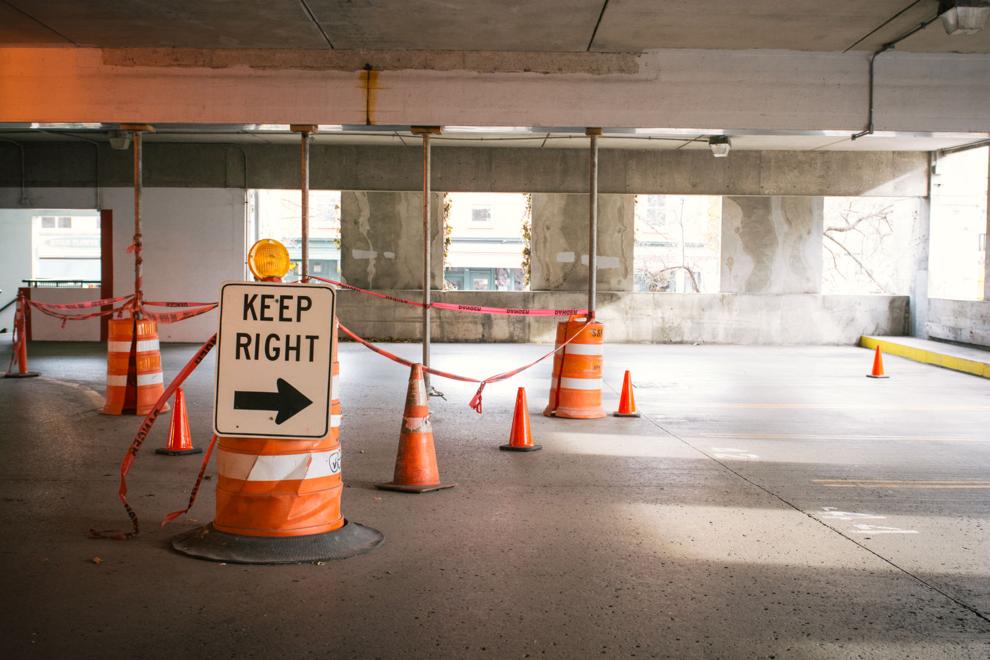 Visitors to downtown may have noticed caution tape and orange traffic barrels accompanying their turns up the lower levels of Seneca Street Parking Garage over the last few weeks. You may have noticed a similar scene in the Green Street Garage last year after engineers identified structural issues plaguing that garage as well.
The alerts accompany work being done to secure the stability of one of the garage's concrete pillars. The garage is safe and the stabilization is a precautionary measure, but it does signal that expensive repairs might be a moot point as Seneca garage reaches the end of its serviceable existence, and the city must choose a path for those properties in the somewhat near future.
City Engineer Tim Logue said the stabilizers, or shoring posts, were installed as a means of providing some extra security after it was discovered there was cracking in some carbon fiber wrapping of the garage's center pillar. The wrapping had been applied to assist with "some failing" in the post-tensioning cables within the concrete pillar. To fix the entire beam would be a fairly large expense, so the temporary fix was chosen instead. The problem is significant enough that Logue said the city is reacting, but not serious to the point of closing the garage for repairs or fearing a complete beam failure.
"The first step is just to get additional shoring posts out there to distribute that load differently and take some of the pressure off of that beam," he said. "We're in the midst right now of putting together some details on some slightly more permanent shoring posts, and a structural steel support that would go under that beam [...] That's going to be our repair to hold onto that beam until we decide what happens with that garage."
When the more permanent posts come in, about 20 parking spots will need to be sacrificed to provide enough room for their installment. Logue said the actual structural problem is not like the one seen in Green Street Garage, which is around the same age, although the usage of shoring posts is a similar remedy. Repairs were conducted on the Seneca garage around four years ago and ended in 2015, and Logue said the goal was to sustain the building for, hopefully, about 15 more years while avoiding any major repair expenditures.
Between three and four million dollars were spent on the repairs, and Logue said while he isn't sure exactly when the beam experiencing problems was repaired, the earliest would have been 2010 and should have likely lasted more than just seven years before more problems arose. Logue said the recent push to encourage parking in Cayuga Street garage as opposed to Seneca and Green is demand-based and not related to the problems those garages have experienced.
While the shoring posts are an effective, and safe, short-term fix he said some time in the next decade or so the city will probably have to make a more long-term decision about the garage's future.
"Something around 10 years from now, assuming that conditions don't deteriorate, maybe 10 or 15 years," Logue said of when the city may be forced to choose a permanent path. "It's basically the end of its useful life, there's not a way to make that garage last a lot longer without something that would be more expensive than it would be worth compared to demolition and starting over."
A mix of factors has led to the garage's current predicament, including some periods of a lack of maintenance over the garage's nearly 40 year lifespan and the multitude of harmful salt and water that Seneca garage takes in from parked cars.
One possible avenue for the city which Logue mentioned would be to investigate options like that taken for Green Street Garage, where the garage rehabilitation may be folded into a larger private redevelopment project that would potentially mitigate the financial burden on the city. Something similar to that could not only make better use of land so centrally located in downtown, but also come closer in line with some of the city's larger development goals in terms of housing.
"It was clear, the city had a massive investment that we were going to have to make to extend the useful life of [Green Street] garage," he said. "We don't want the parking to go away because I think we're probably going to need that for a while, but that's not the best use as it stands, there's a lot more options there. [...] It seems like a great opportunity to say 'Well we can do more with that site than what we have.'"
Follow Matt Butler on Twitter @AllegedButler