"I don't know if you guys are having a party or if you're demonstrating," a friend said to Fernando de Aragón, who was one of dozens gathered on the Commons on the evening of July 22 to protest the current government of Puerto Rico amid a scandal that has toppled its leader. 
In a circle under the Bernie Milton Pavilion, protestors chanted, sang, and danced for over an hour, as miles away, hundreds of thousands of Puerto Ricans took to the streets to protest the scandal- and corruption-ridden rule of Governor Ricardo Roselló, The New York Times reported. Later last week, after the rally took place, Roselló announced he would step down from his post on Aug. 2 after previously stating he would not seek re-election. 
"If you know Puerto Ricans, you know we sing and dance at weddings and at funerals," de Aragón said. 
In light rain, nearly fifty attendees chanted, repeating, "Ricky, renuncia," a call for the governor to step down from his post. The songs continued, pausing only for a one-minute moment of silence for victims of the unrest and the reading of a proclamation in Spanish and then English. 
The protestors condemned the corruption of the current government in Puerto Rico, where multiple officials are under FBI investigation, the Washington Post reported. They also criticized the government response to Hurricane Maria, and the content of leaked chats by government officials littered with vulgarity.  
After first obtaining a permit on Friday, the group had organized quickly and casually — one organizer, Eva Lopez, wore a shirt with the black flag of Puerto Rico painted on just the night before. Many protestors, without a signature hand drum, used small saucepans and wooden spoons as instruments. 
Lopez, who moved to the states three years ago with her family, said that the protest's speedy assembly reflected the grassroots-nature of the movement: "beautiful and organic." Her family was also actively protesting at home on the island, but mobilizing in Ithaca was important, too, she said.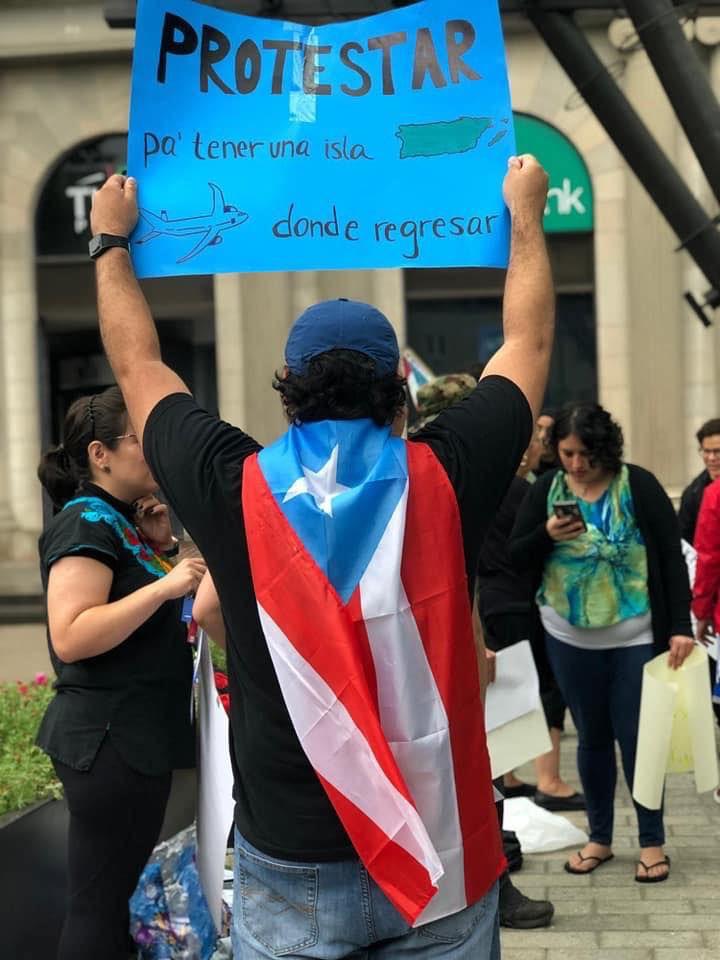 Fellow organizer Matilde Portnoy agreed. 
"We need to help them and for them to know that people all over the United States and all over the world … know what's happening," Portnoy said. "It's all about solidarity." 
And the amount of people present in support shocked Portnoy. 
"Not to be pessimistic, but I was expecting maybe five or six people, counting me," she said, saying she was especially surprised by the number of non-Puerto Rican Americans that had come out as well, considering the dreary weather.
Aside from continuing to support Puerto Rico from afar, Portnoy said the group will likely reorganize again. 
"If it is necessary, we will do another protest or another manifestation," she said. "If [the governor] resigns, or he is impeached, we will get together to celebrate."