A crowd of Ithaca residents has formed a protest in solidarity with the thousands of other protests against the proposed Coastal GasLink Pipeline, which would supply natural gas across Canada. However, the pipeline would cross through land populated by the indigenous Wet'suwet'en people located in British Columbia. The land the controversial pipeline would be on is home to a traditional healing center on the Unist'ot'en territory. It's also home for numerous natural resources that Wet'suwet'en and neighboring indigenous people rely on for their survival. 
Originally, the protest began at the intersection of Cayuga and Green Streets but participants said they later planned to move to the Ithaca Commons. Traffic through the intersection has been blocked by Ithaca Police officers, though several vehicles were trapped beyond the barricades. They were forced to turn down N. Cayuga Street, heading towards State Street. Police announced around 12:15 p.m. that the roads had been cleared and traffic had returned to normal.
Several signs at the protest read "What will you do for Earth?", "#NoTrespassing", and more directly, "Kill the Pipeline." The protest came together through a collective effort, according to protester Cheyenne Carter, who said the intersection was chosen to garner the public's attention. 
"This intersection is prime because it [connects] from Route 13, there's three different ways and three different directions," Carter said. "A lot of people come through here so we were hoping to disrupt as much as we could so people would educate themselves about what's going on. We tend to live our daily lives without understanding where our life force comes from, we're removed from it."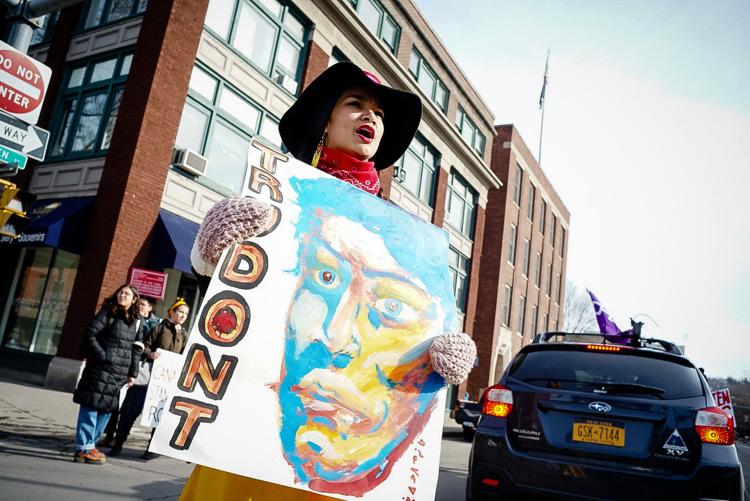 In the center of the protest was a member of Cornell University's indigenous house standing in solidarity with the Wet'suwet'en people. The pipeline is being proposed by TC Energy, which operates the TransCanada Pipeline system, which spans throughout the country. A short documentary was made about the controversy called Invasion. Carter and the other protesters are seeking to have government officials across New York State call out TC Energy for what this pipeline would do to indigenous people. 
"People are doing this all over the world," Carter said. "We're hoping that other people in New York will hear our message. So much so that the Mayor and the Governor will write a letter to the pipeline and the Canadian government, telling them they do not agree with what they're doing. To say that they don't stand with the pipeline."