Had he been a moment earlier or later, Josh Oxford's life would be much different today.
On July 26, 2010, under the glare of the late-afternoon sun, Oxford drove from Ithaca to Ulysses, N.Y. for a rehearsal of his jazz-funk ensemble, the OXtet. But when he arrived at around 4:30 p.m., the group realized there weren't enough music stands, and Oxford was dispatched to pick some up from Ithaca College, his alma mater.
Less than an hour later, with the music stands loaded into his blue Volvo station wagon, Oxford drove back to Ulysses, ready to begin the rehearsal. He had returned home the previous day from performing in Texas, and the OXtet, who had gigs scheduled in Ithaca and Syracuse for later that week, hadn't rehearsed since May. Oxford headed north on Krums Corners Road, but as he entered the intersection with Perry City Road at around 5:45 p.m., he ran through the stop sign. He never saw the other car as it came speeding into his driver side.
* * *
Michael Caporizzo was running late. The guitarist was scheduled to be rehearsing at 6:00 p.m. with the OXtet, but a busy day caused him to depart 20 minutes late for Ulysses. As he approached an intersection just one-tenth of a mile from the rehearsal space, the Hotrod RoadCases auto shop, Caporizzo noticed fire trucks, ambulances, and a white car pulled over on the side of the road, yet no signs of wreckage. Unaware of what happened, Caporizzo was waved through the intersection and continued to his destination without much thought.
When he arrived, a bandmate informed him that Oxford would be late as well, but it was already 6:30 p.m. and the keyboardist should have returned with the music stands by then. Curious, they called Oxford and received no reply, but weren't worried, figuring he had gotten sidetracked at Ithaca College and wasn't picking up because he was still driving. To make use of their time, the six band members began rehearsing, playing an Oxford composition titled "12-Tone Latin." Although the group hadn't played together in a while, they all knew the music well. But without their bandleader, they played poorly, missing the piece's complex meter changes.
"It was as if the band had lost all of its mojo and we didn't know why," wrote Caporizzo in an email. "My guess is our instincts were ahead of our awareness of the situation. Something just wasn't right, and it was being revealed in our playing."
After a lackluster run-through of the piece, the OXtet members called Oxford a few more times, yet to no avail. They grew increasingly concerned, and at around 6:45, the auto shop's owner informed the group that a vehicle in the accident Caporizzo had passed by was a blue Volvo station wagon, just like Oxford's.
"We put it together right away," Caporizzo remembers. "I remember we were all looking at each other with the same realization. ... We all knew it was him."
The six bandmates drove down to the intersection, but Oxford had already been airlifted by helicopter to a Pennsylvania hospital. Upon approaching the scene, Caporizzo vividly remembers the details, which are forever cemented in his mind. He didn't come too close to the wreck, but took it all in: the remarkably bright sun, the skid marks, and a pool of blood leading up to Oxford's car.
"I then realized why I didn't see a crash at the intersection [earlier]: his car was in the trees, a good 20-30 yards away," Caporizzo recalls. "I had driven right by Josh, nearing death, and had no idea."
The band, in a state of shock and uncertain of their friend's fate, exchanged words with a fireman, who explained Oxford's dire situation and inquired about his personal information and family contacts.
Born in 1985, Josh Oxford grew up in Cortland, NY, the oldest of two children. At a young age, Oxford became interested in music from his parents, who were musicians. With a diverse taste of genres, he first started with the piano, then followed drums, marimba, and the synthesizer.
"It was just an ongoing love of music," says Angela Oxford, his mother. "He was always thinking [of] music from the time he was really little."
Even when his family moved to Ithaca when he was in ninth grade, Oxford remained at Cortland High School because of its music program and his friends. Oxford's band director, Rick Eleck, introduced him to Gordon Stout, acclaimed marimbist and longtime professor of percussion at Ithaca College (IC). The two quickly became good friends, and Oxford began taking lessons with Stout, who was impressed by his student's immense talent, versatility, natural abilities, and commitment to music.
"The most remarkable thing about Josh, in addition to just his creative, musical mind, is his ear," Stout says. "He's one of two or three people I've met in my life who could instantly transpose any piece of music to a different key at sight. That's something that most musicians marvel at."
Oxford graduated from Cortland High School in 2003 and headed to IC, where he majored in percussion performance and continued his tutelage with Stout. Oxford recalls extensive hours in the Whalen Center for Music every day, attending classes and lessons, performing recitals, and often practicing until midnight in the studios. In 2004, he formed the original OXtet as a quintet (drums, bass, vibes, trumpet, and keyboards) playing jazz standards. However, the ensemble expanded to include guitar and saxophone, and play jazz-funk-inspired music written by Oxford. While he was a senior, Oxford also met Caporizzo, a freshman sound recording technology major who recorded his senior recital.
Following his graduation from Ithaca College in 2007, Oxford worked at IC as a piano staff accompanist from 2007 to 2010, playing a busy schedule which he says included recitals every other day.
"He was famous around here for being a complete monster pianist who could sight-read anything—musically, not just playing the notes," remembers Caporizzo. "He was a highly in-demand accompanist for this reason. He could sit down and read through incredibly difficult music and do so with poise and mature interpretation. It's the stuff others would spend hours and hours working on before the first rehearsal."
Around this time, Oxford also became friends with David Borden, famed composer, founder of Cornell University's digital music program, and beta-tester of the early Moog synthesizers in Trumansburg, N.Y. Borden was looking for someone to play in his synthesizer ensemble Mother Mallard's Portable Masterpiece Company, the first of its kind in the world in 1969, and Oxford played on the ensemble's 40th anniversary concert in 2009. The two became close, and Borden gave Oxford unofficial lessons. Teaching Oxford was a challenge, Borden says, because "he already knew everything."
In 2009, Caporizzo joined the OXtet as a guitarist after the release of its first album, and the group's activity around Ithaca grew. At the helm of his surging group, Oxford was a force to be reckoned with.
"He moved as fast as his brain moved," Caporizzo recalls. "He was impossible to keep up with in rehearsal because we were always a few steps behind him. Band rehearsals were always interesting because there was a lot of love in the room, but a fair amount of bickering as well."
Oxford's performances weren't just limited to the OXtet or Ithaca, however. He made trips across central New York and the U.S., performing on piano, percussion, and the Moog synthesizer.
"Before his accident, he was just care-free, on-the-fly, gone all the time, and all I would ever see was his car. I never saw him," remembers his mother, Angela.
Oxford's career was flourishing, driven by his unparalleled combination of musical knowledge and skill, and backed by his talented friends.
Says Oxford: "I remember either saying to someone or saying to myself 'Man, everything seems to be going so well. What could possibly screw it up?'"
But on that fateful July night in 2010, everything Oxford had worked up to—the countless hours he had dedicated to his craft—seemed to vanish in the blink of an eye.
On the helicopter ride to Guthrie Robert Packer Hospital in Sayre, Pennsylvania, Oxford died twice, but was resuscitated both times. Suffering from a broken hip, a shattered humerus, internal decapitation (in which the skull is detached from the spinal cord), and more minor injuries, doctors gave him a 98 percent chance of death and told a nurse to inform his mother that he wouldn't make it. The nurse never did.
For a week, Oxford lay in a coma in Sayre, Pennsylvania. Once he awoke, his doctors wouldn't perform surgery, and he was airlifted again to Thomas Jefferson University Hospital in Philadelphia, where he underwent spinal surgery.
Despite awaking from his coma, Oxford doesn't remember anything from the immediate months after his accident as a result of a rigorous administering of painkillers, except for what he describes as dreams "blended with reality." In September, IC composer and music professor Dana Wilson, along with some of Oxford's friends, organized a benefit concert at the college's Ford Hall. The event, which featured the OXtet and music written by Oxford, his colleagues, and his favorite artists, was standing-room only, and thousands of dollars were raised.
It wasn't until October that Oxford says he fully woke up. Unable to speak as result of his injuries, Oxford used his eyebrows to communicate. Oxford received many visitors during this time, including frequent trips from Caporizzo and Borden, but his largest support came from his mother and sister, Jessica. His father, who was diagnosed with multiple sclerosis when Oxford was in eighth grade, was confined to a nursing home and was only able to talk to his son over the phone, with Josh unable to respond. Eventually, a tracheostomy was performed, allowing Oxford to speak. But because of the nerve damage and muscle weakness as a result of his internal decapitation, Oxford was presented with yet another challenge: dysarthria, a disorder characterized by slurred, slow speech, which would require substantial speech therapy.
After two months in Philadelphia, Oxford was transported again, this time to Mount Sinai Hospital in Manhattan, New York City, where he had a tendon replacement in one of his hands and rehabbed every day. It was also there that the extent of his situation fully sunk in.
As if his physical struggles weren't enough, Oxford's father passed away on Oct. 26, exactly three months after his son's accident.
"My father was a huge influence on me in almost every facet," remembers Oxford. "His death was symbolic of a big part of me dying, too. I haven't even really begun to unpack all of that to this day."
Oxford remained hospitalized until Dec. 21, when he returned home to Ithaca and received home therapy for a few months. Eager to resume his playing career, Oxford took a few lessons with IC piano professor Jennifer Hayghe in 2011. But after realizing how much fine motor control he had lost and the reality that he would never fully regain his playing skills, Oxford made a conscious decision that summer to focus his efforts on composing, a natural shift given his history.
"I thought, 'Why am I still alive? [There was a] 98 percent chance that I could have died," he says. "I was in the 2 percent. So why did I get to live? To write music."
Yet, the transition to writing music hasn't come without its frustrations for Oxford. "It's certainly annoying that I can't play like I used to for many reasons," he says. "I'm not able to gig like I used to, and it makes my writing a lot different. I used to play ideas and work them out on the piano, but that's not really an option if it's fast. Thankfully, my brain still works pretty well, so the knowledge from playing music most of my life is still there. At this point, that knowledge is a lot more helpful than being able to play."
In late 2011, the OXtet, having undergone many personnel changes, began rehearsing again, and Oxford wrote his first post-accident piece for the group, titled "Internal Decapitation." On Nov. 30 of the following year, the OXtet performed its first show with Oxford back in the lineup at the Nines. The coming years saw many innovative compositions and arrangements spanning across genres by Oxford, including an original piece called "This is My House" for revered tuba player Aaron Tindall in 2015, as well as a concerto for the Ithaca Community Orchestra, a contemporary classical music piece, and even an arrangement of U2's "Beautiful Day" for Ithaca High School's music department this fall.
From 2014-18, seeking to further his music education, Oxford earned master's degrees from Queens College, City University of New York in jazz composition, and Ithaca College in composition. Now, with the goal of earning a doctorate of musical arts, Oxford will interview with Arizona State University in the coming months after passing his pre-screening.
By now, Oxford has embraced being a composer. "That's been the hard thing for me: going from saying, 'I play music,' to 'I write music,'" he says. "But I feel a lot better about it now."
"I would certainly not be the musician I am if it weren't for my years playing Josh's music," says Caporizzo. "He writes for the players he has to work with; his music exploits your strengths while forcing you to face your weaknesses head-on."
"As a composer, his works since the accident are the best he's composed," adds Caporizzo, who refers to Oxford as a certifiable genius. "Similar to his playing, he has to slow his brain down when he works, and I think doing so has produced more richness and complexity in his work."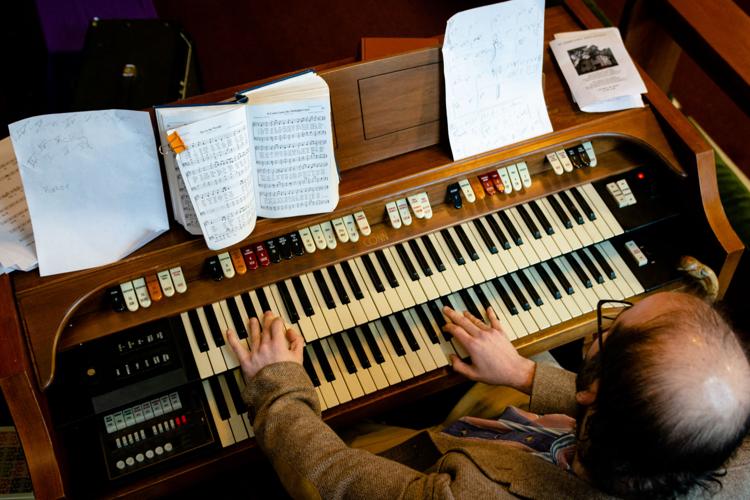 Not only has Oxford's approach to music changed since his accident, so has his personality: he admits to being more appreciative and humble now, as well as more mellow. Before his accident, Oxford didn't practice his OXtet music; instead, he relied on his sight-reading ability, and at times grew frustrated that his bandmates couldn't do the same.
"Everyone else had to work their asses off, and they would come into rehearsal and still f*** up," he says. "It was always, 'I can play this s***. Why can't you?' And now it's different. Now I can't play any of that."   
"I look it as the universe's way of slowing me down," Oxford reflects. "Everything I did was fast."
In many ways, Oxford doesn't see himself as the same person anymore, which is reinforced by the fact that his voice has gone from steady to slurred, and his hair from long and curly to balding and bearded. Oxford says watching his own senior recital is like watching another person now. As a result, others treat Oxford much differently now, particularly strangers, and he often feels ignored.
"It does bother me sometimes, but you just have to deal with it," he says, noting that he can't get mad for how people choose to react to him. "[I]f you just have some random person come up and start talking to you with this voice, it freaks people out."
"The part of me that a lot of people connected with is dead," Oxford says. "I really feel like that part of me died in a lot of ways."
Although Oxford might see himself as a changed man, those that know him well still see much of the same person.
"He's always stayed Josh," Stout says. "Josh has never changed in his mind, in his spirit, which is totally remarkable that he was able to come through such a serious trauma without having his basic personality, and his love of music, and his creativity affected at all. He's still as brilliant as ever."
These days, Oxford's schedule is more varied, but he is less outgoing due to limited mobility and reduced motor coordination. Some mornings, he just doesn't want to get out of bed, and daily routines such as getting dressed are arduous tasks. Even simple things, he says, are a pain to accomplish.
"It's hard as a parent to watch your child struggle, but he will struggle without help," says his mother, noting her son's determination to be independent.  
Several times a week, Oxford attends physical therapy sessions at Ithaca College during the day, which have accelerated his recovery over the years, particularly with regards to improving his articulation. At night, he attends local music performances around Ithaca. For transportation, he either gets a ride or uses the Gadabout bus service. With the OXtet now a chamber group comprised of Ithaca College music students (former members occasionally reunite for a show), Oxford's regular performances are limited to playing organ on Sundays at the St. James AME Zion Church, and synthesizer in an improvisational seven-piece group at Casita Del Polaris' Galactic Mondays. For the latter, he uses a custom synth built for him by local instrument builder Jordan Aceto, which has a metal ribbon that Oxford touches to control the pitch instead of a keyboard.
For those that have remained close to him throughout his journey, Oxford's path is a source of inspiration.
"It makes you appreciate what you've got, because in a matter of seconds it could be taken away from you," says Stout.
"He's an amazing guy," Borden says. "Most people after an accident like that … they'd be really depressed all the time. But he isn't. He's pretty positive and outgoing, and he looks forward to the future."
One might expect some inspirational quotes or reflections from someone like Oxford, but he's not overly sentimental, having become less emotionally invested as the years have passed since his accident. He just takes life as it comes, remaining positive and using humor to confront his struggles.  
"It's so easy to just say, 'Oh, woe is me. Look what happened,'" says Oxford. "But no, you can't do that. You've got to keep on keeping on."
In fact, Oxford doesn't necessarily see his accident in a negative light. "I've never regretted my accident, but have always looked at it as a positive occurrence," he says. "My life was getting a bit stagnant working as a gigging musician. The accident was the universe—God, some similar metaphysical entity, etc.—jump-starting my life again."
"I feel like I was put back for a reason," Oxford says. "So, I'm just doing what I can to fulfill why I'm back on this planet."