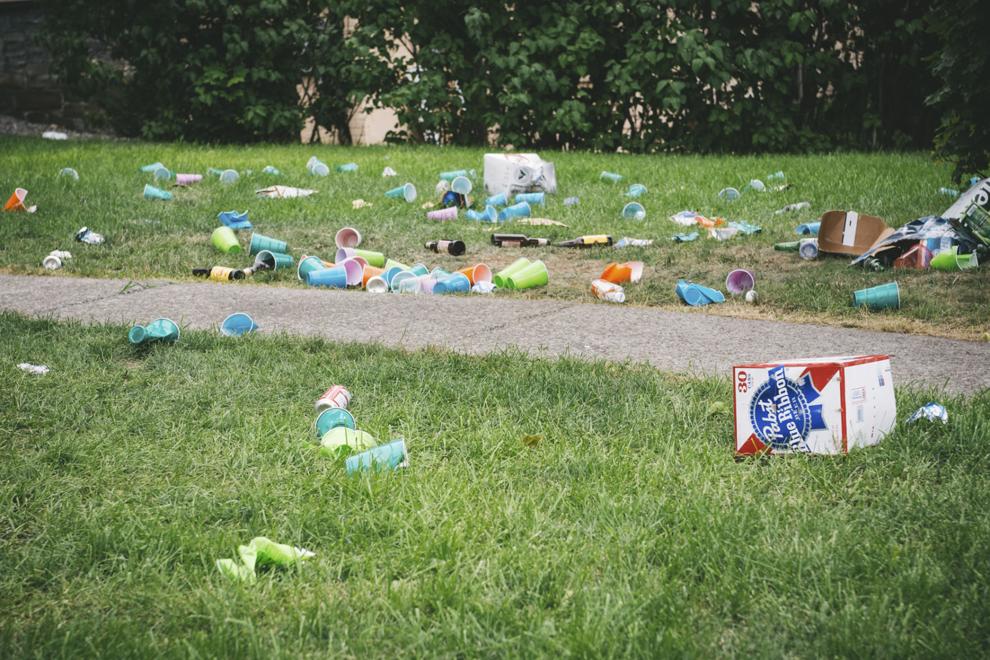 (This article has been updated to more accurately represent Alderperson Cynthia Brock's comments regarding a resolution to South Hill residents' concerns.)
Even when the students of Ithaca College and Cornell University are out of town, their massive impact during the school year keeps them on the minds of residents throughout Ithaca. 
Never was that more obvious than Wednesday's Planning and Economic Development meeting, where South Hill residents arrived en masse, armed with pre-written comments that were both extensive and vivid on the creeping student population in their neighborhood. 
Residents talked about owner-occupied housing rapidly evaporating from the area, ushering in more and more landlords who consequently bring with them students, most of whom are Ithaca College undergraduates. Most commenters appeared to consider the recently purchased property at 217 Columbia Street as the neighborhood's tipping point.
The term "student ghettos" was thrown around more than once as well. 
An important aspect to note is that most of the residents who spoke at the meeting didn't seem overtly hostile to the idea of the student presence in the neighborhood, but clearly feel that before more student housing is encouraged, some form of guidelines need to be in place. 
PEDC Chair Seph Murtagh and Mayor Svante Myrick both expressed tepid support for a moratorium on all housing until a neighborhood plan is approved. They noted that enforcing a ban only on "student-focused housing" would be "discriminatory and illegal." Alderperson George McGonigal also endorsed a possible moratorium, while Alderperson Cynthia Brock said zoning changes might be a preferable method for fixing the South Hill situation, avoiding a potentially burdensome study process (which would accompany a moratorium) on the city planning staff. 
The zoning changes, which she said would offer a more efficient solution to the problem than a full moratorium, would include limiting parcels of land to one primary dwelling, and if additional dwelling structures are desired the landowner must apply for a variance. This, Brock said, would give the neighborhood and the city more safeguards against landlords simply building multiple dwellings on a single parcel, turning what might have been a three-person property into far more than that. 
The moratorium demanded by the crowd rings a bit familiar to a similarly-intentioned ban (though not at all the same) that was recently extended in the Town of Ithaca, in which duplex home construction has been halted as the town's Planning Committee examines better methods of regulation and oversight for landlords who rent, whether to students or not. 
The developer, Charley O'Conner of Modern Living Rentals, did also address the crowd, in an apparent attempt to extend an olive branch. He said he simply saw the property listed for sale and pounced, and claimed he didn't know the proposal would ruffle as many feathers as it did. Next Thursday in City Hall at 5:30 p.m. there will be a meeting held specifically about the project at 217 Columbia, during which O'Conner said he hoped to clear the air between him and some of the neighbors, and indicated a willingness to tweak the plan in the interest of placation. 
McGonigal drew the most applause of any official addressing the crowd when he castigated Ithaca College for not housing their own students, saying "The best housing for students is on campus," and noting that Cornell is building more housing while IC has not announced any plans to do so.
There was also some criticism levied at the area's zoning (R1 and R2 Districts), which allows and even focuses on one- and two-bedroom houses. Jed Sheckler, a resident, said there's either a problem with the zoning itself, or the ability to enforce it on the part of the city.
"We love the neighborhood, and we want to be able to stay," he said. "My concern is that I walk and drive through these areas every day, witnessing what's happening [...] Having read the zoning laws, it feels as if the laws aren't being enforced as they were intended or as they exist."
Another sentiment that was repeated throughout the session was that South Hill residents felt like they had been alerting the city to an increasingly deteriorating situation. One woman, who declined to give her name, was not hopeful about the results of the meeting but spoke emotionally regardless. 
"I have been down here so many times, that I'm not optimistic about this. The city gives lip service to neighborhoods [...] I don't think any of us are against increased density or trying to make our city a place to accommodate different people. But we don't have to make it an ugly, uninhabitable place to live." 
Kenn Young, another South Hill representative at the meeting, had circulated a petition prior to the meeting among his neighbors, collecting 94 signatures in support of a moratorium until a neighborhood plan is discussed, formulated and enacted. 
"There's a crisis in the South Hill neighborhood," he said. "We've reached the point where it's no longer a family neighborhood."
He also said the saturation of landlords in South Hill makes it more difficult for non-landlord members of the neighborhood to keep track of property transactions or conditions, putting them at even more of a disadvantage to preserve their neighborhood or protest actions they disagree with. Either way, South Hill residents are at the end of their rope, he said. 
"How clear do we have to be? Enough," Young said, concluding his remarks. 
You came for South Hill, but stick around for a quick note on affordable housing:
IURA Director Nels Bohn announced that his department will lose about $50,000 in funding dedicated to affordable housing projects around the city under the new federal budget. While that sounds pretty shocking, it seems as if the agency will be able to recoup nearly all of it because the new Lakeview Ithaca project, sponsored by Lakeview Health Services, has rejected their share of federal funding. According to the 2017 Action Plan amendment that was approved by the PEDC, Lakeview declined just over $43,000 in funding, which IURA was able to partially redistribute to three affordable housing projects, to ensure they ended up with the anticipated amount of funding.
Ithaca Fire Department Chief Tom Parsons expressed his frustration with the potential fire station consolidation or relocation. "It's astounding to me that this conversation can be so easily about money, and I'm sitting here wondering how we are going to get service to people who need it." 
Follow Matt Butler on Twitter @AllegedButler