On Saturday afternoon, in the midst of an on-and-off hail storm, a group of about a dozen people gathered outside of the Beechtree Nursing Home and Rehabilitation Center in downtown Ithaca armed with pots and pans, signs and masks. 
To passers-by, it could have looked like one of the small protests that have popped up around the country to argue for re-opening the economy, or even the few people who rode around downtown Ithaca objecting to the introduction of 5G to the area. But a glance at their signs would have made the group's intentions clear: to thank the staff of the Beechtree Nursing Home and Rehabilitation Center as they changed their shifts on Saturday afternoon. 
One of the families in attendance were the Hugos. Steve and Sarah Hugo had brought their children, Iona and March, toting signs with slogans like "Thank You Heroes;" Iona held a sign that said "Thank You 4 Caring 4 My Grandma" while March banged a pot with a spoon. Their grandmother, Donna Hugo, is a long-term Beechtree resident suffering from dementia, but due to the coronavirus outbreak they've only been able to visit her through a window for almost the last two months. 
Donna's husband, Stan Hugo, used to visit his wife twice a day during the five-plus years that she's lived at Beechtree, stopping in at lunch and dinner to eat with her and feed her. He thinks the isolation over the last two months has weighed on her as well as him, even as he supports the decision to keep outsiders out of the facility.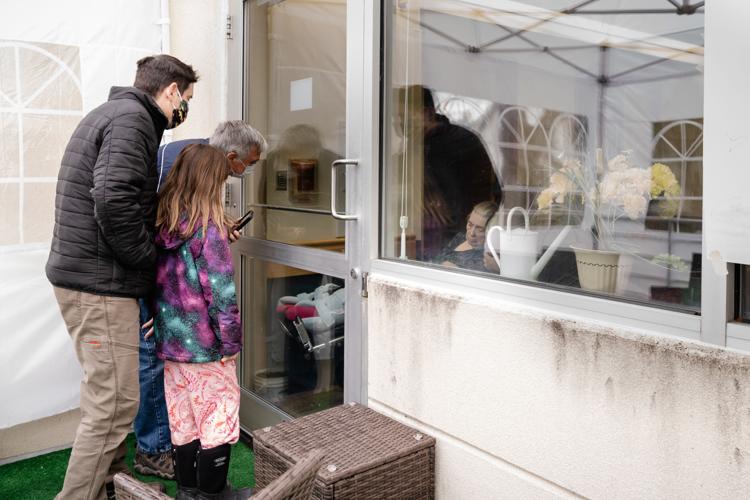 Hugo's situation is similar to countless people nationwide who have relatives in nursing homes. As more of the country locked down, the focus shifted promptly to nursing homes. The homes were already under scrutiny due to the vulnerability of their populations, particularly as early understanding of the virus posited that elderly people and senior citizens were at far higher risk of contracting and dying from the infection. Soon, outside visitation was banned in most cases, as was group dining among residents, compounding the isolation. Those fears have been realized during the outbreak, as several nursing homes in New York have become hotspots for coronavirus infection and death, even as close as Elderwood Nursing Home in Waverly in Tioga County, which has seen 19 deaths. Overall in New York, more than 5,400 people have died from coronavirus in nursing homes, which accounts for 20 percent of the state's total deaths as of May 11. There have been no reported nursing home cases in Tompkins County so far. 
"I don't like it, but I thoroughly understand why I can't go in," Hugo said. "I do call two or three times a week to find out how she's doing and also they have a window visit set up, which I do at least once a week."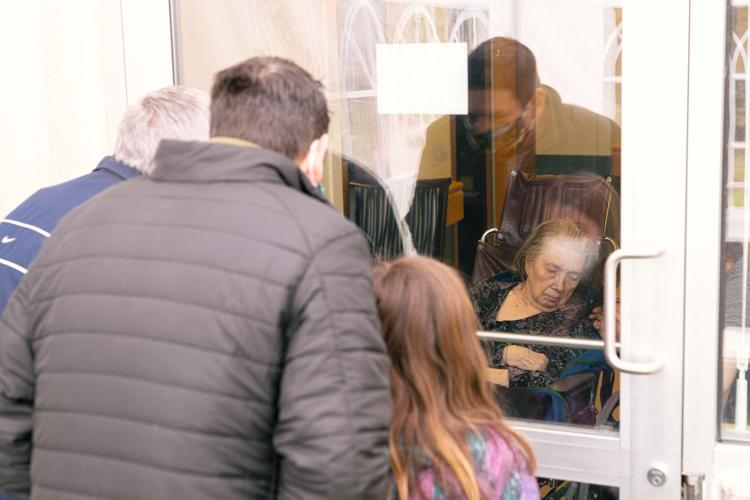 Her dementia has advanced to the point that she's unable to respond to him and needs total care, making the window visits and other forms of communication that much more difficult compared to how he had already adapted to connecting with her during his visits. 
"It's a little heartbreaking to look through the window and not be able to touch her or talk to her, and she can't respond to me at all," Hugo said. "So it's just a matter of visualizing her. It's not been easy."
He worries, too, that staff might be overwhelmed tending to the needs of other patients, worsening the fact that he isn't allowed to go inside. It all culminates with a rising level of anxiety for Hugo, who now feels the brunt of an increasingly vulnerable wife paired with the fact that he can't physically touch or comfort her, barring an imminent end-of-life situation. 
There's not necessarily a scientific way to measure the impact of Hugo's presence on his wife's condition, though he does feel as if there's been an effect. He connects the absence of his regular visits, which could theoretically serve as a grounding experience for his wife with a more familiar face around, with a slight recent deterioration in her behavior, though he allows that it could also be unrelated.
"Within the last week, she seems to be showing some decline," Hugo said, saying his wife had been eating less for a few weeks just before the outbreak hit a trend that has continued as he's been unable to see her. "I'm very nervous about it. [...] It's not anger, I understand. It only takes one person to infect everybody else. I'm not angry about it. Helpless is a good way to put it."
Nursing homes have been able to make some adjustments in order to connect families while operating within the confines of the restrictions. As Hugo mentioned, Beechtree, one of a dozen Tompkins County nursing homes, has instituted a window visit station around the side of its building. The setup allows families to gather at a door-length window where residents can sit or be wheeled and see their relatives from a safe distance and without the chance of airborne transmission of COVID-19. Nurses and staff have also attempted to keep residents' minds off of the isolation with a stream of activities. 
Other nursing homes in the area have had to navigate similarly difficult situations, using alternative and creative means to allow outside caretakers, often family members, to check on their relatives and the care their relatives are receiving, as well as getting in touch with their loved ones as much as possible. Generally speaking, they are guided by a letter from New York State Long Term Care Ombudsman Claudette Royal that lays out a set of suggestions for nursing homes to implement. 
"During this time, facilities, residents, and resident representatives who would otherwise visit in-person, need to use alternative means of communication such as phone, Facetime, Skype, email, etc.," Royal wrote in the letter, posted to Longview Ithaca's website early in the pandemic. "One of the chief concerns resident representatives have is their anxiety of not knowing how their loved one is being cared for during this time. To proactively address this, facilities should provide alternative means of communication to ensure residents and their representatives are staying informed and maintaining regular contact."
Some people feel the ban is too damaging to families, even while it is well-intentioned, and that people who serve as caregivers should be allowed to venture inside the facility to tend to their loved ones as they always have. Sandy Ferreira, a long-time patient advocate, found herself actually living in Beechtree for several months after breaking her femur and developing an infection, but was able to move out just before the pandemic began. 
"There's no way I would have been able to stay there during the close-down, it would have been so, so difficult," Ferreira said, contending that the emotional support offered by one's caretaker should be enough to allow them to come inside the facility and be with their spouse, parent, child or otherwise while following some level of precautions. "No visitors and people confined, pretty much, to their rooms. Stanley [Hugo] and a couple others would come every day to feed their loved ones, and they were told they couldn't come anymore. The benefits of them coming outweigh the risks."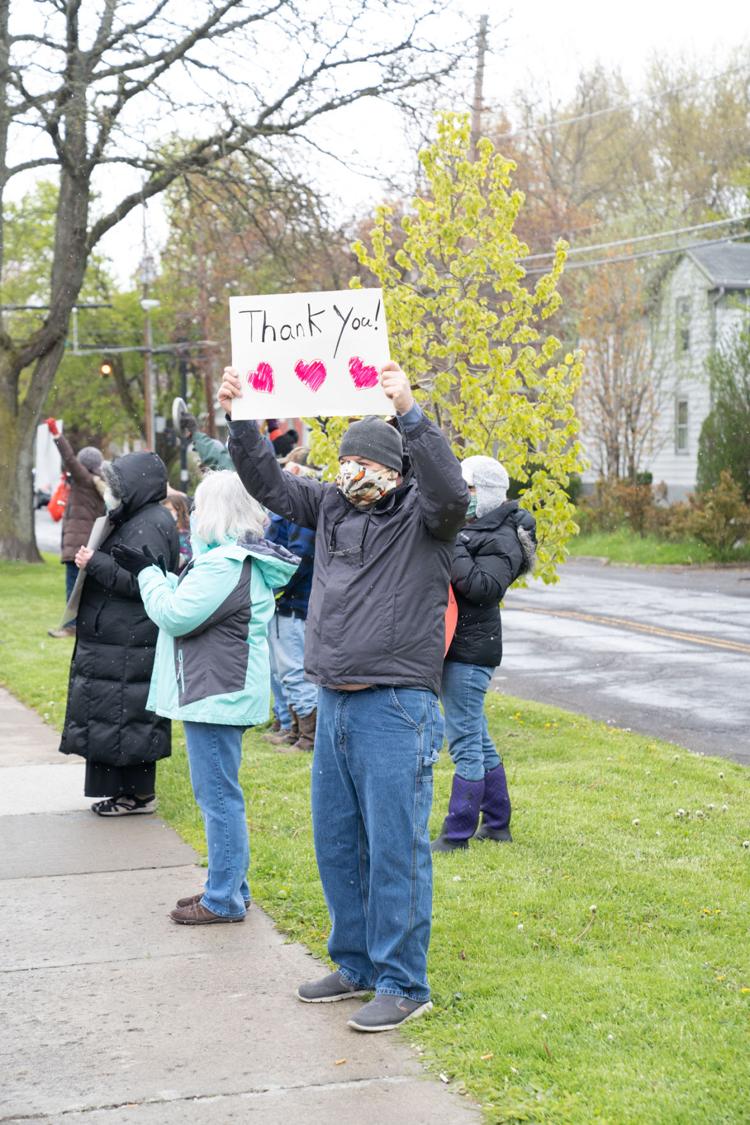 Gail Butts also has a relative in Beechtree, her 87 year old mother, who's lived in the facility for just over a year. Like Hugo, Butts used to visit her mother daily, feeding her at dinner time, until the visitation ban was enacted.
"It's been hard," Butts said. "Beechtree has been very cooperative in helping try to relieve some of that, they knew it was hard. [...] She's just not getting as much one-on-one contact as she was used to getting, and I think it was a little hard for her to understand."
Her mother's moods have been up and down during the isolation period. Butts had been preparing for a visitation ban before the quarantine began in earnest, but she was only able to explain it to her mother once it had already gone into effect. 
"One day, we talk to her on the phone, she's very upbeat and happy, things are fine," Butts said. "Then we had a window visit with her and she was uncomfortable and didn't feel well."
Like Hugo, any struggle her mother has weighs a bit more heavily on Butts because of the added detachment element. But, as admirable as the efforts and work of nursing home staffs have been, Butts said to her it's still a moot point: they could be the best doctors in the world, and Butts would still have a level of apprehension because she can't be by her mother's side, soothing, comforting and helping. 
"Nobody thinks that anyone can take as good care of your family as you can," Butts said.