After multiple rounds of material combinations, structural orientations and parking arrangements, the developers behind the Old Library redevelopment are getting close, but still struggling to find a winning equation for the Dewitt Park-adjacent property good enough to win over the Ithaca Landmarks Preservation Commission.
A proposal submitted earlier this year was sent back to the drawing board again to deal with several neighbor concerns raised at the commission's most recent meeting including–beyond qualms with the building's aesthetics–a lack of parking and the light pollution impact the building would have on the relatively dark corner of downtown.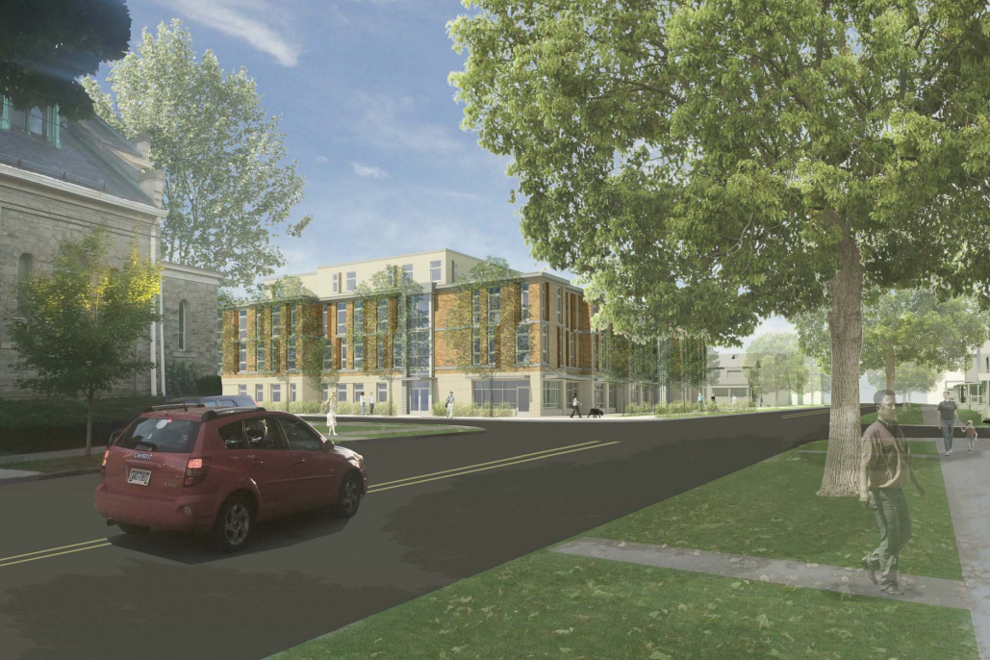 To try and satisfy its critics in this round of critique, the architects attempted five small changes to the design: balconies and certain design materials have been eliminated, stepbacks and window sizes have been reduced and the roof form–a distinctive 'v'–has been toned down.
A review process of the proposal has been progressing slowly since a joint commission of the ILPC and the city's Planning and Development Board was formed to concurrently evaluate how the building would best fit in the context of the historic preservation district. Community criticism of its design led to changes in the architecture–adding balconies, recesses and offset wings of the building–to better suit the urban transition the corner signifies, and in their proposal have more than worked with the written regulations allowed in the zoning code: its four feet shorter than permitted at 46-feet in height, covers just over 40 percent of a lot allowing for complete coverage and–as a residential building in a zone where no parking requirement is in place–has 27 spaces for more than 50 residents in the latest proposal.
Discussions on the proposal will be tabled 90 more days as the design team continues to work on a proposal in line with the commission's suggestions. Once the particulars of the design are approved by the ILPC, the plan will go to the Planning and Development Board, who will conduct final site plan approval.