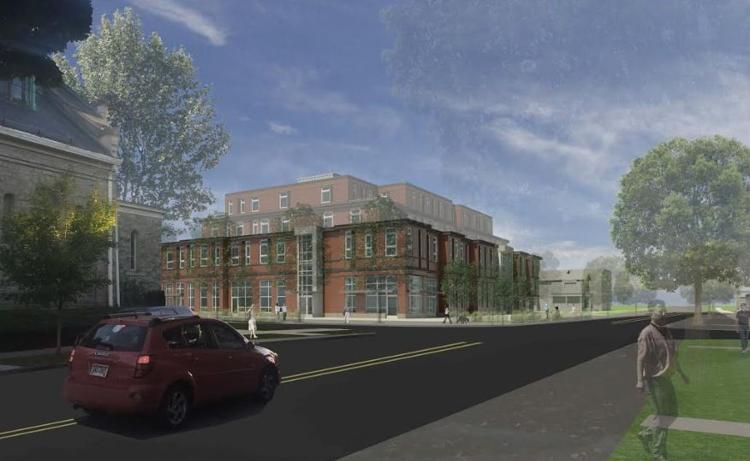 The project to redevelop the Old Tompkins County Library site officially has a development partner, as Travis Hyde Properties has linked up with Bridges Cornell Heights for the DeWitt House project. 
The proposal was approved in early 2017 but has remained publicly dormant since later that year. The mixed-use apartment complex's units will be aimed at senior housing. Bridges Cornell Heights is a local senior living provider. The partnership was christened at some point in November. 
"The new residences will blend the Travis Hyde Properties expertise in property development with the Bridges Cornell Heights innovative approach to senior living," according to a press release announcing the partnership. According to the release, HOLT Architects are finishing the building's designs, and will include below-ground parking with a four-story building surrounding a courtyard area. 
The project will include 67 units, with one-, two- and three-bedroom units available, along with amenities aimed at an older demographic like a restaurant and home health services with workout facilities and a warming pool. Additional on-site activities will also be provided by the neighboring LifeLong continuing education program. Ithaca's facing a senior housing challenge, something the community's struggled to address over the last few years. But with a population still trending older, senior housing is going to be one of the forefront issues for the foreseeable future. 
"When we started talking about partnering for an active senior living space downtown, it was obvious that our skills would fit together for this project," said Bridges Cornell Heights' Principal Elizabeth Classen Ambrose. "Also, both of our businesses are continuously studying the Ithaca market, even if it comes from different angles. Both of our businesses rely on integrity and service."
The project was approved last year after a lengthy planning process that included a long back-and-forth negotiation with the Ithaca Landmarks Preservation Commission since the site falls in a historic district.